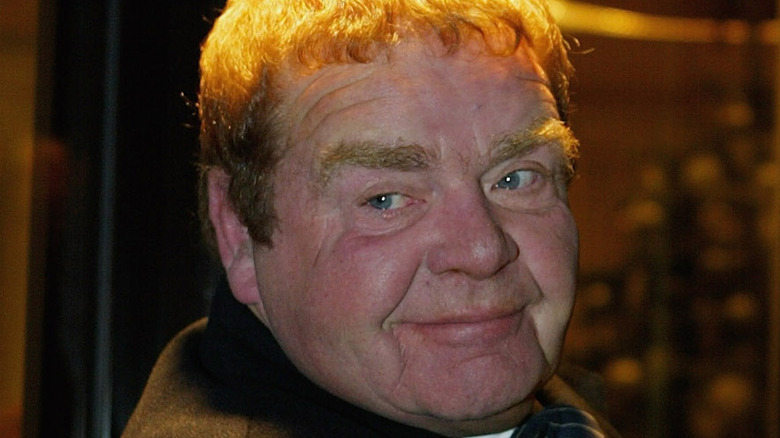 The comedy series "Keeping Up Appearances," which aired from 1990 to 1995, remains one of the BBC's most popular television series both at home and abroad. A 2016 report found that broadcast rights for the series, created by Roy Clarke ("Last of the Summer Wine"), had been sold overseas more than 900 times, surpassing interest in such marquee programs as "Sherlock" and "Top Gear."
The reason for this gentle comedy's enduring acclaim? According to Clarke, it's the characters, led by Patricia Routledge's Hyacinth Bucket — pronounced "Bouquet" — whose relentless need for acceptance among the social elite exasperates everyone around her, including husband Richard (Clive Swift), sisters Daisy (Judy Cornwell) and Rose (Shirley Stelfox and Mary Millar), and neighbor Elizabeth Warden (Josephine Tewson). "Everyone knows a Hyacinth," said Clarke to The Telegraph (via NME).
The enduring popularity of "Keeping Up Appearances" has led to a small cottage industry devoted to the program, including a slew of specials. Some of these were hosted by Geoffrey Hughes as Onslow, Rose's good-natured slacker husband, as well as a stage adaptation, several books, and a hugely popular prequel, "Young Hyacinth," which aired in 2015. Many of the original cast members remain active in other programs, though others, like Routledge, have curtailed their careers. Still others have died since the final episode of "Keeping Up Appearances." Following is a spoiler-heavy list of "Keeping Up Appearances" actors you may not know passed away.
Clive Swift played Hyacinth's patient husband Richard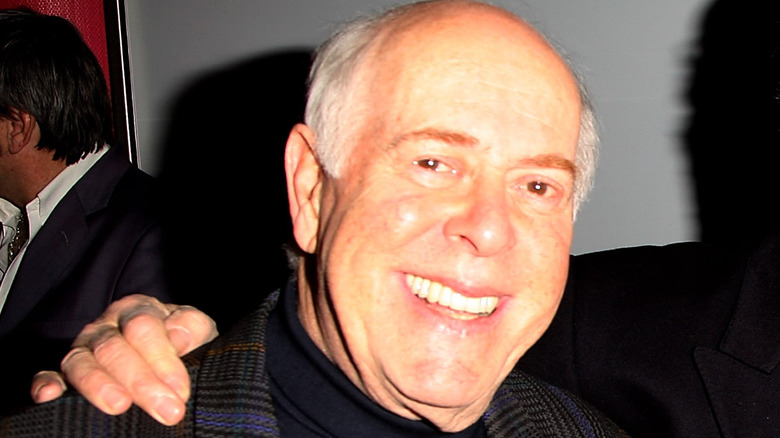 Arguably one of the most tolerant television husbands in history, Richard Bucket was Hyacinth's husband who was an unwilling accomplice in many of her social-climbing scenes. A mild-mannered man with a love for reading, Richard enjoyed his public servant job –- mainly because it kept him away from Hyacinth -– until Season 3, when he was forced into early retirement. Richard spent much of his time on the series responding wearily to Hyacinth's latest plan or doing his utmost to remain far afield of them.
Clive Swift rose to fame in the 1990s as Richard on "Keeping Up Appearances" after several decades as a stage, film, and television actor. Roles with the Royal Shakespeare Company in the 1960s were followed by feature films like Peter Hall's "A Midsummer Night's Dream" with Helen Mirren and Judi Dench as well as the 1981 film "Excalibur." He also made appearances on TV shows like "Doctor Who" and "Inspector Morse." When "Keeping Up Appearances" ran its course in 1995, Swift continued to work on television, including a return to "Doctor Who" and episodes of "Hustle" and "Midsomer Murders." Married to novelist Margaret Drabble from 1960 to 1975, Swift died shortly before his 83rd birthday on February 1, 2019.
Geoffrey Hughes lent charm to lazy Onslow
The embodiment of "lovable slob," Onslow –- whose last name was never given -– was Daisy's work-adverse, manners-free husband and the source of considerable agita for Hyacinth. Onslow spent his days smoking, drinking beer, and betting on horses, which did not meet her vision of acceptable social behavior. However, he was also a good friend to Richard, a kind husband (if not terrible affectionate) to Daisy, and more than tolerant of Hyacinth's behavior.
Geoffrey Hughes, who played Onslow throughout the entire five-season run of "Keeping Up Appearances," began his career on stage and appearing in episodic TV, with stints on "The Saint" and "Z Cars" in the 1960s and 1970s. During this period, he also provided the voice of Paul McCartney in the Beatles' animated film "Yellow Submarine" and appeared in the cult folk horror film "The Blood on Satan's Claw."
Though "Keeping Up Appearances" was his best-known TV project, he also had a long run as trash collector Eddie Yeats on "Coronation Street" and recurring roles as the larcenous Twiggy on "The Royle Family" and Uncle Keith on "Skins." He also voiced a talking dog on the surreal "I, Lovett," starring Norman Lovett of "Red Dwarf" (who showed up in the "Keeping Up Appearances" episode "The Charity Shop").
Diagnosed with prostate cancer in 1996, Hughes believed he was in remission, but a collapse in his home in 2010 revealed that the disease had returned. He died on July 27, 2012, at the age of 68.
Mary Millar was the second Rose
Musical theater star Mary Millar joined the cast of "Keeping Up Appearances" in its second season to play Rose, the youngest of the Walton sisters. Rose's misadventures with various boyfriends put a serious crimp in Hyacinth's attempts to fit in with what she understood as high society. Hyacinth actually takes pains to make sure that her neighbors never know that Rose is her sister, though she also cares for Rose in her own way. Rose can be exasperating, especially when she is agitated or depressed, but she meant well.
Millar, who replaced Shirley Stelfox as Rose, had been in many West End musical productions before her long run on "Keeping Up Appearances." She was Julie Andrews' understudy in the original production of "Camelot" and starred as Madame Giry in "The Phantom of the Opera" during its tenure in London. "Keeping Up Appearances" was perhaps her most memorable TV role, though she performed in several variety series and musical productions on TV. When "Keeping Up Appearances" ran its course, she returned to theater to star as Mrs. Potts in the stage version of "Beauty and the Beast." A diagnosis of ovarian cancer in 1998 forced her to drop out of the show, and Millar died of the disease on November 10 of that year.
Shirley Stelfox stepped down as Rose after Season 1
Though Mary Millar logged the longest run as Rose on "Keeping Up Appearances," actress Shirley Stelfox was the first to play the character in Season 1 of the series but departed soon after due to scheduling conflicts. A frequent performer on TV soaps like "Emmerdale," for which she played the disapproving Edna Birch for 15 years, and "Coronation," which cast her as multiple characters between 1960 and 1994. Stelfox also appeared in numerous series as a recurring character on dramas like "Making Out," children's series like "Three Seven Eleven," and sitcoms like "Common As Muck."
Stelfox also made frequent forays into motion pictures, including "Nineteen Eighty-Four" and the comedy "Personal Services," which cast alongside Julie Walters. She was also a stage actress and appeared in numerous classical and modern productions on London's West End. Stelfox died at the age of 74 from terminal cancer on December 7, 2015.
Charmain May's Mrs. Nugent thwarted Hyacinth's ambitions
As the head of the Ladies' Council, Mrs. Nugent had the social status that Hyacinth so badly wanted but none of the social graces that such a position might require. A humorless and bossy woman with an intense dislike for romance and spending money, Mrs. Nugent did seem to have a soft spot for movies, as evidenced by her eager quick change into a revealing costume for Richard's video camera in Season 3's "Richard's New Hobby."
Charmian May played Mrs. Nugent in three episodes of "Keeping Up Appearances" between Seasons 1 and 3. A go-to for matronly types, May appeared on an array of UK TV series, including "A Dorothy L. Sayers Mystery," "The Darling Buds of May," and "The Bill," among many other efforts. She was also a series regular on "You're Only Young Twice" and "Weirdsister College," a follow-up to "The Worst Witch."
May's feature film credits included the satire "Britannia Hospital, "Bridget Jones's Diary," and "Highlander: Endgame." She died at the age of 85 on October 24, 2002.
Robert McBain was Richard's office mate
Prolific character actor Robert McBain made brief appearances as one of Richard's co-workers in three Season 2 episodes of "Keeping Up Appearances." In each instance, McBain's character, who goes unnamed in two episodes but earned the surname "Frank" in his final turn, overheard the madness that spilled over from Richard's home life to his work. In "Problems with Relatives" and "Onslow's Birthday," Hyacinth repeatedly calls him to help with her family's eccentric behavior, while in "The Toy Store," it's Daddy, and specifically, his decision to run off to a toy store (and dress in an astronaut costume) that warranted a call.
McBain worked extensively in British theater while also appearing in numerous episodic series, including "Z Cars," "Upstairs, Downstairs," and "Fawlty Towers" (as a colleague of the deceased businessman in "The Kipper and the Corpse"), and "Maigret." He was also featured as a recurring character on the surreal children's series, "Little Big Time," which featured a long-running sketch about sentient machines in an alternate world, where McBain played the Deferential Gearbox.
Feature film appearances were fewer but included "A Fish Called Wanda" and the Agatha Christie mystery "Ordeal by Innocence" with Christopher Plummer. McBain closed his long career with a 2003 episode of the medical drama "Casualty." He died at the age of 72 on April 24, 2004.
Movie actor Nigel Davenport guested as the Commodore
Season 4's "The Commodore" saw Hyacinth recruit the titular naval officer as a guest speaker at a ladies luncheon. However, as with so many of her well-intentioned ideas, the plan went immediately awry. Not only is the Commodore's train delayed, but Richard's car gets stuck, and the Commodore himself proves to be a lecherous old salt who does his worst to seduce Hyacinth.
Character actor Nigel Davenport made a brief appearance as the Commodore in the "Keeping Up Appearances" episode. A prolific presence in British and American films and on television for decades, Davenport began his career on stage before moving into features in the 1960s. A burly, assured presence on screen with a steely gaze and bristling mustache, Davenport was a natural for action roles in films like "A High Wind in Jamaica," "Play Dirty," and "Nighthawks." He also proved adept in dramas like "Chariots of Fire" and the 1988 TV production of "A Christmas Carol" (as Ebenezer Scrooge's father), light comedies like "Without a Clue," and even science fiction like "Phase IV" and 1978's "The Island of Dr. Moreau."
Davenport was also a frequent performer on television series like "Howards' Way" and its follow-up, "Trainer," as well as Dan Curtis' "Dracula" (as Van Helsing) and "Midsomer Murders." Davenport's son, Jack, also became an actor, most notably in the "Pirates of the Caribbean" franchise. The elder Davenport died at the age of 85 on October 25, 2013.
Helen Christie nearly married off Daddy
The "Problems with Relatives" referred to in the title of this Season 2 episode begin with Daddy, Hyacinth's memory-impaired father, who wanders away from Onslow and Daisy with the apparent intention of marrying someone at the registrar's office. It eventually extends to Bruce, husband of the rarely seen sister Violet, who climbs a tree to protest her refusal to lend him a dress to wear to a dance (Bruce has a thing for women's clothes), and Onslow's refusal to wear one of Richard's jackets.
The registrar in "Problems with Relatives" was played by Helen Christie, a British actress born in India who worked extensively on the UK stage and in films during the second half of the 20th century. Her screen career began in 1950 with the sports comedy "Up for the Cup" and soon encompassed character roles in films like "The Beggar's Opera" with Laurence Olivier as well as period dramas like "Flesh and Blood." Christie was also a regular and recurring player in TV series like "Middlemarch," "Wives and Daughters," and "Cranford."
Christie remained active on stage and on TV into the early 1990s, with her "Keeping Up Appearances" role among her final screen projects. She died in 1995 at the age of 80.
Gerald Sim was caught up in christening craziness
Onslow and Daisy's daughter, Stella, invites the Buckets and others to attend the christening service for her baby in the aptly titled Season 1 episode "The Christening." Though a fairly formal event, Hyacinth, Richard, and the others manage to turn it into a three-ring circus. Rose is juggling two suitors, both of whom turn up to the christening, while Hyacinth, Richard, and Daisy discover –- far too late -– that the sherry Onslow has bought to toast the baby's christening has an added ingredient that proves too strong for them.
Doing his best to oversee the christening is a vicar played by actor Gerald Sim. A familiar face to moviegoers on both sides of the Atlantic, Sim appeared in numerous features by directors Bryan Forbes and Richard Attenborough, who was also Sim's brother-in-law. His big-screen credits included Forbes's "Whistle Down the Wind," "Séance on a Wet Afternoon," and "King Rat," as well as Attenborough's "Gandhi," "Cry Freedom," and "Chaplin," among many other projects. Sim's other feature credits included David Lean's "Ryan's Daughter" and "Patriot Games." He also appeared in "Shadowlands" alongside Anthony Hopkins.
Sims was also frequently cast as men of authority on television – doctors, policemen, and more than a few vicars on series like "Miss Marple," "The New Avengers," and "To the Manor Born." The latter series marked his final screen appearance; Sim died at the age of 89 on December 11, 2014.
George Webb was up to no good as Hyacinth's Daddy
Hyacinth's social standing was put in constant peril by the antics of her father, referred to as "Daddy" by Hyacinth and her sisters and "the dirty old man" by Onslow and others. Elderly, largely silent, and yet gripped by overactive hormones, Daddy was invariably up to no good — pursuing the woman who delivered milk, riding a bicycle without clothes, and reliving his war experiences. He required a great deal of attention to the great irritation of Hyacinth and her family.
Actor George Webb, who played Daddy, had relatively few lines but added a great deal of anarchic comic energy to his fifteen guest turns on "Keeping Up Appearances." Born in 1912, Webb was the half-brother of veteran UK character actors Rita Webb and Henry Webb and enjoyed a less prolific career than either of them. "Keeping Up Appearances" seemed to be his most substantive screen work: his other credits include an uncredited turn on "Mr. Bean" and guest turns on various anthology series. Webb died at the age of 86 on December 30, 1998.
Gretchen Franklin was briefly Daddy's bride-to-be
While contending with community service in Season 1's 'The Charity Shop," Hyacinth also had to deal with a strange situation at her father's apartment. It appeared that a woman had come to live with Daddy after he offered to marry her and refused to leave despite considerable pressure from Hyacinth, Richard, and Rose. Eventually, the woman's son (Norman Lovett) was called in to retrieve his mother.
Actress Gretchen Franklin, who played Daddy's "fiancé" in "The Charity Shop," was a well-known face to British TV viewers thanks to her role as Ethel Skinner, a saucy, beloved character on the long-running soap opera "EastEnders." Franklin began her career as a chorus girl in the late 1920s before moving into musical revues and stage comedies. One of her first credited screen appearances came in the 1955 thriller "Shadow of Fear" and was quickly joined by roles in films ranging from the Beatles' "Help!" to "The Three Musketeers."
In addition to "EastEnders," Franklin's TV work included recurring and guest roles on "Crossroads," "Rising Damp," "Secret Agent," and "The Foretelling," the debut episode of "Blackadder," for which she played one of the witches who mistakenly named Rowan Atkinson's Edmund as the king of England. Franklin retired from acting after her "EastEnders" character died in 2000 and she devoted her energies to charities until her death at the age of 94 on July 11, 2005.
Dinah Sheridan's hotel guest tried to avoid Hyacinth
Season 2's "Golfing with the Major" -– also known as "Hyacinth Tees Off" -– finds the Buckets at a country house for a weekend getaway. To their dismay, their extended family turns up –- Onslow and Daisy arrive to retrieve Rose after a weekend fling -– as does the Major, who resumed his fruitless pursuit of Hyacinth. To escape their collective madness, Hyacinth attempts to befriend a married couple at the hotel, but they do their best to avoid her.
The unnamed couple in "Golfing with the Major" was played by actors Bernard Archard and Dinah Sheridan, both veteran actors with long careers in British films and on television. Sheridan was a major star in the postwar era, first on stage as a teenager opposite Charles Laughton and Elsa Lanchester in "Peter Pan" and later in films like David Lean's "The Sound Barrier" and the comedy "Genevieve." Sheridan retired from acting in 1954 after marrying Sir John Davis, the head of the British film company the Rank Organisation.
Following their divorce in the mid-1960s, Sheridan returned to acting on stage and television, which included starring roles in the sitcoms "Don't Wait Up" and "All Night Long," which were produced and directed by Harold Snoad, who oversaw all 44 episodes of "Keeping up Apperances." Sheridan died at her London home at the age of 92 on November 25, 2012.
Hyacinth pushed Richard into a game of golf with Frederick Jaeger
One recurring gag on "Keeping Up Appearances" was Hyacinth's attempt to get Richard a more respectable executive-level job, which usually ended in disaster. Season 4's "A Job for Richard" details one such scheme, this time with Frosticle's Frozen Foods. Hyacinth's plan involves meeting the manager of the company at the golf course –- an idea Richard loathed, given his dislike for golf -– where he would show his fortitude by pretending to roust a suspicious-looking type, played by Onslow.
German-born British actor Frederick Jaeger played the Frosticle manager, Mr. Milburn, in "A Job for Richard." He fled his home country during the rise of Nazism and relocated to England, where he began appearing on stage and in features during the 1950s. Though often cast as German military officers, Jaeger was a talented character actor who was at home in both dramas like the UK crime series "Z Cars" and "The Sweeney" alongside comedies like "Yes Minister" and "One-Upmanship."
Jaeger appeared in numerous features, ranging from the spy thriller "Scorpio" and Nicholas Meyer's Sherlock Holmes adventure "The Seven-Per-Cent Solution" to a brief turn in "Indiana Jones and the Last Crusade" as a World War 1 flying ace. He also made multiple appearances on several popular series, including "The Avengers," "The Persuaders!," and "Doctor Who," on which he played K-9's creator, Professor Marius. After retiring from acting in 1996, Jaeger died at the age of 76 at his home in Mallorca, Spain, on June 18, 2004.
Jeanne Mockford endured Hyacinth's meddling at church
The Season 1 episode "Daisy's Toyboy" is dominated by its primary storyline, which involves Daisy's disastrous efforts to make Onslow jealous by dating a dull-witted teenager (played by a pre-fame Jonny Lee Miller). However, the secondary plotline involves Hyacinth dragging Richard and Elizabeth into helping her set up an event at the local church. As they (and we) discover, Hyacinth was more successful at annoying the other members of the church.
Among the aggravated women of the church's Ladies' Circle is Mrs. East, played by actress Jeanne Mockford. Born in 1926, Mockford began appearing on UK television in the mid-1950s and spent most of her screen career on small screen projects. She was perhaps best known to TV viewers as Senna the Soothsayer, who issued predictions of doom throughout all 16 episodes of the BBC comedy series "Up Pompeii" in 1969. She reprised the role in a 1975 TV special while also appearing in numerous other series, including multiple turns on the BBC police drama "Dixon of Dock Green."
After her guest shot on "Keeping Up Appearances," Mockford remained exceptionally busy on series like Roy Clarke's "Last of the Summer Wine" and "Little Britain" (as hypnotist Kenny Craig's mother). She also played several roles on the kids' sketch comedy series "Stupid" and the medical drama "Doctors" and enjoyed a hilarious showcase in "Hellboy II: The Golden Army" as a hungry troll disguised as an elderly homeless woman. Mockford died at the age of 92 on November 16, 2018.