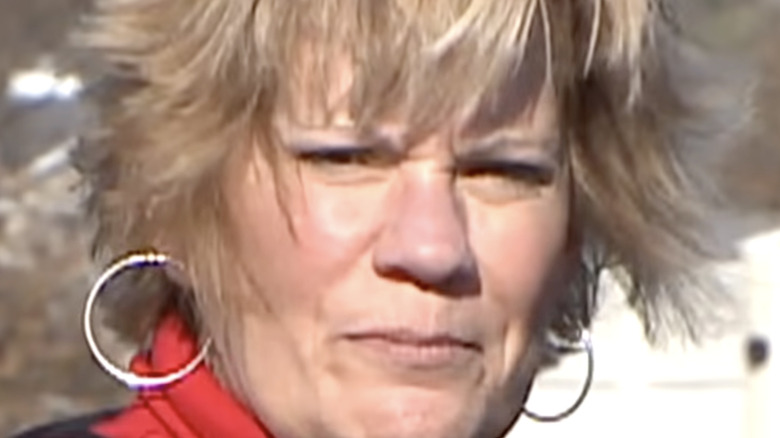 True crime fans, get ready for mind-numbing twists and turns with "The Thing About Pam Hupp." The miniseries explores the horrific and gruesome 2011 murder of Betsy Faria, a wife and mother of two, in the final stages of terminal breast cancer. Prosecutors and detectives initially assumed it an open and shut tale of domestic violence. But nothing about the case would prove straightforward or what it appeared on the surface.
According to People, it all started in 2011, two days after Christmas. Betsy Faria's husband, Russ Faria, discovered her lifeless body lying face down on the floor with a knife sticking out of her neck. Stabbed 55 times, the murder rocked the small town of Troy, Missouri, where they lived, per NBC News. As the investigation launched, many confusing and troubling details emerged. Within days, police arrested Russ for his wife's murder, and Betsy's close friend Pam Hupp cooperated with the police providing plenty of information pointing in Russ' direction. But it was all a little too convenient.
Russ' trial began in November 2013 and ended in a guilty verdict. Yet, he maintained his innocence throughout and would go on to a retrial on an appeal. During this retrial, Hupp's story disintegrated, and she became the new target for prosecutors (via The Seattle Times). But this is just the tip of the iceberg when it comes to the sordid web that Hupp wove, and it's only the first of three deaths the Midwestern murderess allegedly committed. Here's the untold truth of Pam Hupp, a monster in suburban disguise.
Pam Hupp enjoyed a 'normal' middle-class upbringing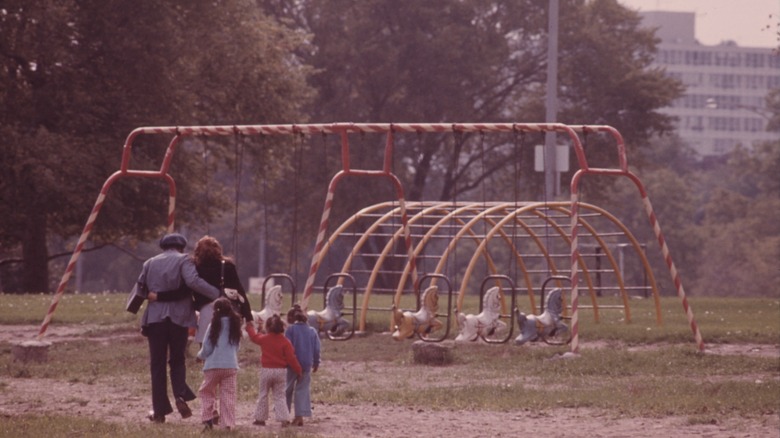 Pam Hupp (née Pamela Neumann) flourished in Dellwood, Missouri, enjoying, by all accounts, a charmed youth nestled in the middle-class suburbs, according to St. Louis Magazine. Her dad was a blue-collar worker at Union Electric, and her mom worked as a schoolteacher. The family had four children, and Hupp was the third in the crew. Childhood days were spent playing with other kids in the neighborhood and riding bikes.
Classmates at Riverview Gardens High School remember her as easy-going. Always smiling and laughing, popularity came easy as a cheerleader. She married her high school sweetheart in a shotgun wedding, translating into tensions with her conservative parents. From there, Hupp launched immediately into the full-time monotony of domesticity while her friends ventured off to college.
One daughter and six years of marriage later, Hupp's first marriage dissolved. Rebounding rapidly from divorce, she married Mark Hupp, who rocketed back and forth between playing in the minors for the Texas Rangers and carpentry. They moved to Naples, Florida, and had a son. By 2001, they returned to Missouri renovating homes on the side for a little extra cash. The Hupp's suburban life looked ideal from the outside. But Pam Hupp had a dark side that few people knew about, barely contained beneath the surface.
The root of all evil
Cultivating the image of a suburban, middle-class mother of two, Pam Hupp had tousled blond hair, a plus-sized figure, and wore frumpy clothes (via St. Louis Magazine). She fit into the world she inhabited without a second glance, a chameleon draped in the disguise of the mundane. According to her friends, Hupp's extreme frugality stood out. You could say money made her more than a coupon-cutter. But even this tidbit didn't necessarily point to the dark deeds for which she would eventually stand accused.
A source close to Hupp reported, "When it comes to money, she short-circuits," per the Toronto Sun. Fair enough. But the leap from "short-circuiting" to stabbing a terminally ill friend more than 50 times seems vast. Yet, no one could deny that Hupp enjoyed sole beneficiary status on Betsy Faria's life insurance policy. The same went for Hupp's mother who died under suspicious circumstances. Hupp also made strange comments about her husband's life insurance policy to investigators: "Amazingly he's still alive, because it's a lot," as per St. Louis Magazine.
Editor and journalist Jeannette Cooperman (via The Common Reader) has long questioned Hupp's motives. The mother of two didn't have debt, and her husband made a steady income. Why would she risk so much for mere hundreds of thousands? Cooperman suspects additional motives at play: attention-seeking, hunger for power and control, complications from an alleged brain injury. But she concedes, "The general consensus — shared by cops, neighbors, relatives, and true-crime addicts — was that Pam Hupp was evil."
She could play the part of a model employee
What ultimately motivated Pam Hupp, we may never know. Perhaps she got a thrill out of killing, as suggested by Jeannette Cooperman (via The Common Reader). Soaking up with sick satisfaction the total power she wielded over vulnerable victims, including the terminally ill, mentally disabled, and elderly. But one thing's for sure. She gravitated towards life insurance, both as an avocation and a motivation for murder. Over the years, she held clerical jobs at a couple of insurance companies, including State Farm, where she first met Betsy Faria, as reported by St. Louis Magazine.
Faria had a bubbly personality and liked to dance, which suited her as a part-time DJ. Coworkers described her as gregarious and generous, and she boasted many devoted friends who would do just about anything for her. As for Hupp, State Farm Agent Mike Boschert described her as rock-steady and mature. "She had very good insights, human nature-wise. A positive person, very level-headed — I never saw her mad."
He also remembered her getting to work between 10 and 15 minutes early each morning and said she proved "adept" at handling "office politics." Boschert appreciated her logical way of thinking and ability to see the "bigger picture." He even described her as "underemployed." Nevertheless, he couldn't deny that something strange lurked beneath the squeaky-clean façade Hupp cultivated as a model employee." Of course, hindsight is 20-20. Especially when it comes to true crime.
Pam Hupp lied, committed fraud, and forged signatures
Despite Mike Boschert's glowing reports, he also noticed a troubling tendency in Pam Hupp, per St. Louis Magazine. Sometimes she burst out with strange and outlandish stories that made no sense. Boschert recalled, "She always told me she was involved somewhere like the FBI, something with security clearance, kind of in the past but maybe still."
He also noted that she seemed to let these "True Lies" style delusions of grandeur drip out in small snippets. Just enough to raise curiosity or suspicion (depending on the discernment of the listener) before she'd cut off the story with an "I can't say anything." During these moments, Boschert caught glimpses of the types of inaccuracies and fallacies that would tip off Russ Faria's defense attorney, Joel Schwartz, years later.
When confronted about her contradictions, Hupp fell back on the excuse of a head injury sustained at work in 2009, which made her memory fuzzy. She also conveniently said the injury meant she couldn't take a lie detector test during the investigation into Betsy Faria's murder. But the medical records needed to back up such claims have yet to surface. What's more, a deep dive by Schwartz into Hupp's past revealed two terminations from insurance companies for signature forgery. Even before the homicides, Hupp's model employee façade thinly veiled insurance-related criminal behavior.
Strange circumstances followed Pam Hupp
Bizarre events followed Pam Hupp wherever she went, although few people put two and two together at the time. According to St. Louis Magazine, Mike Boschert remembers an instance where a communication went out on his letterhead with his signature: "How that happened, I have no clue." And around the same time, he also recalled a rash of employees' cars getting keyed in the parking lot of the State Farm location where they worked.
What Boschert didn't know was that the brand-new O'Fallon subdivision where Hupp and her family had recently moved also experienced a spate of random keyings around this time. Odd for an area that Jeanette Cooperman would later describe as "safe enough for an episode of 'Mister Rogers' Neighborhood,'" (via St. Louis Magazine). But the weirdness in O'Fallon didn't end there.
Other inexplicable things occurred. One set of neighbors found a bloody pile of animal bones in their yard. And a handful of caustic anonymous letters would make the rounds in Hupp's otherwise idyllic neighborhood. But although she didn't socialize much with those living around her, Hupp didn't appear unhinged, either. Mousy, yes. Inconsequential, too. But she looked like the last person most would suspect of such nefarious and immature activity.
She used a cancer diagnosis to get close to Betsy Faria
Pam Hupp and Betsy Faria worked in insurance offices together for a decade, per Charles Henry Bosworth and Joel Schwartz's "Bone Deep: Untangling the Betsy Faria Murder Case," eventually falling out of contact. But news of Betsy's breast cancer diagnosis in 2010 drew the two women back together (via St. Louis Magazine). Soon, Hupp marked a regular presence in Betsy's life, shuttling her to and from chemotherapy appointments.
How close Hupp and Betsy got remains up for debate. For example, Hupp didn't attend the "Celebration of Life" cruise that Betsy and her family took in November 2011. Originally planned as a party to mark cancer remission, it became her last hurrah after Betsy found out in October that doctors had detected tumors on her liver. During the trip, she fulfilled a lifelong dream of swimming with dolphins thanks to her husband.
After returning from the cruise, Hupp became an almost daily companion. Five days before the murder, Betsy went to the library with Hupp, seeking assistance from a librarian to witness Betsy's signature on a life insurance change-of-beneficiary form. This event sealed the terminally ill woman's fate, although she likely never saw it coming. As for Russ Faria, Hupp wasn't even a blip on his radar when it came to potential threats. In police interviews, he stated, "I only met Pam maybe a half dozen times, at the most" (via People).
Pam Hupp was the last person to see Betsy Faria alive
Pam Hupp had a conundrum in late 2011. Since convincing Betsy Faria to change the beneficiary on her life insurance policy, Hupp had tracked Betsy's every move, according to NBC News. The alleged killer searched for the perfect moment to strike when Betsy would feel weakest and most alone.
Hupp wanted chemo-induced lethargy on her side when she attacked Betsy, coupled with a night she knew Russ Faria would be away from home. His Tuesday game nights presented the ideal opportunity (via St. Louis Magazine). She honed in on December 27, 2011, insisting on taking Betsy to her chemotherapy appointment. But text records show her plan hit a snag. Betsy already had a ride, with another friend also taking her back to her mother's house, where she'd wait for her husband to pick her up after game night.
Hupp had to find a way to insinuate herself into the evening's events. So, she showed up unexpectedly at Betsy's chemo appointment and then convinced the sick woman that she would give her a ride home from her mom's house. Betsy sent an ominous text to her husband reading, "Pam Hupp wants to bring me home to bed." Her words proved fateful. According to KSDK, Hupp was the last person to see Betsy alive. Later, she claimed she left Betsy on the couch, wrapped up snuggly in a blanket, per St. Louis Magazine.
She strategically framed Russ Faria
Betsy Faria's murder case contains numerous disturbing details, per St. Louis Magazine – from Pam Hupp's insinuation into a dying woman's final days to the cruelty of the murder and the strategic calculation involved in framing Russ Faria. But perhaps the most disturbing part of the case remains the gross miscarriage of justice that sent Russ to prison for life without parole before his retrial and acquittal in 2015 (via NBC News).
Russ had a solid alibi backed by four witnesses, cell phone records, and video evidence from two different locations. He also testified so consistently over the years that his defense attorney, Joel Schwartz, didn't even attend interviews with major media outlets like Dateline. That's almost unprecedented, especially during a retrial, as per Dateline's "The Thing About Pam" podcast. Nevertheless, the prosecution maintained a negligent and narrow focus on him, following the trail of breadcrumbs Hupp started leaving even before the murder, per Rolling Stone.
Hupp allegedly staged a domestic violence crime scene, planning everything from the mode of murder to where she sprinkled blood. Days later, she testified against Russ, conveniently providing the state with a slam-bang case. Leah Askey, prosecutor for Lincoln County, Missouri, took the bait hook, line, and sinker. In 2016, Russ sued Askey and the investigators involved in the case, alleging they "fabricated evidence, ignored exonerating evidence, and failed to investigate the other obvious suspect." He received a $2 million settlement.
Her perfect cover superseded no alibi and a clear motive
You could poke a hole a mile wide in Pam Hupp's contradictory statements. Details as basic as whether or not she entered Betsy Faria's home on the night of the murder inspired conflicting stories. Yet, investigators overlooked these inconsistencies as prosecutors focused on Russ Faria and a supposed history of domestic violence.
Conveniently, Hupp provided the testimony they needed to build their case (via Dateline's "The Thing About Pam"). Officials inexplicably disregarded the more significant motive present in the case — Betsy's $150,000 life insurance policy (via "Bone Deep," by Charles Henry Bosworth and Joel Schwartz). As Rolling Stone points out, Hupp lacked an alibi, was the last person to see the victim alive, and was the last person at the scene of the crime before it occurred. Yet, Prosecutor Leah Askey and investigators refused to entertain her as a suspect. Hupp's chatty, relaxed, homey mannerisms disarmed them.
Renee Zellwegger, who plays Pam Hupp in "The Thing About Pam," believes many societal factors worked in Hupp's favor, per Oxygen. Zellwegger argues that Hupp likely relied on "white lady privilege in America" to avoid scrutiny. She also sees the story as "an interesting look at the sad invisibility of middle-aged women in America and how in the most bizarre circumstances it can work to someone's advantage as is probably the case in Pam Hupp's story." Since men perpetrate three-quarters of all homicides in America, Hupp could also hide behind stats.
Her mother died under suspicious circumstances
In 2013, Shirley Neumann, 77, plunged to her death from the balcony of her third-story apartment at Lakeview Park, a senior facility where she lived, according to St. Louis Magazine. Investigators initially ruled the death accidental, believing the balcony's railing failed (via NBC News). The last person to see Neumann alive? You guessed it: her daughter, Pam Hupp.
Incidentally, Hupp acted as the sole beneficiary on her mom's life insurance policy. The circumstances of Neumann's death brings to mind an off-the-cuff statement Hupp made to investigators while being questioned about Betsy Faria's death in 2011: "If I really — I hate to say it — wanted money, my mom's worth half a million that I get when she dies … If I really wanted money, there was an easier way." Neumann had manifested signs of dementia, and Hupp would even claim in a conversation with Joel Schwartz that her mother died of Alzheimer's. But it was the three-story fall that killed her.
Post-mortem tests revealed Neumann had eight times the recommended dosage of Ambien in her system. And the fall left an almost three-foot square opening in the metal railing. Inexplicably the top guardrail remained intact, however. In 2017, the medical examiner changed her death from "accidental" to "undetermined" in the wake of new information and evidence. While talking to detectives, Hupp once commented (via St. Louis Magazine), "Money is — makes people do crazy, crazy things." Matricide wouldn't be the end of the "crazy" when it came to Pam Hupp.
She claimed an adulterous affair with Betsy Faria
By 2015, officials remanded Russ Faria's case, releasing him pending a new trial that began in June (via Dateline's "The Thing About Pam"). With a new trial starting up, Pam Hupp felt the heat of investigations anew. This time around, videos of her interviews with law enforcement proved less carefree and more tense, per St. Louis Magazine. She fidgeted and changed her story often.
Then, she dropped a bombshell on investigators, claiming she and Betsy Faria's friendship had evolved into a sexual relationship. But she added the caveat that neither she nor Betsy was attracted to women or one another, as per Dateline. No evidence existed to verify the relationship claim. But it did provide Hupp with a solid reason to act as the sole beneficiary on Betsy's insurance policy. It also supported the crime of passion theory with Russ snapping and stabbing his wife to death. How convenient.
Hupp took it a step further, claiming Betsy had chosen that night to tell her husband she wanted to leave him. But the friend who took Betsy to her chemo appointment that fateful day, Bobbi Wann, contradicted these statements calling them untrue. Others would soon speak up, including Hupp's friends. One commented, "Pam was the most homophobic person I'd ever met. She'd say, 'That's not normal. That's not right.'" Of those closest to Hupp and Betsy, none bought this new development.
Pam Hupp impersonated a Dateline producer
Pam Hupp wasn't finished with the lying or the killing. To throw suspicion off her trail, she masterminded a convoluted plot to make Russ Faria look like a killer yet again. It required a senseless killing, which meant finding her next unwitting victim. This time around, there would be no life insurance policy or beneficiary forms. Instead of killing for money, this would be an act of desperation.
According to NBC News, to lure her next victim, Hupp claimed to work as a Dateline producer and drove through low-income neighborhoods for days looking for potential victims as data pulled from her phone would later show (via Dateline's "The Thing About Pam"). Hupp initially approached Carol (Alford) McAfee. But, thankfully, Alford got cold feet. Listening to her gut instinct saved her life. Later, Alford provided valuable testimony against Hupp. But Louis Gumpenberger didn't prove as lucky. He took up Hupp's offer to reenact a 911 call for money, falling for her story about working for Dateline.
She provided him with a script to read before staging a fake kidnapping in real-time. Her audience for the event would be a 911 operator. During the call, she shot him five times, killing an innocent, disabled man in cold blood. She would then claim self-defense. But investigators weren't buying it. On August 23, 2016, officers arrested her for the murder of Gumpenberger, according to Dateline.
She attempted suicide with a ballpoint pen
When Pam Hupp previously sat in interrogation rooms with investigators, she'd always appeared chatty and carefree, as per Dateline. But after her arrest for the murder of Louis Gumpenberger, she "clammed up." Finding herself in handcuffs and on the wrong side of suspicion (like Russ Faria in 2011), Hupp grew wildly desperate. If murder didn't solve her problems, she would have to try something else. She needed a final way out, which came to her in the form of an innocuous ballpoint pen.
After police officers briefly left the room, Hupp smuggled the writing implement from the table and into her waistband per video footage (via Fox 2 St. Louis). Then, she stroked both sides of her neck repeatedly, feeling for the pulse of her carotid arteries. Next, she asked to use the bathroom, escorted into the facility by a female officer. In the stall, a new drama began.
Hupp used the pen to puncture her wrists and throat countless times, leaving her skin a gruesome Swiss cheese patchwork. The cool façade had shattered, and the Midwestern Murderess finally appeared to understand the gravity of her situation. After police officers rushed into the bathroom, preventing further harm, she stood for a mugshot, thick bandages covering the self-inflicted holes in her neck. Considered "a key moment" by St. Charles County Prosecutor Phil Greenway, he argued Hupp finally showed some "consciousness of guilt" (via Fox 2 St. Louis).
She's serving a life sentence for first degree murder
Pam Hupp hadn't finished trying to wiggle her way out of justice, though. In interviews with law enforcement, she alleged 33-year-old Louis Gumpenberger forced his way into her car, holding a knife to her throat and demanding "Russ' money," as per Dateline's "The Thing About Pam." She even claimed a man who looked like Russ Faria had dropped Gumpenberger off. Hupp claimed she escaped the vehicle, running into her house with Gumpenberger in fast pursuit. Inside, she made one of the fakest 911 calls in true crime legend.
She compounded suspicions with rampant inconsistencies during the investigation, as reported by Fox 2 Now. And after speaking with Gumpenberger's mother, police learned he had a severe brain injury rendering him physically and cognitively incapable of a ransom kidnapping (via Dateline). Within a week, police arrested Hupp.
As investigators dug deeper, they learned Hupp had gone to extreme lengths to frame Gumpenberger for attempted murder and home invasion (via Fox 2 Now). She also tried to frame Russ Faria for another violent act. After shooting Gumpenberger to death, she planted a kidnapping note and knife on him, hoping to redirect the newfound scrutiny she faced for Betsy Faria's murder back onto Russ. But her sloppy handling of Gumpenberger's murder meant taking an Alford plea (via KMOV4). In other words, she admitted a preponderance of evidence against her without confessing. She received a life sentence without the possibility of parole.
Louis Gumpenberger's family sued her for wrongful death
In 2019, Margaret Burch, Louis Gumpenberger's mom, sued Pam Hupp for wrongful death, according to KSDK. A judge in St. Charles County awarded Burch $3 million. Burch and her attorney, Gary Burger, knew Hupp didn't have enough money to even make a dent in this sum. But through this legal action, they hope to thwart all chances for Hupp to make a profit by selling the story of how she murdered an innocent man.
As Burger told the press after the verdict, "You always hear about how years later there is a made-for-TV movie and we don't want her to profit from that, and that's what Margaret told the judge today." Burch also used the verdict to draw attention to her grandson, Trevelyn, robbed of his father at the age of 11 by Hupp.
The trial also brought further clarity to Gumpenberger's traumatic brain injury and the life he lived before Hupp decided to prey on him. He'd sustained brain damage as the result of a severe car accident. His injuries meant he had the mental capacity of a 10 year old. Despite so much misfortune, he had dedicated his life to helping others with developmental disabilities. That is, before Hupp lured him to her home.
Prosecutors will seek the death penalty
A decade after the murder of Betsy Faria, prosecutors announced they will make Pam Hupp stand trial, and they're seeking the death penalty, as reported by NBC News. After all, the case set before prosecutors has all the markers of extreme malice, criminality, and premeditation.
According to KSDK, prosecutors came to the death penalty decision after weighing how Hupp allegedly stabbed the terminally ill Betsy 55 times, mutilating her corpse. Then, Hupp provided false testimony on numerous occasions strategically designed to frame Russ Faria, Betsy's husband. And when these actions still didn't take the heat off her, she murdered an innocent man in cold blood (claiming self-defense) and attempted to frame Russ in a convoluted murder-for-hire plot. On top of all of this, Hupp was the last person to see her mother alive before the woman's unexplained fall from a third-story apartment balcony, per NBC News.
Unconscionable and premeditated acts, they attest to the threat Hupp poses to the public. After announcing the state's decision to seek the death penalty in the murder of Betsy Faria, District Attorney Michael Wood explained, "I do not take lightly the decision to pursue the death penalty, but this case stands alone in its heinousness and depravity such as it shocks the conscience."
Pam Hupp almost got away with it
Prosecutorial and police misconduct led to Russ Faria's conviction for the murder of his wife, according to Rolling Stone. Fortunately, Russ Faria's attorney, Joel Schwartz, never gave up on his client. He reviewed thousands of pages of documents and hours upon hours of witness testimony, picking apart Pam Hupp's stories and the work done by investigators and prosecutors.
With Leah Askey, former prosecutor, replaced by Michael Wood in 2018, a rigorous new standard came to Lincoln County's investigations, per Dateline's "The Thing About Pam." Coupled with a new sheriff, Wood decided not only to prosecute Hupp for Betsy Faria's murder but also to go after this rampant misconduct. According to Wood, "To me it felt as if [Betsy Faria's murder investigation] was confirmation bias in it purest form. Once they'd made their decision, I can confidently say they weren't interested in finding any other evidence that pointed anywhere else."
Fox 2 Now reports the former sheriff's office had even drafted an order prior to Russ' acquittal to destroy all physical evidence associated with the case. Fortunately, this order got thwarted. During his ordeal, Russ "compared [investigators] to the Three Stooges and at one time a bunch of incompetent monkeys" (via KSDK). Their incompetence meant Hupp came within a hair's breadth of getting away with what she thought looked like the perfect crime. And it also enabled her to kill two other innocent people.
Betsy Faria's daughters publicly apologized to Russ
Hindsight is 20-20, as Betsy Faria's daughters, Leah and Mariah Day, have found out firsthand. On July 15, 2021, they made their first official statement about their mother's murder, nearly a decade later, according to Fox 2 Now. They also issued a public apology to their former stepfather, Russ Faria.
With the prosecution and investigators telling them all the evidence pointed at Faria, the girls were made to feel stupid for suggesting that Pam Hupp should be a person of interest, per Fox 2. They also felt forced to testify against him, a decision that would drive an irreparable rift between the family members. Speaking of the investigators and prosecutors in the first Betsy Faria trial, Leah Day argues, "They also broke our family apart and not only did we lose our mom, we lost both of our parents because of their ****y investigation" (via Fox 2).
The Day sisters also brought to light a new allegation that Pam Hupp had sent them a hateful letter, attempting to pass it off as Russ Faria's missive, per Fox 2. This alleged letter appears in the NBC television series "The Thing About Pam." But unlike the dramatic film treatment where Mariah figures out the letter is written in Pam Hupp's handwriting, Leah and Mariah Day spent years wondering. Only after more details emerged about Hupp's manipulative and deceptive nature did they realize it never came from Faria.
Russ Faria and Carol (Alford) McAfee got together
One of the lucky people who managed to escape from Pam Hupp was Carol (then Alford) McAfee, per Newsweek. Unlike poor Louis Gumpenberger, McAfee had the discernment to realize her life depended on getting away from Hupp. It was this gut instinct that ultimately saved McAfee. It also led her to immediately call the police to report Hupp's car and suspicious behavior. But McAfee could've never foreseen just how far Hupp would go in her desperation to get the heat back on Russ Faria again.
After learning about the murder of Louis Gumpenberger, McAfee testified in his trial. Her testimony proved key in convicting Hupp, per Fox 2. There, she met Russ Faria and remembers telling him she was saddened to hear what had happened to his wife, Betsy Faria, and wished him happiness in the future. As the two talked and bonded over Pam Hupp's trial, they found solace in each other.
Estranged from his stepdaughters and dealing with life in a city where many of its residents still thought he'd murdered his wife had taken a toll on Faria. His former wife's family still thought of him as a killer, and he had few sympathetic people to turn to. The budding relationship with McAfee became a lifeline for the man once wrongly imprisoned and still haunted by injustice. Faria would eventually reach out to Fox 2 for an interview where he explained the strange circumstances and how Hupp inadvertently led him to new love and a second chance at life.
Keith Morrison interviewed Leah Askey for a Dateline update
Following the television show "The Thing About Pam," Keith Morrison of "Dateline" asked Leah Askey, the former prosecutor of Lincoln County, tough questions about what many felt was her mishandling of the case (via Dateline). Some have even suggested that Shirley Neumann and Louis Gumpenberger's blood are on her hands. After all, as Russ Faria's attorney Joel Schwartz argues, she overlooked Pam Hupp as a murder suspect, allowing her the opportunity to allegedly prey on additional helpless victims.
Askey's response to such accusations proved unsatisfactory and unrepentant, especially considering her role in sending Russ Faria to prison for life despite his having a thoroughly corroborated alibi. According to Morrison, "Dateline" has attempted to speak with Askey for years. But when they finally sat down, the former prosecutor gave weak answers. When Morrison pressed her on why she made the decisions she did as prosecutor of Lincoln County, she responded, "I was elected to do a job. And I did my job. And a jury convicted him," per Oregon Live.
In another interview with Newsweek, Askey maintains she doesn't regret how she handled the Betsy Faria case. Yet, she said she wouldn't serve as a prosecutor again. In her defense, Askey claims the difficulty of being a female prosecutor proved overwhelming. She also claims that unnamed defense attorneys (like Joel Schwartz?) went after her as a personal vendetta.
Pam Hupp compared her case to a serial killer
People still debate what motivated Pam Hupp, according to Fox 4. On the surface, the crime wreaks of greed and money. But there are also indications that she enjoyed the notoriety associated with her sensational actions. Her portrayal in the NBC television miniseries "The Thing About Pam" alludes to this theory.
Interestingly, transcripts from a jailhouse call Hupp made to her husband, Mark Hupp, may support the infamy claim, too. She told her husband, "It looks like, you know, I'm Ted Bundy. I mean, seriously" (via Fox 4). Some have wondered if this off-the-cuff remark provides insights into the forces that drove the alleged Midwestern murderess. A deeper dive into these individuals' stories reveals some troubling similarities.
As Criminal explains, Ted Bundy preyed on vulnerable young women, and he also appeared to savor the attention that came with his serial killer persona. Like Bundy, Hupp also allegedly targeted individuals incapable of defending themselves, whether due to brain damage or perhaps late-term cancer and dementia. Some of Hupp's interactions, particularly with the media, indicate she also enjoyed her time in the spotlight. Perhaps most compelling, Bundy and Hupp used their appearances and personas to disarm those around them. Of course, Hupp has yet to be convicted of two of the three murders for which she's been accused, and the Alford plea represents a kind of non-confession. In contrast, Bundy confessed to nearly 30 murders, although some believe he may have had hundreds of victims, per Britannica.
Hupp's preliminary hearing has been delayed indefinitely
Those looking for closure in the Betsy Faria murder case have found the wheels of justice grind at a snail's pace. Originally scheduled to go before a judge in February 2022, Pam Hupp's preliminary hearing has now been delayed indefinitely, according to Fox 2 Now.
In another bizarre twist, Hupp's public defender died unexpectedly of a heart attack (via Bustle). That means a new public defender must bone up on a complicated case involving more than a decade's worth of evidence. What's more, the attorney must get a handle on all the confusing and contradictory testimony Hupp has supplied to law enforcement and prosecutors over the years.
A new investigation is also in the works that could result in additional charges. Prosecutor Mike Woods decided to look at Hupp's quasi-confession (Dateline) to Lincoln County officials about the ease with which she could get her mother's money through murder. After Shirley Neumann's troubling toxicology report, detectives examined the third-story balcony railing that supposedly failed, permitting Neumann to fall to her death. They discovered it would have taken 2,000 pounds of force to break through those bars. In other words, there's renewed interest in the case as a homicide (Dateline).
Leah Askey has been under investigation
After serving eight years as the prosecuting attorney of Lincoln County, Missouri, Leah Askey lost her re-election campaign to Mike Wood. She has since gone through a divorce, remarriage, and a name change to Chaney, per Newsweek. She's also started a private law firm, Chaney Law Group.
She's under investigation on various charges of misconduct unrelated to the Russ Faria case. These include accusations of embezzlement from a nonprofit and masterminding a child sex-trafficking operation via the county's juvenile office. According to 5 On Your Side, she faces charges of "having children taken away from their parents and trafficking them along with the cooperation of the family court system." For her part, Chaney alleges the charges are defamation spread via social media by her ex-husband, his girlfriend, and another individual.
While there's no word on what happened to the charges involving children as of 2022, there is an update on Russ Faria's civil suit over the unsolved murder of his wife, as reported by Fox 2 Now. Although the lawsuit included a 35-page order pointing out all of the discrepancies in the case and the inadequacies of the Lincoln County Sheriff's Office, Chaney remained untouched. As a prosecutor, she proved immune from being sued.
Life in prison has changed Pam Hupp
Over her years spent in prison, Pam Hupp's appearance has changed dramatically, including a drastic weight loss and the transformation of her hair from short and blond to long and white (via Fox 4). She tutors other inmates looking to get their GEDs, and she's also gone through a divorce from her husband, Mark Hupp. Yet, the St. Charles prosecutor assures everyone that Hupp remains as manipulative as ever.
One corrections officer who worked on Hupp's unit for three years had plenty of time to observe her and her interactions with officers and other prisoners. Under the condition of anonymity, she sat down for an interview with "Dateline," where she detailed her observations about Hupp in prison.
She noted that Hupp appeared to get satisfaction out of manipulating others and playing mind games. Describing her character, the correctional officer stated, "A master manipulator, very narcissistic, and just cold. There was no sign of empathy or anything for her family or other inmates" (Dateline). As the world continues to hold its breath for Hupp's upcoming trial, the family of Betsy Faria continues to keep her memory alive.