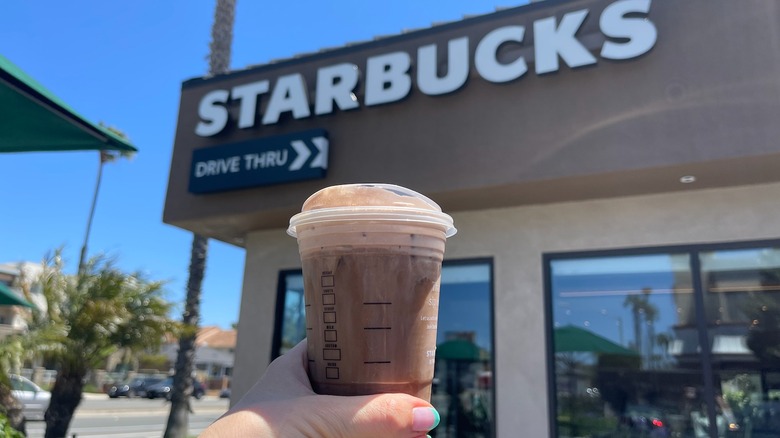 Starbucks unveiled its summer lineup last week, most notably a new cold brew drink, and you know we raced to our nearest Starbucks location to try it out. Drum roll, please, for Starbucks' latest chilled coffee: the Chocolate Cream Cold Brew, our new favorite summer treat.
According to a press release, Starbucks rolled out its summer food and drink lineup last week. The summer treats consist of the new Chocolate Cream Cold Brew and Lime-Frosted Coconut Bar, now available year-round, and for a limited time, you can also grab a delicious Unicorn Cake Pop. We're drooling over these all over again as we speak.
Before hitting the beach in the past, you likely think of grabbing a refresher, blended frappuccino, or lemonade. This year's summer drink lineup may have you changing your Starbucks order in the upcoming warmer months. For this article, we tried the new Starbucks Chocolate Cream Cold Brew. Here's how it went.
What's in the new Chocolate Cream Cold Brew?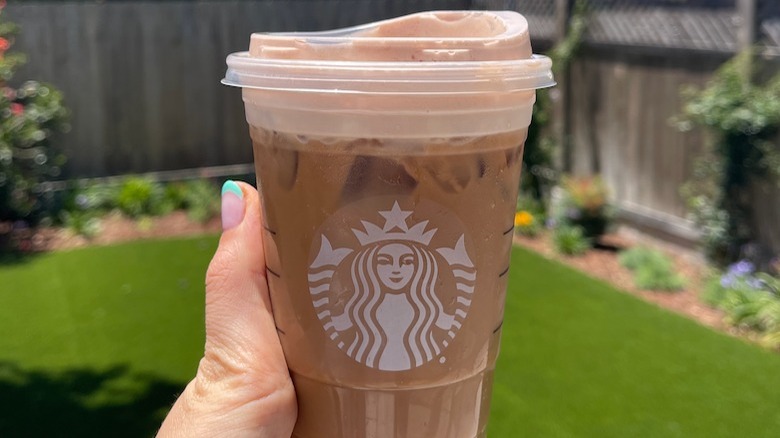 The name gives you a good idea of the Chocolate Cream Cold Brew's ingredients. It's no surprise Starbucks' signature cold brew makes an appearance as the main component of this drink. In addition to the cold brew, this drink contains two pumps of vanilla and a layer of thick chocolate cream on the top of the coffee (via Starbucks).
We did not really taste the vanilla as the chocolate cream overpowered it. The creamy cold foam topping consists of cream mixed with chocolate malt. We visited two Starbucks to try this drink after the first one ran out of chocolate malt. Shortages already? We can almost guarantee this drink will be trending this summer.
The cold brew and chocolate flavors complimented one another nicely, providing a mocha milkshake taste in every sip. The vanilla flavor did get lost in the mix, but we did not expect this ingredient to be the star of the show.
How much does the drink cost?
Starbucks prices vary slightly from state to state and do not even get us started about ordering in an airport. Our Mashed team tried the Chocolate Cream Cold Brew in Southern California, so consider this while reading about these drink prices.
We purchased a Chocolate Cream Cold Brew and Vanilla Sweet Cream Cold Brew for comparison purposes and the total came to $10.00. We ordered 16-ounce grande sizes in both drinks, so each drink cost $5.00, including sales tax.
While this might initially seem like a lot to spend on a coffee, it's worth it for this delicious drink. Also, coffee drinks have become more expensive over the years. Prices significantly increase if you sub for non-dairy milk. In the case of our Chocolate Cream Cold Brew order, we did not make any swaps or add extra shots of espresso that would increase the original price.
Where will it be available, and for how long?
If this drink sounds like your dream in a cup, you're in luck. The Chocolate Cream Cold Brew launched with Starbucks' new summer menu last week on May 10th but will continue to be available year-round. It's earing a permanent spot next to the Salted Caramel Cream Cold Brew and Vanilla Sweet Cream Cold Brew on the Starbucks menu.
Starbucks rolled out the Chocolate Cream Cold Brew nationwide, but it's never a bad idea to check the store locator online before you head to grab your cold brew. The drink contains few ingredients, so as long as your local store brews cold brew and has vanilla, chocolate malt, and cream in stock, you can feel good about being able to snag this new drink.
A safe way to make sure your local Starbucks can create this summer brew is by ordering through the website or mobile app, then picking it up at the store.
What's the nutrition info of this new drink?
If you want to watch your waistline, enjoy this drink in moderation. While calories don't mean everything when it comes to nutrition, a Grande-sized cup of this drink comes in at 250 calories, which is a little much for a coffee if you ask us (via Starbucks).
When considering nutrition, we looked at many factors in addition to calories like carbohydrates and sugar content too. The Chocolate Cream Cold Brew contains 29 grams of carbohydrates and 28 grams of sugar. If you don't take your coffee with a ton of added sweetener, this drink will taste extra sweet to your tastebuds.
This cold brew is an excellent stepping stone between the super sugar-packed Frappucinos and your standard ice coffee. If you like the Chocolate Cream Cold Brew but want to reduce the sugar and calories, modify this drink by removing the two vanilla shots. It's not a significant difference, but each shot of syrup does contain 20 calories and 5 grams of sugar, according to Starbucks' nutrition page. Considering you can barely taste the vanilla in this drink, you likely will not even miss it.
How does it compare to other flavored Starbucks cold brew drinks?
We ordered a Vanilla Sweet Cream Cold Brew to compare to the Chocolate Cream Cold Brew for this taste test. The Vanilla Sweet Cream Cold Brew also contains two pumps of vanilla syrup and additionally a splash of sweet cream.
Nutrition-wise, the Vanilla Sweet Cream Cold Brew contains half the calories, carbs, and sugar of its chocolate counterpart. Again, we ordered grande sizes, so a tall size would also reduce the overall nutrition metrics.
For us, it was no contest between the Chocolate Cream and the Vanilla Sweet Cream Cold Brew. The chocolate reigns supreme because it tastes like a s'mores mocha milkshake that melts in your mouth. The Vanilla Sweet Cream Cold Brew, on the other hand, did not overly impress us. If you want a vanilla cold brew with no overwhelming flavor, you may enjoy this, but if you want a flavored cold brew, opt for the chocolate.
The verdict: It's definitely worth a taste
If this article has not convinced you yet to try the new Starbucks Chocolate Cream Cold Brew yet, let us reiterate a few things. The silky chocolaty cream cold foam really differentiates this drink from other Starbucks cold brews. The balance between the chocolate and coffee flavor is perfect, and the foam mixes with the coffee as you sip. We tasted a brilliant mix of cold brew and chocolate all the way down to the bottom of the cup.
If the taste is not enough, this drink also packs 185mg of caffeine, according to the Starbucks nutrition information. While this drink contains less caffeine than the original cold brew, it still packs quite a punch, so order wisely. Consider this your new treat to get through long summer workdays. If you love chocolate and mocha and need an extra boost of caffeine, the Chocolate Cream Cold Brew will not disappoint.