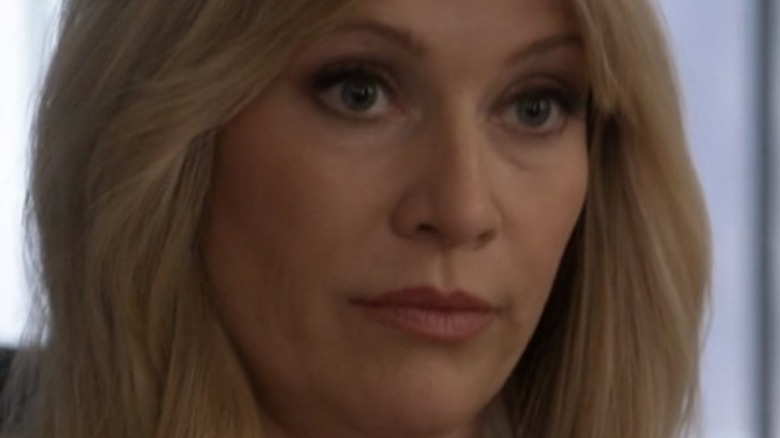 A big role on a long-running television series is the kind of thing many actors spend their careers chasing. Such gigs tend to come with consistent hours, reliable pay, and mainstream recognition. They do not, however, guarantee further television work. When an actor spends years playing a character on a hit show, they sometimes struggle to transition into something new. Some actors branch out entirely from entertainment and try their hand at another profession. Such is the case with Emily Procter, who was a staple on our screens for over a decade before she seemingly vanished.
Procter became a fan favorite as Ainsley Hayes in "The West Wing," making frequent appearances between 2000 and 2002 and returning for one episode in 2006. However, it was "CSI: Miami" that put Procter in people's homes on a weekly basis: She played ballistics specialist Detective Calleigh Duquesne. Beginning in 2002 and lasting ten seasons, "CSI: Miami" proved a tremendous ratings performer. It was declared, at one point, to be the most popular show in the world. Even in its final season, around 10 million people tuned in every week.
It's been over a decade since "CSI: Miami" went off the air, however, and many fans may be wondering where Procter ended up. She didn't leave showbiz behind entirely, but she has found a new passion. Read on to find out more.
A different kind of law enforcement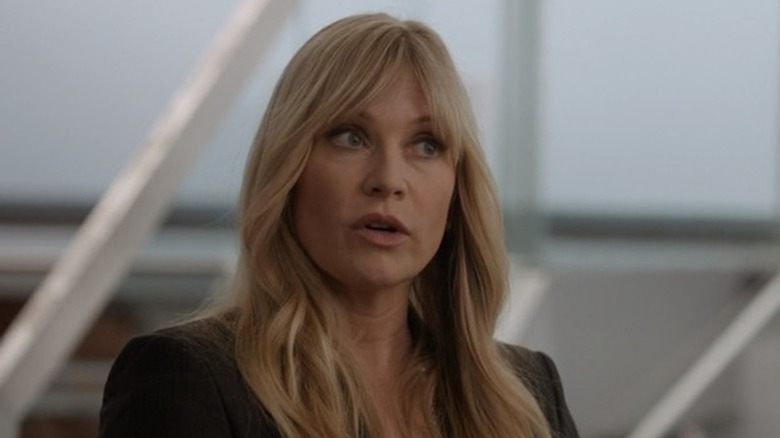 Emily Procter played a few more characters before she arrived at her new passion. Less than a year after "CSI: Miami" aired its last episode, the actor showed up on "White Collar." A transfer from the FBI's Atlanta office, Procter's character Amanda Callaway is promoted to ASAC (Assistant Special Agent in Charge) at the New York White Collar Division.
In particular, she's tasked with keeping an eye on the working relationship between Agent Peter Burke (Tim DeKay) and Neal Caffrey (Matt Bomer), the thief, counterfeiter, and con artist-turned-consultant. Because of a shared history, Burke doesn't trust her. Callaway, in turn, absolutely doesn't trust Burke and Caffrey's investigative technique. But, as is so often the case in these shows, Callaway isn't wrong — Caffrey frequently crosses the line only to pick up his mess at the last moment, while Burke lets him do so with little more than vague disapproval.
At the time, Procter expressed excitement about taking on the part. She saw it as a transition away from the far tougher Duquesne in terms of Callaway's personality. She also praised the show's behind-the-scenes environment, making it easy to return to TV after "CSI: Miami" and her first year of motherhood. "It seemed like a nice way to start dating again," she told TV Guide. Despite the warm welcome and comfortable fit, Procter's character did not return after her planned two-episode arc.
A silver screen appearance
During the ten years that Emily Procter starred in "CSI: Miami," she only drifted to film twice. First, she played Leah Fuller, the wife of a suspected cyber-terrorist and a super strict mom, in 2006's "Big Momma's House 2." Then, four years later, she took a small part in "Barry Munday," a Magnolia Pictures pickup out of South by Southwest that was not well received.
Despite having a far more relaxed schedule after "CSI: Miami," Procter continued to stay away from the big screen until 2016. That year, she starred as Helen in the film "Love Everlasting." Escaping from a dangerous marriage, Helen and her teenage son Bridger (Lucky Blue Smith) end up in a small town in Utah with less than $200. While the beginning of the film focuses on Helen and Bridger's relationship, once they find a place to live with the help of Will Simms (Shawn Stevens), it becomes more about the burgeoning romance between Bridger and Will's daughter Clover (Christie Burke).
The film didn't get a wide release, and it received little critical response in one direction or the other. In Utah, where the movie was filmed, "Everlasting Love" was warmly greeted, receiving praise for its family-friendly vibe and chaste romance. Even the less enthusiastic local reviews still singled out the cast, including Procter, for recognition.
A longtime staffer
Calleigh Duquesne is Emily Procter's longest-running role by a considerable distance — she appeared in every single episode of "CSI: Miami," one of only two actors to do so. However, she's also well known for playing Ainsley Hayes on "The West Wing." The Republican attorney and strategist was hired by President Bartlet after she badly beat staffer Sam Seaborn (Rob Lowe) during a televised debate. While disagreeing with her politically, the president recognizes her obvious intelligence and love of country, and that's why he wants her to be part of his administration.
Despite the fact that she only appeared in a dozen episodes, Hayes proved to be a big fan favorite. Procter, it turns out, loves the character as much as the fans do. She was involved in "A West Wing Special to Benefit When We All Vote" in 2020 (she didn't show up on screen but is heard throughout, providing narration and stage directions). She has also guested on multiple episodes of "The West Wing" recap podcast "West Wing Weekly," hosted by Hrishikesh Hirway and fellow series cast member Joshua Malina.
A philanthropic state of mind
As Procter's acting career wound down, her desire to give back to the community increased. One of her biggest projects in that arena goes by the name Pippa+Pail. The name comes from Procter's daughter Pippa (who was born in December 2010) and classic "lunch pail lunches," associated with cafeterias and construction sites. The company aimed to provide low-cost meals to financially disadvantaged youths in areas where free or reduced-cost student lunches were extremely limited or simply not available.
In addition to the benefits to children and families provided by this service, Pippa+Pail's employment practices provided valuable jobs to many who would otherwise struggle to find employment. They sought out and provided "second chance" employment to individuals who had previously been convicted of crimes but served their time and returned to society rehabilitated. The prominent reporter and prison reform advocate Van Jones highlighted Procter's efforts in second chance employment, as did Richard Branson.
Changing the narrative
Procter founded the non-profit Ground Breakers Inc in 2019. As with Pippa+Pail, she sought to focus on two areas to lift the community. She began by helping incarcerated individuals who were soon to re-integrate into society. Going into correctional facilities, the organization offered social-emotional learning and good parenting curriculums, giving people on the verge of being reunited with their friends and families a helping hand.
In working with the convicted, Procter noticed a high level of correlation between their presence in prison and the experiencing of traumatic events in childhood. Based on this realization, she introduced the second facet of the organization's mission. In addition to courses for adults, they began to offer classes for children on developing healthy social identities, hoping to help youngsters avoid poor decisions that could come with a lifetime of consequences.
The program for the incarcerated has since increased to help individuals develop the skills to share their stories. Prisoners are shown how to write and publish newspapers and newsletters intended to inform and inspire.