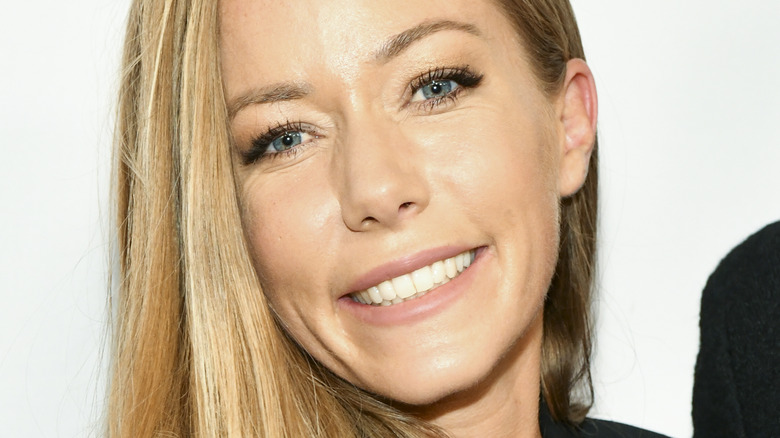 Kendra Wilkinson was a 19-year-old aspiring model from San Diego on the night she met Hugh Hefner, later becoming Hef's girlfriend and moving into the fabled Playboy Mansion. In fact, Wilkinson was one of the Playboy mogul's three girlfriends housed at the famed estate. As word spread of this unconventional living arrangement — a near-octogenarian romantically involved with a trio of young beauties, all a half-century younger than him — somebody at the E! network saw the makings of a potential reality show. Fast-forward to 2005 and the premiere of "The Girls Next Door," following the exploits of Wilkinson, Hef, and his other girlfriends, Holly Madison and Bridget Marquardt. After five seasons, Wilkinson followed up with her own solo spinoff series in 2009, "Kendra," which led to "Kendra on Top," which ran from 2012 until 2017.
Since then, Wilkinson has proven to be deft at expanding her unexpected fame, becoming a bona fide celebrity in her own right. And while she's been in the public eye for well over a decade, there's much that even her most ardent fans may not know about her. To find out more, keep reading to discover the untold truth of Kendra Wilkinson.
The weird way Kendra Wilkinson became Hugh Hefner's girlfriend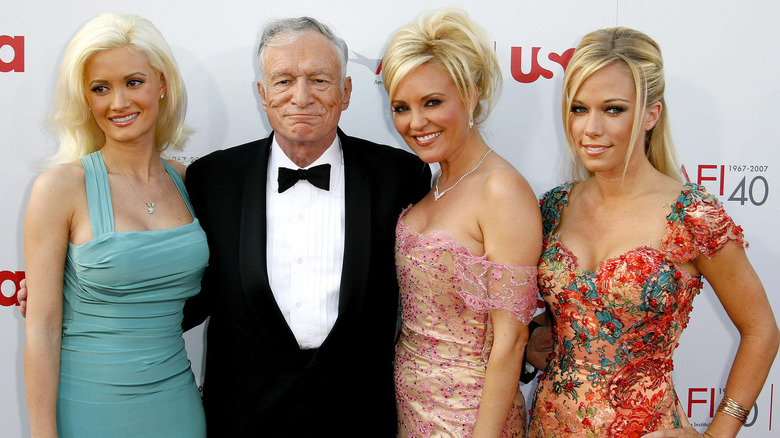 Back in 2004, Kendra Wilkinson reluctantly took a one-night job as a "painted girl" (i.e. a nude model covered in body paint) at the 78th birthday party of Playboy founder Hugh Hefner. Prior to the party, a photographer posted some photos of her online, she wrote in her book "Sliding Into Home" (as excerpted by "Today"). Those photos were seen by Hefner himself, who sent word he wanted to speak with her. While she found that odd, it was nothing compared to what Hef told her when they spoke on the phone. "I look forward to seeing you at my birthday," he told her. "Also, I'd like you to consider being my girlfriend."
At the party, she noticed Hefner staring at her all evening. As the soiree wound down, he approached her and asked her to stay the night. She declined (her boyfriend was waiting to pick her up outside the Playboy Mansion), but he persisted. "Will you be my girlfriend?" he asked again. Mesmerized, she muttered the only answer she could come up with in the moment. "Um, okay," she told him. "That night," she wrote in her book, "my life changed."
Kendra Wilkinson never intended to be a reality TV star
While being one of Hugh Hefner's three girlfriends was certainly an odd experience for Kendra Wilkinson, things took an even stranger turn when he approached her about appearing in a TV reality show focusing on this most unconventional of arrangements. Interviewed for the Andy Cohen-hosted E! docuseries "For Real: The Story of Reality TV," Wilkinson recalled Hef telling her and the other girlfriends, "We might be filming a reality TV show, girls.'" Wilkinson admitted she was dubious. "I'm like, 'What? No! No, I'm sorry, I'm not doing that,'" she said (via TooFab).
Of course, she did do that, and "The Girls Next Door" proved to be a hit with viewers — largely due to Wilkinson. This did not go unnoticed by her fellow "Girls Next Door" co-stars Holly Madison and Bridget Marquandt, the show's producer, Kevin Burns, told "For Real." According to Burns, Wilkinson proved to be a natural at reality television and quickly became the standout — something that infuriated her co-stars. "I tried really hard to give each of the three girls equal time, but it drove them crazy that Kendra was the gift that kept on giving," he explained.
Living at the Playboy Mansion was way less fun than it looked on TV
The Playboy Mansion is famous worldwide, and headlines were made when Hugh Hefner sold his opulent abode in the summer of 2016 for a whopping $100 million (under the condition he be allowed to live there until he shuffled off this mortal coil, which occurred the following September).
Viewers of "The Girls Next Door" may have assumed that Kendra Wilkinson and the other women were living the epitome of a luxurious lifestyle, but the girls claimed the reality was far different. As Holly Madison, one of Hefner's other girlfriends, told People, life in the Playboy Mansion "was a constant struggle" due to the "constant competition with the other women … there was a lot of fear." In addition, Wilkinson wrote in her book "Sliding Into Home" (excerpted by People), there was also the fun-killing 9 p.m. curfew Hefner imposed on all his girlfriends.
Then, of course, there was the mandatory intercourse demanded by their elderly boyfriend. When it was Wilkinson's turn to share Hef's bed, she wrote (as excerpted by TooFab), "I had to be very drunk or smoke lots of weed to survive those nights — there was no way around it."
Her former husband gave her permission to 'play around' with other guys after his cheating scandal
Kendra Wilkinson was still one of Hugh Hefner's girlfriends when she met NFL star Hank Baskett at a 2008 Playboy golf event. The following year, they got married, with the newlyweds' new life together forming the basis of her Hefner-free reality show "Kendra." As viewers witnessed, the couple weathered allegations Baskett had an affair with a transgender model while Wilkinson was eight months pregnant, plus the surfacing of a sex tape featuring Wilkinson and a man who wasn't Baskett.
Baskett's cheating scandal pushed the marriage to the brink. At one point, Wilkinson said, "I had divorce in my mind" (via Entertainment Tonight). As they began working things out, she admitted, she found it tough to reconcile the love she still had for her husband with her growing desire to be single, "so I didn't know what I wanted. So Hank gave me the freedom to explore it." According to Baskett, he told her to "go play around if you want."
Ultimately, Baskett took responsibility for his actions. "I messed up," he admitted. "I put myself in a bad situation. And everything through me brought pain upon this family."
She danced her way into viewers' hearts on Dancing With the Stars
In 2011, Kendra Wilkinson made the jump from basic cable to network primetime when she joined the cast of "Dancing with the Stars." Partnered with pro dancer Louis van Amstel, she proved to be a standout in a season that also included the likes of former "Cheers" star Kirstie Alley, retired boxer Sugar Ray Leonard, talk show host Wendy Williams, pro wrestler Chris Jericho, and Ralph Macchio of "Karate Kid" fame.
As ABC News pointed out, Wilkinson "had no problem with sex appeal during the competition," winning over both judges and viewers with her steamy samba and rhumba routines.
Sadly, winning the Mirror Ball trophy was not to be, with Wilkinson becoming the third-to-last celebrity to be eliminated that season. She did, however, exit on a high note. "I did something that I never thought I could ever do," she said on "Good Morning America" (via ABC News). "The bar was set so high before I even set foot on the dance floor so it was so hard to meet those standards. I gave it the best I could. I had so much fun."
She competed to be one of America's worst cooks
In addition to her own shows and "Dancing With the Stars," Kendra Wilkinson has ventured out into other sub-genres of reality television. Among these was the 2015 celebrity edition of Food Network's "Worst Cooks in America." As she revealed in an interview with the network, cooking had never really been her forte, given that most members of her family felt cooking was "a waste of time." Her goal in undertaking the culinary competition, she explained, was to "gain confidence," and also "to learn a new skill in my life."
When asked to share her "worst kitchen disaster," she responded, "Every Thanksgiving. I just suck at Thanksgiving." As Wilkinson explained, any time she's attempted to whip up a Thanksgiving dish the whole thing "just falls apart. I don't put any love into it, and it tastes that way. And it's just, I mean, it's just a mess whenever I try Thanksgiving …"
As it turned out, Wilkinson comported herself surprisingly well in the kitchen. In fact, she made it all the way to the final competition, where she faced off against "Jersey Shore" star Jenni "JWoww" Farley — who was ultimately declared the winner.
She hosted a Vegas show about sex tips with a former Queer Eye star
In the spring of 2017, Kendra Wilkinson teamed up with original "Queer Eye for the Straight Guy" star Jai Rodriguez for a stage act in Las Vegas, titled "Sex Tips for Straight Women from a Gay Man." Given that Wilkinson had pretty much no prior experience as a live performer, it's no understatement to describe the show as a bit of a gamble. However, as the Las Vegas Sun reported, Wilkinson proved to be a natural onstage, with the show becoming so successful that the original three-month run was extended to eight.
"It's the first big change in my career and I'm loving every minute of it," Wilkinson told the Sun. "This is my first rodeo, my first time onstage performing in front of a live audience, and there couldn't be a better situation than kicking it off in Las Vegas. It's an amazing feeling."
While she was admittedly nervous before opening night, her confidence kicked right in after the debut performance went well. "Now it's fun and I'm not nervous," she said.
Kendra Wilkinson was deemed one of the best-ever contestants on a hit British reality show
One of the truisms in the world of reality TV is that these shows keep proliferating to create a sort of circle of life in which people who found success in one reality show are then invited onto a seemingly endless string of other reality shows. That was certainly the case when Kendra Wilkinson signed on to the hit British reality show, "I'm a Celebrity … Get Me Out of Here!" The premise is lifted from "Survivor," collecting a group of celebrities and plunking them on a deserted island outfitted with cameras everywhere in order to capture them endlessly complaining about each other.
As was the case with "The Girls Next Door" and her other TV appearances, Wilkinson did not disappoint. In fact, venerable U.K. tabloid the Mirror bullishly declared she was "set to go down in the annals of jungle history as one of the best 'I'm a Celebrity' contestants EVER," particularly when she ferociously clashed with British politician Edwina Currie. That and other moments, the Mirror gushed, "provided viewers with some of the most entertaining moments of the series so far."
She dished all about sex with Hef in her candid tell-all
Kendra Wilkinson was just 25 when she published her 2010 memoir, "Sliding Into Home," and to say the book was shockingly candid is like saying Meryl Streep is a pretty decent actor. As a review in Entertainment Weekly pointed out, Wilkinson did not hold back on stunning confessions, which ranged from her onetime job as a stripper to using cocaine at age 13.
What really grabbed attention, however, was her candid description of having sex with Hugh Hefner. While Hef was a notorious ladies' man in his prime, Wilkinson's experience with the geriatric Playboy mogul was far from satisfying — but at least it didn't take long. "At about the minute mark I pulled away and it was done," she wrote, as reported by Honey. "It was like a job. Clock in, clock out. It's not like I enjoyed having sex with him."
Despite the book's salacious content, Wilkinson insisted that wasn't her intent. "I just wanted to tell my story. Not to be mean, not to be angry. I just wanted to tell what I was thinking during certain times," she told the Orlando Sun Sentinel.
Kendra Wilkinson accused her mother of 'sadistic' abuse
Throughout Kendra Wilkinson's rise to reality show fame, her relationship with her mother during that time can generously be described as fraught. In a 2015 episode of "Kendra On Top," she accused her mom of being "the most sadistic abuser," adding that she felt like she was being assaulted whenever she was with her mom (via People).
Meanwhile, her mother, Patti Wilkinson, felt similarly about her daughter. As Us Weekly reported, Patti shared plans to write her own book "that may take a certain someone down off of her pedestal." Following on that, a subsequent episode of "Kendra On Top" featured Patti meeting with famed book publisher Judith Regan about a potential book (via People).
Wilkinson was not thrilled with the idea of being slagged by her own mom in a salacious tell-all. "It's just been a rough couple of years and I just hope she doesn't write the book," she told "Access Hollywood," as reported by Australia's News.com. If it meant paying off her mother in cash to not write it, Wilkinson was willing to go that route. "I would love to [do that] if she needs it," she added.
She split from husband Hank Baskett after nine years of marriage
The turbulent marriage of Kendra Wilkinson and Hank Baskett finally came to an end when she filed for divorce in 2018, with their divorce finalized the following year.
In 2017, a year before pulling the trigger on divorce proceedings, she gave a prescient interview to In Touch that detailed their manifold marital problems. "We have already threatened divorce probably five times," Wilkinson confessed, noting that "the downside of being married is the temptation all around. You know, the sexual temptations." About a month after initiating divorce proceedings, those temptations were apparently front of mind when Wilkinson took to Twitter to ask her followers whether she should "start dating/sex now or give myself more time? My heart is broken but i have needs."
Later that year, Wilkinson had apparently decided on the latter course of action, and put plans for dating on hold. As Us Weekly reported, she wrote in a since-deleted Instagram post that she'd been seeing someone — herself. "I've been dating myself lately," Wilkinson wrote. "Getting to know myself and even falling in love. Love and happiness is real without waiting on someone or something to do it for you."
She had a 'rough start' to co-parenting with her ex
Two things complicated Kendra Wilkinson's divorce from Hank Baskett — the children they share, son Hank IV, and daughter Alijah Mary. Splitting parenting duties with her ex, she explained in an interview with People, was not something that came easily to her. "It was a rough start for me to get used to co-parenting," she admitted. "I didn't know how to not have my kids. And then the guilt would set in. I'm in a neighborhood where everyone has their kids 24/7 and when I don't have my kids I want to cry."
Sharing custody of the kids with Baskett, she said, left her feeling like she'd lost her bearings. "I'm so a fish out of water, it's like, what am I going to do with my new life?" she said.
However, she also felt that enough time had passed that she was beginning to feel ready to open herself up to another relationship. "I hope to find love again and fill my home with someone else's energy. It will be nice to have that again," she said, noting that she'd "done so much healing and therapy" and was "now in a very strong place."
Kendra Wilkinson reinvented herself as a reality show realtor
In late 2021, Kendra Wilkinson returned with a new reality show for Discovery+, "Kendra Sells Hollywood." As a press release noted, the show finds her embarking on a new career as a realtor.
"I'm just a mom of two trying to start a new career," said Wilkinson, who had no prior experience selling homes. "This is not just a job to me — this is my life. It's exciting because this is my chance to prove everyone wrong, but it's also terrifying because it could be a total failure. I'm way out of my comfort zone, but I'm ready to get my hustle on!"
As Wilkinson told Fox News, she was under no illusion that what she was undertaking would be easy. "I'm learning, growing, building from scratch," she said, admitting the whole process had "been very exciting, nerve-wracking." She also insisted she was no dilettante playing make-believe for TV cameras. "I'm putting all of my energy and mind and heart and soul into this business," she added. "Clients are wondering if I'm really doing this or just bulls***ting. If I'm just doing it for TV, but I'm not. I'm doing this for real."
She wants to get married, but hates dating
By late 2021, Kendra Wilkinson was feeling ready to have another man in her life, and expressed the urge to get hitched again. One key problem with that plan, however, was that she didn't have a boyfriend, and loathed the idea of diving back into the dating pool. Marriage, she said during an appearance on the "Hollywood Raw" podcast" (via In Touch) is "all I want," explaining she'd prefer to skip all the dating that led to a trip to the altar. "F*** the dating, like, screw all that. I don't want to get to know 10,000 people," she said. "It's just, I'm going to live and if one person suits me, then that person's going to be it."
While she admitted she was not averse to meeting new men and spending time with them, she was also very specific when it came to what she would categorize as a date. "It's just, like, everybody's a waste of time. It doesn't make sense. So, if it's worth my time, I don't see it as dating, I just see a natural evolution if someone's just cool," Wilkinson explained. "I don't really, like, see things that way. I just live."