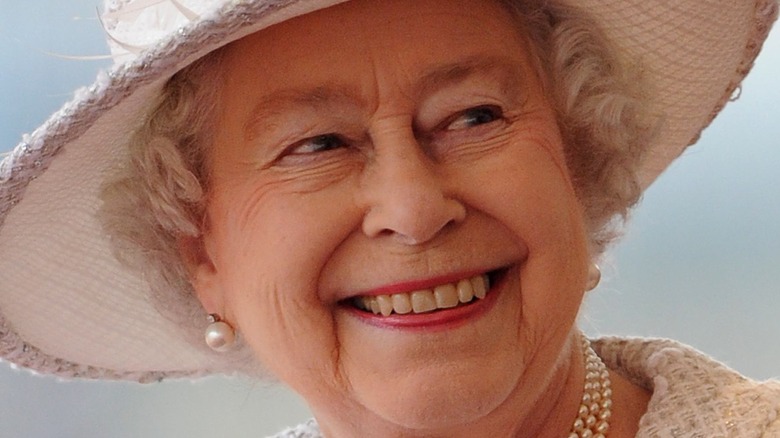 The loss of a parent can be one of the most devastating moments in a person's life, and on February 6, 1952, the then-Princess Elizabeth was informed that her father had passed away. It wasn't entirely surprising, says The Royal Household, as the king had been sick for a long time. Some of his duties had already fallen to his daughter, and in fact, she was abroad fulfilling one of those duties when he passed away. In that same moment, she became Queen Elizabeth II.
When she arrived back in-country, one of the first to meet her was Winston Churchill. Her official coronation wasn't until June 2, 1953, and then, decades passed. Her children, grandchildren, and great-grandchildren were born, she reigned through upheaval, social change, and widespread conflict, and on September 9, 2015, she officially became Britain's Longest Reigning Monarch. The day was marked by surprisingly little pomp and circumstance: Elizabeth and Philip attended the opening of a new railway, and she did take the opportunity to "thank you all, and the many others at home and overseas, for your touching messages of great kindness."
Elizabeth II has been queen for the duration of most living memories, and that's an impressive legacy. She's also an integral part of a shockingly huge family, and while it can get a little overwhelming trying to figure out who's related to who, let's take a streamlined look at the family surrounding Britain's longest reigning monarch.
Here's how she's related to Queen Victoria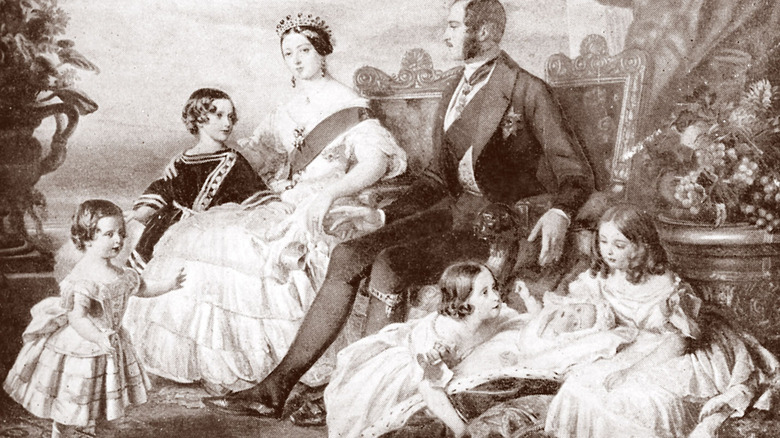 When it comes to British monarchs, there are few that are as popular and widely known as Queen Victoria. She oversaw the British Empire during a period of massive change, industrialization, and scientific advancement, giving her name to the entire era. Is she related to Queen Elizabeth II? Yes, but it's surprisingly complicated, says ThoughtCo and the Independent.
Queen Victoria was crowned in 1838, and in 1840, she married Prince Albert of Saxe-Coburg and Gotha. They went on to have nine children, including Prince Edward VII. He would go on to be king — and so would his son, George V.
(Let's pause things here for some context and a helpful aside. George V was, says Historic UK, king during World War I and a series of independence movements from major British territories including India and Ireland. He was also the ruler who refused to let Tsar Nicholas II — his cousin — flee Russia for the safety of the UK, leading to the infamous murder of the entire family.)
On his death, George V's eldest son — another Edward — was next in line, but he famously stepped aside in order to marry an American divorcée. George V's next son was crowned king in his stead, and that was George VI. He would marry a woman named Elizabeth Bowes-Lyon, and their first daughter would become Queen Elizabeth II.
Through Victoria, she's related to scores of monarchs and rulers
It's worth taking a moment to talk about Queen Elizabeth's extended family. She's officially the great-great-granddaughter of Queen Victoria, and according to Town and Country, there's a very good reason that Victoria is called the "grandmother of the continent."
Through Victoria, Elizabeth is also related to King Harald V of Norway: They're second cousins, both great-great-grandchildren of Victoria. She's also related to the first Danish queen to hold the throne in more than 500 years, Queen Margrethe II. (She's from the line that goes back to Victoria's son, Prince Arthur.)
Then, there's also Spain's King Felipe VI (pictured, with Queen Letizia), who is a few generations down the line from Victoria's daughter, Beatrice, on his father's side, and from the queen's eldest daughter, also named Victoria, on his mother's. He's not the only one to be related to Elizabeth's great-great-grandmother through both of his parents: The same can be said of Sweden's King Carl XVI Gustaf.
Perhaps most fascinating are the ties she has to now-defunct European monarchies, including the Romanov dynasty (Victoria's granddaughter became Alexandra Feodorovna, wife of Nicholas II), the last king of Romania, the last king of Yugoslavia, and the now-abolished monarchy of Greece. They were all related to Elizabeth in one way or another, going back to Queen Victoria.
There was a complicated family abdication that put her on the throne
Queen Elizabeth II's father, King George VI, was born Prince Albert, Duke of York, and according to Good Housekeeping, he was extremely proud of his daughters. But when Elizabeth was born, he wasn't even considering he might be king.
Albert "Bertie," the Duke of York (left), was the younger brother of Edward, the Duke of Windsor (right). Vanity Fair did a deep dive into the relationship between the two, and described Edward as pretty much the poster child for a perfect king. He was handsome, charismatic, outgoing, and strong-willed, while his younger brother was shy and reserved. They were raised by a series of nannies and tutors, and when their father — King George V — died, the crown passed to King Edward VIII.
But Edward had fallen in love with a woman named Wallis Simpson, and ultimately abdicated, passed the crown to Albert, and married his American love. Elizabeth's father was now king, and Edward was living in exile in France.
Edward returned to England for his brother's 1952 funeral, but not, says GH, for Elizabeth's coronation. Edward passed away in 1972, and Elizabeth did go to see him before he died. Edward reportedly rose from his sickbed to bow to her, and 10 days later, it became his deathbed.
Forgiveness didn't come easy: British Heritage says that Edward's former title, the Duke of Windsor, has been deemed inappropriate to use again for any other present or future royal.
Queen Elizabeth's mother comes from ancient Scottish roots
Queen Elizabeth's mother's name was fully the Honourable Elizabeth Angela Marguerite Bowes-Lyon, and she was born in 1900. When she died in 2001, Tatler points out that she was the longest-living member of the British royals, a position she was ousted from just a few years later. (Princess Alice passed away at 102, the Queen Mother was 101.)
She wasn't from royalty, but she was from nobility, and given that no one ever thought her husband was going to be king, that was fine. Still, her pedigree was impressive: She was the daughter of Lord Glamis, later 14th Earl of Strathmore and Kinghorne. They were of the sort of standing that meant they had a family seat, a castle that had been in the family for generations. That was Glamis Castle, and if that sounds familiar, it should — that's where William Shakespeare found the inspiration for "Macbeth."
Glamis Castle had been in the family since 1372, and it makes sense, then, that it was the birthplace of her second daughter, Princess Margaret. Still, the Queen Mother has left behind a complicated legacy of conflicting memories, accusations of racism, and questionable actions during World War II.
Vanity Fair found that her brother-in-law's abdication and marriage to Wallis Simpson horrified her as an affront to the British aristocracy, and according to biographers (via The Guardian), the wife of a British ambassador once described her as "rather mocking, not very kind."
Elizabeth was remarkably close to King George VI, her father
Queen Elizabeth was 11 years old when her father was crowned king, and given the fact that it was always assumed that was a role that would go to his elder brother, it's not entirely surprising that he went above and beyond to make sure she was prepared for what was waiting for her upon his death. According to Vanity Fair, he had wanted her to feel more prepared for her inevitable coronation than he had been for his, and that started with having her write an account of the ceremony in which he was crowned.
She did, describing even the Abbey: "The arches and beams at the top were covered in a sort of haze of wonder as Papa was crowned, at least I thought so."
Elizabeth came of age during World War II, and The New York Times says that when she was 18 years old — in 1944 — her father named her counselor of state. That gave her the powers of the head of state while he was abroad, and that's a lot to put on the shoulders of a teenager.
King George VI became known as the king who battled a speech impediment to speak to a country that desperately needed a reassuring voice, and as a stoic head of state. Unfortunately, by the end of the war, History says his health had deteriorated dangerously. Elizabeth became regent on his death on February 6, 1952.
Was the Queen really related to her husband?
When Elizabeth and Philip Mountbatten married in 1947, a reporter from The Guardian wrote (via Brides magazine) "It is clearly a marriage of choice, not of arrangement." Why? On paper, it wasn't exactly a match that would have been made for the future queen of England.
Philip, says The Royal Household, was the only son of Prince Andrew of Greece, and was born in 1921 on Corfu as Prince Philip of Greece and Denmark. He was still a toddler when his father was arrested and forced to abdicate the throne, only staying out of jail by agreeing to live in exile. The family was evacuated with help from King George V, settled in France, and in 1934, he met 8-year-old Elizabeth at a wedding. It was another five years before they would meet again, and at the time, he was 18, she was 13, and her nanny wrote that she was immediately in love.
They wrote to each other for years, and in 1946, Philip asked for the king's permission to marry her. The rest is, as they say, history. Their 73-year marriage ended with the death of the 99-year-old Philip in 2021.
But let's look at the oft-repeated rumor that they were related, because it's true. It's complicated, but Reader's Digest explains it like this: Both Elizabeth and Philip are descended from both Queen Victoria's daughter Alice, and King Christian IX of Denmark. They are third cousins.
She had a complicated relationship with her younger sister
There are perhaps no two branches on a family tree that are closer than siblings, and Queen Elizabeth had one: Princess Margaret Rose. Historian Craig Brown summed up the differences between the two in "Ninety-Nine Glimpses of Princess Margaret," writing (via Vogue): "Elizabeth was organized, Margaret artistic; Elizabeth discreet, Margaret attention-seeking; Elizabeth dutiful, Margaret disobedient; Elizabeth disciplined, Margaret wild."
Even as Elizabeth stepped into the role of the monarch, Margaret made headline traveling the world, being courted by countless men, and becoming nothing short of a fashion and style icon. Still, those who knew them best said that in spite of their differences, they shared an unshakable, unbreakable bond. Even well into Elizabeth's reign, they spoke daily, and when she died in 2002, Elizabeth did something that she has rarely done in her 70+ years as queen: She cried in public.
Margaret married a photographer named Antony Armstrong-Jones in what Harper's Bazaar says was the first royal wedding to be broadcast on television. They had two children, Elizabeth's nephew and niece: David Albert Charles Armstrong-Jones, 2nd Earl of Snowdon, and Lady Sarah Frances Elizabeth Armstrong-Jones. Margaret and her husband separated in 1976, amid a series of scandalous rumors.
Duty came before Elizabeth's eldest son
Prince Charles Philip Arthur George was born in 1948, before his mother was even officially queen. Still, Vanity Fair says that it wasn't just accepted that he was going to be next in line for the throne, but two hours after he was born, he was moved to Buckingham Palace's ballroom, and put on display as his mother's heir.
Charles grew up groomed for the monarchy, and that included his search for a bride. According to Biography, Charles had met Camilla Shand — later Camilla Parker Bowles — when he was 23, but she was deemed to be not an appropriately noble match for the future king. She married before he did, and Charles was linked to several more "suitable" women, including Lady Jane Wellesley, the daughter of the Duke of Wellington, and Lady Sarah Spencer.
Charles proposed to his second cousin in 1979, but she said no — leaving him to keep looking. Finally, he circled back around to the younger sister of someone he'd dated previously: Lady Diana Spencer.
She was deemed a suitable match … barely. According to Vanity Fair, the entire Spencer family was known for not exactly falling in line. That went all the way back to the 14th century, an alleged ancestor named Hugh Despenser, his alleged affair with the then-king, and his absolute execution. More recently in the 500-year-old family, Diana's parents were Edward John Spencer and Frances Ruth Burke Roche, the Viscount and Viscountess Althorp.
Elizabeth's daughter is Britain's most industrious royal
While Queen Elizabeth's oldest son might be the most widely known of her children, it's second-born Princess Anne that Vanity Fair calls "Britain's most industrious royal." When they interviewed the 70-year-old royal in 2020, they noted that she regularly packs her schedule with around 500 engagements each and every year — like the one People spotlighted in 2022. That was a joint outing with Kate Middleton, when they headed to the Royal College of Midwives, and the Royal College of Obstetricians and Gynaecologists, in order to shine their own spotlight on the need for improvements to maternal healthcare.
Anne has been married twice, and according to Town & Country, Captain Mark Phillips is a rarity: He's the ex-husband of a member of the royal family. Officially considered a commoner, he was deemed an acceptable match largely because of his — and his family's — long history of military service. The two married in 1973 and divorced amid rumors of infidelity (that were confirmed via paternity tests in 1991).
According to Harper's Bazaar, Anne had her share of dalliances, too — including being linked to Andrew Parker Bowles, who would go on to marry Charles' future wife, Camilla. She was still married to Phillips when love letters written to another military man, Naval Officer Timothy Laurence, went public. They were married two months after she divorced Philips, and they're still married.
Elizabeth's third son has become highly controversial
Town & Country describes Queen Elizabeth's third son, Prince Andrew, as being "one step out of the spotlight," and that was certainly true … until recently, when he was catapulted into international headlines amid a massive scandal. In 2010, Vanity Fair says that it was tabloid reporters who first linked Andrew with the notorious Jeffrey Epstein. By 2022, that escalated into accusations that he was one of the men who assaulted the oftentimes underage girls caught in Epstein's sex trafficking ring (via the BBC), and Andrew would go on to settle the lawsuit filed for victim Virginia Guiffre (via The New York Times).
In the wake of the scandal, NBC News reported that Andrew had been stripped of all "military affiliations and royal patronages" by his mother, who took over the duties removed from him. He was also no longer permitted to officially use "His Royal Highness," and shortly afterwards, the BBC reported that he had his Freedom of the City of York honor removed as well.
Like his older sister, Andrew had opened up the family tree a bit when he married Sarah Ferguson, who had an association with the royal family that started with her friendship with Diana. It was Diana who facilitated the relationship between Andrew and the daughter of Prince Charles' polo manager, and although they would become estranged in 1992 and divorced in 1996, they continued to live together and make public appearances together.
If you or anyone you know has been a victim of sexual assault, help is available. Visit the Rape, Abuse & Incest National Network website or contact RAINN's National Helpline at 1-800-656-HOPE (4673).
Elizabeth is closest to her youngest
Royal biographer Ingrid Seward says in her book "My Husband and I: The Inside Story of 70 Years Of Royal Marriage" (via the Irish Independent) that by the time Prince Edward was born in 1964, the world — and Queen Elizabeth — had changed how things were done. Prince Philip became the first (modern) royal consort to witness the birth of his child, and when it came to the nannies and governesses that had raised the others, Elizabeth often opted to keep Edward with her, instead.
Seward suggests that Edward was Philip's favorite son, while Good Housekeeping reports that experts in body language have revealed that he's Elizabeth's favorite, too: And when he married in 1999, he added another beloved branch to the family tree with Sophie, Countess of Wessex.
Sophie, reports Town & Country, is one of Elizabeth's favorite family members. Media outlets adore her across the board, too, as the patron of more than 70 charities and a Royal Colonel of military organizations like Queen Alexandra's Royal Army Nursing Corps.
Edward is unique among his siblings in that he's never been divorced, and he, too, married a commoner. Sophie is the daughter of a retired salesman and a secretary, and prior to her entry into the royal family, she started out working at a PR firm after graduating from school.
There's a lot more grandchildren than just William and Harry
The British Royal family might rely on their connections to the past in order to cement their place at the top of British society, but it's Elizabeth's grandchildren — and their future generations — that are going to keep the whole thing going.
The most famous of her grandchildren are, of course, William and Harry. Their marriages brought two more commoners into the royal family tree with Kate Middleton and Meghan Markle, respectively, but let's look at the others (with help from Town & Country).
The first to give Elizabeth a grandchild was her daughter, Anne, with then-husband Captain Mark Phillips. Peter Phillips is the eldest grandchild, and while he's frequently seen at royal events, he tends not to be front and center. His arrival was followed a few years later by the queen's second grandchild, Anne's daughter, Zara.
Andrew and Sarah Ferguson had two daughters, Beatrice and Eugenie, and keeping with the two-child theme was Edward and Sophie. They had daughter Lady Louise Windsor (pictured, with her parents) and son James, Viscount Severn, and unlike the childhood of their famous cousins, Louise in particular had no clue that her grandmother was the queen … until, says People, she went to school. It was only then that the now-grown Louise wanted to know why her classmates kept telling her that her grandmother was the queen: Her mother, Sophie, described it as "a shock to the system."
There's loads of great-grandchildren, too
Queen Elizabeth was born in 1926, and as she has celebrated decades on the throne, and sailed past her 95th birthday, it's perhaps not surprising that she's witnessed not only the birth of her grandchildren, but also their marriages. She's also met her own great-grandchildren, and while there's bound to be more coming in this ever-expanding family tree, let's talk about some of the youngest generation of royals (via Town & Country).
Most famous, of course, are the children of the most famous grandchildren, William and Harry. That's Prince George — who's in line to become king — and his siblings Charlotte and Louis. Then, there's Harry's kids, Archie and Lilibet.
They're in so many headlines it's impossible to keep track of them all, and it's easy to overlook the fact that they're not the only royal great-grandchildren. The oldest — Savannah and Isla — are the grandchildren of Princess Anne. Barely younger than the future king is another one of Anne's grandchildren, Mia, and at about the same age as Archie is Mia's sister, Lena.
Even as the queen bid farewell to her prince, the family welcomed other newborns, including grandchildren of Andrew and Anne. Life, as they say, goes on.