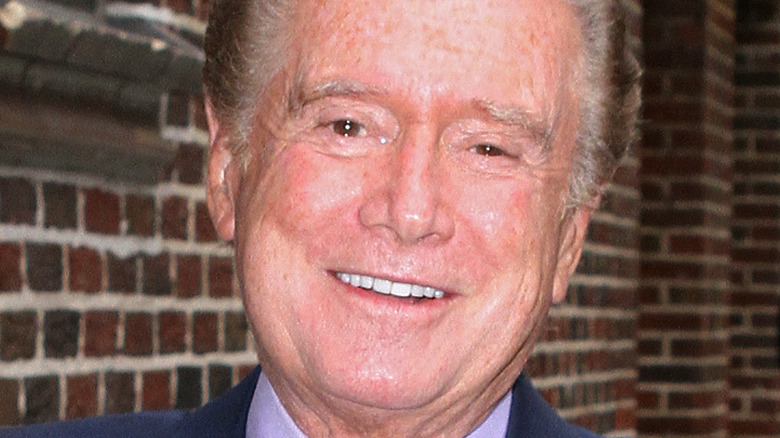 Famous television host Regis Philbin, best known for his roles in popular daytime and prime-time talk and game shows, died at the age of 88, per CNN. For years, he was the co-host of "Live with Regis and Kelly" and host of "Who Wants to be a Millionaire."
Philbin was born Regis Francis Xavier Philbin in New York City on August 25, 1931. Philbin and his family, including a younger brother named Frank, spent most of his early childhood living in the Bronx, per Biography. He studied sociology at the University of Notre Dame, and his decades-long career in television began after he returned home from the Navy. He ended up in Hollywood afterward and landed a job as a delivery worker at a local television station in Los Angeles. The job proved to be another opportunity for Philbin, as he demonstrated his sense of humor as a writer. His talent got him a job at the same station, writing and eventually hosting segments, per Biography. He got his own self-titled show in 1964 (per IMDb), and Philbin remained a fixture on television until 2020, despite announcing retirement in 2011 (via CNN). On July 25, 2020, the talk show great died.
The cause of Regis Philbin's death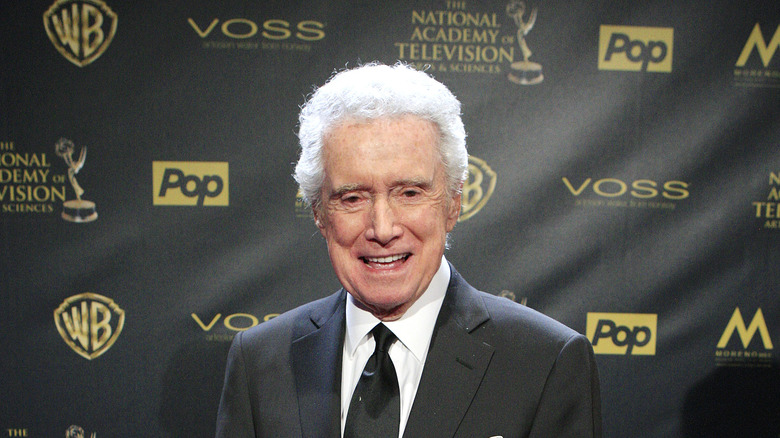 Since Regis Philbin's death, several things have come out about him. Just a few days after he died, it was revealed what led to his demise. Philbin died of an apparent heart attack at his Greenwich, Connecticut, home, reported USA Today. The legendary television host was suffering from a heart condition called coronary artery disease, which led to the attack. Per Cleveland Clinic, the disease is plaque buildup in the arteries that impedes the flow and function of oxygen to the heart. According to the CDC, it's also the leading cause of death in adults in the U.S. The medical examiner also revealed that Philbin had hypertension and that also played a role.
Philbin was very candid about the health issues pertaining to his heart. Some 30 years earlier, he suffered some serious chest pains during a commercial shoot, later learning that he had blocked arteries, he said in a 2017 interview with Parade. He would undergo surgery well into his 70s and made lifestyle changes for preventive measures, per Closer Weekly.
Philbin was buried at his alma mater
In August 2020, Regis Philbin was buried at the school where he completed his college studies. He spent most of his educational years attending Catholic schools. After graduating from Cardinal Hayes High School in the Bronx in 1949, Philbin left New York for the Midwest to attend the University of Notre Dame and graduated in 1953, per Notre Dame Magazine. As one of the school's most famous alumni, Philbin was a big donor and occasionally returned to Notre Dame to do speaking events and interviews. In 2001, he donated $2.75 million to the school to build a namesake studio theater at the school's performing arts center (via Notre Dame Magazine). A year prior, he also donated $500,000 to his former high school.
He was seemingly very loved by Notre Dame, and he typically spoke highly of it as well, which made it all the more appropriate that the school would be his final resting place. On July 28, 2020, a private service for Philbin was held at a church, and he was buried on the campus' Cedar Grove Cemetery, per South Bend Tribune.
He experienced some depression before death
As COVID-19 spread around the world at the start of 2020 and a global pandemic followed, various industries were hit hard and highly affected by the changes made to stop the spread. The entertainment industry was particularly changed, and even the people who keep it running felt the effects. As a recognized figure in daytime and prime-time television, Regis Philbin was especially saddened with how the pandemic shifted live shows, and it took a toll on him mentally. His former co-host and longtime friend, Kathie Lee Gifford, revealed in October 2020 that Philbin was heartbroken that he couldn't do the job he loved the most. "He had been depressed in the weeks and months earlier, because of the COVID … Regis couldn't perform anywhere, nobody was out and about, he couldn't be Regis for people, you know? And it broke his heart," said Gifford, per Today.
Gifford said that he was also grieving the loss of their friend, who died of COVID-19, but most importantly, he didn't have an outlet to put his focus and energy elsewhere. "He was pretty much in a depression, I think. Regis just lived to make people happy," said Gifford.
If you or someone you know is struggling with mental health, please contact the Crisis Text Line by texting HOME to 741741, call the National Alliance on Mental Illness helpline at 1-800-950-NAMI (6264), or visit the National Institute of Mental Health website.
Philbin's home was sold
Just a week after Regis Philbin was laid to rest, it was reported that his multimillion dollar home in Greenwich, Connecticut, was sold. It was purchased for a little over $4 million, reported Local 12. In 2019, Philbin and his wife (pictured together above) listed their home for sale, and it was put up for $4.6 million — a significant drop in its value from years earlier, according to Architectural Digest. Yet, as noted, it wasn't sold for the asking price.
The Philbins were well-recognized locals of the upscale city and longtime residents since moving there in 2008 (via Hello Magazine). The couple intended to sell their 2.59-acre property to move to California and be closer to other relatives, says People Magazine. In June 2020, the sale of the house was apparently complete before the news was revealed. But Philbin would die before he and his wife could make their final move west.
The couple was married for 50 years, and they had two children together: daughters J.J. and Joanna Philbin. He also had two other children from his first marriage, his oldest daughter Amy, and his only son Daniel, who sadly died in 2014, per People Magazine. Philbin first got married to Catherine Faylen in 1955, but the marriage only lasted until 1968 (via Closer Weekly). In 1970, he remarried for a second and final time to his wife Joy, who he was survived by. They met on a show they both worked on in the late '60s.
His former game show paid tribute to him
In the days before the October 2020 premiere of the game show "Who Wants to be a Millionaire," the current host Jimmy Kimmel paid tribute to Regis Philbin, per Entertainment Tonight. Philbin was the first host of the popular quiz guessing show when it debuted in 1999. During his time as host, Philbin recorded some 300 episodes until 2009, shows IMDb. But even after his departure, he would still make regular appearances as a guest host. At the time of his death, Kimmel was the new host of the show's revival.
In the memorial video footage of Philbin, he is seen on the set of the show during his early hosting years. In the clip, Kimmel also shares a story of meeting with Philbin on his first day of filming, as well as a scene of Kimmel interviewing Philbin. Kimmel praised Philbin for helping turn the show into what it became and paving the way for him and the previous hosts that followed. He shared that the legendary television host was a valuable asset to the show. "He leaves behind a beautiful family and a TV legacy that will likely go unmatched," tweeted Kimmel.