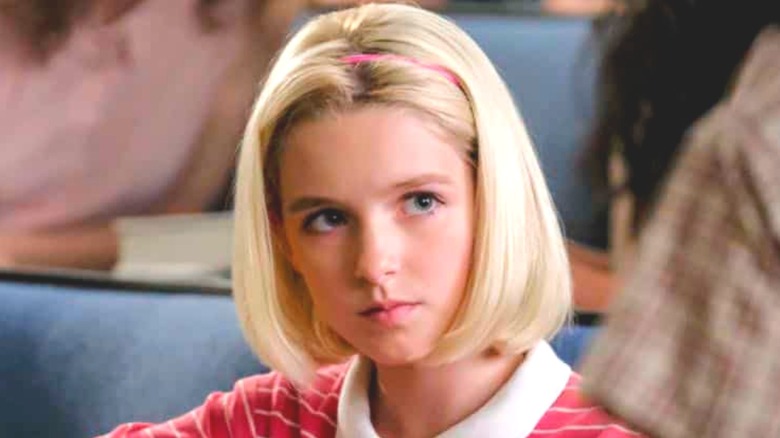 It's a fair bet to say that fans of "Young Sheldon" are okay with the familiar. In fact, chances are they're 100% there for the familiar. After all, the popular prequel-spinoff hybrid of "The Big Bang Theory" tells the story of the formative years of the nerds-are-cool sitcom's most popular character, Sheldon Cooper, as portrayed by actor Jim Parsons. The titular young Sheldon is played superbly by Iain Armitage, who embodies the acerbic child prodigy to a T, offering the same brutally candid observations, awkwardly missing the same social cues, and similarly lacking any shred of humility as the older version Parsons brought to life. It's fun to compare the two versions of the character, seeing how his tendency for social faux pas translates differently in a juvenile environment and under smaller-scale circumstances.
But the title character on "Young Sheldon" isn't the only one who should bring forth a sense of the familiar; a certain rival child prodigy who first popped up in Season 2 should be plenty familiar to viewers. The prolific actor behind Paige Swanson has a resume that rivals that of performers twice her age and, with "Young Sheldon" being renewed through Season 7 in March, it stands to reason she'll be adding more episodes of the popular show to her CV. Her name is Mckenna Grace and this is why Paige from "Young Sheldon" looks so familiar.
She previously played a child prodigy in Gifted alongside Chris Evans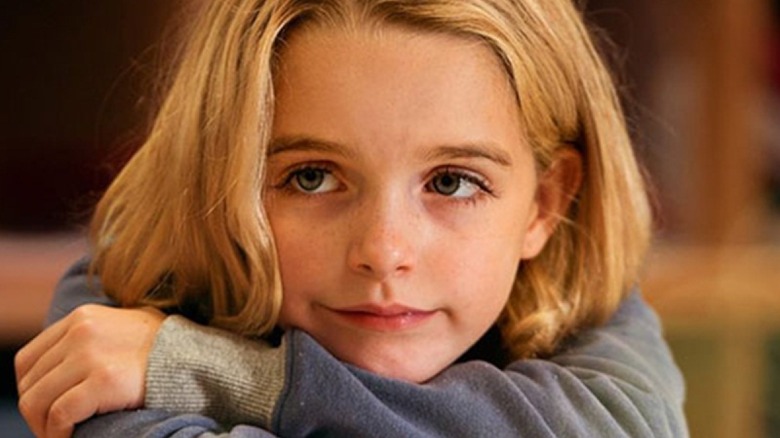 After more than a dozen television roles — including 50 episodes of the long-running soap opera, "The Young and the Restless" — and parts in several movie, Mckenna Grace first took on a role for which she may very well be typecast: that of a child prodigy.
Appearing as 7-year-old Mary Adler in 2017's "Gifted," — which was filmed in 2015 — Grace portrayed a character who becomes the subject of a custody battle between her uncle, Frank Adler (Chris Evans), and her grandmother, Evelyn Adler (Lindsay Duncan). On the surface, that might seem like an odd pair of opposing parties in a custody battle, for which there is an explanation: Mary's mother, Diane, died by suicide, seemingly from the stress she put herself through obsessively trying to solve the Navier–Stokes problem. Frank wants Mary to have a chance at a normal life, fearing that a school for the intellectually gifted could put her on a path that would mirror her mother's, whereas Evelyn was dedicated to seeing Diane solve the problem and wants to encourage Mary's intellect to be developed to its full potential.
Grace won a couple of awards on the festival circuit for her turn as Mary, according to her IMDb page. She took home the 2017 awards for Breakthrough Performance and Best Performance by a Youth from the Phoenix Film Critics Society. She was also nominated for the Broadcast Film Critics Association Award for Critics Choice Award Best Young Actor/Actress and the Women Film Critics Circle Award for Best Young Actress.
Grace played a young version of the title character in I, Tonya
In 2017, Mckenna Grace made the transition from child prodigy to child skating superstar for the black comedy "I, Tonya." Based loosely on real-life events, the film stars Margot Robbie as controversial figure skating figure Tonya Harding and tells the tale of her formative years and the events leading up to the January 1994 attack on fellow figure skater Nancy Kerrigan, an assault in which Harding's husband Jeff Gillooly (played by Sebastian Stan) is implicated. Grace plays a young Tonya Harding in flashback sequences, as she's bullied and harassed by mother LaVona Golden (Allison Janney), who aims to mold her daughter into a champion.
"I, Tonya" explores the dysfunctional and abusive relationships that comprise Harding's life, presenting her in a more sympathetic light than any media coverage she'd received in the fallout from the Kerrigan attack. Writer Steven Rogers interviewed Harding and Gillooly separately, noting that the two principal parties had differing accounts of how the events had unfolded. "Well, that's my way in — to put everyone's point of view out there, and then let the audience decide," Rogers said during a panel for the SAG-AFTRA Foundation.
Grace described her role as the young Harding as "the most challenging role" she'd ever done because of one big factor: she had to learn to ice skate. "I've never done ice skating before," Grace told The Boston Globe. "I'd fall and I was all beaten up but I had to get up and keep trying," a sentiment that ironically mirrors Harding's troubled life, as portrayed in the film.
Mckenna Grace played the first daughter on Designated Survivor
Life can change pretty quickly for kids on a network TV drama. One minute your father is the outgoing Secretary of Housing and Urban Development who wasn't invited to the State of the Union address, and the next he's the President of the United States. Such was the case for Penny Kirkman (Mckenna Grace), whose father Tom Kirkman (Kiefer Sutherland) was chosen for the title role on ABC's political thriller-drama "Designated Survivor." When President Robert Richmond (Richard Bekins) addresses the nation in front of both houses of Congress and the Supreme Court, an explosion rocks the Capitol, killing almost everyone and leaving the country without a working government, save for Tom Kirkman, who was not present after being selected by President Richmond to not attend in order to maintain the line of succession and who has now been elevated to the role of president. Sounds like a decent consolation prize for not being invited to a party at which everyone who attended was killed in an explosion.
Grace's role as first daughter Penny Kirkman included sporadic appearances as a recurring character, rather than a member of the main cast. She appeared in 21 of the series' 53 episodes, including seven of the 10 episodes that comprised Season 3 of "Designated Survivor," which was produced and released only for streaming on Netflix after ABC decided not to renew the show after its second season. In an interview with Red Carpet News TV, Grace said she enjoyed being part of her "Designated Survivor" television family, calling Sutherland and TV mom Natascha McElhone "both very, very nice and kind people." She also revealed something she has in common with her TV dad: they both have stuffed animals in their trailers.
She has haunted in Hill House
Shirley Jackson's 1959 horror novel "The Haunting of Hill House" has been directly adapted thrice, two times for the big screen — in 1963 and 1999, respectively, both under the title "The Haunting" — and once for the first installment of Netflix's "The Haunting" anthology series, "The Haunting of Hill House." Every incarnation of the tale involves the supernatural goings-on at the titular Hill House, a sweeping country mansion nestled in the hills.
The Netflix series — which is the least-faithful to the source material and is a loose adaptation — tells of the Crain family and its experiences over the course of two timelines, 26 years apart, at the spooky locale. Father Hugh Crain (Timothy Hutton and Henry Thomas) has purchased Hill House and is renovating it to sell for a tidy profit; in the meantime, he's moved his family — wife Olivia (Carla Gugino), sons Steven (Michiel Huisman and Paxton Singleton) and Luke (Oliver Jackson-Cohen and Julian Hilliard), and daughters Shirley (Elizabeth Reaser and Lulu Wilson), Theodora (Kate Siegel and Mckenna Grace ), and Nell (Victoria Pedretti and Violet McGraw) — into the mansion. From there, things go about as well as you'd expect them to for a series with the word "Haunting" in the title.
Grace plays the young version of Theo, the middle child of the Crain brood who's arguably the most well-adjusted and who also wears gloves all the time. It's not because she's a germaphobe or something weird like that, unless you count having extrasensory perception and experiencing people's thoughts and feelings through tactile contact weird.
She offers June refuge on The Handmaid's Tale
Living in the reality of "The Handmaid's Tale" sounds terrifying. It's reasonable to think that surviving a coup would require some grit and determination. Being able to witness the overthrow of one's homeland at the hands of radical extremists who then institute martial law and enslave women as broodmares — with the dystopian backdrop of declining human fertility already wreaking societal havoc — without losing one's mind is a huge, intimidating ask. Naturally, this kind of insanity separates the proverbial wheat from the chaff, if biblical references can be forgiven in discussing the theocratic workings of Gilead, though perhaps an adage of steel being forged in fire or one about iron sharpening iron would be more accurate. Nevertheless, many of the characters on the popular Hulu series have been hardened by their experiences, especially the titular handmaid, June Osborne (Elisabeth Moss). And it is seemingly through this hardening that she has been able to mount effective resistance against Gilead and break her shackles, rescuing dozens of children in the process via the Angels' Flight in Season 3.
Naturally, that kind of notoriety brings with it certain expectations, as seen through the eyes of Esther Keyes (Mckenna Grace), the extremely young wife of the addled Commander Keyes, who offers June and the other escaped handmaids refuge at her farm at the beginning of "The Handmaid's Tale" Season 4. Mrs. Keyes is strict and demanding, with an insatiable appetite for vengeance, one for which the devastating explanation is revealed by the end of Episode 1. Grace expressed expressed her excitement at playing Esther Keyes in an interview with Elle. "I thought she was so cool. She's such an interesting character to play, especially with how intimidating she is. The way she switches from being so anxious and upset to 'If you weren't going to fight, then you shouldn't come here.' She's angry and then she's regal and talking to the guards. She changes up so quickly," she said.
Mckenna Grace appeared throughout Netflix's Fuller House
The 1987 to 2005 "TGIF" stalwart sitcom "Full House" launched the careers of many prominent child actors of the era, including Candace Cameron Bure, Jodie Sweetin, and twins Mary-Kate and Ashley Olsen. Subsequently, the decades-later Netflix revival-and-continuation show "Fuller House" gave a visibility boost to a whole new generation of young talents, including Mckenna Grace. Set in the same San Francisco townhouse as the original series, and focusing on the now-grown Tanner siblings as they raise children, Grace appeared on eight episodes of "Fuller House," spread across four seasons of the show. Her role: Rose Hefferphizer-Harbenberger, an elementary school student and daughter of C.J. Harbenberger, the new partner of main character D.J. Tanner-Fuller's old boyfriend, Steve. She also starts a cute schoolyard romance with D.J.'s son, Max.
Being a part of "Fuller House" was personally fulfilling and important to Grace. "I'll never forget sitting on the 'Full House' couch talking with Bob Saget, I had watched every episode of "AFV" and "Full House" and I was so excited," the actor wrote on Instagram.
She played the young version of several major movie and TV characters
For a few years, Mckenna Grace established a small, de facto niche for herself as the go-to young actor to play child or tween versions in flashback sequences of characters portrayed as adults by prominent performers whom she somewhat resembles. In the 2019 Marvel Cinematic Universe entry "Captain Marvel," the launch of Brie Larson's multi-movie take on the intergalactic superhero, Grace portrayed Larson's mild-mannered alter ego, Carol Danvers, as a child in a few sequences. Grace could also stand in for Kiernan Shipka, playing the child version of that actor's teenage witch, Sabrina Spellman, on an episode of Netflix's "Chilling Adventures of Sabrina." Finally, in the 2021 horror movie "Malignant," about an adult woman named Madison who is tormented by hallucinations of horrific murders, Grace played the kid version of the main character portrayed by Annabelle Wallis in the rest of the film.
"I like to make a joke that I play the younger versions of so many people," Grace told Teen Vogue. "I like to say, 'You know, if they ever do a biopic of Finn or something, I'm playing the younger version of him,'" she said of her "Ghostbusters: Afterlife" on-screen sibling Finn Wolfhard.
Mckenna Grace got to help bust some ghosts
Potentially the biggest and most visible project to date in the still burgeoning career of young actor Mckenna Grace is her central role in "Ghostbusters: Afterlife," the potentially franchise-restarting 2021 entry in the comic-sci-fi series that started way back in 1984 with the blockbuster "Ghostbusters."
Set more than 30 years after the events of the original movie, to which it is loosely but sentimentally connected, "Ghostbusters: Afterlife" finds a mom moving her kids to a new house in a new town. There, they learn of their familial connection to the spirit-sucking heroes who saved New York more than once. Starring opposite Carrie Coon as her mother and Finn Wolfhard as her brother is Grace, as young, would-be ghostbuster Phoebe. "Ghostbusters: Afterlife" was a $200 million box office hit in the age of COVID-affected theater attendance, and that was more than enough to prompt Sony to order a sequel, meaning Grace has gotten herself affiliated with a major film series before she's old enough to vote.