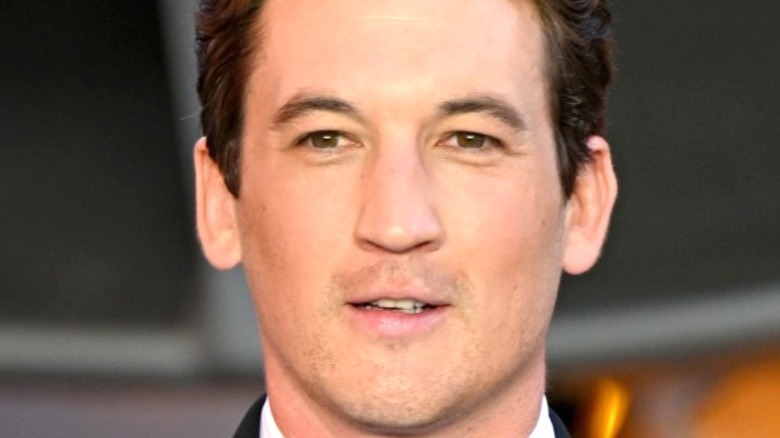 Nostalgia is a potent seller for Hollywood, and "Top Gun: Maverick" looks to capitalize on the audience's walk down memory lane with Pete "Maverick" Mitchell (Tom Cruise) and a whole new crop of Top Gun graduates. Landing more than three decades after the original box office smash, the film has found plenty of success around the critic's watercooler. Per Variety, a screening at Cannes ended with a five-minute standing ovation.
But the movie wasn't a hit with critics only because of Cruise and the literal high-flying stunt work. It was also successful because of a deep roster of co-stars and characters, bringing the film full circle. One of those characters was the enigmatic Bradley "Rooster" Bradshaw. A graduate of Top Gun, and an avid beach volleyball player for throwback purposes, Rooster is the son of Maverick's old cockpit mate, Nick "Goose" Bradshaw (Anthony Edwards). Goose's death during their time at Top Gun still weighs heavily on both of them, causing a palpable tension present even during the trailers.
Eagle-eyed fans will recognize the actor that portrays Rooster onscreen, even behind his mustache. If you wondered where you saw him before, here is why the actor looks so familiar.
Miles Teller learned how to dance in Footloose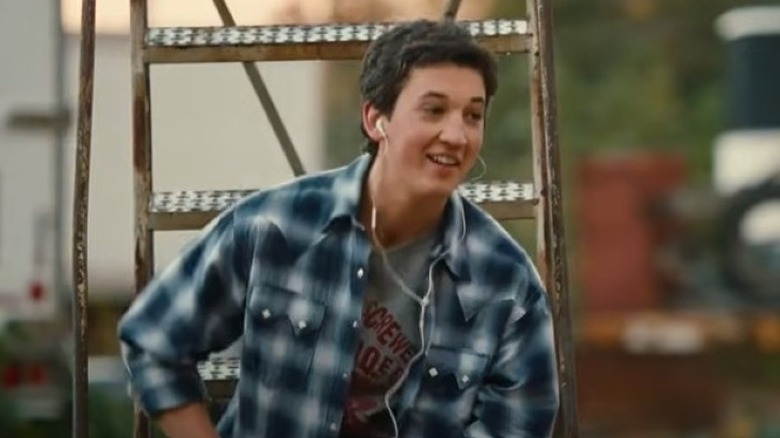 Speaking of '80s nostalgia, Miles Teller got his first significant motion picture role as the sometimes-sweet-sometimes-aggressive sidekick, Willard, in the 2011 remake of "Footloose." The film follows Ren MacCormack (Kenny Wormald) as he moves to a small town that has banned rock music and dancing. His rebellious nature and crush on a small-town preacher's daughter (Julianne Hough) shake up the entire population and show them all how to cut loose.
Teller took the role previously played by Chris Penn in the 1984 version as the ostensibly tough and musically-uncoordinated friend, Willard. On the set of "Footloose," Teller commented about the nature of his character. "He's a simple man with simple pleasures. He lives life day to day. He's very happy-go-lucky until, you know, he has a trigger. You know, and I think when certain people take advantage of perhaps his niceness, sometimes you gotta open up a can," he said. "He has this yin and yang. There is good Willard, and then there is open-up-a-can Willard."
Unfortunately, the "Footloose" remake didn't impress certain critics. "A bad movie, if faithfully remade, will produce another bad movie," wrote Roger Ebert. While the remake of the '80s classic failed to catch the original's cult status, "Footloose served as Teller's arrival in feature films and led him to find more roles in larger productions.
He studied under JK Simmons in Whiplash
After two straight years of coming-of-age party movies (2012's "Project X" and 2013's "21 & Over"), Teller got his moment to shine in the powerful musical drama "Whiplash." The film follows Andrew Neiman (Teller), a drummer who endeavors to reach percussive royalty at a prestigious music school. His mentor, Fletcher (J.K. Simmons), is a dedicated, albeit overbearing and abusive instructor who can destroy every ounce of confidence with a snap of his fingers and the phrase, "Not quite my tempo."
Teller spoke about his experience making the movie (per IndieWire) and working with Simmons. "It was great. When you read a script or when you're thinking about the scene, you have an idea of what the other person is going to do, but at the end of the day, I can't over-prepare for what I think he's going to do because you just need to be able to react to what he's doing," he explained. "For J.K., he would be so versatile in his takes, and he was so professional and so well-prepared that it was really easy to be in the moment and respond to what he was doing."
Not only did Teller get to stretch his acting chops, but he also got to display his real-life drumming ability. When asked in the same interview how much of the drumming he did on set, he answered, "All of it."
He was a constant antagonist in the Divergent series
An actor's resume can't always be filled with successes. Almost every actor will have roles they wish they could forget and movies they wish they would have passed on. The "Divergent" series fulfills that particular right of passage for an entire group of young actors. The series of films fell apart at the box office and was so maligned that the conclusion to the franchise wasn't even finished.
Miles Teller played the central antagonist, Peter, in all three movies and the short video game. Per Entertainment Weekly, Teller spoke about his role and experience in his first-ever international, big-budget production. "I didn't have an interesting part, and I'd taken the film for business reasons: It was the first movie I'd done that was going to have an international audience," the actor recalled. "I called my agent and said, 'This sucks.' He told me about Whiplash." He was filming "Divergent" when he read the script for "Whiplash" and said he felt "dead inside."
He later clarified his comments with the Los Angeles Times. The "business reasons" included working with Shailene Woodley, playing a villain, and an international audience, to name a few. He also clarified the "dead inside" comment. "I meant just burnt out and fatigued from doing my first big-budget lengthy shoot, and four months was a long time, and I just wanted to relax afterward,' Teller explained.
He was Reed Richards in the not-so-fantastic F4
Everything was there, actors whose stars were on the rise, a beloved property, and a talented director with a vision. And yet, 2015's "Fantastic Four" was a disaster from start to finish. Director Josh Trank couldn't capitalize on his new-kid-on-the-block status following his success of "Chronicle," and the stellar cast of young talent that included Michael B. Jordan, Kate Mara, Jamie Bell, and Miles Teller wasn't enough to avoid the train wreck.
Teller appeared as the de facto leader of Marvel's "First Family," Dr. Reed Richards. As one of the most intelligent people on the planet, he is just brilliant enough to get his friends into and out of trouble. His run at the character was much maligned by critics, with Matt Zoller Seitz of RogerEbert.com writing, "Assigning blame for a disaster is always a tricky thing in reviews." The critic added, "I have no idea why this movie is so terrible, only that it is terrible, and there is no joy in noting the terribleness of a film." Teller was in danger of suffering the failure of another potentially massive franchise.
While that kind of reaction can often signify that an actor's character is dead in the water, there may still be hope that Teller returns to give it another shot. With the "multiverse" being the new schtick in the Marvel Cinematic Universe, Teller told The Digital Fix that he was open to a re-do. "The thing that I look at for pretty much every project is scripts," he said. "That's first and foremost. The character, the director, the cast, the cinematographer: all of those things, I think, go into making a decision. So, if I thought all those things were in place, and we had a really good chance to succeed, then yeah, I wouldn't have a problem with it."
He went toe-to-toe with the mafia in The Offer
With a movie as storied and beloved as "The Godfather," there are dozens of characters and personas one could use to make a series. When focusing on the making of the film, Marlon Brando, Al Pachino, and Francis Ford Coppola are all people that could easily make an engaging series binge. However, Paramount decided to focus on legendary film producer Albert S. Ruddy in their new series "The Offer."
Miles Teller portrays the producer in a 10-episode limited series based on the making of "The Godfather." With Hollywood politics, gangster influence, and real-life movie-making pizzazz, the series attempts to recapture the magic of one of the most prolific looks into organized crime in the 20th century.
Appearing at Deadline's Contenders TV event, Teller talked about the real-life inspiration of his character, describing Ruddy's stories as "legendary." He went on to explain that they would be forever connected. "So, I just, I just really enjoyed meeting him, and he'll still give me some calls and texts and different things. I'll be a part of his life, you know, and vice versa," Teller added. "We're now connected through this show forever. He's just a wonderful man, and it was a great challenge and a privilege to play him." He later joked about picking up smoking to capture his naturally raspy voice for the show.