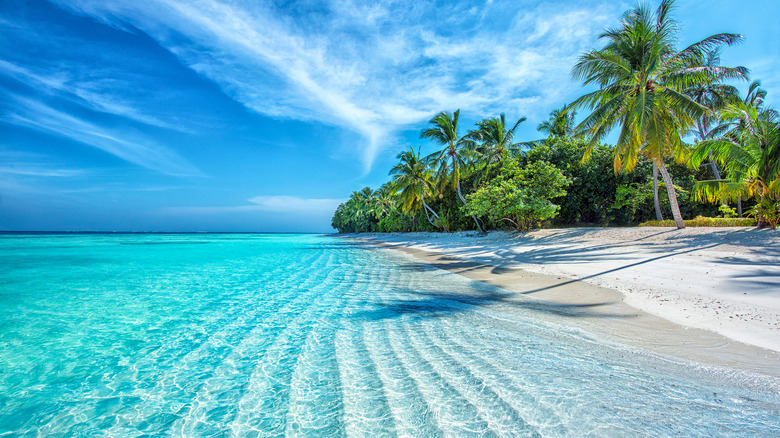 Forget fancy mansions, colossal yachts, and private planes — the most A-list of the A-list also own private islands. These islands offer endless sun and sand, a getaway that doesn't require a checkout time, and unmatched privacy for celebrities sick of being photographed on their way to Starbucks.
But it isn't all sunshine and frolicking in the blue sea. There are lots of downsides to owning your own islet. According to NPR, one negative is that you'll need a boat to get to the mansion. While that might not sound terribly inconvenient, those trips aren't always smooth sailing … literally. Depending on the weather and tides, reaching a private island by boat could take hours. Then, there's also that pesky issue of development. Some remote islands lack running water, electricity, and other infrastructure, so buyers will need to invest significant time, energy, and money into making them livable. Plus, since animals and sea creatures also live on these islands, many governments have restrictions on what kind of development can occur. Nevertheless, many celebrities have taken the plunge to buy their own islands for personal use. Here are just a few of them.
Celine Dion's French palace on a Canadian island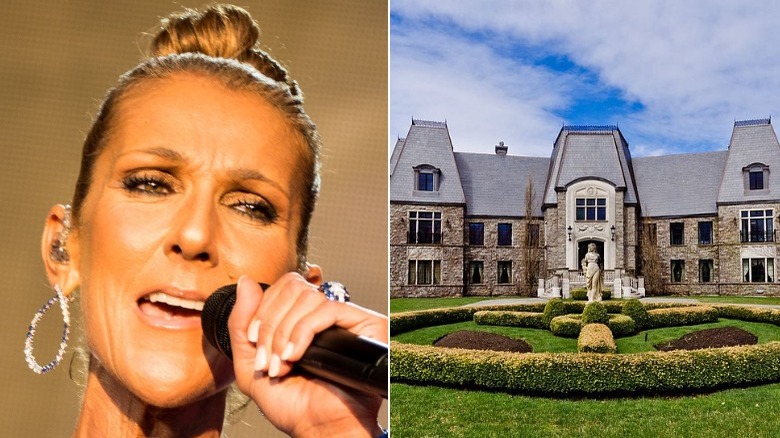 Power ballad queen Celine Dion hails from Canada, so it only makes sense that her private island, called Ile Gagnon, is in Canadian waters off the coast of Quebec. Her island, which spans 19 acres, also includes an ivy-walled French estate she constructed more than two decades ago. According to Pricey Pads, the European castle-inspired structure is a whopping 24,000 square feet and cost Dion more than $25 million.
The home's furnishings have an opulence to match that price. Through its six bedrooms and six bathrooms, Dion has outfitted her home with regal red carpets and drapery, sparkling gold chandeliers, dark wood, and wrought iron details. And in true celebrity fashion, this palace is much more than a few bedrooms and a living room. It also includes a dedicated wine storage center with an area for wine tasting, a separate pool house with its own kitchen, a library with towering bookshelves, and an entertainment room with a poker table and a pool table. Plus, this four-story paradise couldn't be more private. The island, which is entirely surrounded by fencing, is only accessible via a lone bridge monitored by security 24/7. And, to no surprise, the views here are unmatched. Views of the surrounding water, as well as lush foliage, can be seen from almost every room, according to the Vladi Private Islands listing.
Faith Hill and Tim McGraw's indoor-outdoor paradise on a Bahamian island
Covid-19 may have sent many of us itching for private spaces, but it seems to have done the opposite for Faith Hill and Tim McGraw. Per Robb Report, the couple that has been married for more than 20 years put their 20-acre Bahamian private island on the market in early 2021 after owning it since 2003. But it came at a steep price. What's known as Angel's Island was listed for $35 million, although it sold for an undisclosed price, according to the real estate listing.
However, it's not like Hill and McGraw simply walked into this stunning property, which now includes a 6,500 square foot estate with four bedrooms and five bathrooms. When they bought the island, it had no water, electricity, infrastructure, or even existing dwellings for workers (via Architectural Digest). So, the power couple got to work (or at least paid someone to get to work.) Nine years later, a concrete home stood in the middle of the island, which included eight semi-connected buildings. Since they're not fully connected, the entire house has an unmatched outdoor flow. Instead of traditional hallways, you walk on outdoor paths to get to the next room. This means that just about everything from showering to cooking dinner includes a warm ocean breeze.
Larry Ellison's Hawaiian island
Most celebrities use their colossal wealth to reside in stunning estates, go on amazing vacations, and drive envy-inducing cars. Former Oracle CEO Larry Ellison does those things too, but he also has much bigger plans for his properties. Insider reported that Ellison purchased a Hawaiian island called Lanai two decades ago for $300 million, and he's now planning to implement a completely sustainable and health-focused community there. It's entirely in line with the billionaire's green and community-focused interests. In 2018, he also founded a company called Sensei intended to improve peoples' health and quality of life. And, during Covid-19, Ellison stopped accepting rent for Lanai companies and continued to pay his staff members in full.
This 140-square-mile island has a long way to go, though. Only 3,000 people, a few resorts, and a lot of animals live here (there's a 400-cat domestic animal preserve onsite.) However, Ellison has been plugging away. There's now a high-end spa on the island, as well as two greenhouses that are fueled by solar energy. One of the island resorts boasts the priciest penthouse in the entire state of Hawaii, coming in at $21,000 for a one-night stay. Even Bill Gates saw the potential here — he got married on a Lanai golf course.
Johnny Depp's island in the Bahamas that he bought for only $3.6 million
Anyone who is a fan of shows like "Selling Sunset" and "Million Dollar Listing" knows that in some real estate markets, $3.6 million is a drop in the bucket. But that's exactly what Johnny Depp paid for an entire island called Little Hall's Pond Cay in the Bahamas when he bought it in 2004. However, it didn't come with very much (besides 45 acres and some white sand beaches.) Page Six reported that the island lacked necessities like water and electricity, so Depp had to build it all. That included a one-floor home with gorgeous ocean views.
Plus, because you can't have an island without also having a yacht, Depp also picked up a 150-foot boat that included five cabins and a dining room (via Vanity Fair). At $8 million, the yacht cost more than the island.
Mel Gibson's controversial island in the South Pacific
Many A-listers choose relatively small islands to house their beach houses, but Mel Gibson did just the opposite. In 2005 (because the 2000s seemed to be the time to pick up private islands?) Gibson splurged on a 5,500-acre island called Mago Island, one of the biggest in its oceanic region. However, you would be hard-pressed to tell that Gibson owned this typical South Pacific island. Tropical Islands reported it includes lush foliage, white beaches, a coral reef, plenty of rare animals, 60 people, and even a school. But there are no reports of an estate for Gibson on this property.
However, according to some Fijians, Mago Island was never Gibson's to buy, even for the $15 million he paid for it (via Sydney Morning Herald). After the sale was finalized, about 500 tribespeople protested, claiming that their family members were abolished from the island in the 1800s and that it was rightfully theirs. But being that the island was now called private property and had a new legal owner, the government said there wasn't anything they could do to take Gibson's name off the deed.
Leonardo DiCaprio's island near Belize that he plans to turn into a resort
Ellison isn't the only celebrity looking to build a sustainable island, nor is Gibson the only celebrity to buy an island without controversy. Leonardo DiCaprio has just the same wants and battles as the two other A-listers, as he owns an undeveloped island near Belize that he hopes to turn into a "green" tourist destination. The Sun reports, however, that all is not going according to plan in what's known as Blackadore Caye. Locals, environmentalists, and activists have protested that rather than help conserve the area. The resort will allegedly harm it by ruining fish breeding areas and pushing away visiting fly fishers, who help the island earn $100 million every year.
So far, it seems like the activists are winning. Construction on the 100-acre island was supposed to wrap up in 2018, but so far, the area looks just the same as it always has. That's a far cry from the $116 million floating villas and anti-aging facilities that were supposed to be built here. DiCaprio had planned to make the island both an environmentally-restorative area and a tourist destination by regrowing its mangrove trees, ending overfishing, and counteracting the disintegrating shoreline. But as of 2021, it doesn't seem like that's in the future for Blackadore Caye.
Shakira's island that she planned to eventually turn into an artists' getaway
A Latina pop sensation and the co-founder of Pink Floyd might not seem to have a lot in common, but that wasn't enough to keep Shakira and Roger Waters (who have never been romantically involved) from buying a Bahamian private island a decade ago. According to Showbiz Cheat Sheet, they paid $16 million for the 550-acre island called Bonds Cay. However, Shakira and Waters planned to do a lot more with their beautiful island than get really good tans. Since it has six beaches, flowing waterfalls, and cozy bays and lagoons, they wanted to make it into a getaway for creatives like themselves, allowing them to congregate, showcase their work, find their artistic focus, and decompress. The island would also have high-end homes and hotels for the rich and famous.
Unfortunately, that dream never came to fruition for unknown reasons. Still, it's possible that a $100 million lawsuit against Shakira by her ex-boyfriend, who had some say in the island purchase, had something to do with it. In mid-2020, the island hit the real estate market with Vladi Private Islands, and it doesn't seem to have any takers yet.
Richard Branson's island is available for bookings
Virgin founder Richard Branson never can settle on an airline, resort, or even an island just for himself. Instead, this investor knows how to flip a buck, and that's exactly what he's trying to do with Moskito Island, a 125-acre island nearly next door to another island that he owns in the British Virgin Islands. Architectural Digest said that in late 2021, Branson opened bookings for Moskito Island, with three massive estates available for rentals. Like a true resort, the island also has its own restaurants, spa, boat rentals, and spaces ideal for special events, according to its website.
Those estates include the Oasis Estate, which features endless views and sleeping accommodations for 18 guests. However, hosts should invite much more than 18 people here. The Oasis Estate is the social butterfly of Moskito Island and includes a huge area for hosting gatherings as well as a bar inside the pool. If partying isn't your Moskito Island game plan, there's also the Point Estate, which can accommodate up to 20 people and is very family-friendly as well as secluded. It's tucked away behind island cliffs, ensuring optimal privacy. Finally, there's the Branson Estate, and in true Branson style, this estate is the most luxe of the three. There are three separate villas here, all of which hover above the sea and enjoy their own personal beach.
Ricky Martin's fortress-style island off the coast of Brazil
We haven't heard much from Ricky Martin after his climb to the top in the 1990s and 2000s, but the era was clearly kind to him, judging by one of his most star-worthy purchases. People reported that the king of Latin music bought an island in Brazil in 2008, about 3,000 miles from the celebrity's native island of Puerto Rico. Martin paid about $8 million for the 19-acre island near Rio de Janeiro, a seaside city known for its stunning beaches and party atmosphere.
Martin opted for maximum security when he bought this island, which probably wasn't a bad idea considering the star's colossal fame — he's sold 70 million records through his career. Martin's island is home to a dozen cannons and watchtowers, all designed to keep the Portuguese-style getaway completely safe from nosy fans and paparazzi (via Showbiz Cheat Sheet). However, there are likely still tons of invites that go out for this private beach paradise. It has lots of spaces ideal for hosting parties, and it's also just a short boat ride away from Angra dos Reis, a Brazilian town that attracts many tourists looking to unwind with drinks and dancing.
Eddie Murphy's private Bahamian island
As the star of popular films like "Coming to America," "The Haunted Mansion," "Dr. Dolittle," and "Daddy Daycare," Eddie Murphy is one actor whose name will last until the end of time. His fame and fortune reflect that. According to Celebrity Net Worth, Murphy is worth $200 million and has been one of the most well-paid actors in history. In 2007, he splurged on a Bahamian island that spans 15 acres. Called Rooster (or Long) Cay, Murphy paid $15 million for the private getaway, per Showbiz CheatSheet.
However, fans can only guess what Murphy has been doing with his island for the past decade since not much has been reported on the subject since the purchase. Since the island remains super-lush and isn't flooded with new construction, it's assumed that he simply uses it as a vacation home when he needs some salt and sunshine (via People). But even more impressive is that this isn't even Murphy's first island. He's also the former owner of Pearl Cay, another Bahamian island, which was a tad smaller. It seems that Murphy was ready for an upgrade after another flood of successful films.
David Copperfield's island is available for $57,000 per night
Not many magicians end up striking it rich, but that's exactly what happened to David Copperfield, who has been called the highest-paid magician in the world by Forbes. In 2006, he used that fortune to claim his own Bahamian island, for which he paid $50 million (via Luxatic). That wasn't even all he invested in what's called Musha Cay, nor is it his only island purchase. Copperfield then spent an additional five years and $40 million to bring the island to his liking, just like what he did for his 10 other Bahamian islands. Fittingly, the area is now called the Islands of Copperfield Bay.
Copperfield's island isn't hidden away from the public. Instead, it's available for rentals for $57,000 per night, which includes a private theater called Dave's Drive-In on the beach and your own boat for use as you please. The five estates here can sleep two dozen people, making Musha Cay an ideal locale for a special event or getaway. And to no surprise, these homes are no beachside motel. They feature wood details, tons of greenery, ultra-high ceilings, and more amenities outside (via Insider). Those also include a private gym, area for playing tennis, and watersports.
Nicolas Cage's super-private island in the Bahamas
According to CNBC, times have certainly changed for A-lister Nicolas Cage. Although he once had a plush $150 million fortune thanks to his part in popular movies like "National Treasure" and "Ghost Rider," that cash quickly disappeared thanks to his many extravagant homes, which eventually resulted in him owing over $6 million to the government. One of those buys included a $3 million Bahamian island, which Cage picked up in 2006 (via People). But just two years later, Cage tried to offload the island, called Leaf Cay, for $4 million more than he paid for it (via Variety). The timing of the sale seems fitting to when it all went downhill for Cage. In 2009, several of his homes in the United States went into foreclosure, and at the time, he owed the government $18 million (via Greek Reporter).
There haven't been reports of a new buyer of the island since it hit the market, but at the time, it seemed to be a blank canvas for a new owner. With very little development, it lacks hustle-and-bustle and is an ideal locale for a celebrity or other person looking for privacy. Plus, it's 85 miles from Nassau, the capital of the Bahamas, which has an abundance of resorts, stores, restaurants, and cruise ship stops.
George and Amal Clooney's island with a historic estate
Most newlyweds are happy with a starter home after their nuptials, but George and Amal Clooney went big. Architectural Digest reported that the power couple picked up a four-acre island in the center of the famed River Thames in London, which comes with its own historic home dating back 400 years. They paid about $13.5 million for the property and then gave it their own revamping for, quite possibly, another few million. These days, it includes a private theater, terrace with endless views, and pool house ideal for guests, as well as special gatherings.
But unlike many other celebrity islands, which lack development and serve as a semi-untouched getaway, this island has a 9,000-square-foot English-style mansion that features nostalgic details. These include herringbone floors, fireplaces powered by wood, a lush greenhouse room, and a secret-garden feel thanks to lush foliage that surrounds the property (via Lonny). Of course, though, there are also modern updates through the estate, like a massive private gym with state-of-the-art equipment and a kitchen with the best appliances on the market.