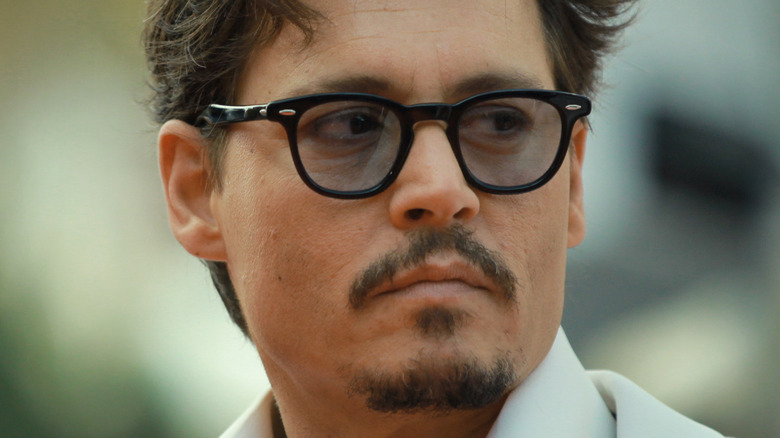 Johnny Depp is arguably one of the most famous people in the world, and enjoyed a particularly successful career from the time he was cast in "A Nightmare on Elm Street" until the time he was dropped from the "Fantastic Beasts and Where to Find Them" franchise following Amber Heard's allegations that he was violent and abusive during their marriage (per Screen Rant).
Depp has been in a number of high profile relationships with well-known women, including actress Winona Ryder, who was only 17 years old when her relationship with Depp began, model Kate Moss, and singer and model Vanessa Paradis, who is the mother of Depp's children. Most of these women have had something to say about their own time with Depp since Heard's allegations were made public.
From his first wife Lori Anne Allison all the way to Amber Heard, here's a look at what some of the women Johnny Depp has dated have had to say about him, and how their stories relate to one another's.
His first wife Lori Anne Allison has stayed pretty private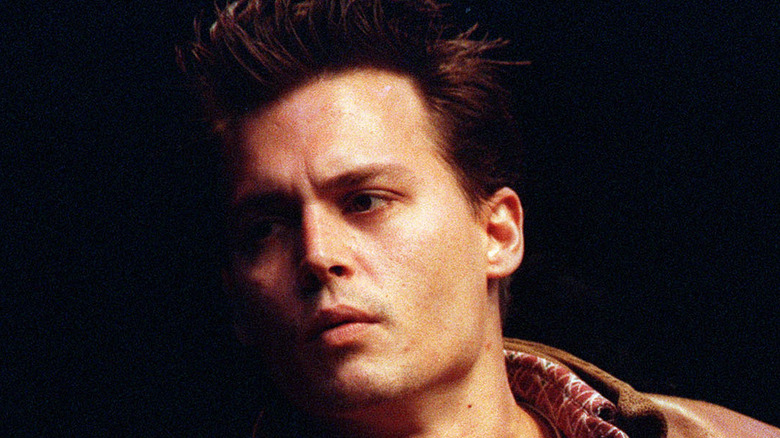 Lori Anne Allison has been credited by some with being the person who launched Johnny Depp's career. They twosome got married in December 1983 in Florida, after being introduced by Allison's sister, who was in a relationship with one of Depp's bandmates at the time. Allison joined the band as their make-up artist, and one thing clearly lead to another.
The Mirror notes that the pair moved to Los Angeles, where they had a hard time making ends meet, and Depp ended up taking on a variety of jobs, including working in advertising and selling personalized pens. Allison somehow became friends with Nicolas Cage and introduced her husband to the actor, an act that changed Depp's life. Cage helped Depp find the agent who landed him his first role in "A Nightmare on Elm Street."
Depp and Allison divorced after two years of marriage, but she continues to use the Depp name and works in the entertainment industry. The Mirror also reports that Allison has her own line of lip gloss, called Serendeppity. Allison has largely stayed quiet about her time with Depp, though in 2016 she told TMZ that her ex-husband is a "soft person."
Sherilynn Fenn calls him her 'first love'
Actress Sherilynn Fenn and Johnny Depp's timeline appears to cross with that of his marriage to Lori Anne Allison. As reported by The Mirror, Depp married Allison in 1983 when he was 20 years old, and according to a timeline presented by Fenn, he began a relationship with her when he was 21 years old. Allison and Depp divorced after two years of marriage.
Despite those somewhat blurry lines, Fenn has only had positive things to say about her time with Depp. While speaking to The Big Issue in 2017, Fenn refers to Depp as her "first love" and explains that he was there for her when she really needed him. Fenn recounts that her first major role was to say three lines on the sitcom "Cheers" and she was terrified, but Depp was waiting for her outside the set. She adds, "We were so young. I met him when I was 19 and he was 21. We went out for two-and-a-half years when we were just starting out in the business. He was very sweet."
Jennifer Grey says Johnny Depp was jealous and paranoid
Jennifer Grey and Johnny Depp went on a pseudo-blind date in 1989 after Depp told Grey's agent that he had a giant crush on her. Grey describes her relationship with Depp in her 2022 memoir, "Out of the Corner," writing that at first, everything between them was incredible. Per Us Weekly, she says their first date was filled with laughter, and described Depp as "open, funny, quirky, and sweet."
Grey and Depp got engaged only two weeks after they began their relationship, quickly adopting a dog together. Grey explains that Depp's work schedule had him in and out of Canada a lot at the time. She writes that the dog filled a void that was felt, explaining, "She was our practice baby and someone to keep me company when Johnny was out of town."
Things between the two shifted pretty quickly, and Grey reveals that soon Depp's behavior changed. She noted that Depp "had begun more and more regularly to be getting into trouble: [getting into] fights in bars, skirmishes with cops." At first, she thought it was due to work problems, but in her book Grey describes patterns of behavior that other exes of Depp's have described, too. She says, "He'd started missing his flights home to LA having overslept or, when he did come home, he'd be crazy jealous and paranoid about what I'd been up to while he was gone" (via Us Weekly).
Winona Ryder says Johnny Depp made her feel safe
After his relationship with Jennifer Grey ended, Johnny Depp began a highly publicized romance with his "Edward Scissorhands" co-star Winona Ryder — who coincidentally was Grey's neighbor, per Us Weekly. Yet again, Depp moved from relationship to relationship quickly, beginning his journey with Ryder in the same year that he and Grey had met — Ryder and Depp also began dating in 1989, when he was 25 and she was 17. As the twosome later told Rolling Stone, they met in the lobby of a movie theater when they were both going to see the same movie. Ryder told the publication that Depp was surprisingly shy, and the two ended up getting engaged only five months after they met one another.
While speaking to Rolling Stone, Depp claimed that he felt something for Ryder that he had never felt before. As he put it, "It's like this weird, bounding atom or something. You can think something is the real thing, but it's different when you feel it." However, things came to a dramatic ending in 1993, which Depp later told The Los Angeles Times happened because of media interest and interference in their relationship.
Ryder later defended Depp against allegations of abuse, supplying a personal statement for Depp's legal team in his 2020 trial against The Sun. Ryder said, in part, "I cannot wrap my head around these accusations. He was never, never violent towards me" (via The Guardian).
Kate Moss claims she regrets ending the relationship
Johnny Depp and Kate Moss reportedly met in 1994, close to the time right after his break-up with Winona Ryder. At this point, Depp was 31 and Moss was only 20 years old. Moss later told Vanity Fair in 2012 that she looks back on ending the relationship with regret, telling the publication that no one has been able to "take care" of her the way Depp did, before or since. She explained, "I really lost that gauge of somebody I could trust. Nightmare. Years and years of crying. Oh, the tears!"
But it seems that the relationship wasn't perfect. Depp was arrested twice while the pair were together, and his 1994 arrest came after he destroyed a hotel room (though he left Moss unharmed). The Mirror notes that while speaking to Hello! Magazine in 1998, Depp admitted that he was the reason the relationship ended. As he put it in his own words, Depp was "difficult to get on with" and too caught up in what other people thought about his work. He said, "Sure I should care about my movies, but when I get home I should try to leave that stuff behind. I couldn't do that and I was horrific to live with. Trust me, I'm a total moron at times."
Ellen Barkin claimed Johnny Depp was violent
Johnny Depp and Ellen Barkin reportedly had a casual relationship in 1997 after they met on the set of "Fear and Loathing in Las Vegas." Barkin would later claim that with Depp, "There was just this world of violence … He is a yeller. He is verbally abusive," an accusation that Depp was called on to refute in his 2020 libel lawsuit against The Sun. Per The Daily Mail, after being asked why Barkin might make such a claim, Depp chalked it up to her emotional state at the time. He said the two had been intimate, but it wasn't enough for Barkin. As he put it, "I suppose her desires were … She wanted more than a relationship, she wanted a proper relationship with me and I did not want that."
It's unclear what really happened between Barkin and Depp. In her deposition in his libel case, Barkin claims that Depp once threw a wine bottle at her. Whatever did or didn't happen, Depp himself went on to testify that the two have not spoken since (via The Daily Mail).
Vanessa Paradis has mostly stayed quiet about Johnny Depp
Vanessa Paradis and Johnny Depp reportedly met back in 1993 at The Viper Room, but things between the two didn't turn romantic until they met again in Paris, France, in 1998. As Depp once told The Daily Mail, his attraction to Paradis was instant. He said, "She was wearing a dress with an exposed back and I saw that back and that neck, and then she turned around and I saw those eyes, and — boom! My life as a single man was done." The two, who would go on to be in a relationship all the way to 2012, share a daughter and a son.
Paradis has been mostly quiet since Amber Heard leveled allegations of abuse against Depp, though she did offer a statement in his support during in 2020 libel lawsuit against The Sun (per Insider). Paradis offered that she has "known Johnny to be a kind, attentive, generous and non-violent person and father."
It's worth noting that back in 2012, The Daily Mail reported that Paradis received a reported $100 million settlement from Depp despite the fact that they weren't married. The publication has also noted that Depp sent at least one email to Elton John describing Paradis in decidedly unpleasant terms, writing, "That is unlike the French extortionist (ex c***) attempts to brain wash them against her … which, I'm sure is imminent" (per The Daily Mail).
Amber Heard has accused Johnny Depp of violence and abuse
Amber Heard and Johnny Depp first met on the set of "The Rum Diary," but didn't begin dating until they had each ended a relationship in 2012. The pair got engaged in 2014 and had two wedding ceremonies: a legal ceremony at Depp's Los Angeles home and a wedding on Depp's private island in the Bahamas (per People). Things between the two came to a startling halt in February 2016, when Heard filed for divorce and then quickly followed that petition up with a request for a domestic violence restraining order (via CNN). Heard's filing and request included details of events in which Heard alleged Depp was violent toward her.
In the years that have followed, Heard and Depp have leveled lawsuits pertaining to their time together. In 2020, Depp launched a libel case against The Sun after the publication referred to him as a "wife beater;" he lost that case after the judge in part ruled, "I accept her evidence of the nature of the assaults he committed against her. They must have been terrifying" (per the BBC).
In 2018, Heard published an op-ed in The Washington Post in which she wrote about her experiences with domestic violence, and in 2022 Depp took her to court over allegations of defamation (per The New York Times). While Heard never named Depp in the piece, she does identify herself as a victim of domestic violence and writes that doing so has come at a great cost (via Newsweek).
Amber Heard has also accused Johnny Depp of stifling evidence against him
The trial for Johnny Depp's $50 million lawsuit against Amber Heard began in April 2022 (per The Guardian). The trial has been live-streamed for public viewing, and the jury has already sat through hours of testimony, during which both parties laid out their grievances against one another. Depp's team called their witnesses first, with Heard taking the stand for two days in early May 2022. Heard's testimony proved to be a powerful contribution to the trial.
As noted by People, the judge in the trial offered a week-long break after Heard testified for several days, which provided both legal teams the opportunity to address the public via written statements about what had happened up to that point. In her statement, released on May 6, 2022, Heard asserted that Depp's legal team appears to be focused on restricting evidence that could only serve to prove her claims. As Heard's team wrote of Depp and his cohorts, "That same team is so panicked they are fighting tooth and nail to prevent compelling evidence and photos from being introduced."
Her statement goes on to state that the behavior demonstrated by Depp in court is not altogether too different from that he displayed during their marriage. The statement concludes, "Apparently, they feel they must double-down on their demonstrably losing two-part strategy: distract the jury and demonize the victim" (via People). As of this writing, Heard is set to continue her testimony in the ongoing trial, per CNN.