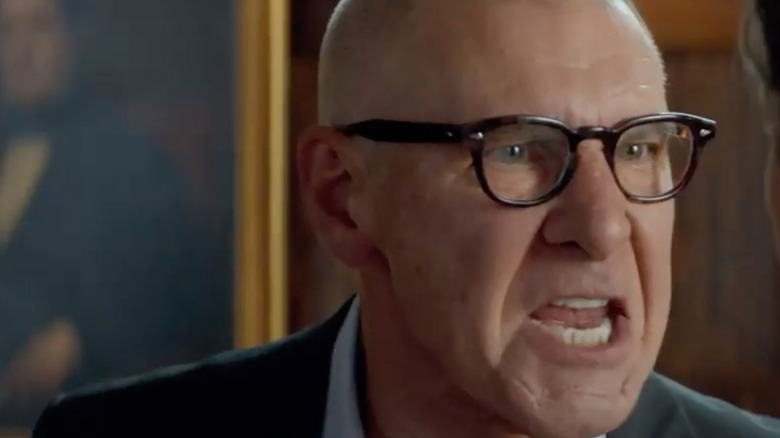 We've all done things in our careers we're not proud of, like falling asleep while our boss is talking during a Zoom meeting or having a few two many festive cocktails at the annual holiday party. The cast of the "Star Wars" movies is no different. However, while our career mistakes are hidden behind the convenient curtain of anonymity, famous movie stars aren't so fortunate; their failures are front and center for all the intergalactic federation to see — and mock.
Using Rotten Tomatoes and a Sith wayfinder as our guides, we're going to review the most terrible movies starring "Star Wars" actors. Some of these movies tried to be mainstream, but had fewer people see them than the number of Yoda species. On the other hand, some are obscure early-career face-plants that only die-hard fans have ever heard of. Whether these movies are fairly recent or took place a long time ago, the "Star Wars" actors who starred in them probably wish they stay buried in a galaxy far, far away.
Mark Hamill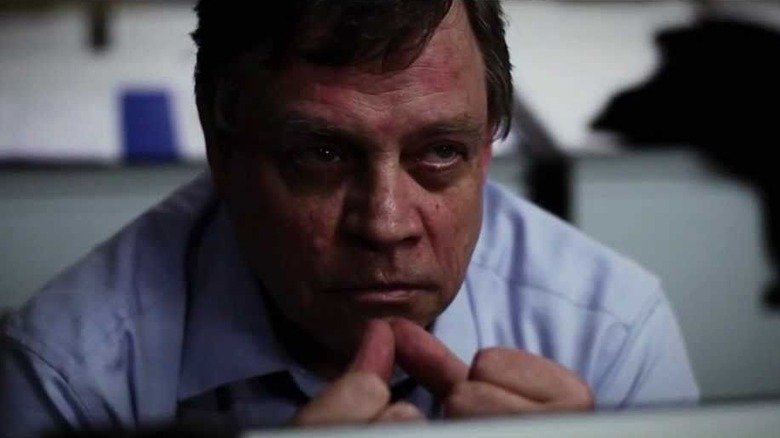 From the bright-eyed, baby-faced savior from the original "Star Wars" trilogy to the bitter old curmudgeon slurping green thala-siren milk in "The Last Jedi," Luke Skywalker has been the heart of the Skywalker Saga. For that, thank Mark Hamill, whose performance as the farm boy-turned-Jedi Knight inspired generations of fans across the galaxy. However, Hamill had difficulty translating his Skywalker success into a live-action film career, though he is one of the most sought-after voice talents in Hollywood. One look at Hamill's live-action filmography shows that while having "Mark Hamill" above the title is enough to finance a B-movie's budget, it's not enough to give it any hope of being good.
Enter "Airborne," a 2012 British horror-thriller hybrid about a commercial plane flying through a snowstorm in which the pilots are killed and the passengers start getting murdered one by one. The Guardian speculated this slasher in the sky might revive Hamill's live-action film career. Spoiler alert: It didn't. Instead, it delivered the worst reviews of Mark Hamill's career. Fortunately, "Star Wars: The Force Awakens" was released three years later, breaking all the box office records — and destroying the likelihood that anybody will remember "Airborne."
Carrie Fisher
Carrie Fisher's inspiring performance as Princess Leia Organa turned the typical "damsel-in-distress" trope on its head, establishing the royal rebel as one of pop culture's greatest heroines. However, while the late, great Fisher had a very successful career as a novelist, she could never escape Princess Leia's shadow, and she even told "The Today Show" she regretted taking the iconic role. We bet she really regretted playing another role: Nadine Boynton in 1988's "Appointment With Death."
Based on the Agatha Christie novel, "Appointment With Death" features Peter Ustinov as the superstar sleuth Hercule Poirot, surrounded by an all-star ensemble including Fisher, Lauren Bacall, Hayley Mills, and John Gielgud. While casting a bunch of famous people in a thriller featuring Christie's famous Belgian detective is usually a recipe for success, that wasn't the case here. "Appointment With Death" had some of the worst reviews of any movie with Fisher in a featured role and made less than $1 million at the box office, according to The Numbers. Fisher will always be remembered as a princess, but she probably hoped moviegoers would forget "Appointment With Death."
James Earl Jones
James Earl Jones boasts the best set of pipes in the business, with his unique booming bass breathing life into Mufasa in "The Lion King" and Darth Vader in "Star Wars." And while he has physically starred in some truly terrible movies, like 1981's "Blood Tide" and 1997's "Alone," we're giving the top spot (or should we say, "bottom spot") to his voice performance in "Casper: A Spirited Beginning."
The 1997 direct-to-video prequel to the 1995 "Casper" reboot is about "The Friendly Ghost" finding out he's dead and escaping to the land of the living, which sounds like the most depressing thing ever, and not just because it stars Steve Guttenberg. Turns out the most depressing thing was the movie itself, with horrible reviews across the board. Jones shows up to cash a check as the villainous Kibosh, the ghoulish leader of Ghost Central, who tries to capture Casper after he escapes back to the land of the living. Jones' voice lent credibility to the project, but not much else, as he should have ghosted "Casper: A Spirited Beginning."
Harrison Ford
Harrison Ford played Han Solo and Indiana Jones, making him the only actor with two characters in the top 15 on American Film Institute's 100 years…100 heroes & villains list. So the dude knows how to be good, especially when you add the Jack Ryan films, "The Fugitive," and "Air Force One." However, Ford hasn't been nearly as successful playing the villain. Yes, "What Lies Beneath" — in which he was revealed as the villain in a twist ending — was his last certifiable hit (not playing Han Solo or Indiana Jones, that is), but Ford's biggest disaster was 2013's "Paranoia."
Which is too bad, as the movie had a sweet setup: A superstar software engineer is caught in a battle between two former business partners-turned-crooked corporate competitors who force him to steal each other's secrets. Okay, so Liam Hemsworth playing the code nerd is absurd, but Gary Oldman and Ford hamming it up as the tech titans should have been awesome. Yet despite Ford sporting a shiny chrome dome (just so you know he's evil) and chewing scenery like it's a medium-rare ribeye, the movie is awful, with the worst reviews of Ford's career and a $16 million worldwide gross on a $40 million budget. Shocking no one, Ford was back to playing the heroic Han Solo two years later. Though Ford is more inclined to criticize "Star Wars" than his other movies, we're sure his bank account appreciates the series.
Liam Neeson
As Qui-Gon Jinn — the Colonel Tom Parker to Anakin Skywalker's Elvis Presley — Liam Neeson gave some gravitas to "Star Wars: Episode I – The Phantom Menace." The movie desperately needed it, as "The Phantom Menace" has the worst reviews of the live-action series. However, "The Phantom Menace" doesn't hold a lightsaber to the worst movie on Neeson's resume — 1993's "Ruby Cairo," aka "Deception." While Neeson's "old man-on-a-mission" movies like "Blacklight" and "Memory" may have worse critical reviews, moviegoers like them. That's not so with "Ruby Cairo."
Released just a few months before Neeson's star-making role as Oskar Schindler, the 1993 wannabe thriller showed how Hollywood had no idea what to do with the Irish thesp until Steven Spielberg cast him as a German war hero. Andie MacDowell stars as the titular Ruby Cairo, who enlists Neeson's character to help her investigate the shady financial dealings of her deceased businessman husband (Viggo Mortensen). It's … not good. At all. Though maybe it'd have better reviews if more people saw it, as "Ruby Cairo" only managed $608,000 at the worldwide box office, according to The Numbers. You might say moviegoers weren't "Taken" with it. Okay, terrible joke, but not nearly as bad as "Ruby Cairo," a movie Neeson no doubt hopes moviegoers forget about, assuming he even remembers it.
Ewan McGregor
Beauty is in the eye of the beholder. So is trash. Pretty much everybody agrees 1999's "Eye of the Beholder" belongs in the latter category, with awful reviews from critics and moviegoers making it the worst movie of Ewan McGregor's career. While McGregor's performance as Obi-Wan Kenobi was one of the few bright spots in the otherwise spotty prequel trilogy (which he hopes to redeem in the Disney+ "Kenobi" series), there's no redeeming this 1999 would-be neo-noir thriller. McGregor plays a British private eye known as "The Eye" (come on!) who starts stalking a female serial killer played by Ashley Judd after she murders a man he was hired to trail.
Don't let the compelling setup fool you. It's a wannabe "Peeping Tom" that is so on-the-nose that the title card is literally McGregor's eye. Groan. Basically, that tells you the kind of movie you're dealing with here, a film that thinks it's way more clever than it is and where characters do inexplicable things simply because the threadbare plot tells them to. Thankfully for McGregor, "Eye of the Beholder" only mustered a measly $18 million worldwide and was sandwiched between "Star Wars: Episode I — The Phantom Menace" and "Moulin Rouge." Otherwise, he might need to use a Jedi mind trick to make you forget about it.
Natalie Portman
We're sure the Oscar that Natalie Portman won for "Black Swan" is spotless, though her career has been anything but, with stinkers like "Lucy in the Sky" in 2019 and "Your Highness" in 2011, as well as two of the worst-reviewed live-action "Star Wars" films ("The Phantom Menace" and "Attack of the Clones"), and one of the most "meh" Marvel movies ("Thor: The Dark World"). While Portman's one of her generation's finest actors, her choices have been spotty — though naturally, being in "Star Wars" and MCU movies made Portman a pretty penny. However, her worst movie — 2016's "Planetarium" — didn't make any money.
In the 1930-set Parisian period pic, Portman plays a woman who, along with her sister (Lily-Rose Depp), is believed to commune with spirits, a supernatural ability exploited by a French producer (Emmanuel Salinger). The movie's reach exceeds its grasp, as it never brings focus to its interesting premise. "Planetarium" made half a million, or what a "Star Wars" or Marvel movie makes in a minute. However, Portman's not one to begrudge her failures, saying at the 2018 IndieWire Honors ceremony that her fearlessness ​​"came from failing a lot, having a lot of experiences making movies that I thought would be great but didn't turn out that way, and seeing that I could survive that. At the end of the day, it's a movie. You will move on and make another one." Hopefully, she won't make another "Planetarium."
Samuel L. Jackson
Hold onto your butts: Samuel L. Jackson is the highest-grossing movie star at the worldwide box office by far, with his films earning a total of almost $28 billion worldwide, nearly doubling number two Robert Downey Jr.'s $16 billion total gross. It certainly helps that Jackson starred in three of the biggest franchises ever — "Jurassic Park," "Star Wars," and the Marvel Cinematic Universe. Jackson's mug means money, and his turn as Mace Windu in the "Star Wars" prequel trilogy certainly delivered. Jackson's also the busiest man in show business, with at least two movies per year since 1987 (barring one pandemic year). With 137 films and counting to his credit, Jackson's bound to have some stinkers.
To select Jackson's worst, we went with a movie that featured Jackson in an above-the-title role, had bad critic and audience scores, and was a mainstream release. Thus our winner, (well, loser) is 2014's "Kite." Based on Japanese hentai (no, really) "Kite" finds Jackson playing an assassin helping his ex-partner's orphaned daughter get revenge on her parent's killers. "Kite" may be Jackson's most senselessly gory movie (which is saying something considering he frequently collaborates with Quentin Tarantino), while it's filmed with a headache-inducing frenzy that would have even Uwe Boll grabbing a barf bag. While we can't say for certain that Jackson regrets "Kite," we can say his interviews promoting the movie have about as much enthusiasm as moviegoers had watching it. Luckily for Jackson, there weren't many.
Oscar Isaac
Through sheer force of will, Oscar Isaac's performance as Poe "Don't call me Han Solo" Dameron elevated the character from a flat, one-note flyboy into one of the best parts of the sequel trilogy. Turns out Isaac is pretty good at the whole acting thing, though based on the number of rotten tomatoes on his resume, he should probably fire his agent. So what is his worst? If you think we're going to say "X-Men: Apocalypse," think again. Though he did tell GQ that he found the process of getting into makeup to play Ivan Ooze (er, Apocalypse) to be "excruciating," he also refuses to disown the film according to an interview with The New York Times.
We're pretty sure he doesn't feel that way about the film that is actually his worst of all time — 2011's "W.E." Directed by Madonna (yes, that Madonna), "W.E." is a biopic of Wally Winthrop (Abbie Cornish), who becomes obsessed with the affair between heir to the throne King Edward VIII (James D'Arcy) and an American divorcee (Andrea Riseborough). Isaac plays Evengi, whom Winthrop has an affair with, presumably to gain insider info on the royal affair. With its dreadful scores, watching this movie must be even worse than sitting in the makeup chair to play Apocalypse.
Daisy Ridley
Daisy Ridley was pretty much plucked from obscurity when she was cast to play Rey Palpatine, er, Skywalker, in "Star Wars: The Force Awakens," with only a handful of film and TV roles to her name. Since she became famous for her role as the Force-wielder, she has had her share of hits and misses, including the worst-reviewed movie on her resume, 2021's "Chaos Walking." However, while critics despised the film, moviegoers actually liked it — though with only $27 million in worldwide grosses, not many people saw it. So since moviegoers dug "Chaos Walking," we picked a movie everybody hated — 2015's "Scrawl."
Shot and released just a few months before "The Force Awakens" changed Ridley's life and the whole world with it, "Scrawl" is an independent horror film in which the scenes depicted in comic books written by a boy begin coming true, including grisly deaths. Ridley plays Hannah, a mysterious girl from the boy's comic, who may be Death herself. Watching "Scrawl" is death, as the acting is bad, the plot is incomprehensible, and the film is about as scary as watching ink in a comic book panel dry. It wasn't even released to theaters, so luckily for Ridley, you'd have to use the Force to remember it.
John Boyega
John Boyega's relationship with the "Star Wars" franchise is complicated. A few weeks following the release of "Star Wars: The Rise of Skywalker," Boyega clapped back at a fan who said on social media that the movie was embarrassing (via IndieWire). However, a few months later, he told GQ, "I'm the only cast member who had their own unique experience of that franchise based on their race." What is less complicated is Boyega's non-"Star Wars" filmography, which includes a fairly even mix of "Fresh" and "Rotten" films. On the latter end is the worst movie on his resume, 2017's "The Circle."
In the film, Emma Watson plays a young woman who gets a plush job at a powerful technology company called "The Circle." But when she is taken under the wing of the company's founder, played by Tom Hanks, she soon discovers that this corporation may be up to no good (because it's a movie, so of course it's an Evil Corporation). Boyega plays Watson's work buddy, so he largely avoided any fallout from this movie's poor performance. Besides its across-the-board poor reviews, "The Circle" only made $40 million on an $18 million budget, a slim profit based on its low budget (hell, Tom Hanks used to make $20 million per movie on his own). Now that "Star Wars" is seemingly in Boyega's rear-view mirror, we hope he'll begin making better movies than "The Circle."
Adam Driver
Adam Driver is one of the most accomplished actors of his generation, with two Academy Award nominations on his resume and a host of "Certified Fresh" films on his filmography. We're sure his grandfather, Darth Vader, would be proud. However, even accomplished actors can make mistakes. Or in the case of "This Is Where I Leave You," a lot of accomplished actors can make mistakes. In the 2014 film, Driver joins an all-star cast including Jason Bateman, Tiny Fey, Jane Fonda, and Rose Byrne in a typical "touching family comedy" that is neither funny nor touching.
Driver plays one of the four Altman siblings who return to their childhood home following their father's passing to have laughs, reveal truths, share heartfelt moments, and engage in one formulaic scene after another. Even if you haven't seen this movie before … you've seen it before. As Jason Bailey of Flavorwire put it: "It speaks volumes about the current shortage of this type of project that so many talented people were willing to attach themselves to a picture as subpar as this one." Yeah, pretty much. However, Driver did attach himself to another picture, "Star Wars: The Force Awakens," establishing Kylo Ren as one of the best "Star Wars" villains of all time.