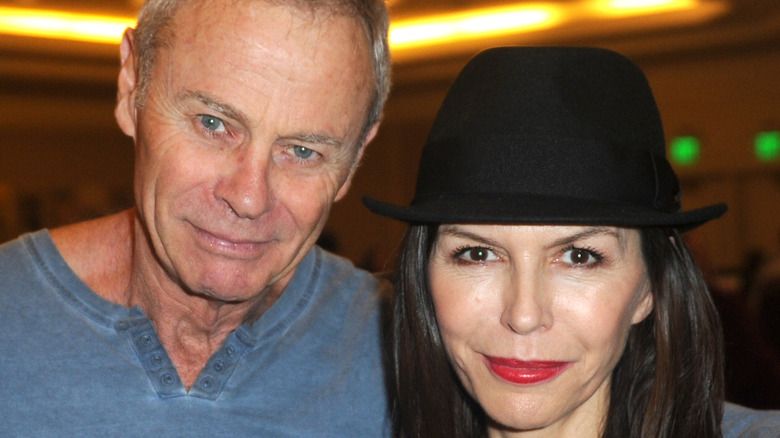 Anna Devane (Finola Hughes) and Robert Scorpio (Tristan Rogers) were never a romantic pair for very long, but some "General Hospital" fans believe they were the great loves of one another's lives even if their favorite pastime now is sitting in Anna's living room seeing what they can stream on TV for the evening (via Soap Central). Small scenes like that living their everyday lives as close as ever epitomize Anna and Robert, who truly seem to be soulmates, just not in the traditional sense of the word.
However, they do live up to the standards of the traditional soap super couples born in the 1980s, with the requisite secret child, crime-fighting adventures, two marriages, and of course, the obligatory presumed death for each (via Soaps In Depth).
Although they are the best of friends now and perhaps know one another better than anyone else, how did these two super spies get where they are in 2022?
WSB Agent Robert Scorpio arrives on Port Charles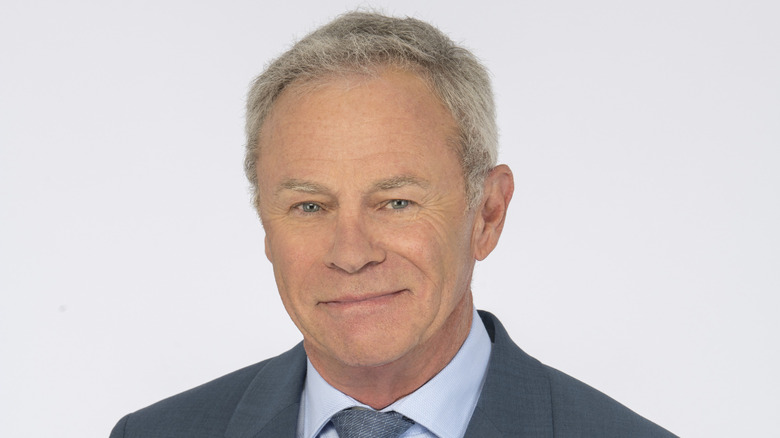 The mystery of the Ice Princess, a large uncut diamond sought by the Cassadine family that held the secret to freezing the world brought WSB agent Robert Scorpio to Port Charles way back in 1980 when helped Luke Spencer (Anthony Geary) thwart Mikkos Cassadine's (John Colicos) plan. When he didn't like how the WSB handled the case, he quit and decided to stay in Port Charles where he entered into a series of failed romances (via Soaps In Depth).
Eventually, a woman named Holly Sutton (Emma Samms) arrived in town and fell for Luke, who believed Laura Spencer was dead. When Luke was also presumed dead, Holly found herself pregnant, so Robert married her for the sake of her baby and to keep her from being deported. He didn't expect to fall in love with her but that's exactly what happened, so Robert and Holly stayed together even after she miscarried Luke returned. However, a secret from Robert's past was about to tear them apart (via Soap Central).
Anna Devane gives Robert a shock
A young Anna Devane arrived in Port Charles, purportedly interested in Holly Scorpio's jewels, but eventually Holly learned that Anna was Robert's first wife, a woman he married when they were new WSB agents. When Robert learned she had been double crossing the WBS with another spy agency, the DVX, he divorced her, but Anna had a big secret (via Soaps In Depth).
While they had only been married a very short time, Anna got pregnant and gave birth to Robert's daughter. Although she was a large part of their daughter's life, the little girl only knew Anna as "Love," the name she called her as she was cared for by a woman she considered her grandmother, Filomena.
Anna left her with the woman she trusted the most to keep Robin (Kimberly McCullough) safe while she continued on as a super spy. Eventually, Anna and Robert confirmed to a recently-kidnapped Robin that they were her parents and she was thrilled to come live with them in Port Charles (via Soap Central). Holly was not happy about any of this and after a series of breakups and reconciliations, Holly was presumed dead.
Anna marries another man, then marries Robert
Anna Devane and Robert Scorpio might have had a little girl they were raising together by 1985, but that didn't mean they were ready to reunite as a couple — especially after Anna fell in love with mobster Duke Lavery (Ian Buchanan). When she learned the extent of Duke's criminal activities, she dumped him and opened up a private investigating firm with Robert and it looked like they may finally find romance again. However, it wasn't meant to be — yet.
Anna did eventually marry Duke, but their union was short-lived, ending when Duke was killed in a fire. Anna was devastated, but Robert was there to pick up the piece and by 1991, Robert and Anna married for the second time (via Soaps In Depth). Then, tragedy struck when the evil Cesar Faison (Anders Hove), who spent his life obsessed with Anna went after them. Anna, Robert, and Faison were all presumed dead in a boat explosion (via Soaps In Depth), leaving Robin to be raised by her uncle, Mac Scorpio (John J. York).
Anna turns up on All My Children, Robert is also alive
In 2001, Anna Devane turned up alive, but not in Port Charles. Instead, she spent several years living in Pine Valley on "General Hospital's" sister soap "All My Children". After falling in love with David Hayward (Vincent Irizarry) and having his child, Anna then had to grieve losing the baby to a heart condition when she was only a few months old. She also reunited with Robin Scorpio during this period and worked as the Pine Valley police chief. However, she eventually left David and Pine Valley and returned to Port Charles for a surprise (via Soaps In Depth).
In 2006, it turned out Robert Scorpio was also very much alive and had been forced into hiding by the WSB for years. When he returned to Port Charles, he was working with them to stop a strain of encephalitis that had been plaguing Port Charles. After he solved that problem, Robert learned he had colon cancer and left for treatment in Europe (per Soaps In Depth).
Anna and Robert remain friends…for now
While Anna Devane has remained a permanent fixture in Port Charles since 2011 after appearing on and off "General Hospital" for several years, Robert comes and goes. For a while, he was married to Holly again, but she has been presumed dead since 2020 with only the audience knowing she is alive (via Soap Hub).
In 2019, Anna believed Robert wanted her back when he seemed to be carrying around an engagement ring, but it turned out he was just helping out her then-boyfriend Hamilton Finn (Michael Easton), who eventually proposed (via Soaps.com). While Anna and Finn's romance did not work out due to both of them keeping secrets from one another, she always has Robert by her side when she needs him (via Soaps In Depth). As of this writing, she is becoming romantically involved with Valentin Cassadine (James Patrick Stuart) and Robert doesn't like that idea one bit.