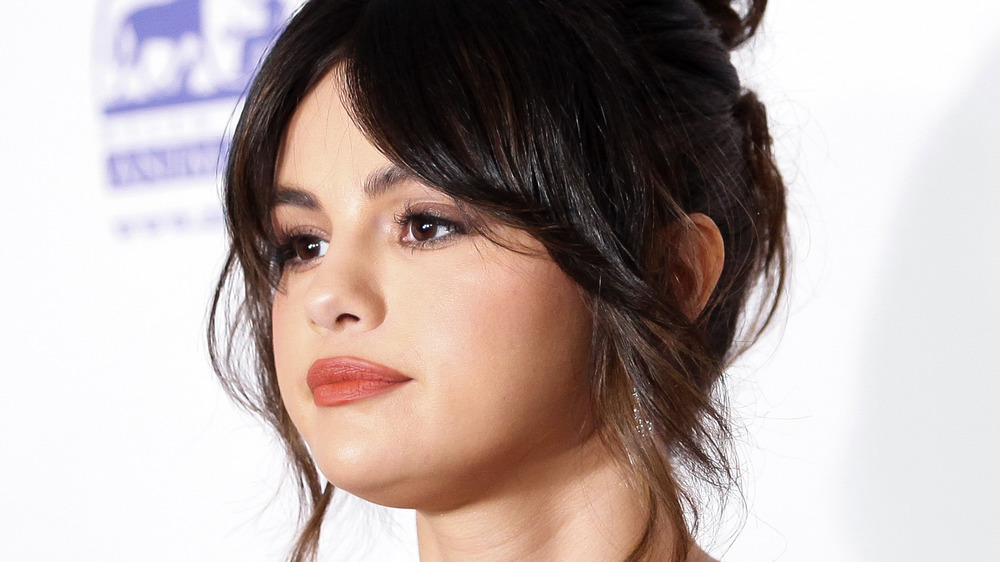 In 2015, after a few noticeable absences from the public eye, actress and songbird Selena Gomez returned to the limelight and opened up about having been diagnosed with an autoimmune disease. Amidst unfounded speculation and unrelenting negativity from the press surrounding her check-in to a rehab facility in 2014, Gomez told Billboard, "I was diagnosed with lupus, and I've been through chemotherapy, that's what my break was really about. I could've had a stroke." While that interview may have been the first in which Gomez discussed life with lupus, it was not the last.
Over the years, Gomez has taken several breaks from public life to focus on her health and well-being. Though relatively quiet about many of the details surrounding her illness, the songstress has been a strong advocate for others who have the disease. She has donated to the University of Southern California's Keck School of Medicine to start the Selena Gomez Fund for Lupus Research and has spoken at benefit events as well (via People). Of the donation and research that will go towards funding, she went on to say, "I am hopeful for the millions of us around the world that may benefit from this."
Lupus impacted Selena Gomez's mental health as well as her physical health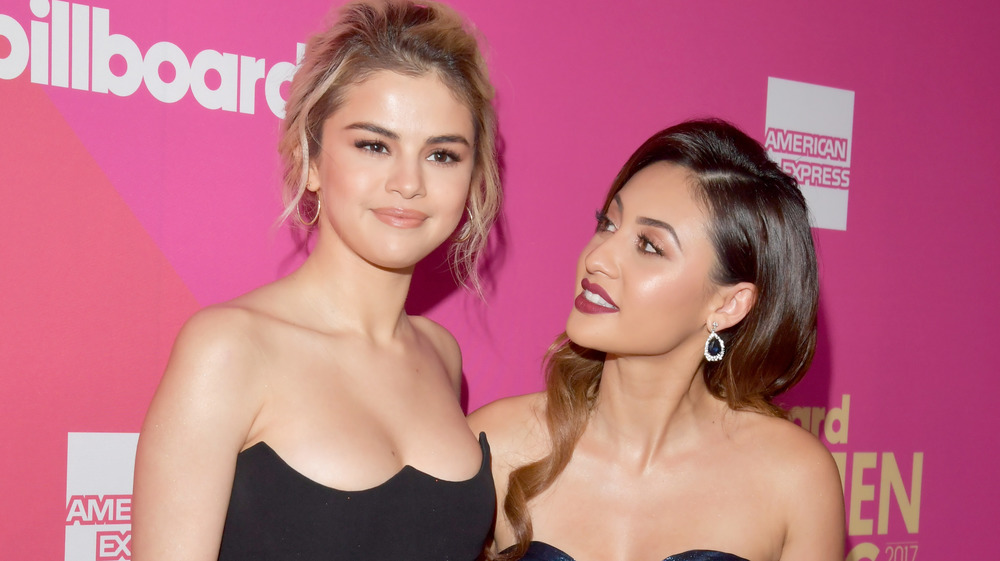 Nearly one year after revealing her lupus diagnosis to the world, Selena Gomez took more time off to focus on her mental health and well-being. She told People, "I've discovered that anxiety, panic attacks and depression can be side effects of lupus, which can present their own challenges."
The diagnosis of an autoimmune illness such as lupus is life-changing and really impacts every aspect of a person's life. It is not uncommon for people with lupus to feel a significant impact on their mental well-being, according to WebMD. In these cases, adequate support and resources are crucial.
In addition to the mental health impact of the disease, Gomez most famously underwent a kidney transplant as a result of lupus nephritis (inflammation of the kidney due to lupus). In a September 2017 Instagram post, the singer revealed her best friend and fellow actress, Francia Raisa, donated her kidney, and with it gave Gomez a new lease on life.
Selena Gomez was in her 20s when she was diagnosed with lupus
If you weren't familiar with lupus before 2015, you may have learned at least a thing or two when the news broke of Selena Gomez's diagnosis. Essentially, lupus is an autoimmune illness in which a persons body attacks itself. It can impact many different organs like the joints, lungs, heart, and as was the case for Gomez, the kidneys (via Medline Plus). With lupus, the body mistakenly identifies its own healthy cells as foreign invaders and mounts an attack, making individuals sick with a wide array of symptoms.
There are multiple forms of lupus including the most commonly known systemic lupus erythematous (SLE), followed by discoid, subacute cutaneous, drug induced, and neonatal lupus. The cause is still unknown, but several risk factors have been identified. According to the Lupus Foundation of America, nine out of ten people with lupus are women. The disease predominately affects younger women, between the ages of 15 to 44. People with a family history of any autoimmune disease are at an increased risk, along with people of African American and Hispanic/Latino descent.
Selena Gomez herself fits into many of these risk factors as she is a young, Hispanic woman, and was diagnosed with the potentially life-threatening disease in her early 20s. It is estimated that at least 1.5 million Americans have some form of lupus.
Selena Gomez likely experienced some of these symptoms before being diagnosed with lupus
Because of the wide and varying array of non-specific symptoms associated with lupus, proper diagnosis may be complicated and take weeks to months, sometimes even years. Symptoms also vary from person to person and can range from mild to debilitating.
While Gomez has not spoken about the initial symptoms she had which led to her lupus diagnosis, it is likely she may have had some variation of these common symptoms: joint and muscle pain, fatigue, hair loss, unexplained fever, photosensitivity, rashes, mouth sores, and swollen glands (via Lupus Foundation of America). Although not all with lupus will develop it, the "butterfly rash" (aka malar rash) is one of the most recognizable symptoms of lupus. This red rash tends to spread across both cheeks and the nose, but often excludes the nasolabial folds — a clinical clue which can help differentiate it from other skin conditions (via Medscape).
Another condition commonly associated with lupus is Raynaud's disease (RD). RD is responsible for the discoloration or numbness of the fingertips and/or toes in cold or stressful environments. While it is not only seen in lupus patients, RD can be a sign of other autoimmune illnesses as well.
Selena Gomez underwent chemotherapy for lupus, but that isn't the only treatment option
Lupus is a complex disease. Rather than one specific lab or imaging study to diagnose the disease, there are several criteria a patient needs to meet in order to be found to have lupus. These criteria may include antibody tests, arthritis affecting two or more joints, specific skin manifestations and rashes, mouth sores, neurological disorders, or kidney damage to name a few (via American College of Rheumatology).
Since the illness can vary quite vastly from case to case, treatment options are also tailored to each individual. In addition to lifestyle modifications, medications such as corticosteroids and biologics can help mediate the symptoms and progression of the disease. Sometimes, as was the case with Gomez who admitted to having undergone chemotherapy, certain chemotherapeutic drugs can also be used to treat lupus, according to the Lupus Foundation of America.
While it is the rheumatologist who primarily handles the care for a patient with lupus, since the disease is so complex, often times a multi-disciplinary approach is recommended. Most commonly there is team-based care with nephrologists and neurologists. This is no doubt true in the case of Selena Gomez, who previously talked about being diagnosed with lupus nephritis, which ultimately led to her having a kidney transplant (via People).
Selena Gomez detailed being diagnosed with lupus nephritis
So what is this condition which turned Gomez's life upside down? According to the National Institute of Diabetes and Digestive and Kidney Diseases, lupus nephritis is "a type of kidney disease caused by systemic lupus erythematosus." Approximately 50 percent of adults with lupus will experience kidney disease, like lupus nephritis. Patients of African American, Hispanic/Latino, and Asian American descent are more likely to develop the disease. Men are more commonly affected by this condition than woman. Despite that statistic, Gomez still developed the troubling condition.
The singer had the following to say about the urgency of the matter at a 2017 Gala to raise money for the disease, "After undergoing so many tests to monitor my kidneys my doctors told me I have lupus nephritis, one of those complications from lupus. They said I would be needing a kidney transplant" (via People). Gomez is also quoted as saying, "Maybe I wasn't necessarily really good at knowing what that meant so it actually got to a point where it was life-or-death."
How is Lupus nephritis treated?
While there are certain medications which may help halt its progression, over time, lupus nephritis may lead to kidney failure, ultimately requiring dialysis or a kidney transplant. This happens in about 10 to 30 percent of patients with lupus nephritis, much like in Selena Gomez's case. Learning you need an organ transplant can be scary news that significantly affects your mental health. Thankfully, Selena Gomez found a donor and incredible support in her best friend, actress Francia Raisa.
In an Instagram post of the two besties in abutting hospital beds prior to the surgery, Gomez wrote, "There aren't words to describe how I can possibly thank my beautiful friend Francia Raisa. She gave me the ultimate gift and sacrifice by donating her kidney to me. I am incredibly blessed. I love you so much sis." Gomez took additional time off to recuperate from the surgery.
Selena Gomez decided to be "proactive and focus on maintaining" her health
In the hustle and bustle of 21st century life, many people don't prioritize their own health. However, honoring your body and listening to the warning signs is critical. While the signs and symptoms of lupus can often be vague and at times completely absent, you know your body best. No healthcare provider, scientist, or researcher knows how you feel better than you. So don't let those symptoms you've been noticing subtly linger without proper attention. And take time to rest if you feel you need it.
Over the years, Selena Gomez has taken multiple breaks from her music career citing her health and well-being. In an interview with GQ in 2016, she said of taking breaks, "This is something that everyone always wants to fixate on. I got diagnosed with lupus. … So I had to cancel my tour. I needed time to just be okay." She continued, saying, "It's really frustrating, because I'm 100 percent allowed to have that."
In an interview with People, Gomez explained, "I want to be proactive and focus on maintaining my health and happiness and have decided that the best way forward is to take some time off. … I hope others will be encouraged to address their own issues."
Selena Gomez swears by "diet, routine, and medication"
The diagnosis of lupus can be difficult, but not insurmountable. When asked by Billboard how she stays in good health, Selena Gomez responded, "Diet, routine, and medication." In addition, an adequate support system can play a huge role in helping ones feel more hopeful about life with a chronic illness such as lupus. The American College of Rheumatology also recommends individuals play a role in their care. It is important to learn as much about your disease and medication as possible and to talk to your treatment team often.
An active lifestyle may also help decrease some of the symptoms of lupus and has been shown to help boost individuals' moods and well-being. Knowing when to take a break, as Selena Gomez recommends, can make a huge difference in avoiding flare-ups of the disease. Avoiding sun exposure, particularly for those with photosensitivity, can also help decrease patient discomfort.
In addition, for young woman planning on becoming pregnant, it is critical to discuss the best approach to conception with your treating medical providers as some medications may have detrimental effects and need to be discontinued or changed prior to pregnancy. If you or a loved one has been diagnosed with lupus, be sure to check out resources and information made available by the Lupus Foundation of America.