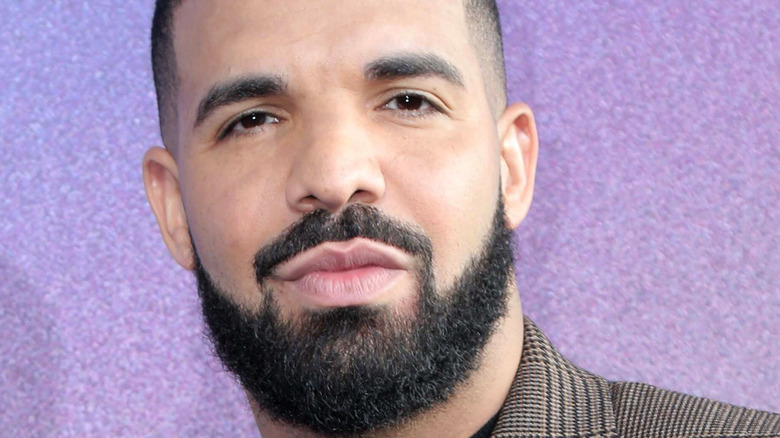 The inside of a home — updated bathrooms and kitchen, modern appliances, beautiful décor — all help a property garner its final value, which is especially important when owners decide to become sellers. But according to Homes & Gardens, a house's outdoor space can be just as important. A simple garden can add a whopping 10% to a residence's value.
Celebrities, who have more than enough funds to go around, have certainly capitalized on this point by adding vacation-worthy outdoor features to their homes, including over-the-top pools, outdoor kitchens perfect for entertaining guests, hot tubs for unwinding after a long day, lush gardens, and even outdoor living spaces complete with couches, armchairs, and fireplaces. These beautiful backyards make it even easier for celebrities to get a taste of the outdoors without ever having to leave the safety and security of their own properties. Here are just a few stars making the most of their outdoor spaces with their beautiful backyards.
Shakira's modern Miami pad situated on 100 feet of Biscayne Bay waterfront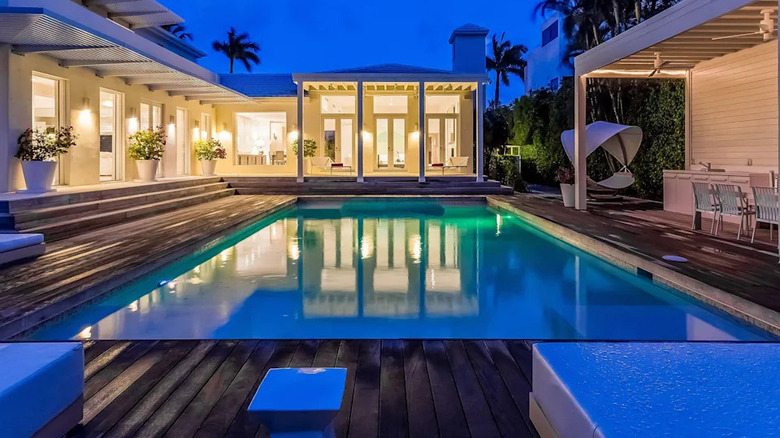 There's nothing better than having the beach as your neighbor in Miami. So, Shakira sought out no less when she bought a serene pad on Biscayne Bay, a scenic lagoon where many celebrities have laid down roots. The estate cost little more than $3 million two decades ago. According to Homes & Gardens, Shakira's 20,000 square foot mansion with six bedrooms was situated directly on the waterfront with 100 feet of its own private beach access. At the time she bought it, Shakira had just been propelled into stardom when her song "Whenever, Wherever" became an instant hit, said Page Six.
However, there's nothing like being able to choose between a pool and the shore when it's 90-plus degrees outside. Shakira's modern home, which is outfitted in white and gray tones, had a crystal-blue pool surrounded by lounge chairs and a cabana. There were also zen-like gardens with pops of color throughout the property. Shakira's home also had floor-to-ceiling windows and colossal bay windows to get the best views possible of her paradise-worthy backyard. However, in 2018, Shakira decided to part ways with her Miami escape. She sold the residence for a little more than $11.5 million.
Drake's Los Angeles backyard with a resort-worthy pool
A pool is basically a requisite when you're buying a home in hot, sunny Los Angeles (at least when you're one of the city's many celebrities.) But Drake decided to take that obligation one step forward when he bought a Hidden Hills mansion for nearly $8 million. Per Rolling Stone, the rapper, who picked up the pad from the owner of the Saddle Ranch Chop House restaurant chain a decade ago, is really into pools. So, he was all about his new home's resort-style pool, explicitly modeled to be better than the famous Playboy Mansion pool (via Insider).
You wouldn't guess that the wood-clad home with exposed beams and lots of rustic details would have a pool as its main feature, but it's literally half the size of the house. It includes flowing waterfalls that change colors, manmade cliffs, and even secret grottos (just like the Playboy Mansion pool.) There's also a lounge area in the middle of the pool accessible by a bridge and a fireplace. But Drake's backyard isn't all pool. There are also areas for playing tennis, ping-pong, and volleyball. Drake used some serious "The Secret" powers to get a hold of this gem. Half a decade before he bought it, he stumbled upon photos of it online and made them his screensaver. Just a few years later, the mansion was his.
Celine Dion had a water park in her backyard
When you're Celine Dion (and you're worth $800 million,) money is literally no object. So why not buy your own private waterpark right outside your Florida beach house? Lonny reported that that's exactly what Dion did when she picked up a Jupiter Island paradise in 2010. Inside, her white-outfitted 10,000 square foot house was stunning enough. But outside, it just got otherworldly. It was surrounded by a maze of flowing, manmade rivers, leading Dion and her guests to multiple pools throughout the six-acre property.
But what good is a pool without a waterslide? Dion's home had that, too, as well as poolside dining areas, a lounge surrounded by a firepit in the middle of one pool, and even water gun stations for a little bit of fun. And of course, there was a beach, too. Dion's home sat on 400 feet of private beachfront, which was right next to a tennis court and a virtual golf range. However, even a stunning waterpark-inspired home can't save us from everything, as Dion, unfortunately, learned firsthand. When her husband, Rene, began to suffer from throat cancer in 2013, Dion and Rene decided to list the abode for $72 million, said Nimvo. By the time it sold for a little more than half of that price in 2017, Rene had succumbed to cancer.
Betsey Johnson's outdoor living setup at a whimsical Malibu mobile home
Not every beautiful backyard is all glitz and glamour. Betsey Johnson's pink mobile home in Malibu is anything but. Instead, it was full of Johnson's distinctively bold, whimsical, and over-the-top touches. However, the mobile home itself was in a pretty swanky community. According to Town & Country, she was parked in Paradise Cove Mobile Home Park, one of the most coveted places to live in the city since it sits atop cliffs over the Pacific Ocean.
A floral couch and armchairs, surrounded by a pergola and colorful flowers, created an outdoor living room that we're sure guests clamored over. There was even an outdoor tub and shower surrounded by lots of manicured greenery for privacy, in case Johnson was looking for some fresh air with her daily scrub. And yes, there was an outdoor dining room, too. A casual wicker table and chairs also sat under the pergola, surrounded by many fun knickknacks. It was all accessible by a stone walkway framed with potted tropical plants. Plus, the mobile home's community has its own outdoor features, including an area for playing tennis, direct beach access, and a clubhouse ideal for private events, said Today. In late 2019, Johnson offloaded the property to another lucky buyer for $2 million (via People).
Amy Schumer's modern Manhattan rooftop deck
In 2016, Amy Schumer finally began seeing her hard work in the comedy world pay off. Her standup was taking off, and her movie, "Trainwreck," had come out just a few months before and was a huge success. So in late 2016, Schumer treated herself to a $12 million penthouse in New York City's Upper West Side. Per Variety, Schumer's five-bedroom apartment sits next to the Hudson River and features lots of floor-to-ceiling windows to spotlight its killer views.
However, the views get even better outside Schumer's apartment thanks to this abode's outdoor space, which is a true gem in ever-crowded and urban New York City. The colossal terrace is a whopping 20 feet by 50 feet, which is the size of some entire New York City apartments. That leaves plenty of room for entertaining, as well as plenty of room for Schumer to get some fresh air. And bonus: It wraps around the apartment and showcases views all the way to New Jersey. Inside, the 4,500 square foot apartment is ultra-modern and has tons of glass and steel details atop dark wood floors. Clean lines and minimalist furniture and décor define the space, which is definitely at odds with Schumer's bold personality.
Pharrell Williams' Miami deck with a rooftop hot tub
With a see-through dome, stairway made of Venetian plaster, and huge collection of eclectic artwork, Pharrell Williams' Miami penthouse that he bought in 2007 for more than $12 million was already a stunner. But the topping on the cake — literally — was the apartment's outdoor patio, which totaled a whopping 5,000 square feet. Insider reported that Williams' apartment had crazy views of Miami as well as the next-door beach and ocean.
But the real jewel of Williams' Sunshine State abode was the hot tub on the roof, which allowed Williams and his lucky visitors the luxury of enjoying relaxing bubbles and 360-degree beautiful views. The hot tub was surrounded by winding vines and greenery, further adding to the serene ambiance of the outdoor space. The patio also had a barbecue set up with a dining area ideal for entertaining and an outdoor pool to escape those hot Florida temperatures (via Mansion Global). However, nine years after he bought it, Williams decided to pass the apartment onto a new buyer for $9 million. Unfortunately, losing $3 million was never part of the plan for Williams. He originally listed the apartment for sale for nearly $17 million, but he had to drop the price when no buyers came to fruition.
Kris Jenner's colossal outdoor space on 1.5 acres
As we've all learned from seemingly endless years of "Keeping Up with the Kardashians," Kris Jenner is one busy woman working as a momager for her celebrity daughters. So, it's only fitting that her Hidden Hills home that she moved into in 2021 has everything needed for a hardworking mom to relax, including a large pool and lush green lawn. According to The Sun, Jenner's outdoor space is also surrounded by manicured shrubbery to keep those paparazzi and nosy fans out (as if being in one of the most exclusive and private communities in the United States wasn't enough.)
Since Jenner often hosts her daughters and loves to throw parties, there's also an outdoor kitchen and dining space at her new home on 1.5 acres of land, all underneath a chic terrace to shield from the hot Los Angeles sunshine. And even better yet, Jenner's 16,000 square foot mansion is next to daughter Khloe Kardashian's 10,000 square foot estate, which is also currently being built. In typical celebrity style, Jenner's home also includes eight bedrooms, a garage that can accommodate eight vehicles, a private theater, an onsite home for guests, a personal fitness center, and an office for inking those lucrative Kardashian deals, said Dirt.
Dominic West's whimsical garden in the heart of London
Take one look at Dominic West's house in London, England, and it's not hard to figure out he's been married to a landscape designer for over a decade. The actor, who starred in productions including "The Affair" and "The Wire," has a pad that isn't shy with color or florals. According to Nimvo, his 19th century home is a true respite from the bustling city with its ultra-lush garden that West and his wife Catherine Fitzgerald often spend time in. Like a stately garden, it includes several different areas, including a miniature "forest" with grown trees, a flat lawn for casual outdoor activities, tons of flower beds, as well as other built amenities such as a tree swing.
However, unlike some celebrity homes, West's whimsical garden has many personal touches, such as a sign that West purchased while he was performing in an "Othello" production many years ago. It's all accessible through West's home thanks to a translucent atrium, so West and his visitors can also enjoy the colorful garden florals from the inside, said Lonny. However, when West and Fitzgerald bought the home, the garden was eons away from how it is now, although it did have fruit trees that produced fruit for local markets. At the time, the garden was unkempt, as was the property itself. But West and his wife got to work and what resulted was one eclectic abode.
Sarah McLachlan's winter escape with an outdoor fireplace
If you have a home in the epicenter of scenic ski country, you better have a beautiful outdoor space to enjoy the views. That's exactly what Sarah McLachlan did when she built her rustic British Columbia home, which featured lots of wood and stone touches through its 8,300 square foot space. Per Variety, McLachlan's winter escape had 2,500 square feet outside its doors, including a home for visitors, a lush lawn, and an outdoor dining space that could even accommodate cold temperatures. A cozy stone fireplace flanked an outdoor wood table, making winter outdoor dining warm and comfortable.
But in mid-2021, McLachlan finally moved on from 5476 Stonebridge Place, Whistler, for more than $11 million (via The Georgia Straight). It took the star seven years to sell her personalized home after she bought it in 2003 for just $3 million. McLachlan's former abode is nestled behind private gates to keep out passerby, and features stunning mountain views and a jacuzzi tub. Inside, the space has exposed wood beams, a private theater, an upgraded kitchen with stainless steel appliances, and lots of neutral tones.
Phil Collins' Miami Beach backyard with lush foliage
The former Miami Beach home of English drummer and Genesis alum Phil Collins has its own celebrity lineage. It was once owned by Jennifer Lopez, too. We can see why this Spanish-style estate with six bedrooms had universal appeal. Per Dirt, Collins' home, which sold for nearly $40 million in early 2021, was welcomed by a towering wrought iron gate surrounded by rows of palm trees. Visitors could reach the century-old home after a long trek down the driveway, and the estate was just as beautiful outside as it was inside.
The seemingly endless lush gardens made visitors feel like they were in Pandora rather than Miami, thanks to the plethora of greenery, colossal koi pond, and huge open yard. There was also a large rectangular pool (because, Miami) surrounded by coral stone, a gazebo with an outdoor kitchen and entertaining space, and nearly 200 feet of private water frontage. From here, Collins could use his personal dock to take boat rides through Biscayne Bay, one of the most coveted celebrity destinations in the state. There was also a fire pit, lots of lounge chairs, and stunning views of the city beyond. Unfortunately, Collins offloaded the 10,000 square foot home after a complicated and expensive divorce.
Jeff Bridges' Montecito home with stables and four acres of land
According to Celebrity Net Worth, Oprah Winfrey has a net worth of $3.5 billion, making her purchase of Jeff Bridges' former Montecito home for $7 million seem a bit meager. But it all makes sense given that Winfrey's primary home is right next door, said Dirt. Winfrey bought Bridges' Spanish Revival property in late 2019 to gain more space for her 23-acre home. However, The Dude's historic former home, which dates back 100 years, is beautiful all on its own. It is an equestrian's dream thanks to its onsite stables, and with four acres, there is plenty of room to take the horses out for an afternoon ride.
Inside, the ranch-style home brings rustic details indoors with exposed wood beams, lots of wood details, and neutral colors. The living room has a colossal, wood-arched ceiling, with a space underneath that is headed by a concrete fireplace surrounded by bricks. Huge windows give visitors views of the outdoor space beyond, including a gazebo and building adorned with vines. The bedrooms offer much of the same, including stunning outdoor views and fireplaces for cozy nights.
Denise Richards' Hidden Hills backyard with resort-style pools and pizza ovens
It took 10 years and nearly $4 million in price drops, but in 2018 Denise Richards bid her Hidden Hills abode goodbye. However, we're not totally sure why Richards would want to part with this truly paradise-like property. Realtor reported that Richards was behind much of the home's stunning transformation, as she completely renovated the 30-year-old mansion after she bought it in 2007. What resulted was an 8,200 square foot space with six bedrooms, lots of high-end glam details, and a backyard fit for a queen.
Richards' backyard could have doubled as a resort thanks to its two side-by-side pools, each with walk-in steps and a natural ambiance. Their blue waters were also topped with manmade cliffs, a waterslide, and a secret grotto inside. In the entertainment-friendly lawn area, there was plenty of lounge chairs, greenery, lush foliage, two pavilions with outdoor dining spaces, and two pizza ovens (because one pizza oven is never enough!) However, just two years after Richards sold the property, its new buyers put it back on the market just weeks before the onset of the 2020 pandemic, said the Los Angeles Daily News. They listed the classic, family-friendly home with plenty of curb appeal for about $8 million, but there is no word yet if they've had better luck with pricing than Richards did.
Paula Deen's Savannah home with an outdoor kitchen
You've likely already seen celebrity chef Paula Deen's home on an up-close-and-personal basis. Her Savannah, Georgia home was the setting for many of her cooking shows. But according to People, what viewers didn't get to see was this five-acre property's stunning and rustic outdoor space. In true Georgia style, it included a pond, another pond for koi, a chicken coop, an area for playing croquet, a barn as large as some homes, and a separate onsite building. But it had some truly luxurious amenities, too. Those included a pool topped with a movie screen and a colossal outdoor kitchen ideal for a celebrity chef. The outdoor kitchen had multiple fridges and grills, as well as a smoker, oven, and ice machine. Inside, there was also another movie theater, a private gym, and an entertainment room.
With an outdoor space this stunning, we're surprised that Deen's home took nearly half a decade to sell, but it did garner the highest residential price in county history, said South Magazine. Although the final price was never shared with the public, Deen listed her home, which she picked up in 2006, for more than $12 million.
Tom Cruise's Hollywood Hills backyard with a lagoon-style pool and waterfall
As a European-style estate on Hollywood Hills towering high above the city beneath, you can bet that Tom Cruise's former home on nearly three acres had some serious outdoor amenities. Per The Los Angeles Times, Cruise listed his pad for nearly $13 million in 2015, and we bet that price was warranted with its insane views and luxurious amenities. Outside, there was a heated pool (as if Los Angeles temperatures needed another dose of heat) next to a natural-appearing waterfall. It also had a spa ideal to relax in after those long, rough days of filming.
On the property, there was also a playset for kids. At the time of the sale, one of Cruise's daughters was 10 years old. Plus, the home's outdoor amenities — which also included a few separate patios — were connected by rustic stone pathways, only adding to the European appeal (via Variety).