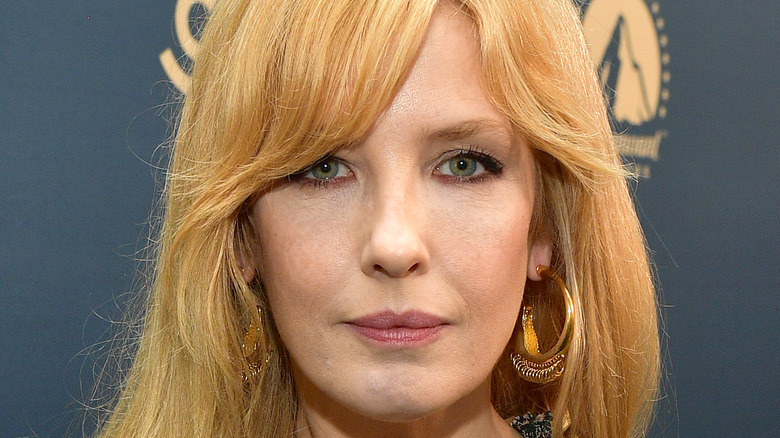 Ever since the Paramount TV drama "Yellowstone" premiered in 2018, people have been captivated by the story. Now, entering Season 4, the many twists and turns of the Dutton family and their Montana-based ranch continue to intrigue viewers. Along with the fascinating plot, the show features an incredible cast of talented actors, with Kevin Costner leading as John Dutton. However, perhaps the most interesting character and one who has been a fan favorite throughout the series is John Dutton's daughter, Beth.
The character, Beth, is confident, strong, and fiery. And she keeps viewers on their toes with what she'll say next. One of the most important factors in creating Beth's character is, of course, the actress playing her. While many fans of the show have likely loved Beth for years, it's possible to know very little about Kelly Reilly, the talented actress bringing the character to life. Although she's been a successful actress for years, Reilly is also quite private. While you may have seen her in many other roles, including her work on "Sherlock Holmes," "Pride & Prejudice," and "Flight," the actress who plays Beth in "Yellowstone" remains a bit of an enigma (via IMDb). But, we're ready to dispel the mystery with these little-known truths about Kelly Reilly.
Kelly Reilly is actually British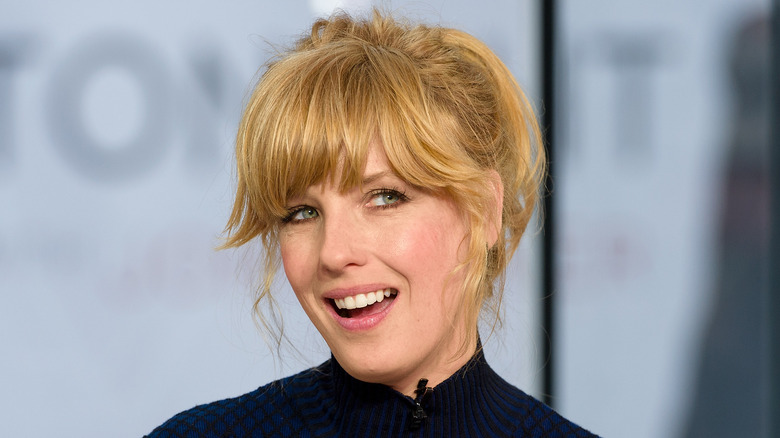 It may surprise you to learn that, unlike her character Beth, the actress is not from the west. She's not even American. Though Kelly Reilly's spot-on accent throughout "Yellowstone" has many people fooled, she's actually English. It's especially shocking to some fans that one of the show's leads isn't American considering the plot centers around the American West, but Reilly was born in Chessington, London, and grew up in London. She even started her acting career in British television (via Express).
If anything, learning she's British makes Reilly's acting in "Yellowstone" all the more impressive. During a 2018 interview, Reilly explained that coming from such a different background makes her even more fascinated by Beth's life and the Dutton family. "For me, this is a slice of America … There's something about that lost part of America that I'm really interested in. Being British … I didn't really know too much about it," she explained. "So, being in Montana and sort of experiencing the real roots of America," she said, was "fascinating."
She first made a name for herself on stage
Long before her time on "Yellowstone," Kelly Reilly became known for her work in theater. In fact, playwright and director Terry Johnson, who cast her in several productions, was so impressed with her work, he said she "is possibly the most natural, dyed-in-the-wool, deep-in-the-bone actress I've ever worked with" (via DuJour).
But the role that Reilly was known best for on stage was 2003's "After Miss Julie." The English actress played the title role and got rave reviews on her spectacular performance. "It is the sense of Miss Julie as a lost soul that is beautifully caught in Kelly Reilly's astonishing performance," noted The Guardian. Reilly gained even more recognition when, during one performance, she cut her foot on broken glass onstage. Instead of stopping the show, Reilly acted while bleeding and finished the performance with a bandaged foot, proving herself once again to be incredible in live theater (via British Theatre Guide).
Kelly Reilly had a successful career long before Beth
Although many fans have gotten to know Kelly Reilly through her role in "Yellowstone," she was a successful and acclaimed actress years before playing Beth. As aforementioned, she's known for her work on the London stage and on British television. One of her first roles was in the 1995 TV movie "Prime Suspect: Inner Circles." The actress starred in several more British TV movies and series through the late '90s into the early 2000s. Then, in 2005, she had roles in several films, including "Russian Dolls," "Pride & Prejudice," and "Mrs. Henderson Presents" (via IMDb).
On "Yellowstone," Reilly acts alongside Kevin Costner (who had his own business in the 1990s). However, this isn't the first time she's appeared on screen with big-name actors. Her early role in "Prime Suspect" had her working with Helen Mirren. She also acted alongside Dame Judi Dench in "Mrs. Henderson Presents" and Denzel Washington in the 2012 Oscar-nominated film "Flight." In each role, Reilly has proven her ability to shine even alongside Hollywood legends.
She's the daughter of a London police officer
Kelly Reilly is now well known for the role her character Beth plays in the Dutton family on "Yellowstone." However, very little is known about the actress' real-life family. This is due in part to Reilly's private nature as well as the fact that none of her family is in the entertainment industry. Although she went on to appear in blockbuster movies like "Sherlock Holmes," per IMDb, Reilly comes from quite an average family background.
However, she has shared she's the daughter of a police officer. Reilly told The Guardian that, while she was growing up, her father worked "all over south London, Lambeth, Southwark." The Brixton riots of 1981 also took place during his 25 years as an officer. The riots were a series of protests that started in London but spread to other cities across the U.K. as a result of "rumors of police brutality against a Black man" (via the BBC).
As the daughter of a police officer who grew up during these protests, Reilly told The Guardian, "You hear that people hate the police, like during the recent student protests, and I think: 'Well, they're doing their job and they have kids who want to go to university too.'" But the actress also added that she thought non-violent protests could be "absolutely essential."
She was upset by false rumors about her relationship with a director
Although Kelly Reilly keeps a comparatively low profile for a celebrity, she's no stranger to rumors being spread about her personal life. One particularly nasty piece of gossip started circulating about her when Us Weekly reported she was dating Guy Ritchie, the director of "Sherlock Holmes." The rumors came on the heels of his split from Madonna and made it look like Reilly was having an affair with her director (via Fox News).
When asked about the scandal, the actress told The Guardian, "All that was ridiculous nonsense. It was the first time anything like that had ever happened to me and I didn't cope with it very well at all. I sued! And I won because it was completely made up." Although she won the case and the original story was taken down, Reilly said the whole experience was "surreal" and "embarrassing." She'd done nothing wrong, but she still had reporters at her parents' house trying to get the scoop. She also said the rumors were hurtful to people she cared about, particularly because she was in an actual relationship at the time.
Playing Beth on Yellowstone is a sort of 'fantasy' for Kelly Reilly
Many "Yellowstone" viewers have fallen in love with Beth's headstrong and fiery personality, and they aren't the only ones. During an interview with Looper, Kelly Reilly shared how much she loves Beth and the opportunity to play her. "She's a bit of a fantasy of all the things that you want to say, but you'd never have the courage to say or do," Reilly said. "I wish I could have a bit of Beth in me to be able to say some of those things … So, to be able to do that and get to do it with all those great lines, it's just so satisfying."
Though she loves Beth, the actress also said it's "deeply challenging" and even "terrifying" at times to play a character that feels so real. She's complex, with both tough moments and raw emotional scenes, all of which Reilly manages to pull off authentically, likely from her deep love and understanding for Beth.
The actress doesn't want to play another character like Beth
Despite how much Kelly Reilly loves Beth, she would rather change things up than play another character like her. The actress told Looper that, since people love her playing this character, she's been approached for many similar roles. "I'm inundated with very feisty, strong, violent-type women. I don't want to play that again, those badly written Beths," she explained. "So, I stay away from them and instead am looking for the next role that takes me into different waters."
And, true to her word, the actress tackled a completely different character in the 2021 period horror film "Eight For Silver." In the film, Reilly plays Isabelle Laurent, who is far more mild-mannered than Beth. Speaking about the role to Screen Rant, she said, "Playing someone so utterly different from this character that I had been so immersed in for a few years, I was just like, 'Yes, I'm in!'"
Kelly Reilly is private about her marriage
"Yellowstone" fans love seeing the relationship between Beth and Rip play out on screen, but Kelly Reilly is pretty private when it comes to her personal life. The star has been happily married since 2012, though little is known about her financier husband, Kyle Baugher. Like his wife, Baugher likes to keep his private life private and doesn't have much public social media presence. But, from what we can tell, they seem to have had a whirlwind romance since, according to Parade, the pair met and got married all in the same year.
However, it's possible they started dating earlier than 2012. In a 2011 interview with The Guardian, Reilly mentioned her American boyfriend, who some have speculated was her now-husband. "I live between my house on the borders of Sussex and Surrey and New York, where my boyfriend lives," the actress said. "I'm not saying any more about him except that he's not an actor, not in the business." It seems likely this was Baugher since he does live in New York, and she talked about it just a year before we know they were a couple.
She acted with real wolves in Yellowstone
On "Yellowstone," Kelly Reilly has acted out many intense scenes in her role as Beth, but one sticks out for her as the scariest. In the scene, Beth charges at a group of wolves. The scene looks incredibly real, but you might assume that the creators used some sort of movie magic to fool you into thinking Reilly was near the wolves when she wasn't. According to the actress, that was not the case: She really ran toward a group of wolves while they were feeding to film that scene.
The wolves were, of course, trained, and there were animal handlers on set. However, as Reilly told Parade, "No one could 100[%] guarantee that they weren't going to come at me." She said they did have an invisible fishing line to stop the wolves if they charged, but that she wasn't certain it would really work. Despite her nerves, she charged down the wolves multiple times to get the perfect take and said she was no longer worried about them attacking by the second time.
The British actress loves the American west
Although the actress who plays Beth Dutton is from the U.K., this does not mean her love for Montana isn't real.
Though Kelly Reilly told Parade she didn't really watch Westerns growing up, she did gain an appreciation for the west in her 20s. While working as an actress in Los Angeles, Reilly said she would visit places like Montana, Colorado, Utah, Idaho, and Wyoming during her breaks to go riding. "I've been riding all my life," Reilly said. "It's always been where I get my head screwed back on — just being in nature and being on horses. So being in the world of Montana whilst also doing a job, I'm so like passionate about, it was a perfect fit for me."
Her love for riding and Montana makes the British actress a surprising but great fit for this modern western TV series.
She's been recognized for her acting talent
Throughout her career, Kelly Reilly has been nominated for and has won several awards. She first gained recognition for her on-screen work as early as 2006. That year, she received an Empire Award for Best Newcomer for her roles in "Mrs. Henderson Presents" and "Pride & Prejudice." She also won a London Critics Circle Film Award for Best Newcomer again for "Mrs. Henderson Presents." And she was also awarded a Hollywood Film Award for her role in "Flight" (via IMDb) as well as a nomination by the Hollywood Critics Association in 2021 for Best Supporting Actress in a Broadcast Cable or Network Series, Drama, for "Yellowstone," per Express.
Her nomination for "Yellowstone" excited many of the show's fans who felt it was well-deserved. Some took to social media to congratulate the star. Express quoted one excited viewer who said, "Her acting [is] what makes this show! Go for the win!" Another of her supporters replied to the nomination, saying, "Well done sweetheart!!! So so proud of you and all you achieve!!"
Kelly Reilly doesn't chase fame
Looking over the many accomplishments throughout Kelly Reilly's career, you might start to wonder how she's kept such a relatively low profile. Though she's quite well known for "Yellowstone" and other impressive roles, you don't often see her on the covers of magazines like you do with other stars at her level. In an interview with the Independent, she explained this isn't necessarily because she avoids publicity, but that she also doesn't chase after it. "Maybe if I had, after 'Mrs Henderson Presents,' done big front covers and got a very famous boyfriend, that world could have opened [that door]. But (a), it doesn't sit comfortably with me and (b), I have to feel that I'm there for the right reasons. Otherwise I'm just not interested in it," Reilly said.
While she's happy to do the promotion necessary for her job, Reilly said she just isn't comfortable in most of those situations. Instead, she admires the careers of well-respected, but less commercialized, longtime actors. "They can also go to the supermarket and don't need to be adored by the general public. That's the career I'd be really happy with," she told the publication.
Helen Mirren told her not to attend drama school
Kelly Reilly's career path may have gone a completely different trajectory if not for the advice of Helen Mirren. Reilly worked with the acclaimed actress when she was only 17 years old in "Prime Suspect." Years later, the actress recalled to the Daily Mail how nervous she'd been but said that the much more experienced Mirren was good-humored and "incredibly supportive" throughout the filming.
Mirren also gave the young actress a piece of advice that may surprise some when she told Reilly not to attend drama school. Reilly recalled her saying, "'Bad idea — in fact, it's probably the worst thing you could do. Travel for three years or go to university, but don't go to drama school.'" Mirren felt it was more important for her to have real-life experience than to spend years studying drama. The young Reilly took the advice, and, instead of attending school, continued on with her acting career. As far as we can tell, it's paid off nicely.
She was engaged to another actor before her current marriage
Although, Kelly Reilly is now happily married to financer Kyle Baugher, the actress had a few public relationships with fellow actors before coupling up with her now-husband. Though the relationship was somewhat private, Reilly was engaged to Jonah Lotan from 2007 to 2009 (via Parade). You may know Reilly's former fiancé for his roles in "24" and "Generation Kill" (via IMDb).
After her engagement with Lotan ended, Reilly also dated "Captain America: The First Avenger" actor JJ Feild. The pair met on the set of "Last Orders." At the time of her 2012 interview with the Evening Standard, Reilly was sharing an apartment with Feild. She said that he was helping her to stay grounded as her acting career took off. "My parents are reveling in us doing so well, not so much because of our success," she said, "but because we're in jobs we love. I mean — how lucky are we?"
Kelly Reilly loved Rip and Beth's on-screen wedding
Fans were excited when Beth Dutton, played by Kelly Reilly, and Rip Wheeler, played by Cole Hauser, got married at the end of "Yellowstone" Season 4. But, in true Rip and Beth fashion, the wedding was far from traditional. There's no cake, bouquet, white dress, or anything else you might expect, but according to the actress, it was the perfect wedding for the two characters.
Reilly told Outsider, "I love their wedding, and it's just so typical Beth. She's just not interested in having a wedding party or a wedding dress or any of that. All she cares about is being his wife and she knows that." The actress added that she knew their characters were going to get married during Season 4, but she didn't know how they'd tie the knot until closer to filming. Fortunately, she thought the unorthodox ceremony was meant to be.
The reason she acted in Sherlock Holmes was to work with Robert Downey Jr.
One of the biggest film franchises Kelly Reilly has been part of was "Sherlock Holmes." She played Mary Morstan, the girlfriend of Watson, portrayed by Jude Law. Describing her role in the film to the Independent, she said, "She [Mary Morstan] threatens Holmes' and Watson's friendship. Holmes thinks his friend is gonna be moving out and getting all domestic and not going on any adventures any more."
Though the movie was a hit, some were surprised by Reilly taking on a relatively small part in what she herself called a "boys' film." Speaking about taking the role, she explained there was one specific draw. "The two women's roles are not exactly ones you would break your heart over trying to get," Reilly admitted, but added, "Unless you want to work with Robert Downey Jr. and just do a cracking good scene with him, which is enough for me."
She actress behind Beth in Yellowstone considers herself to be a 'working-class girl'
During her time stage acting, Kelly Reilly received a lot of praise for her role as Miss Julie in Patrick Marber's "After Miss Julie." In the critically acclaimed performance, Reilly plays an upper-class woman. However, in an interview that Reilly did with the Evening Standard at the time, Reilly explained that she did not relate to the upper-class background of her character.
"I don't have any upper-class breeding in me whatsoever," the actress said. She continued, "I've met upper-class people who are like Miss Julie, and I find it hard to have any sympathy for them, because it's as if they're living in a bubble. Maybe that's how I see it because I'm a working-class-girl, but I think that attitude displays a gross kind of naivete." Despite this, the actress did say that she'd learned to like Miss Julie while playing the role.
Before becoming an actress, Kelly Reilly wanted to work with horses
Kelly Reilly told the Evening Standard that before she ever dreamed of acting, she wanted to work with horses. "I didn't like school at all," she said. "And I wasn't very academic. I used to go and work in a yard in Epsom — I couldn't afford a horse, but I kind of adopted one and spent a lot of time with him. It was an obsession."
Reilly continues riding to this day, which became quite helpful when she started acting in "Yellowstone." Since the western show takes place on a ranch, horses are often on set and characters often ride them on the show. Unfortunately, Reilly's character, Beth, is seen on horseback the least. The show's creator, Taylor Sheridan, told Deadline that the whole cast learned how to ride for the show, but, he said, "Ironically, the person who gets to ride the least, Kelly Reilly, is the best rider. She grew up riding."
Her career is partly thanks to a drama teacher
As Kelly Reilly explained it, part of the reason she loved riding so much was that she was not particularly interested in academics. It wasn't until one of her teachers decided to get her into acting that she started to show some passion for something other than riding. Reilly told the Evening Standard that when her drama teacher saw that she wasn't super invested in school and was rather quiet, he came up with an interesting solution. "He put me in his wife's drama group — and suddenly I was reading Chekhov and Shakespeare," Reilly said. "My world suddenly became much more exciting."
Acting helped Reilly to come out of her shell. Thanks to the confidence that acting gave her and her passion for it, she got herself an agent while she was still a teenager. She then landed a part in "Prime Suspect," working with Helen Mirren when she was only 16 years old.
She dreamed of acting on Broadway
Kelly Reilly made her Broadway debut in 2015, starring alongside Clive Owen and Eve Best in "Old Times." After spending a lot of her early career on stage, she was an excellent fit for the one-act play. PIX11 quoted her words from opening night when Reilly said, "To be a London stage actor, in New York, it really is something that's very special … [It's] a dream that I have always had."
It was both Reilly and her co-star Owen's first time on Broadway. The pair seemed very excited to be part of the production, and they threw themselves into their work. The actress said the cast spent a lot of time together in the two months before the show debuted as they rehearsed. Speaking about the careful timing of the play, Reilly added, "It is like a ballet and the more we do it, it's that tightrope of being very free with it but also it's sort of this enormous piece of engineering."
Kelly Reilly's being paid well for her role in Yellowstone
Playing Beth in "Yellowstone" has definitely been a breakout role for Kelly Reilly. It's also a big production with quite an impressive budget. Paramount Network executive Kevin Kay told The Hollywood Reporter that they pay Kevin Costner $500,000 an episode to play John Dutton. His co-stars, including Reilly, aren't getting paid nearly as much. However, with an estimated $200,000 an episode, it's still quite an impressive salary (via CinemaBlend).
Speaking about why he felt comfortable spending that much money on the cast of "Yellowstone," Kay told The Hollywood Reporter, "The statement we wanted to make was that we're open for business and we're willing to pay top-tier actors whatever their quotes are. It sends a message and that's what we want to do." With multiple seasons on the show and her other acting roles, Reilly's net worth is now estimated at around $5 million (via Celebrity Net Worth).