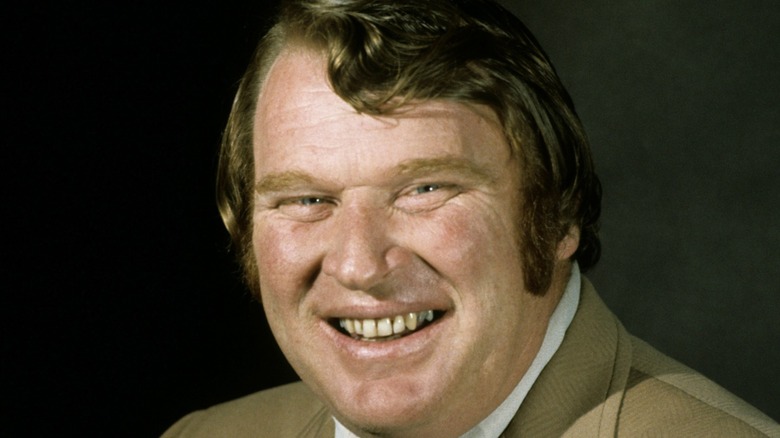 John Earl Madden was one of the biggest football coaches, who also became a sports commentator. Madden was born in Austin, Minnesota, in 1936. His family moved to California, where he played football in high school. He enrolled at the California Polytechnic University and played both offensive and defensive positions. Madden's football skills were exceptional, and the Philadelphia Eagles drafted him to their team in 1958, per Britannica. However, his dream of becoming a professional football player was crushed because of an injury. Still, Madden didn't let that stop him from working in the sports industry.
Throughout his decades-long career, John Madden achieved a number of accomplishments. He has a coaching record of 103 wins and only 32 losses, and he also has one Super Bowl Championship win in 1976 under his name (via Sportscasting). Some consider Madden the greatest coach ever because of his winning percentage, which is at .759 — higher than the percentages of other notable coaches, such as Vince Lombardi and Bill Belichick. Madden died on December 28, 2021, at the age of 85. Many people were devastated to learn of his passing and paid tribute to the legend, describing him as one of the few people who truly loved the sport of football. NFL's commissioner Roger Goodell said, "Nobody loved football more than Coach. He was football … There will never be another John Madden, and we will forever be indebted to him for all he did to make football and the NFL what it is today."
An injury ended his football playing career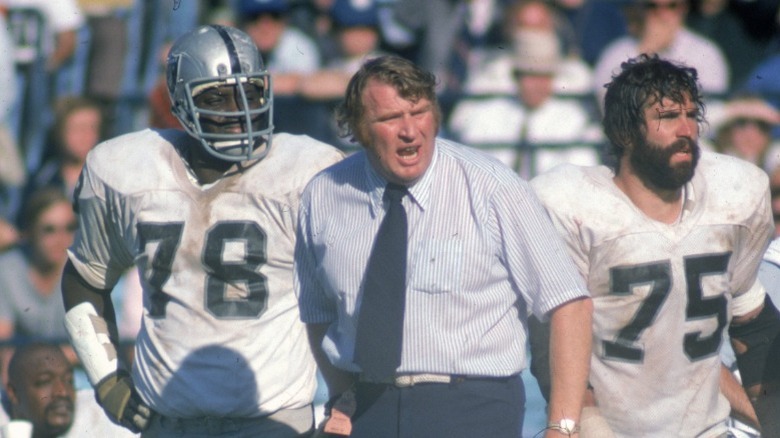 John Madden was slated to play in the NFL. He was picked by the Philadelphia Eagles in the 1958 draft, and he headed to training camp. However, it was during training when he suffered a knee injury that would change the trajectory of his career. He had to take time off the field to be able to recuperate, and he found himself spending most of his time in the training room. In one of those instances, quarterback Norm Van Brocklin was watching videos of football games and called Madden over. "He called me Red. He said 'Hey Red, come on up here with me.' I'm the only one there, so he's talking out loud … It was the greatest education I ever had, Norm Van Brocklin," Madden recalled (via CBS Sports).
The time he spent watching football games on video with Van Brocklin allowed Madden to see the game in a different light. He gained insight from Van Brocklin and learned more about the role of each football player on the field. Soon, Madden learned that his injury prohibited him from playing again, and he decided to go into coaching instead.
The Madden Cruiser
John Madden hated flying when going from one location to another. It wasn't always that way, though. Initially, he traveled by plane, but he suffered from claustrophobia and didn't feel comfortable being stuck in a confined space up in the air. The alternative was to travel by train, but there wasn't always a trip available that could accommodate his busy schedule. His solution was the Madden Cruiser — a Greyhound bus that was converted into a tour bus of sorts. According to Imagine That, one of the other reasons that Madden decided to travel on land was so that he could enjoy traveling more. "I'd get on the airplane, and then I'd get off the airplane, get on a bus and go to the hostel. Then the stadium, then the airplane again. I thought I'd traveled all over, but I hadn't seen anything. You've got to be on the ground to see things," he said.
The Madden Cruiser was the iconic vehicle associated with Madden. It had all the necessary things he needed during his travels including a bed, a kitchenette, a small office, and televisions. The Madden Cruiser was donated to the Hall of Fame in 2018, and it was restored to its original condition (via CBS Sports).
John Madden and Madden NFL
"Madden NFL" is a football game franchise named after John Madden. The first game in the series was titled "John Madden Football," which was created for the Apple II computer in 1988. Electronic Arts founder Trip Hawkins approached Madden in 1984 and pitched his idea of creating a game focused on football. Madden was impressed and said that he was open to the concept. "I thought anyone who could use a computer in those days was a genius. You know, the word genius went with computer. And so, I said, I'll give him a chance because I was looking for a type of computer thing that I could use for coaching," Madden said in an interview with ESPN. He also said that his main contribution was to ensure that the NFL rules are translated correctly into the game.
The franchise is now known as "Madden NFL" and is available on various gaming platforms including PlayStation, Xbox, Windows, and iOS. There are more than 20 titles in the franchise, and a few spinoffs have been released as well. According to CNN, Electronic Arts pays Madden $2 million for the right to use his image and name in the games.
He was obsessed with the O.J. Simpson trial
In 1994, former football star O.J. Simpson went on trial for the murders of his ex-wife Nicole Brown Simpson and Ron Goldman. Millions of people tuned into the trial, and according to John Madden's friends, the football coach was obsessed. At that time, Madden was traveling from location to location in the Madden Cruiser, and those with him witnessed how invested Madden was in the case (via ESPN). He reportedly asked people on the bus about their opinion on the case, and he also called his friends just to talk about the trial.
Madden was introduced to attorney Vincent Bugliosi — the prosecutor in Charles Manson's case. He added the attorney to his contacts and frequently called him to talk about O.J. Simpson and the events in court. According to producer Bob Stenner, who was part of Madden's production team, Madden treated the O.J. Simpson trial "like a football game." At one point, he even exclaimed, "Of course it didn't fit — he had two gloves on!" referring to the time when Simpson attempted to wear the glove that was used in the murders.
He was worth $200 million at the time of his death
John Madden was one of the biggest names in the football world, but aside from that, he has also managed to penetrate other areas. Apart from having a successful career as a football coach, Madden was also an analyst and color commentator. He appeared on big TV networks, such as NBC, CBS, ABC, and Fox. A bulk of his wealth, however, came from the video game franchise that was named after him. As reported by Celebrity Net Worth, Madden supposedly signed a contract that allowed Electronic Arts to use his name and likeness in perpetuity, and he was paid the hefty sum of $150 million for the deal.
In addition, Madden had also endorsed big companies, such as McDonald's Miller Lite, Ramada Inn, Canon, Exxon, and Verizon Wireless, just to name a few. At the time of his death, he was reportedly worth $200 million.