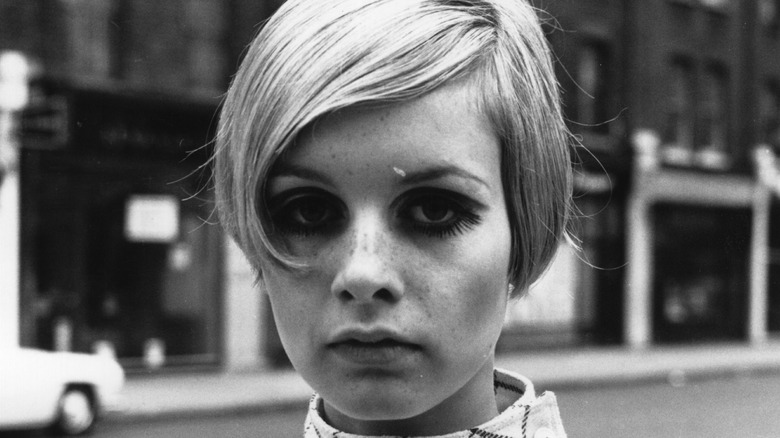 When one thinks of quintessentially British things, the mind usually wanders to thoughts of the Union Jack, a cup of tea, the Royal Family, and, of course, Twiggy. Twiggy (real name Lesley Hornby) burst onto the modeling scene in the late 1960s and was only 16 years old when she was declared "the face of 1966" by an English newspaper (via The Guardian).
The elfin beauty was discovered by sheer luck; according to CBS News, she skipped school one day to have her hair styled by a high-end London salon. When the fashion editor of the Daily Express spotted the photograph sometime later, they immediately demanded to work with the teen who had the unique blonde pixie haircut. As Twiggy mused to the outlet, "It was a ten million, ten billion-to-one chance that this funny, skinny, little kid becomes a world-famous supermodel." Nevertheless, that's precisely what happened, and as the Evening Standard notes, Twiggy is generally recognized as the world's first supermodel.
Interestingly enough, Twiggy's modeling career only lasted a mere four years – but that's not to say she hasn't been busy in the decades since. In fact, her artistic pursuits have continued to the present day. Let's dig deep and find out what happened to Twiggy.
Twiggy retired from modeling in 1970
While Twiggy is instantly synonymous with the world of modeling, her career was remarkably short. In fact, it only took four years for the short-haired blonde to figure out that she wanted to do something else with her life. In a 1970 interview with AP, Twiggy revealed that her career change was due to her growing disinterest in modeling. The Neasden-born star explained that since she had already achieved great success working with highly-respected photographers, she had nothing left to accomplish. "I want to do a film," the '60s icon declared.
Although Twiggy revealed she didn't have any acting experience, she noted that she starred in one American commercial, which sparked her interest. Luckily, the former model didn't need any lessons before taking center stage in front of the camera, and her debut movie role in 1971's "The Boy Friend" was a success, earning the budding actor two Golden Globe wins.
In a 2019 interview with Showstudio's "Subjective," Twiggy revealed how the opportunity to star in the comedy musical came about. As it turns out, she was already friends with the flick's director, Ken Russell, whom she initially met when she was 18. After attending the West End musical of "The Boy Friend," Twiggy explained how hooked she was on the story and subsequently shared her excitement with Russell over dinner. The director, who had a few too many glasses of champagne that night, suddenly announced he'd make his own movie adaptation starring his young friend. A year later, filming officially began.
Broadway is her 'proudest' professional achievement
Twiggy's career, which has lasted almost a sprawling six decades, has been filled with countless endeavors. Once considered a supermodel first and foremost, the Brit has also dabbled in acting, singing, writing, and launching her own product lines, among other projects (via Britannica). However, throughout it all, it's surprising to hear what she considers her greatest professional highlight.
Twiggy mused on her legendary career, speaking to the Evening Standard in 2018 shortly after she was awarded a damehood for her contributions as a pop culture icon (yet another feat to be proud of, no less). "If I could pick one [career highlight], it was appearing on Broadway in 'My One and Only.'" When asked why, the former model explained it's simply due to trying out something so terrifyingly new such as singing and dancing in front of 2,000 audience members each night.
So, how did the opportunity to appear in the 1983 musical come about? It's simple: The director, Tommy Tune, called her and asked. As Twiggy told Good Housekeeping, although she had sung and danced in public in the past (for her 1971 film debut in the musical "The Boy Friend"), the concept of doing it for a live play petrified her. Tune was relentless, however, and as Twiggy recalled, he declared, "There's no such word as can't; pack your bag and get out to New York." She did just that.
Twiggy landed a recording contract thanks to her film debut
Starring in Ken Russell's 1971 comedy "The Boy Friend" was the perfect film debut for Twiggy. Besides showcasing her promising acting talents, it also required the star to dance and sing — the latter of which proved to pique the interest of record executives. "So, I got a recording contract because it was a musical," Twiggy explained to Showstudio's "Subjective."
Her debut album, "Twiggy," was released in 1976. According to Rolling Stone, although she didn't sell a massive amount of copies, the music mag still reviewed it favorably, dubbing it "more than just a pleasant surprise." The former model continued singing throughout the '70s and even appeared on television crooning alongside Bing Crosby and Bryan Ferry (via BBC).
It turns out that Twiggy's love of singing never went away. "Music's so much a part of my life and my career," she declared to the BBC in 2011 for the release of a new record, "Romantically Yours." This time around, the singer sweetly included her daughter, Carly, as a guest vocalist.
She worked with David Bowie
Although Twiggy became an A-list model in the late 1960s, she was actually working towards this goal for years prior. In 2012, photographer Justin de Villeneuve did an interview with The Guardian, noting that he began dating the British icon in 1965. As Villeneuve revealed, even at the start of their relationship, she had modeling aspirations, although many magazine editors rejected her for not looking old enough.
However, when Twiggy finally made it big, Villeneuve also became her manager — a role he kept well into the 1970s when the pair wasn't a couple anymore. In 1973, the late David Bowie's sixth studio album was released, "Aladdin Sane," with the song "Drive-in Saturday" on the record. As Villeneuve told The Guardian, both he and Twiggy adored the line "Twig the wonder kid." After running into The Starman himself on numerous occasions, Villeneuve suggested he grace the cover of Vogue alongside Twiggy. "He was charming, I was very nervous, but he was really sweet," recalled the former model to Showstudio's "Subjective" series.
Remarkably, Villeneuve's first shot of the pop culture duo was just the one he was after. After showing it to Bowie, the singer asked if he could use it as the cover for his upcoming album, "Pin Ups," instead. Although the photographer initially protested, Bowie was relentless, and Villeneuve went back to Vogue empty-handed. "I knew I had made the right decision," he recalled to The Guardian — although the fashion magazine never asked him to collaborate again.
She launched a fashion collection with Marks & Spencer in 2012
Although she was busy pursuing other creative avenues after retiring from modeling, such as film and music, Twiggy returned to her fashion roots in 2012 with her very first collection for Marks & Spencer. According to Woman & Home, she continued working with the British retailer for continuous collaborations over the years, consisting of core basics essential to any wardrobe.
At the height of her modeling success, Twiggy rose to fame for her incredibly slender figure — something that didn't sit well with her critics. As The Guardian notes, much like fellow model Kate Moss, Twiggy was at times criticized for pushing unrealistic beauty standards, something that the blonde brushes off. "I don't think the high fashion industry will ever go completely away from slimness," she told the outlet. However, regardless of what the fashion industry gravitates towards, Twiggy maintains that her collections with Marks & Spencer are inclusive; she makes a point to have a UK sizing range up to 22 (US 18).
"I've always had the strong belief that fashion should be for everyone, not just for wealthy people," Twiggy declared to Today in 2010 for a smaller collection on the Home Shopping Network, adding, "Lots of people can't afford to spend lots of money on clothes, and they should have nice things, too."
Twiggy's Fran Drescher connection
In 1991, Twiggy took part in the short-lived American sitcom "Princesses." According to the Tampa Bay Times, the comedy series only lasted half a year. But the experience brought the former model closer to her co-star, Fran Drescher — which greatly influenced the latter.
After the cancellation of "Princesses," Drescher moved to Europe, where she spent time with a family in France that had two children and a nanny (via "The Haunted Smile: The Story Of Jewish Comedians In America"). After that stint, the comedian decided to visit Twiggy in England, where she was living with her husband, Leigh Lawson, and their kids. Drescher then saw an idea forming in her head for a show about a Jewish, Queens-based woman (where Drescher herself is from) suddenly snagging a job as a nanny. This idea, of course, later turned into the ultra-popular CBS sitcom "The Nanny," which premiered in 1993. As it turned out, Lawson himself was the inspiration behind the character Maxwell Sheffield — the widower who hires Drescher's character.
Chatting to Orange Coast Magazine in 1994 after "The Nanny" was already on air, Drescher elaborated on her experience visiting Twiggy. "I felt so out of place in that environment. Everything was so English, so proper. I felt like this loud New Yorker, so crude, so blue-collar, so Jewish."
She appeared as a judge on America's Next Top Model
Love it or hate it, "America's Next Top Model" ran for 24 controversial seasons starting in 2003. Throughout the years, both viewers and former contestants of the show vocalized the sometimes problematic treatment of those competing, with one Season 12 model dubbing it "psychological warfare," per Business Insider. And while creator and judge Tyra Banks has been called out for her treatment of those involved countless times, former judge and model Janice Dickinson was also known for her blunt and sometimes-malicious comments.
According to Entertainment Weekly, Dickinson left the series in 2005 and was replaced by Twiggy, with the show's executive producer, Ken Mok, proclaiming his excitement to have such an insightful model added to their judging panel. As for Twiggy herself, she told People that she hopes her judging style would be considered honest and called herself "constructive." She added, "I give the models advice, but I would not be cruel."
Years later, after quitting the series (she lasted five seasons), it looks like Twiggy had only positive things to say about her experience both on the show and working with Banks. "I had great fun," she admitted to Showstudio's "Subjective" series. As for Dickinson? It appears she didn't leave "ANTM" on a positive note, and even as late as 2021, she was still taking snide jabs both at the reality TV series and its creator.
Her 2009 Olay campaign was incredibly controversial
In 2009, Twiggy found herself embroiled in controversy after participating in an ad campaign for Olay's Definity eye illuminator, which boasted the endorsement from the model herself as being her "secret to brighter-looking eyes" (via BBC). However, after over 700 people complained that the campaign photograph was airbrushed, things got hairy, leading the Advertising Standards Authority to ban the ad. While Procter and Gamble, who made the product, admitted to slightly retouching the image, they brushed off claims that this was reckless or unethical.
As for the face behind the ads? In 2020, during a chat with The Guardian, Twiggy denied having any involvement in the editing process after she had her photo taken. "I go and do a job. If they take it away and do the stuff, it's absolutely nothing to do with me," she declared, defending herself and swiftly changing the subject.
Interestingly enough, it doesn't seem that the concept of aging is something that bothers the former model; in fact, she's quick to note that it's something she doesn't even think about. As she told The Scotsman in 2018, "As long as you've got your health, that's the most important thing."
In 2018, Twiggy reflected on her career in the '60s
Twiggy had a modest upbringing — a far cry from the glamorous world of modeling she was thrust into at the age of 16. As she told The Guardian, her very protective life meant she stayed away from drugs and alcohol as a teen, quipping that in her small town, those around her would only drink tea. Suddenly, everything changed when she was discovered in 1966. "I loved it; it was brilliant," she mused while also noting that it's due to her strict home life that she never strayed into the dark world of adolescent A-listers.
In 2018, while speaking to The Scotsman, Twiggy was asked how the modeling industry and young women are different now than they were when she got her big break. The model deduced that modern 16-year-olds carry an air of confidence that she never had growing up. "As far as I know, I was the first working-class model — until then it was only girls from posh or middle-class families. I never expected to become famous."
However, one thing that Twiggy will praise is how the standards for models have changed since the 1960s. When she was interviewed by People about her job as a judge on "America's Next Top Model" in 2005, she commended the show for allowing women of all shapes and sizes to compete. Coming in at 5 feet 6 inches tall, Twiggy explained that she was a rarity for a model, who usually came in at 6 feet.
2020 saw Twiggy launch her own podcast
In 2020, Twiggy added podcast host to her resume with the launch of "Tea with Twiggy," a series that sees the former model chat with some of her industry friends over a cup of tea. Some of her guests have included actor Rita Wilson and Molly Ringwald of "The Breakfast Club" fame, among others.
So, why the sudden desire to start her own podcast? As she explained to Good Housekeeping, it all came to be thanks to the COVID-19 pandemic. Explaining that because both she and her husband are well into their golden years, the start of the coronavirus was incredibly isolating and, by association, scary, too. Thankfully, Twiggy found a way to channel these feelings into something positive by talking with her podcast guests. "There are so many horrible stories on the news," she explained to The Guardian, adding, "I wanted people who could tell lovely stories and be funny."
But it's not just Twiggy's guests who tell riotous stories; as Lorraine Kelly explained in an interview with the '60s icon on "Lorraine," the former model has her own engrossing tales to share. "I think it's good for us all to [be more adventurous]. You've just got to be brave enough to do it," she declared to Good Housekeeping.
She's been married to Leigh Lawson since 1988
Twiggy has been married twice in her life; she first said "I do" to actor Michael Whitney in 1977, with the couple splitting apart sometime before his death in 1983. Thankfully, the '60s icon found love yet again two years later with Leigh Lawson, whom she married in 1988. According to The Guardian, the happy couple is together to this day, having successfully blended their families from their previous marriages. As Twiggy told the outlet, she became a stepmom to Leigh's son Jason, while her new beau welcomed her daughter, Carly, into his life. "[Our children] are as close now as any brother and sister," she heartwarmingly shared.
Twiggy's familial joy expanded even further once she finally became a grandma. Talking to Yours in 2022, the former model spoke about her two grandchildren, Joni and Solomon — kids to Carly and Jason, respectively. In a sweet comment, Twiggy noted that becoming a grandmother has brought her closer to her daughter, too. "We've always had a special closeness … but Joni has given us a reason to get together more often which is wonderful."
It looks that now that Twiggy is essentially retired, her primary focus is her family. Speaking to Express in 2018, she dished that her number one priority is being a babysitter to her adorable grandchildren.