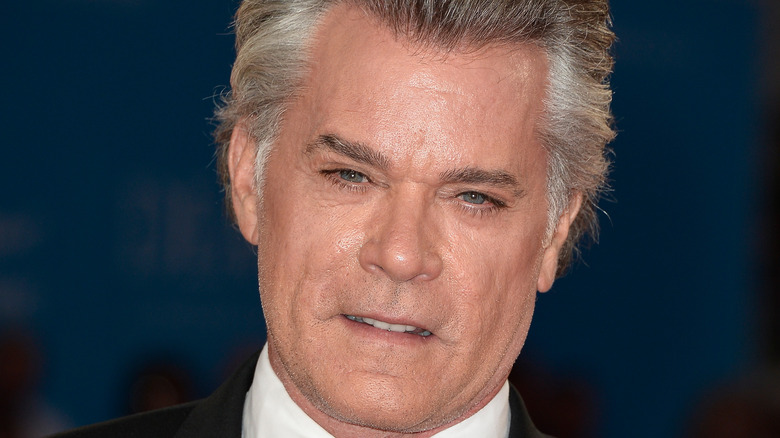 On May 26th, 2022, Ray Liotta died. Depending on which role he stepped into, a look from him could melt your heart or cause it to ice over for protection. The prolific actor was a staple of Hollywood for four decades and is arguably one of the most recognizable faces in cinema. Even if you haven't learned the intricacies of what it means to be a 'wise guy', you'll still feel a spark of familiarity when you see his face appear.
Liotta's presence was always cause for excitement and that presence has been felt in over 120 different film and TV show appearances. With that large of a sample pool, the odds of having no duds is rare; and while Liotta is a rare breed, he hasn't been immune to appearing in some bargain bin films. The actor's successes were numerous though, and they highlight a career wrought with a diverse amount of roles. What is your favorite Ray Liotta film? Find out where it ranks on our list of his most memorable films.
60. The Lonely Lady (1983)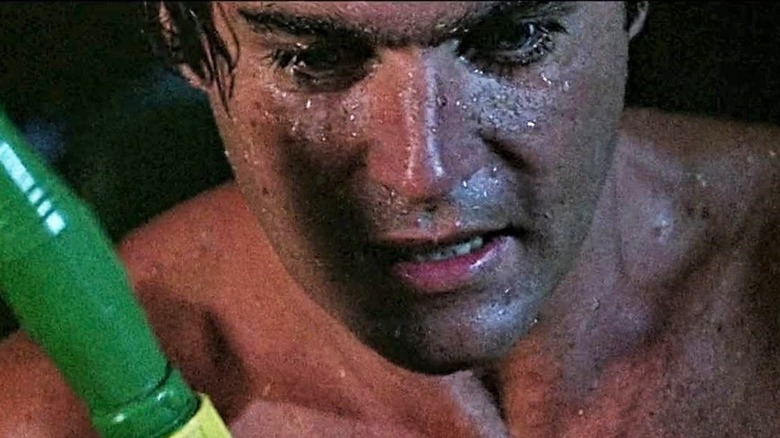 It is hard to imagine circumstances when you would want to avoid being called "iconic," but we'd have to say being a Razzie Awards icon would be one such circumstance. Pia Zadora (star of "The Lonely Lady") is one unfortunate case. She has won the award three times, with five nominations, including a Worst Actress of the Century nomination in 2000.
This 1983 film of hers, which follows a screenwriting trying to rise through the ranks in showbusiness, also happens to be the very first appearance of Ray Liotta in a feature film. The acting titan must have aimed to get his biggest dud out of the way as fast as possible, because "The Lonely Lady" is among one of the worst reviewed movies in history and it has been slapped with a scathing 0% on Rotten Tomatoes. Its only saving grace comes from the movie's campy appeal in recent years, being so horrifically terrible that it crosses over on to the other side and becomes entertaining for all the wrong reasons. It may be a groaner, but it also may give you some giggles, as well as a baby-faced Ray Liotta getting his feet wet in Hollywood.
59. Every Last Secret (2022)
Casting well-known stars isn't always a recipe for success. Such is the case in "Every Last Secret," about a war veteran (Mark Kassen) with PTSD who befriends a teenager, played by Sophie Turner ("X-Men: Dark Phoenix", "Game of Thrones"). Ray Liotta plays the young girl's father and has a tendency to be overprotective, which doesn't mesh well with the blossoming relationship.
The film itself was such a flop that few critics have even wasted their time writing a review for this bad boy. "Every Last Secret" is a mess of a film and only manages to make Ray Liotta enjoyable to watch if you view it on mute. If you are a fan of any of the cast members here, we recommend avoiding this dud to help save face.
58. Suddenly (2013)
Ray Liotta worked with many notable directors over the course of his career. Unfortunately, one of those directors is Uwe Boll -– the notorious director known for such cinema classics as "BloodRayne." In 2013, Liotta was cast in "Suddenly" alongside Dominic Purcell ("Prison Break"), who's jawline continues to lengthen the national average. This film about an assassination attempt on the president is the stuff of straight-to-DVD legends.
Even a viewing of the "Suddenly" trailer is difficult to sit through. Liotta also comes across as though he is having difficulty getting through it as well. He is the film's only ray of sunshine but he wasn't enough to save this flop. Most critics didn't even bother with trashing "Suddenly." The movie does it all on its own.
57. The Devil's in the Details (2013)
Even when Liotta was thrust into a supplemental role, he was able to make his presence felt. But the man couldn't do much to save this train wreck. "The Devil's in the Details" follows an ex-military soldier (Joel Mathews) and his struggles with PTSD. After his relationship with his wife crumbles, he decides to seek the help of a psychiatrist, also an ex-Navy SEAL, played by Ray Liotta.
The storyline itself is quite the muddled mess. "The Devil's in the Details" tries its best to make up for it with gratuitous violence, but fails spectacularly. It alludes to the film's lackluster storytelling abilities that they placed Ray Liotta front and center in any advertisements for the film, given that his screen time pales in comparison to his co-stars. They knew they didn't have much to go on here and needed to capitalize on the film's most reliable star.
56. In The Name of the King: A Dungeon Siege Tale (2007)
Taking the steely-eyed charm of Ray Liotta and mashing it together with the sensual bravado of Jason Statham sounds like it would light up any screen. That is, unless you plop the duo down in a medieval fantasy realm and hand the reins over to director Uwe Boll. The director continues to amaze in all the wrong ways. "In The Name of the King: A Dungeon Siege Tale" is a spectacular display of how you need more than just talented actors to produce something of quality.
Ray Liotta plays a maniacal mage who is controlling ogre-like creatures to lay siege to the entire land. The actor himself is still enjoyable as an evil sorcerer, but his performance takes place in a "Lord of the Rings" rip-off that serves primarily as a way for Uwe Boll to cash another check. It is a horrific tale of thespians being mined for their talent and cast aside by unwitting critics.
55. Bad Karma (2012)
This little disaster features another team-up with Liotta and Dominic Purcell. It stars Liotta as a criminal named Jack Malloy, who decides to put his sordid past behind him after a near-death experience. Unfortunately, his old partner (Purcell) isn't ready to quit the lifestyle just yet. When Malloy's partner is released from prison, he seeks his old friend out and forces him to join him for one more job.
The movie itself is a bit kitsch but one thing every single critic has in common is a love for Liotta. Even in the dimmest of spotlights, Liotta manages to steal the show. "Bad Karma" was by all means a flop, but it still shows off why we love Ray so much.
54. Ticket Out (2012)
The appearance of Ray Liotta served, time and time again, as a way to elevate a film's status from unbearable to watchable. A sea of audience reviews and comments on "Ticket Out" proclaim this much to be true. Liotta plays a mysterious character named Jim, who is helping a woman and her children escape an abusive relationship. The movie itself has its heart in the right place, but seemingly forgot to develop a story around its intentions.
"Ticket Out" is primarily centered around Alexandra Breckenridge as Jocelyn, and her journey through a sort of underground railroad. After she loses a court battle for full custody, she takes her kids and starts running. Ray Liotta's Jim steps in to help, but he also seems to have some dealings with the FBI. Which is actually where the story starts to fall apart a bit.
"Ticket Out" feels as though it had fifteen minutes of its story chopped off. We were left wanting to know more, mostly about Liotta's character.
53. Turbulence (1997)
There isn't much to be said about this cliche filled blunderbuss from peak 90s' cinema camp. The greatest aspect of "Turbulence" is that Ray Liotta looks like he has an absolute ball performing in this one. He plays a serial killer named Ryan Weaver, known more infamously as the Lonely Hearts Strangler. Ryan must be transported from New York to Los Angeles for trial, because transporting a dangerous psychopath on a commercial flight across the nation was all the rage towards the end of the 20th century.
"Turbulence" wasn't the right movie for its time and it bombed, big time. On a healthy $55 million budget, it only managed to recoup about $11 million. Revisiting this plane wreck serves one purpose, and one purpose only: Ray Liotta. As the maniacal killer, the movie star is fun to watch, cackling and shouting through the skies while stewardesses scream in terror.
52. The River Murders (2011)
Our guess is creators of "The River Murders" were attempting to combine the romantic comedy genre with thriller concepts and didn't quite succeed. Ray Liotta stars as Jack Verdon, a detective who is working to catch a serial killer. The plot thickens when Jack discovers that every woman who is being killed by this maniac is a woman he has had relations with in the past. Obviously, other investigators are none too keen on letting this coincidence slide. He is released from the case and so, obviously, has to go rogue PI on the whole situation.
"The River Murders" had some tasty plot developments at its center, but managed to trip up in delivering them with suspense. The killer isn't given any sort of mystique and other stars, Ving Rhames and Christian Slater, aren't given any room to flex their might. As always, you will enjoy staring into the eyes of Liotta's bewildered investigator, but that's about it. Not much to see here. Let's move along.
51. The Line (2009)
After dominating the world of mafiosos, it makes sense that Liotta charged forward into cartel territory. "The Line" features the actor playing an elite assassin who is hired to track down the head of a drug cartel. When the cartel leadership begins to shift hands, it creates a huge muddled mess that clashes with other assassin contract work.
"The Line" was improperly marketed. Any audience member who watches it expecting an action flick will be disappointed. The film is more of a nuanced character study than it is a thriller or action movie. Either way, not much could save "The Line" from bombing other than to put Liotta's face front and center on adverts, alongside co-star Andy Garcia.
50. Breathless (2012)
Reception for "Breathless" was wildly inconsistent. Whatever your thoughts are, there is no denying Liotta was perfect for the role of Sheriff Cooley. The story takes place in Texas in the early 1980s. It features Gina Gershon and Kelli Giddish in the starring roles, as housewives who suspect that one of their husbands is responsible for a recent bank robbery.
We also have the pleasure of having Val Kilmer appear as the would-be husband that the housewives restrain and put through the ringer. The story is there and the actors involved have the abilities required, but "Breathless" isn't pieced together very efficiently, hence its lackluster reviews and low position on our list. We do have to say though that the strongest asset in Liotta's acting is his ambiguous nature. You are never quite sure which side he is on and that quality slides into this story perfectly.
49. Comeback Season (2006)
This indie flick came and went without much notice. It's another fine display from Liotta in a role that reads on paper as if it is perfect for him. That said, the whole cinematic package didn't fully take form. "Comeback Season" is a clichéd tale about not appreciating what you have until it's gone. Ray Liotta plays a family man named Walter Pearce, who is suddenly attacked by his conscience and subsequently admits to an affair with his secretary. Understandably, his wife is enraged and kicks him out of the house, but every other aspect of his life also crumbles to the ground.
At his wits' end, Pearce is forced to move in next door to his old house with a high school football star who just lost his college scholarship due to injury. There always seems to be a fire blazing behind Liotta's eyes and all the circumstances that swirl around his character in "Comeback Season" allow it to burn bright. Keeping your emotions together through these circumstances would be difficult and Liotta's intensity really makes us feel it. It's too bad the rest of the film couldn't pull itself together around him.
48. Pawn (2012)
This little-known 2012 crime drama surrounds our boy Ray with an absolutely stacked cast that includes Forest Whitaker, Michael Chiklis, and Common. When a criminal with a hard drive filled with records of his various payoffs is targeted by his competition, all hell breaks loose. Every person involved wants to get their grubby little hands on the volatile information.
In a sea of actors bringing their most ferocious performance to this gritty film, Liotta gives them all a run for their money. It's tough to go up against the king of menacing intensity and everyone tries their best, but you can't match that ice-cold stare from Liotta.
47. The Identical (2014)
This is an intriguing tale about how your environment can truly shape who you are. In "The Identical," a set of identical twins (both played by Blake Rayne) are separated at birth and go on to live two truly different lives. One of them goes on to become a rock star, while the other is stuck trying to nurture his love for music while dealing with their stern father (played by Ray Liotta). The cast is rounded out by Ashley Judd and Seth Green in a story that has a lot of promise.
Unfortunately, the premise never really blossoms into much. We get Ray Liotta in prime form as the heavy handed father who just doesn't get it, but the man can only do so much to rescue a poor story. For a movie centered around a love for music, there isn't enough of it. We'd gladly take more Liotta on the screen, but this film could use some more tunes.
46. Operation Dumbo Drop (1995)
An intriguing Disney title with a cast to back up the appeal, you would assume we'd have a hit on our hands here. Unfortunately, "Operation Dumbo Drop" gets put in the loss column, at least financially –- it barely managed to recoup its $24 million budget. Ray Liotta is cast as Captain T.C. Doyle, a soldier in Vietnam charged with taking over a station from a Green Beret Captain, played by Danny Glover.
The story in "Operation Dumbo Drop" centers around the true story of the US Army supplying a village with an elephant during the Vietnam War. It is fun to see Liotta in lighter fare, something we don't get very often. Most critique of this movie tends to stem from the believability of the situations they endure. It seems like most audience members forgot that this is supposed to be a fun Disney film … set in Vietnam.
45. Revenge of the Green Dragons (2014)
This crime drama was directed by Andrew Lau and Andrew Loo, and mostly played overseas. Unfortunately this caused it to escape most audiences in the States, where it was largely relegated to VOD. It follows an immigrant named Sonny (played by Justin Chon) as he moves his way up through the ranks of a gang on the streets of New York.
The creators obviously tried to emulate "Goodfellas" while creating "Revenge of the Green Dragons." Imagine their fervor when Ray Liotta jumped on board. It just tries a bit too hard, and we'd have to say our primary complaint is that there just isn't enough Liotta in it.
44. Blackway (Originally titled: Go With Me) (2015)
If you have a hankering for a menacing Ray Liotta doing as he pleases in the wooded hills of Oregon, look no further. "Blackway" features the actor in the title role, a known criminal in a logging community who acts with impunity in the area he lives. The cast is backed by Anthony Hopkins and Julia Stiles, with the story focusing primarily on Stiles as a woman returning home after the death of her mother. Liotta's Blackway sets his sight on Stiles and harasses her relentlessly. When the local sheriff refuses to do anything other than tell her she should skip town, she decides to fight back.
Liotta is nearly cartoonishly evil in "Blackway," but watching Liotta be his good ol' menacing self here is the otherwise lackluster movie's one redeeming quality.
43. Pilgrim (later titled Inferno) (2000)
Ray Liotta is fantastic as a member of the supporting cast and all, but if you have a hankering for the spotlight shining solely on him, here's a movie for you. "Pilgrim" stars Ray Liotta as Jack, a man who battles an intense case of amnesia after waking up in the middle of the desert.
The whole time he is grappling with putting the pieces of his mind back together and dealing with violent flashbacks, associates from his past are trying to track him down — most likely to get their grubby hands on the big cache of money that Jack just remembered he has.
42. Crazy on the Outside (2010)
"Crazy on the Outside" is Tim Allen's directorial debut and centers largely on his own character, Thomas Zelda, who has just been paroled from prison after being convicted of the horrific crime of movie piracy. Ray Liotta stars as Zelda's old partner in movie piracy, who apparently very much would like to keep pirating movies.
While Liotta does his job well here, "Crazy on the Outside" was met with scathing reviews. Allen's roots are in sitcoms and they shone through a bit too much when he sat in the director's chair. The film wasn't even able to crack the $100k mark. But hey — more Ray Liotta!
41. All Things Fall Apart (2011)
This direct-to-video drama was penned by Curtis "50 Cent" Jackson and places the beloved rapper into the starring role. Liotta plays a pivotal role as Dr. Brintall, alongside an emaciated Jackson's character, Deon. Deon is a football player who is battling cancer alongside his loving mother, a jealous brother, and a conniving father seeking to cash paychecks.
It's a heartfelt film that mostly centers Jackson, but we get a rare tenderness from Ray Liotta in this one.
40. Hero Wanted (2008)
There is one thing you can't deny about Ray Liotta: the man looks fantastic in uniform. He once again dons the role of detective in "Hero Wanted". The cast is a strong ensemble that includes Cuba Gooding Jr. and Norman Reedus. The focus is mostly on Cuba Gooding Jr. 's character of Liam, an unfortunate garbage man who is trying his best to impress the girl of his dreams. It would make sense to all of us romantics that the best move would be to plan a bank heist, then foil said robbery and be a hero. Obviously, the plan doesn't go smoothly and Liam ends up shot. It is around this time that Detective Ray Liotta zips in to add conflict to the scene.
If you aren't a die hard fan for life of Ray Liotta, then we recommend skipping this one, because he doesn't get nearly enough room to breath with the lame script.
39. Sticky Notes (2016)
In one of his most vulnerable roles, Ray Liotta plays the father of an aspiring dancer in this indie film written and directed by Amanda Sharp. The story centers around Athena (played by Rose Leslie) and her desire for dancing stardom when she is called home to help care for her estranged father.
As the girl's father, Liotta is insufferably enjoyable. He embodies a withering, chain smoking cynic wonderfully. The charm causes us to almost feel sorry for him in the moments when he is a horrible father figure. "Sticky Notes" didn't get much of a release, but if you manage to track it down, it's a unique display from Ray Liotta that you need to check out.
38. The Entitled (2011)
Liotta's acting repertoire wouldn't be complete without a good kidnapping movie. "The Entitled" features a kidnapping story with plenty of unique turns.
A group of malevolent young students devise a plan to kidnap the kids of some nearby wealthy families. Three kids are kidnapped and one of the kids kidnapped is that of Richard Nader, played by Ray Liotta. The kidnapping goes off without a hitch, but when Richard discovers that he doesn't have enough money in his account to pay, the plot begins to thicken. The fact that three different kids from three different families are kidnapped creates turmoil — after all, you wouldn't want to pay the ransom for the wrong kid or anything.
37. Forever Mine (1999)
This romance story is a tough one to unpack. All we will say is Ray Liotta slides into this role beautifully.
Liotta plays a Mark Brice, an intimidating businessman on vacation at a beach resort when his wife begins having an affair with a local cabana boy named Alan (Joseph Fiennes). When he learns of the affair, he responds by framing Alan and having him thrown in jail. Liotta isn't without remorse though, he offers to free Alan in exchange for never seeing his wife again. That doesn't sit well with Alan, and "Forever Mine" devolves into a sort of deranged "Count of Monte Cristo" revenge story.
36. Even Money (2006)
"Even Money" is a film packed with so much star power it's a wonder this isn't higher on the charts. On board the film are Kim Basinger, Nick Cannon, Danny DeVito, Forest Whitaker, and, of course, Ray Liotta (among many others). "Even Money" follows Carolyn Carver (Basinger), a published author who loses her life savings to a gambling addiction. In an attempt to keep her losses a secret from her husband (Liotta), she descends into the seedy underworld of bookmaking.
Liotta doesn't get near enough screen time, but with such a loaded cast, it comes as no surprise. Despite all it had going for it, "Even Money" was barely able to crack the $100k mark in the box office.
35. Hubie Halloween (2020)
This is first and foremost an Adam Sandler vehicle, but Ray Liotta's presence is felt nonetheless and plays a crucial role in the film's tone. The titular character (Hubie) is played by Sandler, and the movie follows his love for Halloween and the subsequent torment he receives for his implied simplicity. One of the tormentors he faces is Pete Landolfa (Liotta). When Pete falls prey to the evil entity roaming the town on Halloween, the tables are suddenly turned. Seeing Liotta dance between tormentor and hapless victim is a wonderful juxtaposition.
"Hubie Halloween" may not be logged as a holiday classic, but you will definitely have a fun time laughing at the demise of all Hubie's tormentors.
34. The Last Shot (2004)
Critics and audiences were a bit split on how they felt about "The Last Shot," but one thing we can all agree on is that we are excited to see Liotta featured in it — even if it's just a small supporting role. The story of FBI agent Joe Devine (Alec Baldwin), who is charged with creating a scheme to take down the crime boss John Gotti. The movie also features Matthew Broderick as a hapless screenwriter who gets dragged along for the ride. Baldwin's character becomes enamored with the Hollywood lifestyle and forgets what exactly his primary objective is. We can all appropriately guess who needs to step in and slap some sense out of him. Liotta plays Jack Devine, the Assistant Director of the FBI and Joe's brother.
33. Observe and Report (2009)
"Observe and Report" follows a mall security guard named Ronnie (Seth Rogen) on his quest for glory and to win over the girl behind the make-up counter, Brandi (played by Anna Faris). When a serial flasher targets the witless Brandi, Ronnie calls in the cavalry. The detective assigned to the case is Detective Harrison Jones (Ray Liotta).
The hijinks that follows would be a bit more hilarious if they weren't so awkward. Ronnie believes that the investigation is being stolen from him and the detective believes (rightly so) that this hapless mall security guard is interfering with his investigation. It's an interesting journey, and Liotta was the perfect man for the job.
32. Slow Burn (2005)
Ray Liotta steps into the role of District Attorney Ford Cole in order to seek justice surrounding the death of Isaac Duparde (Mekhi Phifer). He was shot in the head by a woman named Nora Timmer, who claims she was being assaulted when the shot was fired. All the twists and turns sound like they should make for an intriguing thriller on paper, but everything misses the mark.
At about the halfway mark of "Slow Burn," you stop caring who is innocent or guilty, and you mostly just want it to end. But Liotta is fun as always, in a suit, looking absolutely bewildered about everything going on.
31. Unforgettable (1996)
Keeping himself in the realm of the law, but donning scrubs instead of a badge this time, Liotta plays Dr. David Krane, a Seattle Medical Examiner in "Unforgettable." When he arrives at the scene of a robbery, he discovers evidence that he believes belongs to the same man who killed his wife.
The good doctor then decides to confiscate an experimental injection that facilitates memory transfers. He traverses the town assembling crime scene information and injecting himself with the serum, in order to try and piece together his wife's murder. Did we mention the serum is experimental?
30. Better Living Through Chemistry (2014)
In a classic tale of American suburbia where no one appears truly happy with where they are, "Better Living Through Chemistry" is an interesting little yarn. Sam Rockwell is the story's primary protagonist, a man named Doug Varney. He is unhappily married and winds up being seduced by one of his clients while working at a pharmacy. The client (Olivia Wilde) tries to convince Doug to murder her husband, Jack (played by Ray Liotta).
We want to say not to worry about Jack, but he does have a heart condition. And mix ups happen all the time at the pharmacy.
29. Chasing 3000 (2010)
"Chasing 3000" is a passion project about two brothers traveling from Pittsburgh to Los Angeles to witness a baseball player's 3000th hit. It was a modest film made for less than $3 million and originally set to premiere at the 2006 Major League All Star game. The script for the film happened across the desk of Liotta's agent and the story appealed to him and decided to jump on board. Liotta's participation created more buzz for the film and brought other actors on board to lend it support. The film was released on a wider scale to modest reviews.
28. The Details (2011)
If there is one role casting directors love to place Ray Liotta (besides law enforcement, of course), it's the role of disgruntled husband. In "The Details", Jeff Lang (Tobey Maguire) has a night out confiding with his childhood best friend when the two wind up having sex in the garage. Jeff winds up being confronted about the affair by her husband, played by Ray Liotta. Ultimately, he gives Jeff an ultimatum: pay him $100,000 or tell his wife. There is always a lot of emotional turmoil that Liotta's characters have simmering underneath the surface, and in this case it is completely understandable.
27. Control (2004)
We always wondered how pharmaceutical companies test some of their drugs. "Control" gives us an intense (and hopefully fictional) answer to that question. The film stars Ray Liotta as Lee Ray Oliver, a death row inmate who lies on a slab in front of a room full of witnesses to receive a lethal injection. After his injection, he wakes in a morgue to be informed he was only given an anesthetic. Dr. Michael Copeland (Willem Dafoe) gives him a tough decision: Either receive the actual lethal injection, or take part in his experimental drug trial. It's tough to tell whether or not the injections are beneficial in dampening his sociopathic tendencies, but that's all part of the journey.
Liotta is the perfect man for this role, both menacing in his past life faults and sympathetic in his newfound torment.
26. Powder Blue (2009)
"Powder Blue" is a series of interconnected story plots featuring a massive ensemble cast. On board are Jessica Biel, Eddie Redmayne, Forest Whitaker, Lisa Kudrow, Patrick Swayze, and Ray Liotta. Liotta plays Jack Doheny, an employee working for a crime organization who is wrestling with a decision on whether or not to seek vengeance on those who have wronged him. He resigns himself to making attempts to track down his daughter, played by Jessica Biel.
The film is a bit of a mess, unfortunately. But what it lacks in cohesive storytelling, it makes up for in giving us the Liotta we crave.
25. No Escape (1994)
In the distant year of 2022, highly-trained ex-marine John Robbins (Ray Liotta) is imprisoned in a maximum security prison for the murder of his commanding officer. A ghastly crime, but a little redeeming when you learn he was unwilling to execute an order from command to kill innocent civilians. In the dystopian prison system he winds up in, there is an island known as "Absolom" where they send the worst of the worst and his escape attempts give him a one way ticket. Think "Escape From LA", just with fewer eye patches.
"No Escape" is no cinematic masterpiece, but we get a different kind of Liotta and time has made the film's temporal setting all the more enjoyable.
24. Article 99 (1992)
Starring alongside Kiefer Sutherland, Ray Liotta takes on the role of Dr. Richard Sturgess in this film about two doctors attempting to find loopholes in the "Article 99" laws that prevent veterans from receiving the benefits they deserve. It's a nice changeup to see the actor in a role that isn't him wearing a badge, or trying to coerce people into giving up their loot. The compassionate role was unfortunately placed in a movie that wasn't well received by audiences.
"Article 99" wasn't quite able to make its money back in theaters. But it is fun if you want to see a baby-faced Liotta and Sutherland.
23. Phoenix (1998)
In "Phoenix", Ray Liotta plays a cop named Harry Collins, a man with a compulsive gambling problem. Like any would-be thrill seeker who chooses to roll the dice for a rush, his losses begin to mount up over time. After befriending the mother of a young woman he extorted into helping him hustle a poker table, he winds up befriending the woman's mother. Around the same time, his bookies give him 48 hours to pay up or go out and complete a kill contract.
It's a gritty morality tale that could have used some more production power. The best part about it is we get a big, heaping scoop of Liotta.
22. Snowmen (2010)
Lighter fare is always a necessary route for an actor to take, especially one with the intense presence of Ray Liotta. In "Snowmen", he plays Reggie Kirkfield, father to the film's primary protagonist, Billy Kirkland (Bobby Coleman). When little Billy believes he will depart this Earth in a couple weeks, he devises a plan to leave his mark. That mark would be the construction of the most snowmen ever built in one day. His ambition leads him to round up support from the town for his cause. Billy's father (Liotta) is none too pleased about the development.
21. Heartbreakers (2001)
While Ray Liotta isn't this film's primary star, he is certainly pivotal to the entire film's story. "Heartbreakers" features Sigourney Weaver and Jennifer Love Hewitt as a mother-daughter con team. The mother (Weaver) marries men and then the daughter (Hewitt) seduces them into a situation that leads to inevitable divorce and a payday.
They duo fix their sights on a man named Dean Cumanno (Ray Liotta) in the film's opening moments. The grift goes off flawlessly, but inevitably, Dean learns of their scheme and taps into his criminal past to wreak vengeance.
20. Revolver (2005)
Featured in this Jason Statham flick is our favorite villainous charmer, Ray Liotta. Statham plays a witty gangster named Jake Green, who opens the film by being released from prison after a seven year sentence, much of which was spent in solitary confinement. The ordeal has left Green with a serious case of claustrophobia. The target of his ire is a man named Dorothy Macha (Ray Liotta), who is responsible for his prison ordeal. The critics scoffed at "Revolver" but if you are a fan of Guy Ritchie films or Ray Liotta, then you are going to have a jolly good time.
19. Killing Them Softly (2012)
Film audiences were severely conflicted on "Killing Them Softly." Its box office pull was modest enough, but it garners lackluster love. Every actor involved is undeniably coo, and in prime form, from the heroin-hazed Ben Mendelsohn to the suave hitman played by Brad Pitt.
"Killing Them Softly" is about two drugged-out wise guys who decide to rip off a local poker game run by a mafia affiliate named Markie Trattman (Ray Liotta). The surprising brilliance behind their plan is that Markie has paid two men to rip off his own poker game before. So, anyone who gets robbed would obviously assume that Markie was at it again.
18. Crossing Over (2009)
The sleaziness oozing from Liotta's role in "Crossing Over" is palpable. His character is an immigration officer who gets into a car accident with an aspiring actress from Australia. When he discovers this truth, he coerces her into a sexual relationship in exchange for a green card. The entire movie itself is a series of unique stories involving illegal immigrants and their struggle to find work and legitimization.
Liotta is a beacon of scuzz in his own unique story and the cast is rounded out by the likes of Harrison Ford, Ashley Judd, and Jim Sturgess.
17. Unlawful Entry (1992)
Ray Liotta may have had his first brush with being typecast in this 1992 film.
"Unlawful Entry" has the actor playing police officer Pete Davis, who is called to the home of Michael and Karen Carr (Kurt Russell and Madeleine Stowe) after an intruder breaks into their house. Officer Davis seems intrigued by the couple, and helps them install a new security system and goes so far as to take Michael on a ride-along. He goes so far as to track down the man who broke into their house and beats him with his nightstick. When Michael requests that Davis stay away from them, it leads to a stalker situation from everyone's nightmares.
16. Smokin' Aces (2006)
"Smokin' Aces" is a wild ride that features some of the most surprising deaths in cinema. The film has an incredible ensemble that splits the screen time among a slew of budding stars. The cast includes Ryan Reynolds, Jeremy Piven, Alicia Keys, Ben Affleck, Andy Garcia, and Ray Liotta. Its story traces all the way back to the early days of FBI undercover work. When a mafia crime boss orders a hit on a Las Vegas magician, and gangster wannabe, Buddy Israel (Piven) the leaked information winds up in the hands of every assassin around the world. They all converge on the hapless fiend in a delicious round of mayhem that needs to be seen to be believed.
15. Corrina, Corrina (1994)
"Corrina, Corrina" is 1994 film filled with an almost unbearable amount of sap. You can't hate on it all too much, though, mostly because of the performances. While the script itself doesn't offer up much, Ray Liotta and Whoopi Goldberg are wonderful together and carry the entire film through all the melancholy.
Liotta plays a widowed husband in 1950s Los Angeles, who is desperately seeking help caring for his daughter (Tina Majorino), who has stopped speaking since the death of her mother. They hire a woman named Corrina Washington (Goldberg) and all the heart melting begins. It's likely the most tender version of Liotta ever put on screen.
14. Local Color (2006)
Liotta isn't always thrust into the role of cop or jilted lover — sometimes he plays loathsome father. "Local Color" is one such case. Even when you want to hate the man, though, there is something else going on behind those eyes that makes you feel empathy for him. "Local Color" centers on John Talia (Trevor Morgan), a teenager who dreams of being a painter. His father (Liotta) is extremely against this pursuit though. Luckily, the creative arts thrive on angst and Talia meets an elderly Russian painter who helps him pursue his craft. We're never sure whether to love or hate a Liotta character, and that ambiguity is certainly present here.
13. Hannibal (2001)
This sequel to "The Silence of the Lambs" came a decade after the release of its predecessor. Clarice Starling was recast (to audience's dismay) and Julianne Moore stepped into her shoes. We were able to get Anthony Hopkins back as our favorite flesh-gobbling psychiatrist though. Added to the roster was the great Ray Liotta as a member of the Justice Department named Paul Krendler, who makes life difficult for Starling. When attempts to draw Lecter out of hiding don't produce results, he creates circumstances that lead to her suspension.
Don't you worry, though. In "Hannibal," everyone gets their just desserts.
12. Battle in Seattle (2007)
This 2007 thriller is based on political protests that occured in 1999 in Seattle, Washington. The World Trade Organization decides to hold their negotiations in the town and much of the public is in a frenzy over their supposed agenda. While the WTO claims to be working towards fighting against income inequality, protestors believe their agenda is the exact opposite.
Ray Liotta plays Mayor Tobin, who attempts to quell any sort of chaos that could erupt in the city streets. There are always some troublemakers who will make sure things don't go according to plan, though.
11. The Many Saints of Newark (2021)
This 2021 prequel film to mega-hit series "The Sopranos" placed Ray Liotta in a primary role as both "Hollywood Dick" Moltisanti and Salvatore "Sally" Moltisanti. Those who are fans of Liotta's most famous roles were likely delighted to see him slip back into the part of a mobster. The story follows the man who would eventually become Tony Soprano, and watching a Liotta character play a role in shaping the man he would inevitably become is a real treat.
"Many Saints of Newark" maybe didn't ascend to the glory of "The Sopranos" that everyone had hoped for, but you have to admit that the bar was set pretty high. We couldn't be happier with getting good ol' mafioso Liotta back on our screens.
10. A Rumor of Angels (2000)
If you're looking for a pure, heartfelt film featuring Ray Liotta, "A Rumor of Angels" is the good stuff. It's actually so feel-good to the point of almost being unbearable, but Liotta saves the day with his gruffness.
The movie plot involves a young boy, James (Trevor Morgan) living with his father (Liotta) and struggling to adapt to the new circumstances involving his stepmother. His mother died in a car accident two years prior and memories of the accident still cause him distress. When he accidentally destroys their neighbor's fence one day, the woman (Vanessa Redgrave) enlists him to mend the damage he has done. Lessons are learned. Fences are mended. All the good stuff.
9. No Sudden Move (2021)
Master director Steven Soderbergh has an incredible ability to assemble phenomenal actors in one place. In the cast of "No Sudden Move" is Don Cheadle, Benicio del Toro, David Harbour, Jon Hamm, Brendan Fraser, and Ray Liotta, among many more. The film is set in 1950s Detroit, where gangster Curt Goynes (Don Cheadle) is piecing together a plan to cash out. He takes a job involving the heist of an important document, but the whole ordeal goes belly up. The entire scheme is orchestrated by a mob leader named Frank Capelli (played by Ray Liotta).
There are other intricate webs of deceit at play that turn Liotta's character into a powderkeg. We couldn't be more excited to see it explode.
8. Cop Land (1997)
We don't exactly get a ton of moral complexity in "Cop Land," but what we do get a cast of actors in their prime. Ray Liotta stars alongside Sylvester Stallone, Robert De Niro, and Harvey Keitel as police officers. When one of the officer's nephews commits a seemingly racially motivated murder in the streets, they attempt at a coverup, which lead to a series of stressful problems. Ray Liotta plays one of the officers, who has a coke problem and trouble keeping his wits together. "Cop Land" is a fantastic 1990s cop drama that belongs in any Liotta binge session.
7. Dominick and Eugene (1988)
One of Liotta's finest roles before he was truly elevated to stardom was that of Dominick in the 1988 film "Dominick and Eugene". He stars alongside Tom Hulce as two brothers living together. Dominick is a medical student who receives an invitation to complete his education at Stanford. Unfortunately, it is a tough decision to make, as his brother has a learning disability and tends to need backup. The story itself is a product of its time and didn't exactly age gracefully, but the performances from Liotta and the surrounding cast are worth viewing.
6. Narc (2002)
One of Liotta's best films features the actor in a role almost tailor made for him. "Narc" centers on an undercover narcotics officer (played by Jason Patric) who seeks desk duty after a stray bullet from his gun hits a pregnant woman. His final case assignment is forced on him, but he is partnered with Henry Oak (Ray Liotta) in solving a case involving the death of Oak's partner.
The script itself is boilerplate vigilante cop justice, but boy does the grittiness make for a delicious viewing. Ray Liotta has the perfect venue for his intensity in "Narc." The director, Joe Carnahan, received high praise for this ferocious cop vengeance tale and we have to commend him for utilizing his talent properly. There are many forms of Liotta, and while a lot of them involve some sort of authority figure, we'd have to say this is one of our favorites.
5. Something Wild (1986)
It's always fun watching a suit-clad jester tumble down a rabbit hole of unfortunate events. That man happens to be Jeff Daniels in "Something Wild", but have no fear, Ray Liotta is near. Daniels plays an investment banker named Charlie who gets taken on a wild ride when he accepts a ride back into town from a wily woman named Lulu, played by Melanie Griffith. She robs liquor stores, throws his beeper out of the car (did we mention this was released in 1986?), and even prank calls Charlie's boss. The mayhem winds its way back to a confrontation with Lulu's ex-husband, played by Ray Liotta.
"Something Wild" is a truly unique piece of 1980s cinema. What begins as a cute scenario between two unlikely lovers eventually leads to an engrossingly violent end. In between all the craziness is slapstick fun and schtick that is unique to its time. Ray Liotta had yet to slip into his iconic 90s roles at this point and seeing his emotional raw performance here shows you why he was destined for stardom.
4. Identity (2003)
It may be almost twenty years since the release of "Identity" but we still don't want to spoil any of the movie's plot developments, because therein lies the appeal of Ray Liotta's performance. He plays a man in uniform who is forced to stop at a dingy motel in a rainstorm while transporting a dangerous criminal. John Cusack and Amanda Peet bring their own ambiguity to the story and Liotta's intensity plays alongside everything beautifully.
"Identity" is among Ray Liotta's finest moments, even if the film itself was only a modest box office success (raking in a cool $90 million on a $28 million budget). When a script weaves such an intricate web, it can be hard to tease audiences as to what the movie is about without giving away the plot twists. "Identity" utilizes all Ray Liotta's strengths in a way we hadn't seen in years.
3. The Place Beyond The Pines (2012)
There were a few years of masculine melancholy that defined the career of Ryan Gosling. "The Place Beyond The Pines" followed this trend and had him accompanied by the simmering Ray Liotta. Stepping into the role of a detective once again, Liotta is a corrupt detective who capitalizes on the emotional turmoil behind a recent bank robbery. The role of detective Peter Deluca is tailor-made for Liotta and each time he appears on the screen, the temperature drops several degrees. When Luke (Gosling) is killed during a failed bank robbery by a rookie cop (played by Bradley Cooper), there is a mad scramble for the missing cash from
The story in "The Place Beyond The Pines" centers more closely on that of Bradley Cooper's conflicted police officer, but each time Liotta steps onto the screen, there is a sense of terror that follows in his wake. The film is a bit slow paced but undeniably engaging, and Liotta being on the cast is one of its greatest assets.
2. Field of Dreams (1989)
Ray Kinsella (Kevin Costner) is a massive fan of the great American pastime, baseball. He is also a man who trusts his gut; and rather than a mountain of mashed potatoes, Ray responds to a phantom whispering "build it and he will come" by constructing a baseball diamond in the center of his Iowa farm. After construction is complete, Ray is greeted by the ghost of baseball player "Shoeless Joe" Jackson (played by Ray Liotta). The meeting leads to Joe wrangling up other specters to join him in going several innings on the newly constructed baseball field.
We would recommend not basing too much on the teaser trailer for "Field of Dreams." The film itself is delightful, and a testament to the appeal of Ray Liotta. Alongside acting legends like James Earl Jones, he still holds his own and brings a comforting presence to the perceived mental unraveling of the main character. This movie was nominated for three Oscars and while it didn't go home with any statues, it is still considered a classic. "Field of Dreams" gave Liotta a stepping stone to greatness, and we are eternally grateful.
1. Goodfellas (1990)
Regularly recognized as one of the great cinematic classics is the 1990 Ray Liotta film "Goodfellas." For the uninitiated, it follows the life story of Henry Hill –- from a kid running errands for a local fence on the streets of Brooklyn to the upper ranks of the local mafia. It is not only a benchmark for storytelling from legendary director Martin Scorsese, it is also a career defining role for Liotta. It is hard to argue against "Goodfellas" being placed at the top of the list for Ray Liotta's greatest film achievement. Liotta's youthful charm and rugged looks helps create an allure to the mafia lifestyle. He disarms us, making the more intense scenes hit harder. The actor's range was put on full display; we saw him be tender and loving, menacing and unhinged, paranoid and vulnerable, and everything in between.
The nuances of being a wise guy are accentuated beautifully by the all-star cast in "Goodfellas." Alongside Ray Liotta are the acting titans Robert De Niro and Joe Pesci, as well as a slew of recognizable talent now synonymous with anything mafioso. Liotta's role as Henry Hill is a pinnacle of stardom that many thespians hope to one day achieve. Every time we view "Goodfellas," we thank the cinema gods for blessing us with this immortalization of greatness.