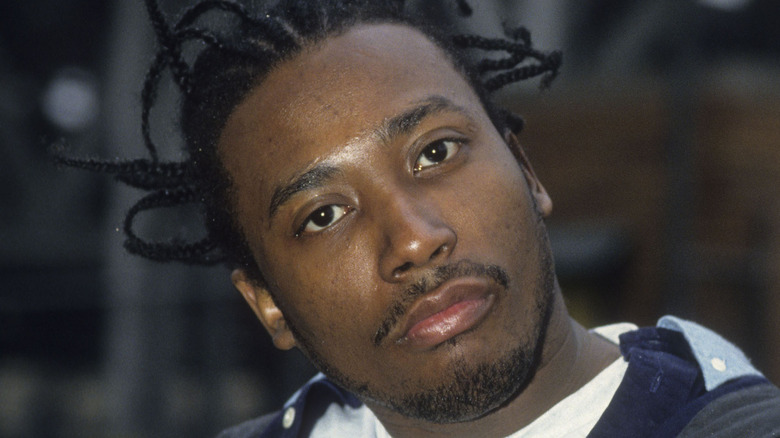 Any hip-hop fan will be able to quote the immortal lines from Grandmaster Flash & The Furious Five's "The Message," which claim: "It's like a jungle sometimes / It makes me wonder how I keep from going under." It's the most fundamental rhyme in the whole of hip-hop, which, despite the genre's reputation for braggadocio and materialism, shows that, like the blues, rap is concerned with toil and trouble, a style of music that sublimates pain by confronting it.
But the job of being a rapper is especially dangerous, as famous figures such as Fabolous (via Revolt) and Meek Mill (via Hot New Hip Hop) have recently explained. It has become an all-too-familiar narrative: the star emcee being taken before their time, of succumbing to the dangers they explored in their music, whether it be gun violence, addiction, or any number of other pitfalls that hip-hop artists often have to navigate.
Here are what are believed to be the last interviews with classic rappers who were taken from us far too soon.
2Pac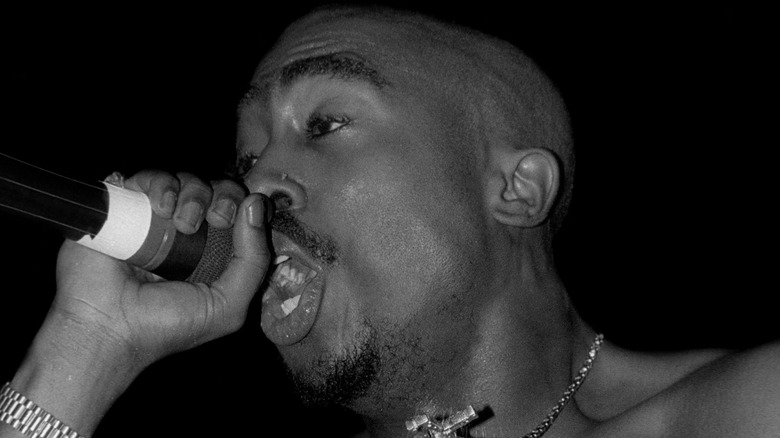 The last 12 months of Tupac Shakur's life were tumultuous, to say the least. The rapper, poet, and actor had served nine months of a one-and-a-half-year sentence at Clinton Correctional Facility starting on Valentine's Day 1995, according to LiveAbout. At the same time, the feud that Shakur and his West Coast label Death Row Records was engaged in with the East Coast scene — and the rapper The Notorious B.I.G. in particular — was escalating.
But despite the upheaval, Shakur was planning to release an autobiography, chronicling his highly eventful life. He enlisted the writer Rob Marriott, who met Shakur for interviews, per 2Pac Legacy. In the recordings, Shakur talks about his beef with Biggie, calling it "mob s***," and settled the score on his time in prison; a Vibe article had claimed that Shakur was in danger for his life behind bars, but the rapper was keen to tell the world that he had been treated with respect (via YouTube).
Tupac Shakur was shot and killed in a drive-by shooting while seated in a parked car with Suge Knight, the manager of his record label and the man who had posted his $1.4 million bail, on September 13, 1996, in Las Vegas, Nevada. Excerpts from Shakur's final interview were released in 1997, on a bonus disc accompanying the posthumously-released "Thug Immortal" video, according to Discogs.
The Notorious B.I.G.
There can be no discussion of Tupac Shakur's tragic end without also mentioning that of his bitter rival, The Notorious B.I.G., who was shot and killed in a close-to-identical drive-by shooting just six months after the death of Shakur.
Biggie's final interview took place on February 24, 1997, just two weeks before his death, on the set of the music video for "Hypnotize." Tragically, the single would become the soundtrack to the rapper's funeral (via YouTube). At the time, the world was eagerly awaiting Biggie's follow-up to his smash debut album "Ready To Die," and the rapper discusses the scale of the forthcoming double album, "Life After Death," a release that he believed would help him "get my spot back" after a period of making guest appearances and working with various artists including Junior M.A.F.I.A., whom Biggie was mentoring. His interviewer also congratulates the rapper on the birth of his second son, C.J. (per YouTube)
Asked what he learned from his feud with 'Pac, Biggie claimed that, following his rival's death, he realized that it was his responsibility to "squash" the beef that had ensnared the hip-hop community and wrecked such deadly harm, stating: "I kinda realized how powerful Tupac and I was. Because we two individual people, we waged a coastal beef! One man against one man made a whole West Coast hate a whole East Coast, and vice versa, and that really bugged me out … what I'm trying to do now, after [Tupac's] untimely demise … I gotta be the one to flip it, and take my power and flip it like: 'Yo, [the beef's] gotta be dead,' because [Tupac] can't do that … I gotta take the weight on both sides." (via YouTube)
Ol' Dirty Bastard
The messy life of Russell Jones — better known as the rapper and Wu-Tang Clan founder member Ol' Dirty Bastard (O.D.B.) — had come to eclipse his unconventional music in his final years, despite two well-received studio albums and a number of minor hit singles, including "Shimmy Shimmy Ya" and "Got Your Money."
By the time reports of 35-year-old Jones' tragic death via accidental overdose were published in November 2004, the rapper had long been generating headlines as hip-hop's "folk hero," as described by the New Yorker. All Music reports that Jones had at one time been on the run from the police, who were pursuing him for a number of different misdemeanours, including shoplifting and drug possession, while managing to secretly attend recording sessions and appear at live concerts, all while avoiding arrest. Jones eventually took a deal and received a minimal sentence, although the prison time reportedly had an adverse effect on the rapper's mental health, and his drug addiction spiralled out of control. However, in what is thought to be his final radio interview — the rapper's final months were so chaotic that no-one can say for sure — the recently released Jones explains that he was looking forward to making more hits, and said he considered the whole Wu-Tang Clan family.
In 2017, Jones' cousin and fellow Clan member RZA gave an interview saying he wished that he, his fellow Clan members, and his family had done more to help Jones, and that believed his death was preventable (via YouTube).
If you or anyone you know is struggling with addiction issues, help is available. Visit the Substance Abuse and Mental Health Services Administration website or contact SAMHSA's National Helpline at 1-800-662-HELP (4357).
Eazy-E
The former NWA star and influential West Coast hip-hop legend Eazy-E — real name Eric Lynn Wright — was widening his scope in the last few months of his life. As well as working on his own solo material, 31-year-old Wright had recently set up his own record label, Ruthless Records, and was championing a new generation of artists. However, as he discussed in his final interview with Rap Pages, recorded in January 1995, he was also embroiled in a number of disputes with several of the artists he had signed, though Wright claimed that his treatment of the artists in question had been fair (via YouTube).
The interview is notable too for Wright's turning against his former bandmate Dr. Dre and his affiliate Snoop Dogg, with Wright claiming that "they not real; it's all acting" — a bombshell claim when West Coast gangsta rap was at its peak, and when authenticity was key to artistic credibility.
On the recording, Wright can be heard coughing and struggling to catch his breath. Tragically, the rapper did not know at the time that he had fallen sick after contracting HIV, and that he would soon be in hospital with AIDS-induced pneumonia. According to the Chicago Herald Tribune, the rapper sent a message to fans from his deathbed, warning of the dangers of the disease that was stigmatized and little understood in the generation population. "I've learned in the last week that this thing is real and it doesn't discriminate … It affects everyone," Wright said in his final missive.
MF DOOM
Daniel "MF DOOM" Dumile had experience of living in obscurity, and indeed came to relish it. Having first made his name under the moniker Zev Love X in the early 1990s as part of the classic hip-hop trio KMD, he left the rap game for three whole years following the death of his brother and musical partner, DJ Subroc, only emerging with the new MF DOOM persona after having spent a period of hardship living on the streets, according to a 2005 interview in Wire magazine (via Stones Throw).
He found himself similarly alienated from the hip-hop community after being denied re-entry to the U.S. in 2010. Dumile was born in London, and that is where he found himself banished in the years that followed (via Pitchfork). He still managed to release music — the most notable being 2012's "JJ DOOM," a collaboration with Jneiro Jarel, and two collaborations with Inspectah Deck's Czarface. But the final decade of DOOM's life was dominated by tragedy, specifically the death of his teenage son, King Malachi Ezekiel Dumile, in 2017.
Dumile's last known interview was with Spin magazine in 2019, celebrating the 15th anniversary of his acclaimed collaboration with producer Madlib, "Madvillainy." In the interview, Dumile shocked his fanbase by claiming that he didn't care about hip-hop, and didn't listen to the genre; he said he only wrote rhymes to get paid, a revelation that hit the headline on numerous outlets such as HipHopDX (via YouTube). He died October 31, 2020. No cause of death was made public.
Phife Dawg
2016 was a terrible year for celebrity deaths, with the world of music suffering some tragic and unexpected losses. The year began with David Bowie dying on the release of a new album, and Phife Dawg — aka Malik Izaak Taylor — soon followed in his footsteps. The iconic rapper was a part of A Tribe Called Quest, and his signature flow was an integral part of their best-loved records. Taylor had finally reconnected in the studio with fellow Tribe artists Q-Tip, Ali, and Jacobi for what ended up being "We Got It From Here… Thank You 4 Your Service," the Tribe's first album for 18 years. Sadly, it turned out to be a posthumous release for Phife, who died of complications from diabetes in March 2016, six months before the album's release.
Taylor's final interview took place in November 2015, and it is notable for the rapper's frustration at the Tribe's lack of public appearances following Q-Tip's assertion that the group's performances opening for Kanye West the previous year would be their farewell shows. "I think it is ludicrous that we are not performing together," Taylor told Rolling Stone, showing that not even he could have predicted that the group would ever hit one more home run in the studio.
Taylor talked about his lack of confidence in the early days and his dislike of his own voice. He also spoke about his health, saying "I am in a good spot, but I have my good days and I have my bad days … And that is another reason why it is ludicrous for us not to be performing right now and smelling these roses why we're still here."
Lisa "Left Eye" Lopes
Lisa "Left Eye" Lopes was seemingly at a crossroads in her life around the time of the tragic car accident in Honduras that took her life on April 25, 2002. She had just turned 30, and the breakout star of girl-group TLC was looking to assert herself in her solo career following the release of her debut album, "Supernova," which performed poorly.
According to All Music, Lopes' relationship with her TLC bandmates had grown distant, and it is likely that the rapper was looking to move on from her identity as a member of the group with the hope of finding greater artistic freedom. Replicating Prince — who, just over a decade earlier, had abandoned his moniker in favor of an unpronounceable symbol — Lopes announced that her new identity was "N.I.N.A.," an acronym standing for "New Identity Non Applicable," according to MTV. The fan site TLC Army suggests that the name — which is also slang for a 9-mm handgun, a reference to Lopes' small stature — was chosen by Suge Knight, the notorious owner of Death Row Records who was in the car with Tupac Shakur when the rapper was shot. Lopes had recently signed to his new label, Tha Row Records, for whom she was recording her second album.
In her last television appearance, Lopes is seen seated with Knight, claiming that new label was a "family" with "a lot of love." Referring to Lopes as N.I.N.A., the interviewer asks: "N.I.N.A. is on Tha Row … is there still a Left Eye?" To which, Lopes, wearing a headband emblazoned with her new name, responds: "Left Eye is in TLC, anything outside of Left Eye, outside of TLC, will be N.I.N.A."
Big L
The reputation that Lamont "Big L" Coleman built for himself in his short, 22-year life was as great as any rapper could hope for, and the fact that more than two decades after his tragic death in a shooting in New York in February 1999 is testament to his incredible artistic accomplishments.
Known as an up-and-coming legend on both side of the Atlantic, Coleman had been touring extensively in Europe, and in his final months gave a range of interviews as far afield as Croatia. His last ever interview is believed to have taken place in Amsterdam at the radio station Oxygen FM in late 1998. A recording of the meeting is unavailable, though an old Big L fansite does contain what it claims are excerpts of the interview.
Coleman discusses his plan to begin self-releasing his own music in lieu of a major label deal, but claims: "It's also for the love, for the love of the music itself. The financial reward is also great, but really without it I still got love for the game itself." He also forecast his future, which, surprisingly, he envisioned away from the mic: "In ten years, you probably won't still see me rapping, but I'm gonna be in the game somewhere, behind the scenes, producing." Coleman shared similar sentiments in a posthumously released interview with the British rap magazine Hip-Hop Connection, again showing his wisdom beyond his years (via Bonafide Magazine).
Guru
Despite his numerous solo accomplishments — most notably the hip-hop/jazz fusion "Jazzmatazz" series — Keith "Guru" Elam's name will forever be most closely associated with that of his breakthrough partnership with DJ Premier: Gang Starr. But towards the end of his short life — Elam died from blood cancer on February 28, 2010, aged just 47 — the rapper was seeking to distance himself from his former partner and promote his working relationship with his new musical partner, DJ Solar, as evidenced by his final interview with All Hip Hop, in which Elam claimed: "People ask me about my ex-DJ (DJ Premier) and all that. We were never all that close. We hooked up in the studio and did great music, but we were never hanging and all that cool. Solar and I, we got tight before we even started doing music."
The interview foreshadowed much of the tension that would surround the classic rapper's death, and the behavior of Solar, who became a villain in the community following rumors of his isolating Elam. Solar also came under suspicion after the release of the following message purportedly written by Elam on his deathbed: "I had nothing to do with him in life for over seven years and want nothing to do with him in death. Solar has my life story and is well informed on my family situation, as well as the real reason for separating from my ex-DJ." (via All Hip Hop). Elam's friends and family questioned the authenticity of this message, and suggested it had instead been written by Solar. The true nature of Solar's relationship with Elam has never quite been settled.
MCA
The Beastie Boys' Adam Yauch — better known as MCA — was open with his fans about his health after first being diagnosed with cancer in 2009. "I just need to take a little time to get this in check, and then we'll release the record and play some shows. It's a pain in the neck (sorry had to say it) because i was really looking forward to playing these shows, but the doctors have made it clear that this is not the kind of thing that can be put aside to deal with later," a statement from Yauch read (via The Gothamist).
Yauch was optimistic about his illness, saying at the time that his condition was "very treatable," per CTV News, and telling Gothamist that he was feeling "all right!" However, 2009 also turned out to be the year of Yauch's final public performance before his death in 2012. During his illness Yauch continued to communicate with fans via the group's online channels, and even found the energy to contribute to a new album, "Hot Sauce Committee Part One," which the band discussed in an interview with the Guardian. The interview was undertaken in Yauch's absence, with his bandmates explaining that Yauch was still in treatment, but that his prospects of survival looked "good." Tragically, Yauch had died on May 4, 2012, just hours before the article was published. His bandmates later praised Yauch's "incredible optimism" in an interview with Rolling Stone.
Nipsey Hussle
Airmiess Asghedom, aka Nipsey Hussle, was shot and killed outside his Marathon Clothing store in Los Angeles on March 31, 2019. He was 33, and his star had been in ascendancy: a series of well-received mixtapes behind him and a Grammy nomination for his debut studio album, "Victory Lap," had made Asghedom an established name in contemporary hip-hop.
But what really struck fans after news of his death was announced was Asghedom's role in various charities and community projects. And according to an article released the day after his death, "[Asghedom] had been actively trying to broker peace and bridge the gap between rival gangs for years, uniting in his Crip blue with Blood gang rappers YG and The Game, known by the color red." (per USA Today).
The final interview of Asghedom's life was undertaken by his longtime partner, the actress Lauren London, whom the rapper had been dating since 2013 and who was the mother of one of his two children, in the form of a "30 questions" couples' quiz for GQ (via YouTube). Evidence of the couple's great emotional bond, the footage makes for tragic viewing with the knowledge of Asghedom death, and London's impending loss.
Big Pun
At the turn of the millennium, Christopher "Big Punisher" Rios had completed his transformation from respected but little-known underground rapper to full-blown rap icon. Still only 28, the emcee had made a slash collaborating with Fat Joe in 1995, while his 1998 debut studio album, "Capital Punishment," had been nominated for a Grammy and made him the first Latinx hip-hop artist to go platinum, according to Biography.
In 2000, Rios was reaching new audiences following a collaboration with Jennifer Lopez on her single "Feelin' So Good," according to Rolling Stone. To promote the single, Rios was due to perform alongside Lopes on "Saturday Night Live," but canceled after becoming breathless, and subsequently died of a heart attack in his New York hotel room, where he was staying with his wife and children.
Rios' final interview was for a cover feature in Industry Insider magazine, and according to MTV the interview was notable for Rios' ill health, his difficulty speaking, and the interviewer's subsequent difficulty transcribing what Rios had said. The same source also notes that Rios' management had sent the magazine promotional shots for the cover, which were rejected due to Rios' sickly appearance, though no-one suspected that the young rapper was so seriously ill.
XXXTentacion
20-year-old Jahseh Onfroy, who went by the stage name XXXTentacion, was under "modified house arrest" when he undertook the final interview of his short life. A journalist from the Miami New Times knocked on his door after deriving the rapper's address from a discarded parking ticket. The subsequent article, published the day before his death from gunshots wounds on June 5, 2018, was more of a profile than a reproduction of what Onfroy had to say, but following news of his death Jitney Books approached the journalist, Tarpley Hitt, to get a sense of her two-and-a-half hour long conversation with the late rapper.
Per Jitney Books, Onfroy, was facing up to 30 years in prison for a range of crimes that included "aggravated battery of a pregnant victim, domestic battery by strangulation, false imprisonment, and witness tampering" (via Pitchfork). He derided the #MeToo movement, claiming that it had "inflated" his alleged crimes and damaged his career. But the rapper also spoke about his spirituality, saying that he read the Quran, and believed in astrology and in witches. Onfroy suggested that his ex-girlfriend had performed witchcraft, specifically "money spells," which he said had a real-world effect.
Lil Peep was looking forward
Emo-rapper Lil Peep — birth name ​​Gustav Åhr — had become a prominent face among the new wave of rappers emerging through the "SoundCloud rap" scene at the end of the 2010s when he died suddenly on November 15, 2017, following a drug overdose. He was just 21, but had in just a few years become one of the most talked about and contentious figures in hip-hop.
Paper Magazine released what they billed as the rapper's last interview the day after his death, calling him "one of music's brightest lights … an immensely talented and all-round magical human being." In the interview, Åhr expressed how much he enjoys touring, and said that he had recently starting taking himself and his career "seriously" after evolving from a mixtape artist to a commercial prospect following the release of his successful debut album, "Come Over When You're Sober, Part 1."
He was also thinking about his future as an artist. "I want to go deep into fashion, I want to go maybe into acting, there's a lot of stuff I would like to go into. I just want to try more s*** and become more well-rounded when it comes to whatever I'm doing. I want to do a lot of different things and dive into different worlds. I feel like I'm a creative and I want to take advantage of that."
If you or anyone you know is struggling with addiction issues, help is available. Visit the Substance Abuse and Mental Health Services Administration website or contact SAMHSA's National Helpline at 1-800-662-HELP (4357).
Prodigy
Mobb Deep's Prodigy — real name Albert Johnson — had long been open about suffering from sickle-cell anemia, which had affected him throughout his life. He was in hospital being treated for the illness when he died on June 20, 2017. The cause of death was mistakenly reported as accidental choking, a fact that led to Johnson's family suing the hospital and physician involved, claiming it was a case of wrongful death (per The Source). The rapper was just 42.
In his final interview — an appearance on the Premium Pete Show podcast — Johnson discusses how he was first introduced to guns at the age of 7 by his father, who, Johnson claims, was trying to "scare my uncle." He also admitted that his touring with Mobb Deep in the late 1990s, around the time of the birth of his daughter, took a toll on his relationship with his child, but said that they had since made up for it.