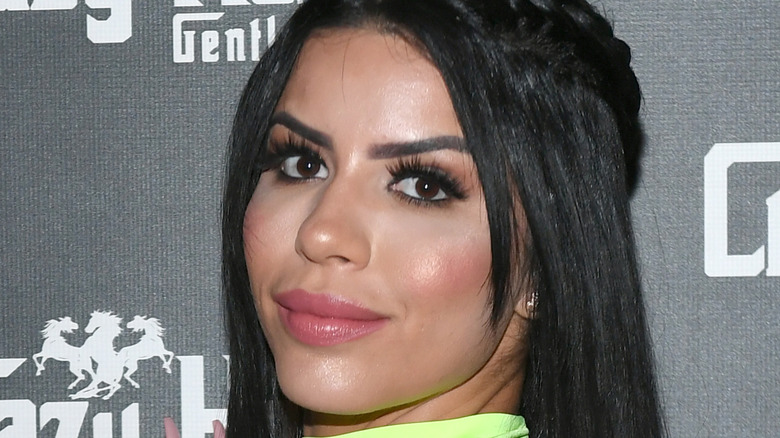 "90 Day Fiance" has always been one part salacious relationship drama and one part serious documentary about the U.S. immigration system. It's the one place where someone could both get a Louboutin (allegedly) thrown at their head and nearly deported in the same breath. If anything, the series has taught us that love doesn't always prevail. In fact, it usually doesn't even come close — and the second the American dream begins, it often turns into an American nightmare.
It's important to remember that the "90 Day Fiance" cinematic universe is akin to the Marvel cinematic universe. There are heroes and there are villains. Sometimes the line is blurred, but what makes it so captivating is that the people are always real (well, at least most of the time). And real people are messy. Some of the most uncomfortable moments on the series aren't even about the cast's doomed relationships (and trust us, they're usually doomed). It's about their fashion.
Here are some of the most controversial outfits in "90 Day Fiance" history. As we all know, what would the series be without a good old scandal?
Hate the player, not the (squid) game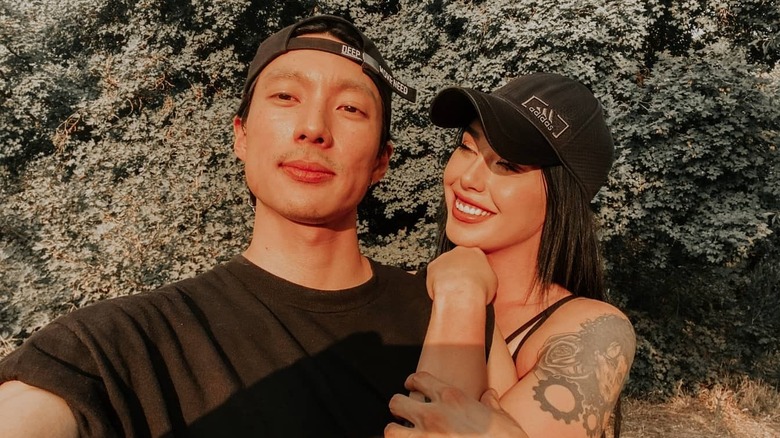 Deavan Clegg was one of the more controversial "90 Day Fiance" cast members — if only because her messy split from Jihoon Lee outlived her tenure with the show. Like many of the ill-fated couples on the series, the pair's story began with an accidental pregnancy. Suddenly, Clegg was packing her bags for Seoul and tying the knot in a traditional Korean wedding ceremony.
Of course, things didn't work out (as they often don't when you marry someone you barely know and that someone lies about having a job that can support your family). When the dust settled, Clegg moved on with her new Korean man, Topher Park. Since then, the internet has unabashedly accused Clegg of — as one Twitter user put it — "fetishizing Korean culture," and her 2021 Halloween costume did her no favors.
Deavan was met with instant criticism when she shared a snap on Instagram depicting her and Topher dressed as characters from the Korean television series "Squid Games." The comment section was a cacophony of cultural appropriation allegations (though, as some users pointed out, it was a popular costume that year). One critic even boldly claimed, "if it was socially acceptable to identify as a different race, we all know you want to be Korean so bad." Yikes.
The outfit that got Alina fired
Alina Kozhevnikova's debut on "90 Day Fiance" was a breath of fresh air. For the first time, the series was showing a realistic portrait of what it's like to date as a person with disabilities. Caleb was even praised by fans for being honest about his hesitancy to become Alina's caretaker, a bittersweet moment that took a mountain of maturity. That moment was notably short-lived. Alina was fired from the series before she ever got a second season — and an inappropriate outfit was partially to blame.
According to People, Alina got the ax — and was even booted from the "Tell All" — after racist social media posts from the star resurfaced across the internet. The star reportedly used the N-word multiple times in a Facebook post, and again in an Instagram caption. She also reportedly mocked Asian and Muslim people in seperate Instagram posts. Then came cultural appropriation-racist joke combo, a (rightful) deathknell to her reality TV career.
Alina donned a traditional Indian outfit in an Instagram post from 2017 captioned, "Got married today! Became a 134th wife!" It didn't take long for TLC to send out her pink slip. In a statement to People, the network claimed the Russian-born star's social media posts were to blame. "TLC does not tolerate racism or discrimination of any kind," they declared.
Loren keeps it sassy (but allegedly not always classy)
Loren Brovarnik raised a literal middle finger to her haters — and in one fell swoop, the remarkably uncontroversial "90 Day Fiance" star had a minor scandal. It all went down when Loren, who tied the knot with husband Alexei Brovarnik in 2015, wore a simple t-shirt to reflect her feelings about Mercury in retrograde. The shirt depicted two cartoon hands boldly flipping the bird. Apparently, it really isn't that difficult to start a polarizing argument online, though Mercury in Retrograde (which is rumored to cause the breakdown of technological communications) probably didn't help.
Fans were split on whether or not the shirt was appropriate. For every person who said they love the shirt or actually own the shirt, there was another to say "[that] shirt doesn't suit you" or "class. No." One commenter even went as far as saying, "That shirt doesn't suit a nice Jewish Momma, children don't need to see it, especially yours." Can everyone just chill?
Is Jasmine's slip dress really that big of an issue?
Jasmine Pineda's favorite outfits are controversial to nobody but her fiance Gino Palazzolo — at least, that's what she said. The pair, who first met online, have been on a rocky road since the very start. During their debut on Season 5 of "90 Day Fiance: Before the 90 Days," the pair had a blow-out squabble after Gino sent Jasmine's nude photos to an ex. According to InTouch, it looks like they're still dating as of this writing (as much as you can tell from Instagram) but Jasmine is still airing her grievances online.
In an Instagram Story (captured by ScreenRant before it was deleted), Jasmine showed off a pair of dresses that Gino allegedly wouldn't let her wear. The first was a pink, curve-hugging mini-dress with a slit that showed off her upper thigh. The second was a purple dress with a similar design and a slightly longer hemline. What's the issue? It's not really clear. The dresses aren't more revealing than the outfits Jasmine typically wears — and if the girl wants to show off her curves, she deserves to show off her curves. Maybe Gino was trying to take her to church instead of the club. Who knows?
A little lingerie got Larissa the boot
Like Jasmine Pineda, Larissa Dos Santos Lima also enjoys posing in lingerie. The only difference is that it allegedly got her fired from TLC. It all started with a little plastic surgery that had an astounding ROI. In 2020, TMZ reported that Larissa had spent $72,000 on plastic surgery to look more like Kylie Jenner. The procedures included a breast augmentation, nose job, liposuction, and a fat transfer to her bottom (known as a BBL). The work took a whopping seven hours, and when her scars eventually healed, she went online to show it off.
According to TMZ, Larissa made $100,000 hosting a one-hour lingerie show on CamSoda, a webcam app notorious for adult content. While it's not quite Jeff Bezos' hourly wage, it's certainly not bad. The stream reportedly had 10 times more viewers than streams from some of CamSoda's biggest stars. She was an instant success, who TLC almost instantly gave the boot.
Not long after the CamSoda stream, Larissa went on Instagram and announced her firing in a now-deleted post (captured by Us Weekly). "Dear Friends and Followers, I want to make a statement for you, I'm no longer a cast member of the show '90 Day Fiancé,'" she wrote. "Because of my show with CamSoda, I was released from my contract with TLC by phone the day before ICE arrested me." Yikes, who knew a little lingerie would get so complicated?
Paola will show her midriff if she pleases
Paola Mayfield is another "90 Day Fiance" baddie who's not afraid to show off her body. It was actually a point of contention early on in her relationship with Russ Mayfield. The star was determined to become a model, but Russ didn't approve of her modeling swimsuits and lingerie. The pair even had one of their largest on-screen blowups after Paola wore lingerie during a music video shoot. It was so bad that she ended up storming off the set of the "90 Day Fiance: Happily Ever After?" tell-all.
Today, it looks like Russ has accepted Paola's bold career aspirations and steamy personal style. It's fans who actually have a problem with the star's revealing outfits. In particular, one fan seemed to take issue when Paola posed on Instagram wearing ripped jeans and a midriff-baring top. They claimed the star, who was 33 years old, should be dressing more her age (as if there is such a concept). "Girl [you] old," they wrote (via InTouch). "[You] can dress sexy, but with respect for [your] son."
Paola shut it down immediately with a brutal clapback. "Lol, the only thing old here is the condom you have been keeping in your wallet for so long [because] you haven't been able to use it," she said. Mic drop.
Paul can't take the heat
To say Paul Staehle's outfit choices are bizarre is an understatement. The "90 Day Fiance" star once wore a condom to go swimming in Brazil with his wife Karine Martins. Was it unconventional? Totally. But it was also a shining moment of innovation — the perfect way to stave off a potential parasite if that's the sort of thing you're worried about.
Paul's clothing has always been utilitarian, fueled by an overly cautious (or, one could say, extremely anxious) attitude. Still, few garments got him more flack than the alleged bullet proof vest he donned during "90 Day Fiance: Before the 90 Days." As soon as fans spotted the star roaming the streets of Brazil wearing the unique item, social media erupted in a collective laughter. As one fan wrote, "Paul has moved from wearing condoms while swimming to wearing a bulletproof vest to go wildflower picking. Dude needs to chill."
The thing is, this wasn't actually a bullet proof vest. It was a cooling vest, a realization that only led to more ridicule. As one fan pointed out, "Paul has the same cooling vest as my dog." Hey, if the convicted arsonist can't take the heat, at least he has options.
Kalani stripped down for Fenty
Another day, another "90 Day Fiance" star in the hot seat for looking too darn hot. This time, it was actually a little surprising — but extremely refreshing. Kalani Faagata, who first appeared on the series in 2018, has had a tough run since meeting her husband Asuelu Pulaa. Like is common with so many castmates, the relationship started as a vacation fling-turned-accidental pregnancy. Since then, the pair's financial problems have put a constant strain on their relationship, with Kalani even kicking Asuelu out of the house at the height of the COVID-19 pandemic.
The star seems to have gotten her groove back. Though she doesn't typically wear racy outfits beyond the occasional low-cut top, Kahlani posted a steamy Instagram snap beaming confidently in Fenty lingerie, announcing her new role as a brand ambassador. Immediately, critics started coming out of the woodwork. "Why do you need to show your boobs when you are married? You are beautiful," wrote one commenter. "You don't need to show that part of yourself to everyone else!"
Thankfully, the haters were few and far between — but with confidence like that, it doesn't really matter what people think.
Brittany's bikini pic got Yazan kicked out of the house
Though "90 Day Fiance: The Other Way" star Brittany Banks looks put together, her style doesn't particularly stand out. Her Instagram is a smattering of casual denim, curve-hugging dresses, and poolside bikini shots. You could call it the standard influencer uniform, and nobody would think twice — in Florida. Jordan is a completely different story.
When Brittany first arrived in the predominately Muslim country to meet her boyfriend Yazan Abu Harirah, the Florida native took her Miami wardrobe, which is notably racy for a culture where women are expected to dress modestly. It was an immediate culture shock, and as CheatSheet points out, the star was heckled as she walked through the streets.
Her wardrobe didn't exactly make a good impression on Yazan's parents, either. His family adamantly disapproved of the bikini photos she posted on Instagram, so much so that they fired Yazan from the family business and kicked him out of the house. He ended up sleeping on the streets for two nights, and according to ET, his father even threatened to murder him if he went through with the marriage. Luckily, according to Us Weekly, he's happily engaged to someone else and Brittany is living her best life one bikini snap at a time.
Anfisa caused a fuss with her workout outfit
If you haven't watched "90 Day Fiance" from the beginning, you might not remember Anfisa Arkhipchenko. The star has been hailed on the Internet as "the honest gold digger," even keying the word "idiot" into then-fiance Jorge Nava's car after finding out he lied about being a millionaire. The star is apparently still causing drama (though, not as much as her former husband, who spent time in prison after he was caught with an enormous amount of cannabis according to Us Weekly). Mostly, she's just making a ruckus wearing revealing outfits.
According to Blasting News, Anfisa now resides in Los Angeles, California, where she works as a personal trainer. She regularly posts workout videos online, and ignited a mild outrage after posing in a thong while lifting weights. The revealing post urged people to visit her OnlyFans page, an increasingly popular retirement career for "90 Day Fiance" stars.
Of course, the internet can't just let a woman show off her body in peace. According to The Sun, some fans admonished the star for wearing a skimpy outfit, and when one snarky commenter claimed "George would be so proud," Anfisa brought out the claws. "At least I'm not doing anything illegal," she wrote. The truth hurts.
Nicole's wedding dress got a bridal shop booed
Let's be honest: fans waited a long time for Nicole Nafziger to tie the knot. She'd been dating Azan Tefou since Season 4 and boldly ignoring what fans believed were blatant red flags — like when he claimed he was only "55 percent" attracted to her and delayed their wedding to open up a store that never actually existed. Nonetheless, she got far enough along in her engagement to eventually go shopping for a wedding dress. Thus, another off-screen moment devolved into such a mess of drama that the bridal shop had to issue a public response.
According to Starcasm, Nicole tried on dresses in a local Florida bridal boutique called Bearer of the Bling Bridal. Footage from the actual shopping trip aired on "90 Day Fiance: Happily Ever After?" in 2020. Not long after, the store posted behind-the-scenes photos and was met with an onslaught of criticism about Nicole's final choice. Commenters believed the strapless gown was too risque for a Moroccan wedding, and the comments got so bad that the store had to block them.
"It was time to start blocking the ugliness," the boutique wrote (via Starcasm), adding, "Nicole is an amazing sweet soul whether portrayed that way or not on TV. Any attacking of our bride will be deleted." In the end, it didn't really matter if her dress was appropriate or not because she never ended up walking down the aisle.
Tania's Pocahontas costume was a hard no
Tania Maduro's split was one of the most heartbreaking storylines in "90 Day Fiance" history. Her confrontation with estranged husband Syngin Colchester during the tell-all for "The Single Life" brought tears to their fellow castmates. It was undeniable proof that sometimes love just isn't enough.
Tania has proven time and time again that she's willing to face harsh realities — and that includes the fallout from the ill-fated Halloween costume she wore back in 2014. According to Celebuzz, the star was slammed by fans when a photo of her dressed as Disney's Pocahontas resurfaced online in 2019. The post was captioned "Pocahottie!"
It's no secret that in recent years, Pocahontas costumes have faced mass criticism for cultural insensitivity. It regularly makes the rounds in online think pieces and annual lists of the most offensive Halloween costumes. Tania, of course, owned up to her mistake. "This picture and caption were taken before I was aware of the harm of it," she wrote. "People's cultures are not costumes, the real life of Pocahontas is not what you see on Disney."
Evelin's 'old, dirty' wedding dress wasn't even a wedding dress
Like Nicole Nafiziger, Evelin Villegas also had a controversial wedding dress, but not how you'd think. It was actually her husband Corey Rathgeber who took the heat. So, what happened? Corey was trying to save a little money on his nuptials, and probably should've just cut the flower budget, instead.
In the episode of "90 Day Fiance: The Other Way," which aired during Season 3, Evelin was looking at wedding dresses with her sisters when Corey surprised her with a dress he brought from the United States a year prior. If the garment bag looked dusty and dirty, that's because it was. The dress was far from new, and it actually wasn't a bridal dress at all. It was his sister's old prom dress, and Evelin had no problems calling it a "really horrible, old, dirty dress." The internet erupted with secondhand embarrassment.
"Corey did not bring a f***ing used prom dress for Evelin as a wedding dress when David's Bridal has $99 to $500 nice dresses he could have gotten," one Twitter user remarked. Another slammed the reality star, asking if he was really actually that cheap, and another noticed that Corey tried to pass the garment off as a real wedding dress by putting it inside a David's Bridal bag. Hey, he should at least get a B- for the effort. At least the cringe-factor was off the charts.
Darcey's co-ord set was a red hot flop
By now, Darcey Silva is used to criticism. The star's ex-boyfriend Tom Brooks even brutally antagonized her about her weight while he was dumping her. It was, perhaps, one of the worst things a cast member has said since Mohamed Jball publicly shamed Danielle Mullins about her genitals during a tell-all. Luckily, it doesn't look like the fashion designer is letting the body shamers get her down, especially when she has a new line to promote.
The star was met with a blizzard of criticism when she posted a busty Instagram photo wearing a red co-ord set from her soon-to-be released House of Eleven collection. Fans did not appreciate the way the set showed off her cleavage. "Oh you are such a good role model for your two girls," one commenter sarcastically wrote. Others claimed they had "no respect whatsoever" for the star. Some even called her "nasty," while a few actually did like her outfit.
Either way, it seems like Darcey just brushed it off. She didn't respond, and let's be real, she's got a fashion brand to promote and haters just fuel the Instagram algorithm.
Don't rain on Erica Owens' rainbow
Erica Owens doesn't care about her critics. The Australian photographer, who made her debut on Season 4 of "Before the 90 Days," is a self-proclaimed human rainbow. She loves to wear color and she loves having fun with her fashion, which is obvious to anyone who's within eyesight of the star. Her bright fuchsia and purple hair was her signature, but her style isn't everyone's cup of tea.
In 2020, Erica took to Instagram to celebrate Joe Biden's presidential win. She beamed with excitement in fishnets, rainbow hot shorts, and platform boots emblazoned with iridescent flames. It was bold. It was bright, and fans were not amused. Some said she "looked like an STD," while others claimed she was a "clown." Erica refused to let them rain on her rainbow.
When one naysayer remarked "Girl, no to that outfit [thumbs down emoji]," the "90 Day" star immediately shut it down. "Didn't ask you," she wrote. When another woman named Joann said, "Sorry, that is just not your best look," Erica stayed firm. "Don't start, Joann." Sorry, she can't see your negativity from behind all that glitter.