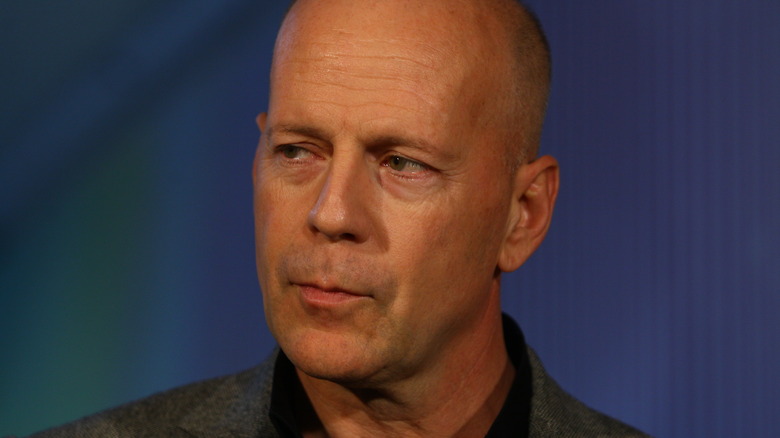 It's hard to believe that Bruce Willis was once an unlikely action hero. Pint-sized compared to Sylvester Stallone's Rambo and gentler than Arnold Schwarzenegger's Terminator, Willis was everyone's last choice to play John McClane in "Die Hard," according to Showbiz Cheatsheet. But he bought his place in history by fusing his everyman energy with quick-minded wit, winning over just about everyone in America.
With the March 30 announcement of his retirement, his career seems to have been unfairly cut short, even at his ripe-old age of 67. Perhaps it's because he had far grander expectations for the end of his career than what he was dealt. In a 2013 interview with GQ, he voiced a desire to retire with "the same grace" as did Cary Grant. He also said his goal late in his career was to keep his acting "looking lifelike," despite any troubles in his personal life. Despite the fact that he called it quits on his own career, it was probably done with less agency than he would've liked, and the tail-end of his career featured performances more inanimate than what he was aiming for.
Fortunately for Willis, his legacy is cemented as legendary, but there have been various rough patches during his journey. Let's take a look at a few of his life's tragic moments.
He suffered from a stutter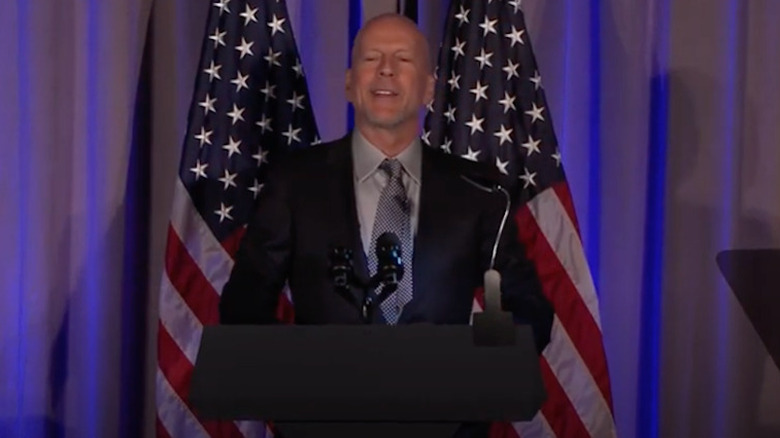 Action movies aren't generally known for their dialogue, but Bruce Willis can make any line memorable. So when he revealed his childhood struggle with stuttering, his story was both surprising and poignant. At the American Institute for Stuttering's fundraising gala — where he was being honored — Willis gave a tearful speech about learning to speak through acting and the bullying he had to endure as a child. His stutter began when he was 6 years old, and unable to communicate to family and friends, he said he would have to resort to "just flailing wildly," per The Hollywood Reporter. According to John Parker's "Bruce Willis: The Unauthorized Biography," it took Willis three minutes to form a sentence (via The Stuttering Foundation). In high school, Willis was laughed at during speeches, and he positioned himself as the class joker in order to fit in.
In a story fit for Hollywood, Willis' began to conquer his speech impediment once he discovered acting. He tested out acting at his school and his local YMCA and realized that he could control his stutter when he embodied a character on stage, according to The Hollywood Reporter. He finally sought professional help when a drama professor at Montclair State College, where Willis attended after high school, encouraged him to see a speech therapist. According to Sandy Asirvatham's "Bruce Willis: Overcoming Adversity," Willis has been reluctant to discuss his speech impediment with the media, because his experiences were too painful to recall (via The Stuttering foundation).
He's dealt with alcohol abuse
In 1986, Willis was a spokesperson for Seagram's wine coolers, according to Esquire. At the time, Willis was mainly known for his role on the show "Moonlighting," and Die Hard was months away from being released. He was paid a hefty $5-7 million for the role, according to Yahoo! News, and commercials featured him flaunting his singing talent. But it came to an end when he was arrested for a DUI. He was fired from Seagrams after it was discovered that he sought out treatment for alcohol abuse, according to the book "The Advertising Age: Encyclopedia of Advertising." However, according to Intervention Services, Inc, Willis left on his own terms in order to become completely sober and thereafter joined Alcoholics Anonymous.
During a 2013 interview with GQ, Willis revealed that he was comfortable drinking again once he realized he wasn't going to run himself "off the pier of life with alcohol," in his own words. Although not a wine cooler, he admits to having a glass of wine with meals.
This wasn't Willis' first brush with the law, however. On May 26, 1987, he was arrested at his home and charged with battery on a police officer. Neighbors called the police with a noise complaint as Willis was having a party at his home, according to The LA Times. The charges were dropped when he agreed to apologize to his neighbors.
His brother died from cancer
In 2001, Willis was rehearsing Sam Shepard's play "True West" in Idaho when he learned of his younger brother's pancreatic cancer diagnosis. He then took trips between Idaho and Robert Willis' home in Massachusetts. At the time, People Magazine reported that Willis took a break from acting in order to take care of his brother and purchased him a home. Prior to his death, Robert urged loved ones to not "grieve too hard," according to Willis (via The New York Times). Robert passed away only six weeks later, and the national telecast of "True West" was dedicated to his memory.
Willis didn't take his brother's warning to heart. According to the Irish Examiner, Willis used a medium a year later to contact his brother in the afterlife. Willis said that the medium began speaking in his brother's voice and cursing in his manner. The experience made Willis cry, and his views on the afterlife changed. "Tears rolled down my face and now I know the switch is not turned off, that there is life after death. I don't know how it works but I believe it," he said (via the Irish Examiner).
He had on set injuries
The "Die Hard" production set was a loud one, since it left Bruce Willis nearly deaf in one ear. In an interview with The Guardian, Willis revealed that an accident on the set of "Die Hard" left him partially deaf in his left ear. As he jokingly described it, he now has a "tendency to say, 'Whaa?'" when speaking to others. Rumer Willis, Willis' eldest daughter, elaborated on his father's condition, saying his hearing loss is due to a scene in "Die Hard" when "he shot a gun off next to his ear," Rumer said (per the Toronto Sun). She also said it affects his ability to cooperate in interviews. Willis had received criticism for appearing uninterested and awkward during interviews, per The Things. Prior to his diagnosis with aphasia, his demeanor was attributed to jet-lag and disinterest in the movies he promoted, but Rumer suggested he just couldn't hear the questions.
But Willis would experience worse on-set conditions while filming 2003's "Tears of the Sun." Willis was struck on the head during a pyrotechnics explosion, which led him to sue the production studio and a special effects worker a year later, according to The Guardian. The lawsuit claimed that he suffered "extreme mental, physical, and emotional pain," required medical attention on set, and would require further treatment in the future.
He divorced Demi Moore
Bruce Willis and Demi Moore were once one of Hollywood's most prominent power couples. They met at a movie premiere in 1987, and Moore's date for the event, Emilio Estevez, grew jealous at the way Willis looked at her, according to Showbiz Cheatsheet. They tied the knot that same year in a wedding that was officiated by singer Little Richard, per People. It was the start of a romance that carried them for 20 years together and yielded three children, but it all ended in 2000, according to US Magazine.
Moore wrote in her 2019 autobiography "Inside Out" that their marriage became strained due to philosophical differences (via Showbiz Cheatsheet). Moore was a working mother with a successful career, and Willis longed for a more traditional dynamic, where he was the breadwinner and Moore would stay home with their children. Their views clashed when Moore was offered a role in a film that would've taken her away from home. Meanwhile, Willis had to be on site in Europe for his film "Hudson Hawk." Perhaps desiring more stability at home, he told her he no longer wanted to be married. However, she also credits his request for a divorce to a desire for more freedom.
Willis had a more simplistic answer for their split: "Things change." In an interview with Rolling Stone in 2000, Willis explained that their public-facing marriage was also difficult to maintain and "was under a huge magnifying glass all the time."
He hasn't won a major award for his movies
It may be surprising that a name like "Bruce Willis" hasn't harvested an Oscar, let alone a Golden Globe for one of his movies, but that's certainly the case for the actor. The most prominent awards he's received are two Primetime Emmys for his early career role in the show "Moonlighting" and for his guest star role on "Friends," according to his IMDb awards page. He's received a Golden Globe — and a nomination — but they were also mostly for "Moonlighting."
The state of his trophy case is surprising mostly because of his resume. He played a small but memorable role in "Pulp Fiction," which was nominated for the Academy Award for Best Picture and won the Palm D'Or at Cannes, according to its IMDb awards page. He earned his most famous role outside of action flicks in M. Night Shyamalan's "The Sixth Sense," which garnered six Oscar nominations (via IMDb). That's not to mention his appearances in the critically acclaimed movies "12 Monkeys" and "Moonrise Kingdom," according to IMDb.
In an interview with GQ, Willis said he never expected an Oscar and didn't pay much attention to the lack of recognition. Calling an Oscar nomination "whimsical," he said, "You don't get an Oscar for comedy, and you don't get it for shooting people."
His only story credit was widely panned
The 1991 box-office bomb "Hudson Hawk" was quite the departure from what made Bruce Willis a megastar. Willis had invested much of himself into the production — the film boasts his only writing credit, according to The Independent. In an interview, the film's screenwriter, Steven E. de Souza said that Willis "took over the whole movie" and started re-writing the script. It was also based on an idea that Willis kept for 12 years, according to The New York Times. In the media, Willis was portrayed as a large personality that made the production effort difficult. According to an anonymous crew member, Willis commanded the set, leading to disagreements between him and the director, Michael Lehmann.
The movie combined screwball comedy and action to form something that didn't jive well with a lot of viewers; it made only $17 million despite a $70 million budget. In one outrageous scene, Willis' character Hudson Hawk rides through Brooklyn Bridge on a hospital bed while yelling out the memorable line, "1-800-I'm-gonna-f***ing-die!" (via The Independent). Willis had a lot riding on the movie's success — namely, his reputation as an entertainer. He used the film to prove his comedy chops, which until then were largely limited to his hit TV show "Moonlighting." According to The Independent, the film's failure may have dampened Willis' ego and caused him to limit himself later to paint-by-the-numbers action flicks.
He starred in a series of flops
It's widely considered that "Hudson Hawk" was the start of Bruce Willis' career nosedive. Most of his latest films have been direct-to-video productions in which Willis appears in — what are essentially — glorified cameos so that his name can be used in press releases and on the film poster, according to Yahoo News. It's called the "geezer teaser" genre — a marketing ploy by obscure movie productions that hire film stars past their prime but whose names still hold lucrative weight, and Willis has been the frontman during the 2010s. Stars used in this formula are compensated considerably but are never used substantially in those films, according to Vanity Fair.
In those movies, Willis' scenes are placed at the beginning so that audiences are duped into thinking he's a primary character, only to discover that he was hardly invested. Willis only has seven minutes of screen time in "Hard Kill" (2020), nine minutes in "Extraction" (2015), and 10 minutes in "Survive the Night" (2020). Following a trend Steven Seagal once trailblazed, Willis' last several movies have been deliberately awful, but they've earned him a huge payday, since producers use his name and image to make a buck in international markets, according to Vanity Fair. Willis was usually paid $2 million for two days of work, according to The LA Times.
He was at odds with a previous co-star
Bruce Willis first came on the scene when he played David Addison in the popular 1980s TV series "Moonlighting." Opposite him was Cybill Shepherd, who played his love interest Maddie Hayes. Their on-screen sexual tension had fans rooting for them to get together, making them an early purveyor of the popular "will-they-won't-they" romance trope, according to Nine Network. But their offscreen chemistry was a different story, and according to co-star Curtis Armstrong, the two actors couldn't stand each other. Body doubles were used so they wouldn't have to be near each other, and they couldn't bear to make eye contact.
Shepherd's pregnancy made tensions worse, since the schedule was shifted to accommodate her, and Willis was forced to work longer hours. When the pair had to film a scene that featured an argument between their characters, it devolved into an actual argument.
The cause of their feud remains a mystery. Armstrong said in his book "Revenge of the Nerd" that Willis once divulged a mistake in his early relationship with Shepherd, which Armstrong interpreted as a sexual liaison. Additionally, Willis' fame ballooned four seasons into the series with the release of "Die Hard," which may have hampered his relationship with Shepherd. Shepherd would later joke about their strained relationship in Willis' comedy central roast, noting that the two hadn't spoken to each other in 30 years, per Nine Network.
His Broadway debut bombed
In 2015, Bruce Willis made his debut on Broadway. He already had stage experience during the early years of his career and a few productions throughout — including "True West" — but this marked his first time on the Great White Way, according to the BBC. Unfortunately for Willis, the reviews were dismal.
He played the lead role of author Paul Sheldon in the stage adaptation of Stephen King's "Misery." The play was meant to be a thriller, as Sheldon is held captive by a rabid fan and must rewrite his book in order to save his own life, according to Playbill. But to critics, Willis lacked the intensity and energy required for a character writing against time. Entertainment Weekly wrote that Willis played the role "with a flatness and passivity that feels too inert"; the Hollywood Reporter described him as "disengaged"; and The New York Times labeled him "vacant." He was also criticized for using an earpiece to feed him lines when the play was in previews, per The Guardian. This came shortly after he was reportedly fired from Woody Allen's "Cafe Society" because he couldn't memorize his lines, according to Cinemablend.
His daughter also dealt with alcohol abuse
Bruce Willis' daughter has had her own issues with alcohol, which is difficult for any parent to witness. In a 2021 Instagram live interview with American Addiction Centers, actress Rumer Willis said she used alcohol "as a tool" to become what she thought was the best version of herself (via Yahoo! News). She challenged herself to use "Sober January" as a time to stave off her drinking habit, which led to a five-year sobriety period. Also known as "Dry January," this public health campaign was formed in 2013 by the U.K. nonprofit Alcohol for Change to encourage people to abstain from alcohol for a month, according to OprahDaily.
Rumer doesn't blame her upbringing or her parents' fame for her struggles, but both Bruce and Demi Moore have had issues with sobriety. In her book "Inside Out," Moore wrote about an incident in which she had a seizure after using nitrous and synthetic cannabis at a party, frightening Rumer, per Today. Rumer and her sisters cut off communication with their mother for three years after the incident. Watching her mother relapse into drug abuse was harrowing for Rumer, partly because it reminded her of her own issues.
If you or anyone you know is struggling with addiction issues, help is available. Visit the Substance Abuse and Mental Health Services Administration website or contact SAMHSA's National Helpline at 1-800-662-HELP (4357).
He was diagnosed with aphasia
After a diagnosis with the disorder aphasia, Bruce Willis' family announced his retirement, ending a 42-year career. His family released a statement on Instagram, stating that the communication disorder was "impacting his cognitive abilities," per Variety. Aphasia generally affects how people speak and understand language, but the severity of it varies. Damage to the temporal lobe in the brain affects the ability to understand speech; additional damage to the frontal lobe affects the ability to speak. It's unclear to what extent Willis is affected, but as expert Swathi Kiran writes in The Independent, most people affected by aphasia have trouble recalling words.
This was evident to those near Willis during the final years of his career. According to The Los Angeles Times, nearly 20 people on set with Willis suspected his mental decline. He had trouble memorizing his lines and was dependent on an earpiece. He allegedly misfired a gun loaded with blanks on the set of "Hard Kill." His agents at the Creative Artists Agency made sure his shooting times on films were restricted to two days, and the actor often limited his time to four hours. On one occasion, Willis questioned crew members why he was on set, visibly confused.
Willis' development is particularly tragic considering his early struggles with stuttering. He worked hard to overcome that impediment and now is faced with another one. But as Kiran notes, aphasia can be treated through speech rehabilitation therapy.