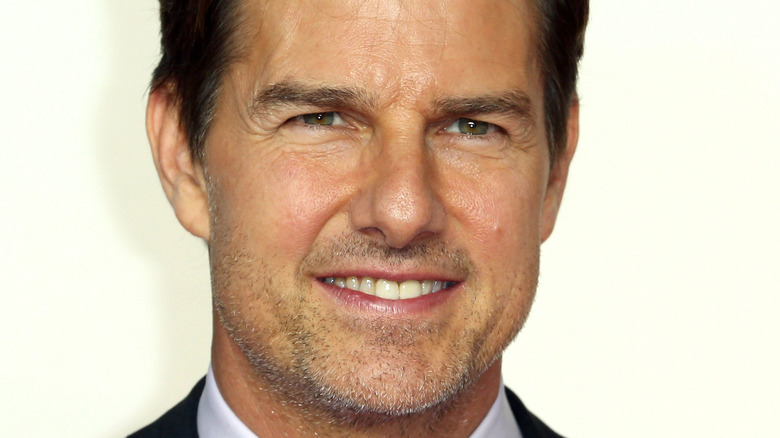 Fame and fortune bring with them many perks: freedom from want, tickets to anywhere in the world, the adoration of millions, and immense power in one's chosen field. Tom Cruise has enjoyed his fair share of them all. Described by France24 as the last survivor of the age of the movie star, Cruise has retained his status as an internationally beloved actor for decades, and per the Hollywood Reporter, that has translated into a great deal of authority over the movies he stars in. Couple that kind of success with genuine acting talent and endearing good looks even as he enters his 60s, and it's easy to think that Cruise hasn't a care in the world.
But fame and fortune aren't a cure-all. They can't blot out humble beginnings or past tragedies. They aren't a safeguard against heartbreak and loss. In the publicity-mad world of Hollywood, particularly in the age of the internet, fame and fortune can buy some privacy and security, but not enough to blot out controversy. For all that a four-decade career as an actor has brought him, a closer look reveals that Cruise hasn't always lived such a charmed existence.
He grew up poor, nomadic, and abused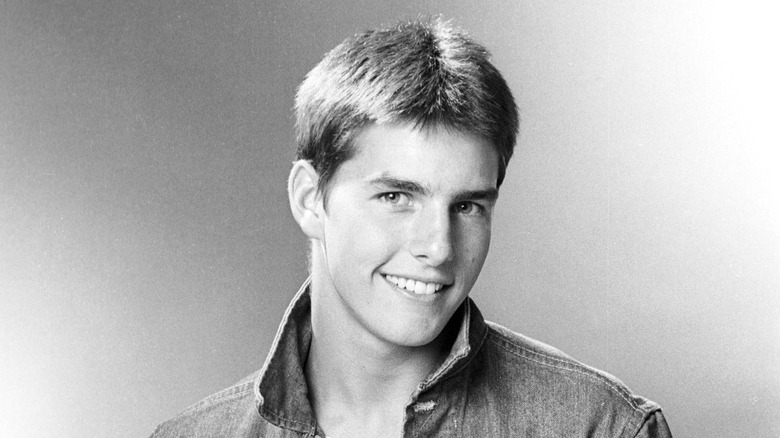 During perhaps the most controversial period of his career, in the early 2000s, Tom Cruise gave a lengthy interview to Parade about his upbringing. He was born on July 3, 1962, in Syracuse, New York, with the birth name of Thomas Cruise Mapother IV. His father held the same name, one generation back, and his mother was Mary Lee. With three sisters to care for along with their son, the Mapothers struggled to make ends meet. Mapother III had no luck keeping down a job as an electrical engineer, and the family was often on the move as he sought work. Mary Lee became the primary breadwinner, working up to three jobs at a time to keep the family going.
But if Mapother III didn't provide, he exercised control over his family in other ways. In "Tom Cruise: An Unauthorized Biography," Andrew Morton suggests that the father's handling of his son crossed the line from tough love into physical abuse more than once. And apart from any life lessons, the actor recalled that when life didn't go his father's way, he took it out on those around him. "[My father] was the kind of person where, if something goes wrong, they kick you," he told Parade. "He was a bully and a coward."
If you or someone you know may be the victim of child abuse, please contact the Childhelp National Child Abuse Hotline at 1-800-4-A-Child (1-800-422-4453) or contact their live chat services.
He was bullied for his dyslexia
Bullies can latch onto anything to use as an attack, and the young Tom Cruise gave them plenty of ammunition, according to his 2006 Parade interview. He was often the new kid; being part of a family that was always moving, Cruise claimed he went to 15 schools in 12 years (Andrew Morton gives the number as five in "Tom Cruise: An Unauthorized Biography"). Coming from a poor family, he wore the "wrong" clothes. He was on the short side even then – a fact that didn't deter Cruise from fighting back against the bullies who came for him. "I never liked hitting someone, but I know if I don't hit that guy hard he's going to pick on me all year," he recalled.
One of the biggest targets on Cruise's back was his struggles in the classroom. From an early age, he found it impossible to read and ended up in remedial classes, attracting more attention from bullies. He was 7 years old by the time a school-referred psychiatrist diagnosed him with dyslexia. Having a name for the problem didn't immediately solve it, however. Cruise found the experience of being "labeled" upsetting, and he later traced his rejection of psychiatry as a science to this early diagnosis.
He's had to work since he was 8
Lots of kids pick up odd jobs around the neighborhood. Maybe they take them on for a lark, or maybe they aim to pick up a little spending money for candy, games, or outings. For a young Tom Cruise, odd jobs were how he paid for movie tickets, which were a passion of his from age 4 on, according to People (via CNBC). In the days before home video, YouTube, and streaming, the only way to take in the movies was at the theater, so a portion of Cruise's income from mowing lawns, delivering papers, and other bits of work went to the box office.
Circumstances wouldn't allow him to sink all his earnings into movie tickets, however. Money was so tight for Cruise's household that, on one occasion, they forwent Christmas presents and gave each other poems instead. Cruise's mother attempted to keep up with multiple jobs, but any contribution her children could make was welcome and often needed. So a portion of Cruise's income from his neighborhood tasks went toward the necessities of life.
His dreams of priesthood were undone by vice
These days, Tom Cruise can hardly be mentioned without some reference to the Church of Scientology, of which he is so prominently – and so controversially – a part. But Cruise grew up in a traditional Catholic household, and well into his college years, Catholicism is where he sought spirituality. For a time, according to Andrew Morton's "Tom Cruise: An Unauthorized Biography," Cruise entertained the idea of becoming a Franciscan priest. To that end, he enrolled in the St. Francis Seminary of Cincinnati, though the appeal wasn't entirely a matter of faith. "We didn't have the money back then, and I went for the education for a year, and it was free," Cruise later explained.
The experience of seminary was apparently a happy one for Cruise. Sports, hobby shops, and even the discipline of boarding school life appealed to him. Maintaining that discipline proved a challenge, however, when there was no shortage of local girls. Cruise, even then, possessed the gift of charm. He would later say that women were too appealing to sacrifice even to the Franciscan order, and he and the seminary have claimed that he left voluntarily.
But a friend from St. Francis, Shane Dempler, insisted to the Cincinnati Seminal that Cruise's priestly ambitions were genuine. The real end to that dream, said Dempler, came when he and Cruise were caught robbing the Franciscans of their booze.
His father's unhappy end
The abuse that Thomas Cruise Mapother III inflicted on his family came to a head in 1974. This, writes Andrew Morton in "Tom Cruise: An Unauthorized Biography," is when Mapother's verbal attacks, secret drinking, and instability became too much for his wife Mary Lee. In a momentous decision for a devout Catholic woman of her generation, she took the children, left Mapother, and filed for divorce. It was a significant financial gamble as well as a personal upheaval; Mapother was not prepared to provide child support.
Tom Cruise, 12 at the time, did not mourn his father's absence from home. When Mapother followed his family to Kentucky and attempted to reach out to his son, Cruise firmly rejected him. Morton writes that, when Mapother remarried, Cruise put in a dutiful appearance at the ceremony. Once it was over, he abstained from all contact with his father, his new stepmother, and his stepsiblings.
Some effort at reconciliation was made in the 1980s, after Cruise's acting career had begun. By then, Mapother was gravely ill, wasting away from cancer in his late 40s. He imposed a condition on the reunion: no questions about the past. Cruise accepted his father's terms and met with him in the hospital. Later, he could only describe the final encounter as "sad."
His first marriage was brief but consequential
Tom Cruise hasn't hesitated to defend Scientology, as in an infamous "60 Minutes Australia" interview. He credits it with helping him overcome his learning disabilities. But as more details of the organization's unsavory practices have emerged over the years, Cruise's membership in Scientology and the role it plays in his life have been fodder for rumor, tabloid gossip, and investigative books and documentaries.
According to The Hollywood Reporter, Cruise joined Scientology during his first marriage, to Mimi Rogers. While he maintains that he didn't join because of Rogers, she did bring him into a family with longstanding ties. Rogers' parents had connections to L. Ron Hubbard himself. As a means to grow his following (per Andrew Morton in "Tom Cruise") Hubbard developed "Project Celebrity," a targeted recruitment of the famous, once-famous, or soon-to-be-famous. Cruise's star was on the rise when he and Rogers got together in the 1980s, and church head David Miscavige saw the acquisition of such a hot up-and-comer as a coup at a precarious time in Scientology's history (per Morton).
According to Lawrence Wright's "Going Clear: Scientology, Hollywood, and the Prison of Belief," Rogers became a hindrance to Scientology's ambitions for Cruise. While she helped to bring him in, her family was no longer in good standing with the church – not the sort of people to help its profile. The marriage was already troubled, but church "mediators" helped to push Cruise and Rogers apart in 1990.
He almost left the Church Of Scientology
From its very beginning, Scientology has attracted chilling accusations. Ex-member Leah Remini's A&E series "Scientology and the Aftermath" was an often damning insight into many of the charges, including fraud, extortion, obstruction of justice, intimidation of critics, and brainwashing. Remini described Tom Cruise as brainwashed when promoting her series through Variety, though she also stated to The Daily Beast that Cruise is well aware of the truth of the organization.
Cruise has never claimed to be brainwashed and never acknowledged any uncouth practices by his religion. He hasn't spoken of any issues he has with the church either. But according to The Daily Beast, after his first marriage to Mimi Rogers ended and he became romantically involved with Nicole Kidman in the 1990s, Cruise's attachment to Scientology wavered. In part, this was due to his infatuation with Kidman; the attraction had already led him away from his first marriage. Kidman became a Scientologist for Cruise, but when she reached her limit with the church and its leader, David Miscavige, Cruise appeared to follow her lead.
Another factor keeping Cruise away from Scientology was Stanley Kubrick – or rather, the filming of Kubrick's "Eyes Wide Shut" in England. The record-breaking 46-week shoot meant that Cruise and Kidman were out of easy reach of Miscavige, and away from the household staff who spied on them on his behalf. But Miscavige, who coveted Cruise as a tempting lure for recruits, was unwilling to let him go.
Scientology brought down his second marriage
Tom Cruise was deeply in love with Nicole Kidman when they first met and worked together (per The Daily Beast) and the Church of Scientology was there to fan the flames. Journalist Tony Ortega is quoted by the Beast as saying that the organization's leaders felt their romance would be a passing fancy, a way to separate Cruise from his then-wife Mimi Rogers and her family of disreputable church members. Cruise becoming so committed to Kidman that he eventually married her was unexpected – and unwelcome.
Like Cruise, Kidman came from a Catholic background and once entertained a lifetime of service within a Catholic order. But Kidman's father was also a prominent psychologist, a profession that is among the great evils inflicting humanity according to Scientology's teachings. Even worse was her stepping into Scientology, leaving, and taking Cruise with her. Sources have claimed that church head David Miscavige personally ordered an operation to sink Cruise and Kidman's marriage and get the star back in the church.
The lengths Scientology went to break up the couple included sending private investigators after Kidman, tapping her phones (allegedly on Cruise's wish), and subjecting Cruise himself to relentless "auditing." This practice, a thorough drilling of a subject on intimate details about their lives, is among Scientology's most powerful tools for retaining control over its members according to HuffPost. The church's efforts came together just as they had in Cruise's relationship with Rogers; he filed for divorce in 2001.
He and Nicole Kidman lost a child
After filing for divorce from Nicole Kidman, Tom Cruise insisted to Vanity Fair (via E! News), "She knows why, and I know why." But according to Andrew Morton's "Tom Cruise: An Unauthorized Biography," Cruise's request – delivered by a third party – was a shocking turn for his wife. She tried to enter marriage counseling, as offered by the Church of Scientology according to Lawrence Wright's "Going Clear," but Cruise was not receptive. Complicating matters for Kidman was her learning that she was pregnant with the child of the man so coldly leaving her.
Early on in their marriage, according to Kidman in a Marie Claire interview, she and Cruise were expecting. But it was an ectopic pregnancy, a condition where the fertilized egg attaches outside the uterus. It was a devastating experience for Kidman, and per Morton, doctors suggested that the couple should avoid trying for another baby. Years later, at the end of her relationship with Cruise, Kidman miscarried. Cruise, writes Morton, "sent flowers but did not visit her at the hospital."
Anger and trauma have disrupted his relationships
Divorce and childhood trauma can breed deep unhappiness in people, affecting their ability to emote and connect. Eileen Berlin, Tom Cruise's first personal manager from 1980 to 1983, suspects that to be true of her former client. In an interview with the Daily Mail in 2012, she remembered the Cruise she first met as an explosive young man. Though he could be, in her words, "sweet, respectful, and mannerly to a fault," Cruise was also prone to flying off the handle. As innocuous a gift as a photo album with clippings from fan magazines could set him off.
Cruise's anger didn't always come out fast and hot. Sometimes he made constructive use of it, as in his early role in "Taps." At other times, it manifested as a wall of resistance. "He was so private," said Berlin. "He couldn't show his true feelings. You would get so far and he would close down." For Berlin, who put Cruise up in her apartment for several months in 1980, the most obvious source of this reserve and her client's mood swings was lingering resentment toward his father. It was the same issue, says Berlin, that opened Cruise up to the overtures of Scientology.
His estrangement from his youngest daughter
During their 10-year marriage, Tom Cruise and Nicole Kidman adopted two children, according to The Daily Beast: Isabella and Connor. After Cruise's divorce from her, Kidman was marked by the Church of Scientology as a "Suppressive Person," those the church regards as antisocial personalities standing in the way of members' spiritual development. Such persons are to be avoided, or "disconnected" from. Not only did Cruise disconnect from his former wife, but his children (who have since been raised as Scientologists) were subjected to "reeducation" to see their mother in that light. For her part, Kidman told the Sun in 2019 that she and her children with Cruise were re-connecting.
Years later, after Cruise's brief and well-publicized marriage to Katie Holmes ended in a filing for divorce by Holmes that caught her husband off-guard, the shoe was on the other foot. In another article for The Daily Beast, Amy Zimmerman reports it was fear of Scientology's potential influence over their daughter, Suri, that helped motivate Holmes to leave Cruise. It was a fact he was reluctant to say aloud during legal proceedings, but he eventually had to concede the point. And despite his claims to the contrary, entertainment reporters suggest that Cruise has often been absent from Suri's life since the divorce.