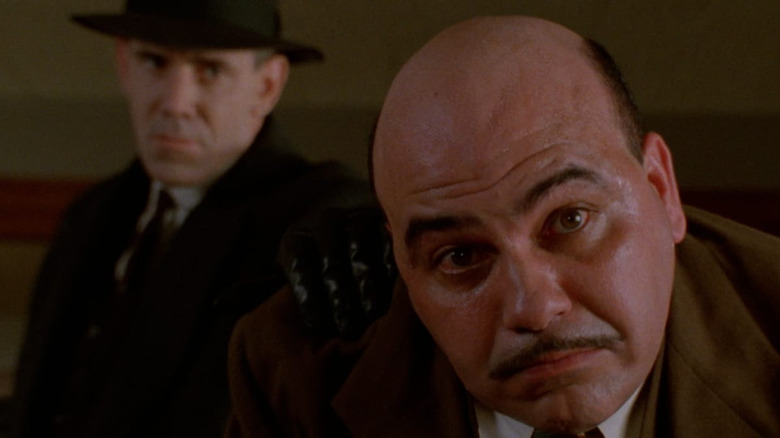 Hollywood has long had a fascination with crime, the subject of some of the best movies in cinema history. They've thrilled us for decades, whether it's film noir flicks of the '40s and '50s, the brilliance of organized crime dramas like "The Godfather" in the '70s, or the stylish pizazz of "Pulp Fiction" and its countless imitators in the '90s.
Gangsters, crooks, and mafiosos have been a draw for audiences going back nearly a hundred years. There's a certain fascination with the complicated characters that make crime their chosen way of life. Audiences love them and fear them at the same time, perhaps due to the danger and thrill of living life on the edges of society. But beyond the heralded greats there are so many more gangster movies that deserve a spotlight.
Perhaps they were overshadowed by bigger pictures at the time ("Miller's Crossing" hit theaters 3 days after "Goodfellas" — now, that's a bad release strategy!), or overlooked because they didn't have major stars. Some were movies that the critics were wrong about, or maybe they were just forgotten over the years. Whatever the case may be, we've put together a list of 30 underrated gangster flicks for you to check out. Rather than watching "Scarface" again, queue up one of the movies on this list; you won't be disappointed.
1. Kill The Irishman (2011)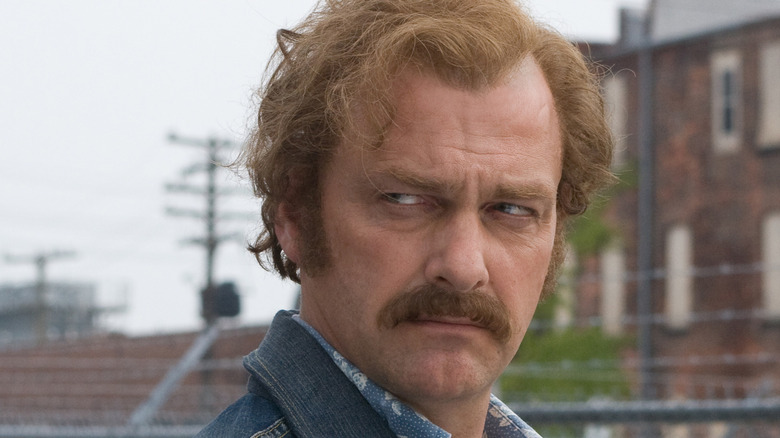 An unfortunate box office bomb that came and went in theaters with little fanfare, "Kill The Irishman" was an indie gangster bio-pic directed by Jonathan Hensleigh ("The Punisher") that starred a former Frank Castle and a future Kingpin.
Ray Stevenson ("Punisher: War Zone") and Vincent D'Onofrio ("Daredevil") were joined by Christopher Walken, Val Kilmer, Linda Cardellini, Vinnie Jones, and Paul Sorvino, among other heavy hitters. It recounted the career of American mafia man Danny Greene, the Irish-American mobster who was the target of multiple mobs during the bloody gang wars of the 1970s that saw a series of deadly bombings rock Cleveland.
The film begins with young longshoreman Greene becoming involved with the mafia when he helps a friend repay a debt to a local mob boss. But eventually he becomes part of the outfit himself, working his way up through its ranks. But when he begins to harbor his own dreams of power, and strikes out on his own, Greene makes enemies of his former mafia allies. Eventually recruited as an FBI informant, he uses his insider status to stay one step ahead of the competition.
A simple story of Greene's stunning rise and devastating fall, it's the movie's cast that elevates it, turning the film from an average crime drama into an underrated gem.
2. Cop Land (1997)
Just the second film from director James Mangold ("Logan"), this neo-noir crime drama was a dramatic turn for Sylvester Stallone, who in the 1990s was mostly spending his time on over-the-top action comedies ("Oscar," "Stop! Or My Mom Will Shoot") and underperforming would-be blockbusters ("Assassins," "The Specialist"). This time around, the "Rocky" star played New Jersey sheriff Freddy Heflin, clashing with internal affairs agent Moe Tilden (Robert DeNiro), who believes that NYPD officers living in his region may have ties to the mob.
Heflin, an upstanding NJ officer who had once aspired to the glamorous NYPD, butts heads with the Big Apple beatmen. But when the nephew of NYPD officer Donlan is involved in a fatal shooting and seeks refuge in New Jersey, he takes up the investigation, and gets far more than he bargained for. Discovering the NY counterparts he once idolized are part of a corrupt cover-up, he'll have to ally himself with Tilden to get to the truth.
Though it received strong reviews, and a fair amount of press for its all-star cast — Ray Liotta, Harvey Keitel, Annabella Sciorra, Robert Patrick, and Michael Rapaport included — "Cop Land" has been largely swept under the rug in the years since. Mostly remembered today for Stallone's gritty performance, it deserves to be ranked among the best crime dramas of its time.
3. The Highwaymen (2019)
A Netflix original, this charming little film directed by John Lee Hancock ("The Founder") took the story of Bonnie and Clyde — two of American history's most notorious outlaws — and told the story from the opposing angle. Rather than focusing on the daring bank robbers themselves — which had already been done so perfectly in the Warren Beatty/Faye Dunaway classic "Bonnie and Clyde" — "The Highwaymen" told the true story of real-life Texas Rangers Frank Hamer and Maney Gault, a pair of agents who doggedly pursued the lawless lovers across the country to stop their robbing rampage.
In the film, Bonnie and Clyde have already escaped justice for some time, and Hamer is lured out of retirement to start a fresh manhunt after the killer couple are involved in a deadly shootout in Missouri. Enlisting the aid of his former partner Gault, it's up to the aging officers to find Bonnie and Clyde before they can strike again. Starring screen icons Woody Harrelson ("Solo: A Star Wars Story") and Kevin Costner (who had so brilliantly played famed prohibition Elliot Ness in "The Untouchables"), "The Highwaymen" is a tight and suspenseful chase movie, a criminally under-appreciated gangster film that was hardly seen but well-reviewed by those who did.
4. King Of New York (1990)
A complex mafia story filled with back-stabbing and double crossing, the Abel Ferrara masterpiece "King of New York" was swallowed up by bigger gangster films that year like "The Godfather, Part III." But this Christopher Walken vehicle is not to be overlooked, with another great cast that includes Laurence Fishburne, David Caruso, Wesley Snipes, and Giancarlo Esposito. The film centers on mafia don Frank White (Walken), just released from a lengthy stretch in prison and determined to use his power and means to help the poor, specifically by funding a hospital for the under-privileged.
After returning to the streets of New York, White begins recruiting new people to his side, including the men who work for a rival boss. But the former kingpin finds the world of organized crime much more complicated now than it was before he went away, and not nearly as noble. A long-forgotten classic, it is Walken who makes the film such a triumph, with his slimy, sinister, dancing performance towering over the film. Though it might not be an Oscar-winner, it's worthy of recognition; although it can't quite measure up to the likes of "Goodfellas" (released the same year), it comes closer than you'd expect.
5. The Brotherhood (1968)
Believed to be the move that made Paramount so reluctant to greenlight "The Godfather" some years later, "The Brotherhood" may have been a flop at the box office, but it was by no means a failure as a film. Starring Hollywood legend Kirk Douglas, it tells the tale of a legendary mafia boss named Frank Ginetta, whose younger brother Vince (played by Alex Cord, of "Airwolf" fame) has just returned home from service in the Vietnam war. But a rift develops between the brothers when Vince marries Emma, the daughter of Frank's chief rival, the mafia don Dominick — who Frank believes was at least partly responsible for the death of their father.
With Vince now a part of the family that his brother has hated for so long, he's torn between his loyalty to his brother — slowly rising through the ranks of his greatest enemy's organization — and loyalty to his father's memory. A fresh take on the gangster genre, it may have been just a little too far ahead of its time, with a gritty realism that gangster films of the day were not yet known for four years before Coppola's masterpiece. But top-notch performances and a strong script make it a winner.
6. A Better Tomorrow (1986)
Actor Chow Yun-Fat might be best known to American audiences for "Crouching Tiger Hidden Dragon" or even "The Pirates Of The Caribbean: At World's End," but in China he's a legend of cinema. Known for neo-noir crime dramas like "Hard Boiled" and the John Woo-directed thriller "The Killer," his best might be the Hong Kong gangster flick "A Better Tomorrow." A landmark film in China, it's been under-appreciated outside of Asia, but deserves to be recognized as one of the best of the genre.
In the film Yun-Fat plays Sung Tse-ho, an agent of the notorious criminal syndicate in China called the Triad. Tse-Ho oversees a counterfeiting operation that churns out fake American bank notes, but a botched deal lands him in prison for three years. When he gets out, he learns his father has been murdered by his old outfit, and he's determined to turn over a new leaf. But despite efforts to reform and make amends with his estranged younger brother, Tse-Ho finds it impossible to escape his former life.
A tense action thriller, "A Better Tomorrow" won Best Picture at the Hong Kong Film Awards, and turned Chow Yun-Fat — who took home Best Actor — into an international star.
7. Pusher (1996)
With director Nicholas Winding Refn ("Drive") behind the camera and Mads Mikkelson ("Fantastic Beasts") in front of it, it's surprising that "Pusher" has been so long overlooked as one of the best international crime dramas of the 1990s. But the Danish film was Refn and Mikkelson's breakout, a foreign gangster flick centered on Frank (Kim Bodnia), a drug dealer in Copenhagen who sells cocaine on the streets alongside his partner Tonny (Mikkelson). But when a major drug deal turns sour and the pair are arrested, they quickly turn on one another as their supplier Milo demands an even bigger return.
With no partner, and in need of cash to cover his debts, Frank criss-crosses the city trying to find a score. With less than a week to pay back what he owes, his efforts grow increasingly desperate and frazzled, as each new scheme seems to backfire. When the situation deteriorates past the point of no return, Frank is forced to take more drastic measures, striking back at Milo and turning his debt into an all-out blood-feud.
A brilliant low-fi thriller, "Pusher" earned two sequels, both with Mikkelson taking the lead role. Though many believe "Pusher II" to be the best of the trilogy thanks to the emerging star's performance, the first is perhaps the most underrated, and was the subject of a UK remake starring Richard Coyle in 2012.
8. Layer Cake (2004)
Recognized these days as the film to catapult both director Matthew Vaughn and star Daniel Craig to prominence, the crime comedy "Layer Cake" deserves to be remembered as much more. With a UK cast that included Colm Meaney ("Star Trek: Deep Space Nine"), Tom Hardy ("Inception"), Michael Gambon ("Harry Potter"), and Sienna Miller ("American Sniper"), it told the story of a straight-laced, principled London dug dealer who wants to put his criminal life behind him. Before he can, though, mob boss Jimmy has him finish two final jobs.
Gathering his crew, Craig's unnamed character must kidnap the daughter of Jimmy's biggest rival Eddie Temple (Gambon) and orchestrate a deal to buy a huge stash of drugs from a dealer returning from Amsterdam. But when they discover the drugs were stolen from a Serbian gang, they soon discover they've become targets of a ruthless hitman. A fast-paced, thrilling caper, "Layer Cake" deftly weaves a complex gangster story with charm and class, with plenty of deliriously entertaining action to boot. It cemented Craig as a star, and would put him on the radar of producers looking to pump fresh blood into the James Bond franchise.
9. Blood In, Blood Out (1993)
An exploration of the Latino gangs of East Los Angeles in the early 1990s, "Blood In, Blood Out" is a unique gangster film starring a young Benjamin Bratt, as well as an ensemble cast of lesser known actors that adds up to an unsung great. Described by some as a mix of "The Godfather" and "Boyz 'N the Hood," the film focuses on two young hispanic brothers, Paco (Bratt) and Cruz, and Miklo, who are members of the Vatos Locos gang. Their cousin Miklo, thrown out by his abusive father, comes to stay with them in Los Angeles and soon joins them after an attack on the gang's chief rivals, the Tres Puntos.
But the three kids are then separated, with Paco enlisting in the military and later joining the LAPD, while Miklo is imprisoned for murder, and Cruz descends into drugs. The film then follows each of them through their own personal journeys as Miklo rises up to become a prominent member of San Quentin's La Onda gang, and when released, finds himself on the wrong side of his cousin Paco in the middle of a violent racial turf war.
Though not a flawless film — the performances from its mostly unknown cast wobble between brilliant and questionable — it's a devastating look at race and gang violence in Los Angeles of the '80s and '90s as it tore apart a single family. A bit overlong at three hours, it takes a commitment in both time and emotion, but is well worth the investment.
10. Dead Presidents (1995)
Stylish, cool and suspenseful, this criminally-underrated action crime drama from the Hughes brothers ("Menace II Society") starred Keith David ("Gargoyles"), Bokeem Woodbine ("Spider-Man: Homecoming"), Larenz Tate ("Crash"), and Chris Tucker ("Rush Hour") before they became household names. It is focused on Curtis (Tate), who enlists in the Marines and serves in Vietnam in the late 1960s. Like many who served in the conflict, Curtis returns home umoored and adrift, and back in New York city discovers that a normal life is outside his grasp.
Struggling to hold a job and support his family, while his former friends and fellow vets find trouble of their own, Curtis recruits his old mentor Kirby and a group of friends and together they plan to stage a daring, elaborate heist of a cash-filled armored car. A nail-biting drama with heart and soul, not to mention an exhilarating heist scene, "Dead Presidents" stands as a slickly-produced, different sort of gangster film (and social commentary on how society fails both veterans and the Black community), exploring the darkest reasons why some men turn to crime.
11. Boss Of Bosses (2001)
A veteran of gangster films like "A Bronx Tale," "Bullets Over Broadway," and "The Usual Suspects," noted character actor Chazz Palminteri starred in the TNT made-for-television movie "Boss of Bosses" and made an underrated classic.
Chronicling the ascension of New York crime boss Paul Castellano — who would eventually take over the Gambino crime family following the death of Carlo Gambino — the film begins with Paul growing up in Brooklyn, where his cousin Sam Gambino guided him into a life of crime.
Eventually, Paul would begin moving what was once an illicit, violent way of doing business into a legitimate profession, with a focus on white collar affairs. This perfectly suited Sam, who saw Paul's new focus on business as the future of the family. With his health declining, he controversially appointed Paul as his eventual successor, upsetting underboss Aniello Dellocroce, who had expected the appointment himself. This led to a split among the family, making Paul a target.
Undoubtedly influenced by "The Sopranos," which by 2001 had become a phenomenon, "Boss Of Bosses" focused on Castellano the man, rather than the larger-than-life mafia kingpin typically at the center of these kinds of movies. If you can track down a copy, it's more than worth the brisk 90 minute runtime.
12. New Jack City (1991)
Set in the mid 1980s, "New Jack City" puts the spotlight on a young criminal in the making named Nino Brown (Wesley Snipes), who eventually works his way up to become the most vicious drug boss in New York City. As a young man, Brown dreams of being the sort of kingpin he's seen on the silver screen in movies like "Scarface" and "The Godfather," and wants to get off the streets and live the high life. Leader of a small-time army of thugs called the Cash Money Brothers, Brown slowly rises through the ranks and eventually becomes top dog in the city's drug trade.
But heavy is the head that wears the crown, and once Nino is in charge of his own major metropolitan gang, he draws the attention of the NYPD's newest task force, led by intrepid Detective Stone (played by the film's director, Mario Van Peebles). Aided by Detective Appleton (Ice-T), an entire police operation is set up to take down the new boss Brown.
Though a critical success in its day, "New Jack City" seems to have faded from public recollection. But with Snipes giving one of his best performances of his career, it remains required viewing for gangster film aficionados.
13. Miller's Crossing (1990)
One of Joel and Ethan Cohen's greatest films (and that's really saying something), "Miller's Crossing" is also one of their least successful and less heralded.
Arguably the most visually evocative gangster movie ever made, this double-crossing Dashiell Hammett ("Red Harvest")-inspired flick keeps returning to Tom Reagan (Gabriel Byrne) impotently dreaming about his hat — and indeed, much of the film is dreamlike in its style, nightmarish in its compunction, and dreamy in its supremely twisty, endlessly quotable dialogue.
"Crossing" tells the story of Reagan, an Irish mafia man who works for mob boss Leo O'Bannon (Albert Finney). But Leo sparks a gang war when he refuses to grant his Italian rival (a delightfully fierce Jon Polito) the right to kill a slimy bookie (and his girlfriend's brother) named Bernie Bernbaum (John Turturro). Ousted from the outfit and now working with the Italians, Tom (a tough talker whose hidden weakness is that he lacks the conviction of a killer) is tasked with proving his fealty by killing Bernie himself, an uncomfortable ask because he is secretly also sleeping with Bernie's sister (Marcia Gay Harden). In a masterfully orchestrated, powerful sequence, Turturro begs for his life — like a dumb animal, out in the woods — while Byrne searches his heart.
That's only the beginning; from Finney's tommy gun scene to the raid on an Irish social club to tension between Tom and The Dane so thick that it feels like anyone's head could be ripped off in an instant, every scene in the film is riveting. An unmissable mafia movie, "Miller's Crossing," like many from the era, was unfortunately downplayed under the specter of bigger gangland contemporaries. Do yourself a favor and don't give it the hi-hat.
14. Lansky (2021)
Another film that came and went too quickly, this time going straight to streaming amid a rash of film release delays in the pandemic height of 2021, "Lansky" is a mafia biopic anchored by a great performance from Harvey Keitel as a real-life legendary gangster. The film recounts the life and criminal career of Meyer Lansky, also known as "The Mob's Accountant," casting Keitel alongside Sam Worthington ("Terminator Salvation"), Minka Kelly ("Friday Night Lights") and AnnaSophia Robb ("The Carrie Diaries").
Though the bulk of the film focuses on a younger Lansky (John Magaro) coming up through various mobs, it is Keitel's dazzling performance as the aging mobster in the film's bookends that make the film worth watching. Dismissed by critics for being a run-of-the-mill gangster movie, it's the charismatic older Lansky that glows on screen and turns a forgettable film into an underrated one. It's also notable for being the rare mob film that explores the religion of its central figure. While other films have glossed over Jewish mobsters of faith, "Lansky" shows how his heritage and upbringing through World War II shaped his life and worldview — and how such a man attempts to reconcile faith and ruthlessness.
15. Tokyo Drifter (1966)
From Seijun Suzuki, an acclaimed Japanese director who influenced Quentin Tarantino, comes the noir crime picture "Tokyo Drifter." The film introduces Tetsuya Hondo, a Yakuza enforcer, who leaves his life of crime behind when his mob boss retires. After he rejects an offer to join the rival gang, a bounty is placed on his head and suddenly Hondo finds himself on the run from multiple assassins. But his efforts to seek help from an ally of his former boss leads to a stunning revelation that sends him on a path of violent revenge.
A highly evocative film that oozes style and psychedelic charm, the film was well ahead of its time, with frenzied action and even some energetic musical numbers. Viewed today, it should come as no surprise that it proved influential to future filmmakers. A stunning cinematic achievement, it's another film lauded in its homeland, praised by critics and those in the know, but without much recognition stateside. Put up against American gangster movies of the 1960s, "Tokyo Drifter" stands head and shoulders above.
16. Eastern Promises (2007)
A landmark film starring Viggo Mortenson from director David Cronenberg (who had teamed with the actor two years before on "A History Of Violence"), "Eastern Promises" is a visceral gangster epic that explores the darkest and seediest side of the crooked business. The film opens with a young English nurse named Anna (Naomi Watts) who helps deliver the baby of a teenaged Russian prostitute, who dies during childbirth. Determined to find the girl's family, she unwittingly stumbles upon a wider conspiracy, and becomes caught up in the dirty world of the Russian mafia.
Discovering the girl's diary, she is led to Semyon (Armin Mueller-Stahl), the head of a Russian mob, whose enforcer Nikolai (Mortensen), is next in line over the boss's own son Kirill (Vincent Cassell). But the baby turns out to be more than just the daughter of one of their workers, and its identity threatens to destroy the entire organization. Emotionally and physically brutal in every imaginable sense, "Eastern Promises" is not for the faint of heart. Cronenberg's unmistakable style, impeccable performances from a brilliant cast, some genuine surprises, and one of the most vicious knife fights ever committed to screen make it an uncompromising gangster classic.
17. Harlem Nights (1989)
At the time of its release, the Eddie Murphy written and directed "Harlem Nights" was a spectacle of Black luminaries — and a box office failure that threatened the once-bulletproof-superstar's career. Take a look back now, however, and you'll find so much more.
Gangster movies need not all be dark, gritty thrillers, and "Nights" is proof. A film that often glossed over in retrospectives of Richard Pryor and Eddie Murphy, it was a team-up of two of the funniest men working in Hollywood at the time, and as successful a period crime caper as it was a comedy. Set in 1918, Pryor stars as Sugar Ray, who along with his adoptive son "Quick" Brown (Murphy) run the hippest joint in the city, Club Sugar Ray's, a Harlem night club that uses a candy shop as a front for illegal gambling.
But problems arise for them when local gangster Bugsy Calhoun (Michael Lerner) gets wind that Sugar Ray's club is pulling in more business than his own establishment, and becomes determined to shut them down. With the police in his pocket, Calhoun sends corrupt copper Cantone (Danny Aiello) to harass the duo. Sugar Ray and Quick vow to fight back, even though Calhoun has more men, more power, and more lawmen on the take.
Though no award-winner, "Harlem Nights" is a movie the critics got wrong, as the laughs are there and the comic wit of both its bright stars are on point. The period setting and old-school gangster vibe give it a fresh take for a buddy film, making it one of the most underrated '80s comedies as well.
18. The Drop (2014)
A gangster movie starring Tom Hardy ("The Dark Knight Rises"), James Gandolfini ("The Sopranos") and Noomi Rapace ("The Girl with the Dragon Tattoo"), "The Drop" was released in theaters in 2014 … so, how did everyone miss this one? Produced by indie studios TSG and Chernin Entertainment, it received an extremely limited release and is likely unknown to most audiences a decade later, unless you're a particularly devoted fan of its all-star cast members. It centers on Bob Saginowski (Hardy), who runs a Brooklyn bar with Marv Stipler (Gandolfini) that's owned by Chechen gangsters who use it as a drop point for their big back-alley deals.
But when Bob takes in a wounded dog, he meets a young neighbor named Nadia (Rapace), and the two fall in love while caring for the canine. But the arrival of her abusive ex (Matthias Schoenaerts), who also happens to be the dog's former owner — and a dangerous gangster — complicates matters. A big drop the night of the Super Bowl threatens to make things worse, when Deeds comes to collect on cash and canine, throwing his life and his friendships upside down and forcing him into a violent corner.
A dark character drama about loyalty, love, and redemption, it received critical acclaim but was hardly seen. It belongs on any list of underrated gangster movies, if only to fix that oversight.
19. Little Odessa (1994)
Character actor Tim Roth was fresh off 1992's breakout gangster flick "Reservoir Dogs" when he took the lead role in the crime drama "Little Odessa," the directorial debut from filmmaker James Gray (whose later work includes "The Lost City of Z"). Edward Furlong, Maximillian Schell, and Vanessa Redgrave co-starred in this film about mafia assassin Joshua Shapira (Roth) and the complicated relationship he has with the rest of his Russian family: younger brother Rueben (Furlong), and his elder Jewish parents Arkady and Irina (Schell and Redgrave).
Having long since left home and estranged from his father after he'd joined the Russian mob, Joshua has taken on a new assignment that takes him back to Brighton Beach, bringing him right to his family's doorstep. Back home in the community he'd left behind, he tries to reconnect with his brother and his ailing mother as well as a former girlfriend, and finds that his two lives are now impossibly intertwined, threatening to involve his family in his dirty line of work.
A sobering family drama told amidst the backdrop of gang violence, it got lost in a sea of similar films of the era — but it remains one of the best, even if it is so rarely recalled.
20. Bugsy (1991)
Nearly 25 years after he'd starred in "Bonnie and Clyde," and a year after playing the eponymous lawgiver "Dick Tracy," Warren Beatty became the incarnation of one of organized crime's most infamous names in the Oscar-nominated drama "Bugsy." The film dramatized the remarkable true story of the life and times of Ben "Bugsy" Siegel, who alongside Meyer Lansky and Lucky Luciano became one of the most influential gangsters in American history. The film recounts the New York mobster's obsession with gambling rackets, his move to California, and his romance of actress Virginia Hill (played here by Annette Bening, who would marry Beatty a year later).
Determined to build an oasis in the desert, a gambling paradise to make him and his mob friends untold riches, the movie chronicles Siegel's efforts in founding the Las Vegas strip as a haven for organized crime. A classic Hollywood throwback, it charmed audiences and critics alike, was nominated for ten Academy Awards, but was never a hit in cinemas and seems to have grown increasingly, surprisingly absent from "best of" lists by those who perhaps need to revisit this Barry Levinson masterpiece.
21. Sexy Beast (2000)
Academy Award-winner Ben Kingsley gave a tour de force performance in the gangland thriller "Sexy Beast"; it might be the closest an actor has ever come to being a "force of nature" caught on celluloid. The film centers on Dove (Ray Winstone), an aging former gangster who lives a peaceful retirement in a Spanish villa, having put his criminal past behind him. But at the behest of crime boss Teddy Bass (Ian McShane), one of Dove's former associates — the violent, sociopathic killer Don Logan (Kingsley) — arrives to recruit him for a daring heist back home. Obsessed with getting cooperation from Dove for one last job, Logan's behavior becomes increasingly deranged.
But while he agrees to help in the robbery, he exacts a penance that continues to haunt him. Led by Kingsley in one of the finest roles of his lengthy career, "Sexy Beast" is a film that must be seen to be believed, as no simple plot synopsis will do justice to the magic on the screen. A brutal, unrelenting film with raw violence and a savage dash of humor, it's such a unique movie that it draws few comparables. The fact that it isn't remembered among the best gangster movies of the era is frankly … criminal.
22. The Friends Of Eddie Coyle (1973)
Adapted from the 1970 novel of the same name, "The Friends of Eddie Coyle" starred Robert Mitchum, Peter Boyle, Richard Jordan, and Steven Keats.
Focused on the aging titular Irishman (Mitchum), a career gangster relegated to menial low-level tasks assisting bigger mobsters, Mitchum shines in this one-of-a-kind gritty film. As he looks to escape a charge of illegal bootlegging, Coyle makes a deal to give up info on a local gunrunner named Jackie Brown to the Boston ATF agent Dave Foley (no not that Dave Foley).
But even though the bust of Brown is a success, it's not enough for Foley, who wants Coyle as his full-time informant. That's too much for Coyle, who now faces both arrest by the feds and the fear of being dubbed a rat by his fellow gangsters. And when another mafia man is caught in Foley's web, the gang suspects Coyle, who now finds himself in the wrong column of his own gang's hit list.
An earnest film that looks at the life of a lesser gangster, "The Friends of Eddie Coyle" may be the best mob movie you've never seen.
23. Hoodlum (1997)
Directed by veteran supporting actor Bill Duke (who, perhaps surprisingly, does not appear in front of the camera) comes "Hoodlum," starring Laurence Fishburne as real-life Harlem crime boss Ellsworth "Bumpy" Johnson. It's a role Fishburne played once before, in the 1984 Francis Ford Coppola film "The Cotton Club," where he played a younger Johnson in a supporting role. Here, the story shifts to Johnson himself, a ruthless drug dealer in New York in the 1930s, and begins with his return to Harlem after a stretch in prison. He reconnects with Madame Queen (Cicely Tyson) who runs an illegal betting operation in the city being threatened by rival Lucky Luciano (Andy Garcia) and Dutch Schultz (Tim Roth).
As passions enflame between Bumpy and his new lady Francine (Vanessa Williams), so do tensions between the two mobs, with intimidation escalating to assassination attempts. With Lucky and Dutch dead set on taking over Harlem, and Bumpy and the Queen looking to protect what's theirs, an all-out gang war soon erupts. A return to classic action-packed gangster films of the '40s and '50s filled with shoot-outs and old-school gang fights, "Hoodlum" gives the formula a modern twist, with a top-notch cast, a fresh script, and a new angle on a classic story.
24. The Narrow Margin (1952)
When you think of gangster movies from the 1940s and '50s you probably think of "The Maltese Falcon," "Arsenic and Old Lace," or "On the Waterfront." But "The Narrow Margin" starring Charles McGraw seldom gets a mention, despite being one of the most gripping gangster movies from its era.
Directed by "20,000 Leagues Under the Sea" and "Soylent Green" filmmaker Richard Fleischer, the film introduces audiences to Detective Walter Brown (McGraw), tasked with protecting a young woman named Frankie Neall (Marie Windsor), the surviving widow of a mafia kingpin. She's got the goods on her dead husband's entire outfit, and Brown's job is to escort her safely across the country to testify in court.
Even before they board their cross-country train they are targeted by mob hitmen, and Brown's partner is killed, with he and Neall making a harrowing escape. But even on the train their trouble isn't over: the gangsters have sent an assassin to get to Neall, and now Brown must outwit him in a cat-and-mouse battle of wills aboard the train. A remarkable edge-of-your-seat thriller, it was the subject of a remake nearly 40 years later starring Gene Hackman and Anne Archer, which simply couldn't outshine the underrated original.
25. State Of Grace (1990)
Another overlooked 1990 crime drama buried by the likes of "Goodfellas," the Phil Janou film "State of Grace" starred a heavyweight lineup of actor's actors that included Sean Penn, Gary Oldman, Ed Harris, Robin Wright, and John Turturro.
It begins with Terry Noonan (Sean Penn) returning to his New York home after a 10 year absence. Once a common street punk, Terry is now an undercover cop, and has orders to infiltrate the Irish mob run by Frankie Flannery (Ed Harris), the older brother of his former friend Jackie (Gary Oldman). But reconnecting with all his old friends, including his old girlfriend Kathleen (Robin Wright) — who is also Jackie's younger sister — makes things more difficult for him.
Allegiances are soon tested when Frankie is ordered by a rival boss to kill his younger brother after Jackie missteps and kills his men … and Terry finds himself caught in the middle. A cult classic that deserves wider recognition, "State Of Grace" features fine acting, poetic violence, a brilliant score by Ennio Morricone and a modern gangland story that puts the value of loyalty up for appraisal.
26. Black Caesar (1973)
In what might be one of the most underrated gangster movies you've never even heard of, "Black Caesar" is a blaxploitation crime film starring Fred Williamson, with an iconic musical score by none other than the Godfather of Soul himself, James Brown. Williamson plays Tommy Gibbs, crippled by an abusive, dirty cop named McKinney when he was young growing up on the means streets of New York city. Fueled by resentment towards the police, and the racism he experiences all around him, Gibbs by the 1970s has slowly ascended to become the meanest, leanest mob boss in Harlem.
Now, with a personal vendetta against McKinney and a thirst for his own kind of justice that motives him against the surrounding Italian crime families, Gibbs sets out to take control of the city beyond Harlem. A gritty action drama, "Black Caesar" has no heroes, presenting Gibbs as a tragic but villain-like figure himself, the product of injustice and circumstance. Ten years before "Scarface" would explore similar themes, "Black Caesar" broke ground as an exploration of power and control.
Packed with action, excitement, and a healthy does of social commentary, the film successfully breaks through some of the thinner movies of the genre with something important to say on the issues of the era.
27. Sonatine (1993)
Written, directed, and starring Takeshi Kitano — once called "the true successor to Akira Kurosowa" — this Japanese crime thriller is widely recognized at home, but hardly mentioned in America.
Kitano plays the Yakuza enforcer Murakawa, a stoic, stone-faced machiavellian anti-hero hoping to retire from a life of killing. As the movie opens he's been sent to Okinowa by his crime lord boss, a kind of soldier-for-hire rented out to another gang, in a mission to help broker peace between rival clans. But Murakawa harbors suspicions that there's more going on than he's been told, and fears it might be a set-up.
He's correct of course, and soon finds himself on the defensive, attacked from all sides, friend and foe alike. Escaping assassination, he and several others seek refuge in a remote beach house where he is forced to confront his own existential crisis.
Stylish in its use of violence, the film is an engrossing character-led action thriller of the highest order. It is no bloodfest, but uses its visceral visual language like a scalpel, both to shock and to fascinate, but also to illuminate, in what has been called "a deconstruction of the Yakuza genre." Crisply written with sharp dialogue and fully-realized characters that you don't often see in this sort of movie, the film is minimalist gangster storytelling at its finest.
28. My Blue Heaven (1990)
Originally intended as a comedy vehicle for action star Arnold Schwarzenegger (who made "Kindergarten Cop" instead), "My Blue Heaven" became a team-up of two of the '80s finest comic character actors. The gangster comedy stars Steve Martin as Vinnie Antonelli, a flashy, big city wise guy who's just entered the witness protection program; Rick Moranis perfectly supports as Barney Coopersmith, a straight-laced, by-the-book government agent assigned to keep tabs on him.
Although Vinnie is supposed to keep a low profile while awaiting the trial of a mob boss he's set to testify against, Barney struggles to keep him from attracting attention to himself. The stuffy Coopersmith loathes the assignment, but the mismatched odd couple begin to bond when both of their wives suddenly walk out.
Martin's skills at playing obnoxious, smarmy jerks come in handy here, and he pairs well with the meek, high-strung, but otherwise manic Moranis. Though the set-up is nothing terribly inventive, and the story is largely predictable, it's the pair of comic greats that make this one sorely underrated as a forgotten '80s crime comedy.
29. Billy Bathgate (1991)
Yet another crime drama set around 1930s organized crime, "Billy Bathgate" centers on Dutch Schultz himself, played by two-time Academy Award-winner Dustin Hoffman. In the film, a young fictional Irish immigrant named Billy (Loren Dean) comes under the mentorship of Schultz. Beside the ruthless mob underboss, Billy witnesses the brutality of Schultz's executions, killing a number of close associates for their betrayal, including Bo Weinberg (Bruce Willis), who makes Billy promise to protect his girlfriend Drew (Nicole Kidman) after his death.
But loyalties are divided when Schultz makes Drew his mistress, and Billy comes to believe she may be Dutch's next hit after he learns she's been with someone else. Now Billy must try to keep Drew safe from Dutch's reprisal, while helping Dutch fix his upcoming criminal trial. But this also put him in crosshairs of infamous mobster Lucky Luciano.
Though not as well reviewed as many on this list, "Billy Bathgate" is a movie the critics whiffed on. While it may not be a taut thriller or dramatic gangster action film, it's still a moving drama about a naive young man for whom the allure of the gangster lifestyle loses its luster after being experienced up close.
30. Point Blank (1967)
A classic revenge picture, this brutal John Boorman film serves as a reminder that when it comes to onscreen menace, we'll never see another Lee Marvin.
Focused on a former gangster named Walker (Marvin) who is out to settle a personal vendetta, "Point Blank" presents its main character as a pure grizzled tough guy; Walker is no lawman and has few scruples, but is willing to mow down anyone in his way. Betrayed and left for dead on Alcatraz Island by his partner Mal Reese (John Vernon) — who walked off with his cut of the score — these folks clearly do not know who they're messing with.
Walker survived, and now he wants his money back. To get it he'll need help from Mal's wife, also his former sister-in-law, and take on a vast criminal organization. If that means killing a dozen men from bagmen on up, then that's exactly what the stone cold Walker is going to do. A pure Hollywood action thriller, the story is simple, satisfying, and relentless. And while some may prefer movies likes "Dirty Harry" or "Death Wish" (or the Mel Gibson quasi-remake of this film, 2003's "Payback"), Lee Marvin's "Point Blank" gives them a real run for their money.