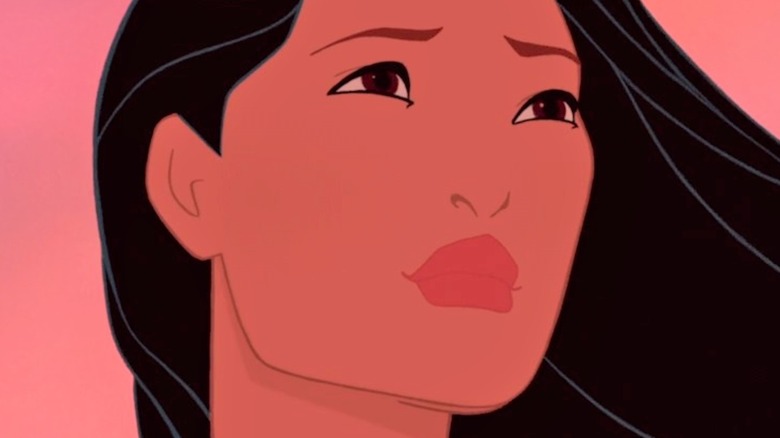 In the middle of an era known as the Disney Renaissance, Walt Disney Animation Studios released "Pocahontas." A musical set in 17th-century America, the film is a musical drama about a forbidden romance between the title character and settler John Smith. "Pocahontas" has proven to be a divisive entry in the Walt Disney Animation Studios canon, with just as many people claiming it to be a desecration of American history as those who cling to it as a staple of their childhood. Wherever you fall, "Pocahontas" is bound to generate some kind of conversation, and all that discourse has been enduring for well over two decades now.
But even with all the endless chatter over the positives and drawbacks to "Pocahontas," that doesn't mean every aspect of this musical is common knowledge to the general public. The untold truth of "Pocahontas" connects to various fascinating elements of this feature, including its behind-the-scenes relationship to "The Lion King," why an incredible song was left on the cutting room floor, as well as the complicated perception of its eventual box office run in 1995. It's doubtful the conversation around "Pocahontas" will die down anytime soon. Knowing the behind-the-scenes truth of this production will at least allow for some new layers and perspectives to enter the discourse surrounding one of Disney's most complicated films.
Jeffrey Katzenberg's Oscar ambitions for Pocahontas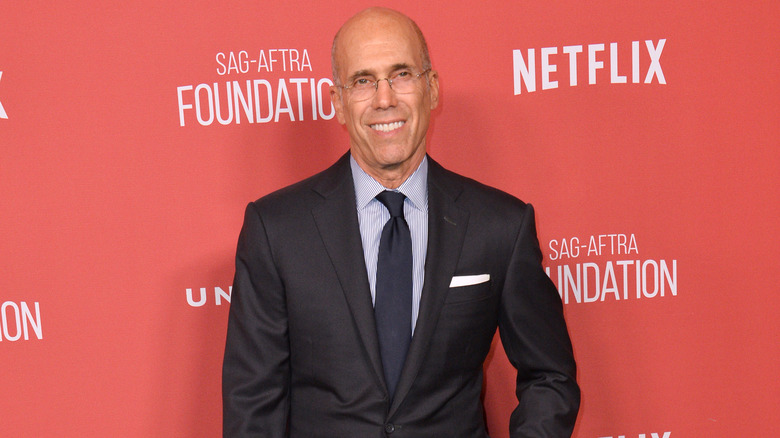 "Beauty and the Beast" made history by becoming the first animated movie to get an Oscar nomination for best picture. However, it didn't take home the trophy that year, with "The Silence of the Lambs" claiming the prize instead. However, Disney wasn't giving up its dreams of Oscar gold. This was especially true of then-head of Walt Disney Studios Jeffrey Katzenberg, who was determined to oversee the movie that would make Oscar history for the Mouse House.
The film that Katzenberg saw as having the most potential to nab that golden trophy was "Pocahontas." For this executive, "Pocahontas" was similar enough to "Beauty and the Beast" — in being a more serious romantic drama — that it could appeal to the Academy and warrant a best picture win. The fact that "Dances with Wolves" — another movie heavily focused on the relationship between Native Americans and white settlers — had recently won at the 63rd Academy Awards was possibly informing Katzenberg's aspirations.
In fact, Katzenberg had so much confidence in this prediction that it even impacted how he viewed other titles in the company's pipeline. He apparently compared "Pocahontas" favorably to fellow upcoming Disney Animation project "The Lion King" by noting that the former movie would inevitably have more appeal than the latter. History ended up painting a different picture, but these ambitions do indicate the kind of hopes Disney once had for this musical.
The pre-release controversy
Before it even hit movie theaters, "Pocahontas" was proving to be a controversial movie. The fact that this was a Walt Disney Animation Studios movie dealing with actual American history, not to mention a rare opportunity for Indigenous individuals to be in the spotlight in a major summer blockbuster, meant that it was inevitable that the project would stir up conversation. There was enough discourse surrounding "Pocahontas" in the lead-up to its theatrical premiere that the Los Angeles Times wrote up a piece on its supporters and detractors four whole months before anyone would see the film.
The piece recognized several high-profile Indigenous activists, artists, and other noteworthy figures who criticized Disney for not utilizing perspectives and advice from actual Indigenous communities. Sonny Skyhawk, for instance, expressed disappointment and outright frustration that Disney rejected his offers to provide guidance or consultation for "Pocahontas." This was especially notable due to the film's primary creative heads, namely its two directors and assorted screenwriters, not being Indigenous. Given the lack of behind-the-scenes talent or consultations with Native American populations, it's no wonder "Pocahontas" was a controversial movie even before its release.
The rivalry between The Lion King and Pocahontas
Released only a year apart from one another, "The Lion King" and "Pocahontas" don't immediately seem like they have much in common beyond being animated Disney musicals. "Pocahontas" is a lot less wacky, for one thing, while its songs don't have the vibrancy or comedic lyrics that Elton John and Tim Rice brought to "The Lion King." But there was more uniting these two titles than the fact they were emanating from the same studio. There was initially a rivalry of sorts between the two projects, with many animators choosing to work on "Pocahontas" rather than "The Lion King." The reasons why varied wildly.
In an interview with various Disney artists from the early 1990s, Refinery29 uncovered anecdotes that revealed different reasons why "Pocahontas" was the preferred Disney animation assignment. This included that "Pocahontas" was being helmed by experienced filmmaker Mike Gabriel rather than the first-time directors of "The Lion King." Additionally, "The Lion King" was in rough shape story-wise in its earliest days of production, all while Katzenberg would publicly talk about how "Pocahontas" would end up being a superior movie compared to "The Lion King." All of this led to many opting to work on "Pocahontas," though the once-troubled outcast "Lion King" would eventually get redemption when it became the highest-grossing movie of 1994.
Why Pocahontas was made older than in real life
"Pocahontas" is one of the rare Walt Disney Animation Studios titles to involve historical events and real people. But it took a lot of creative liberties to turn those details rooted in the founding of America into fodder for a G-rated animated musical that could sell toys to children.
One example of this was the alteration of Pocahontas' age. In the film, Pocahontas is depicted as being very much an adult when she meets John Smith and forms a relationship with him. However, in reality, Pocahontas was around 11 years old in the time period depicted in this film (13 at the oldest). Wanting to maintain the romance between Pocahontas and the decidedly adult Smith, the crew behind "Pocahontas" opted to age the character up to an adult. This alteration led to Russian nesting doll of historical fudging, as this age change was done to justify a romantic relationship that many historians don't believe ever happened. As noted by historian Camilla Townsend (via Smithsonian Magazine), among many others, this "romance" appears to have been fabricated by Smith himself and doesn't have much weight in actual historical records.
In trying to fit "Pocahontas" into the mold of traditional American romantic dramas, this animated film kept skewing historical facts further and further away from reality, playing into a distortion of history that dates back to the days of John Smith himself.
The cut comic sidekick
The vast majority of Walt Disney Animation Studios titles have at least one character who would register under the moniker of "comic relief." The Genie from "Aladdin," Olaf from "Frozen," Timon and Pumbaa from "The Lion King" — they're all part of a grand tradition of scene-stealing supporting figures who make audiences giggle. "Pocahontas" technically continued this tradition through raccoon Meeko, but this character being mute made Meeko a notable departure from the chatty comic relief sidekicks of years past. However, originally, "Pocahontas" was set to feature a character who would've been much more in line with audience expectations of a Disney comic relief sidekick.
Per The Morning Call, John Candy was initially set to voice a goofy turkey named Redfeather. This would've been Candy's second foray into voice comical characters in a Walt Disney Animation Studios title after voicing Wilbur in 1990's "The Rescuers Down Under." His presence in "Pocahontas" would've ensured that the film featured multiple characters in the mold of vintage Disney comic relief sidekicks. (Even Percy the pug was originally supposed to talk.) However, the death of Candy eventually led to Redfeather getting left on the cutting room floor in subsequent rewrites of the film's script. Animator Dave Pruiksma also explained that the presence of talking animals would've undercut the weighty emotions that "Pocahontas" was aiming to convey. Thus, the cute and cuddly critters in "Pocahontas" were all rendered mute.
Gregory Peck's original role
Gregory Peck had an expansive career in Hollywood that stretched from award-winning dramas like "To Kill a Mockingbird" to beloved genre movies like "The Omen." His presence on-screen grew more sporadic starting in the 1980s, with the actor only making a handful of further appearances in features before his death in 2003. One of his final parts was almost a character in "Pocahontas," which would've been in keeping with Disney's habit of hiring A-list acting talent for voiceover work throughout their 1990s projects, a la Robin Williams in "Aladdin" and James Earl Jones in "The Lion King."
According to the book "Disney Voice Actors: A Biographical Dictionary" by Thomas Hischak, Peck was originally set to voice Old Man River, who would serve as a wise mentor figure for Pocahontas. Peck's departure from the project wasn't due to Disney executives meddling in the production but rather from the actor himself, who believed the role would be better if it were portrayed by a woman. With that, Peck was out of "Pocahontas," and the concept of Old Man River would also soon leave the project. Eventually, the character's role in the production would be filled by Grandmother Willow, who was voiced by another legend of the silver screen, Oscar winner Linda Hunt.
The saga of If I Never Knew You
The songs of "Pocahontas" are beloved enough that just humming them will put them inside someone's cranium for hours afterward. Tunes like "Just Around the Riverbend" or "Colors of the Wind" are recognizable just by their names alone, but it isn't just the songs in the final cut of "Pocahontas" that have garnered popularity. One particular ditty left on the cutting room floor has managed to garner a life of its own. The deleted song "If I Never Knew You" was once meant to serve as the ultimate musical reflection of Pocahontas and John Smith's affection for one another within the film's narrative.
Talking to MTV News, composer Alan Menken revealed that he was responsible for the deletion of "If I Never Knew You" since, despite being one of its creators, he noticed that it was dragging down the pacing of "Pocahontas." CinemaBlend went into a touch more detail on this matter by noting that it was kids specifically who were getting antsy during a super-serious romantic ballad. Though cut from the theatrical version of "Pocahontas," a cover of the song by Jon Secada and Shanice made it into the credits of the film while a 10th-anniversary DVD of "Pocahontas" contained a version of the film that restored the "If I Never Knew You" tune.
The record shattering-premiere of Pocahontas
If there's one thing Disney knows how to do, its promote new animated family movies. Typically, such promotion takes the form of big stunts that grab headlines and put the name of a new big-screen release on the forefront of people's minds. "Pocahontas" was no exception, with the film scoring a massive premiere in Central Park (per Philly.com) that attracted a massive crowd of "an estimated 100,000" people, though The New York Times would report that police officials had estimated that around 70,000 had shown up for the event.
Disney didn't just bring a movie to show to the gathered attendees of the event, though. Artists like Vanessa Williams performed songs for the massive crowd once the movie was finished. The enormous shindig required a lot of preparation, including the implementation of "120,000 square feet of artificial turf" and over 300 portable toilets. All of this extravagance did not come without some understandable controversy, with that New York Times piece quoting one New York City resident who noted that Disney taking over Central Park showed an enormous disregard for the general populace who would want to use Central Park for non-"Pocahontas" means.
Even with these complaints, "Pocahontas" still scored one of the biggest film premieres in history. This kick-off to the theatrical run of "Pocahontas" was a massive promotional blitz that certainly conveyed that this was a must-see movie in the summer 1995 line-up.
Pocahontas' box office run
In its global box office release, "Pocahontas" was a champion in many respects, even if it wasn't quite as massive as some pre-release expectations hoped. On the one hand, it did crack $141 million at the domestic box office, enough to make it the fourth-biggest movie of 1995 domestically. It was also plenty profitable thanks to it grossing $347.1 million on a $55 million budget. Plus, in the coming years, other '90s Disney titles like "The Hunchback of Notre Dame" and "Hercules' would fall far short of matching either the domestic or global gross of "Pocahontas."
Still, "Pocahontas" didn't quite compare to other Disney projects in the early 1990s. Nobody expected it to match the abnormally massive haul of "The Lion King" from a year earlier, but it also came in behind "Aladdin" and even "Beauty and the Beast," both in North America and worldwide. All of these titles had cost significantly less to produce too, making the inability of "Pocahontas" to outgross them even more notable. The fact that it got beaten at the box office by "Toy Story" in 1995 solidified that this one didn't quite hit as high of a box office haul as Disney would've liked. Still, "Pocahontas" did manage to make a pretty penny for the Mouse House, and its grosses would far exceed those of later duds from Disney such as "Atlantis: The Lost Empire."
Why Pocahontas won't get remade anytime soon
At this point, the trend of remaking classic Disney cartoons into live-action features has claimed the majority of the studio's output from the 1990s. "Aladdin," "Beauty and the Beast," and "Mulan" have all gotten the treatment, with more remakes on the way. Given that it was released smack dab in the middle of the company's Renaissance era, one would imagine that "Pocahontas" would also be on the cusp of getting a live-action remake. However, composer Alan Menken has made it clear, in no uncertain terms, that "Pocahontas" will not be getting that treatment anytime soon.
Speaking at the premiere of the 2019 "Aladdin" remake (via Digital Spy), Menken noted that "Pocahontas" was not on the horizon for a live-action remake due to modern sensibilities and concerns over the material putting off audiences. Menken's concerns aren't ill-placed given that "Pocahontas" was controversial for its handling of Indigenous people back in the 1990s. In a modern pop culture landscape with projects like "Reservation Dogs" that highlight shortcomings in mainstream American depictions of Indigenous lives, a "Pocahontas" remake could stick out like a sore thumb. Fans of this 1995 entry in the Disney canon will just have to stick with the original animated feature rather than wait for a remake that's not a priority for anyone at Disney currently.