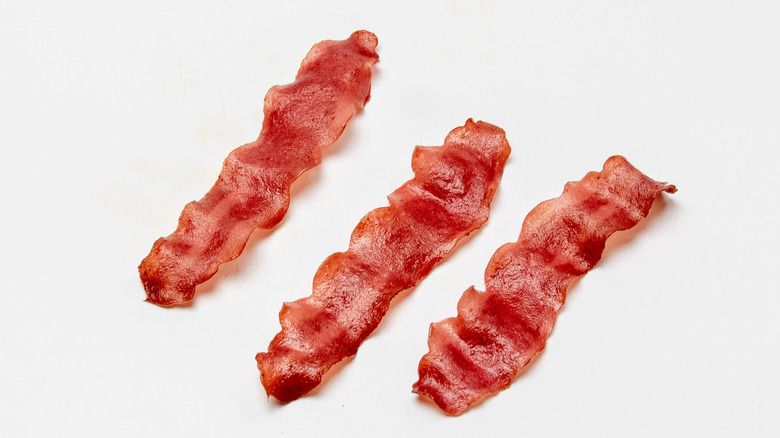 We may receive a commission on purchases made from links.
The sizzling sound and incredible aroma of bacon frying on the stovetop is as solid of a wake up call as an alarm clock, if not better. Turkey bacon has the same effect for many, and even some of the most staunch bacon lovers will lick their lips hungrily at the sight of a crispy slice of turkey bacon. This hybrid product is a modern meat innovation, having been created in the early 1970s with the purpose of introducing more meat eaters into the world of bacon, per Mel Magazine. However, many consumers have been drawn towards the lower fat and calories the turkey had thanks to the incorporation of a white meat.
This is not to say that turkey bacon is healthier than normal bacon though, as it often contains more sodium (according to Healthline). Putting health to the side, however, turkey bacon has grown quite the following since its initial creation, causing numerous deli and meat brands to jump on the bandwagon and offer turkey bacon of their own variation. Whether you're having it on a sandwich or with a hearty breakfast, turkey bacon is a great addition to any plate, so we've listed ten popular turkey bacon brands, and ranked them from worst to best.
10. Jennie-O's Turkey Bacon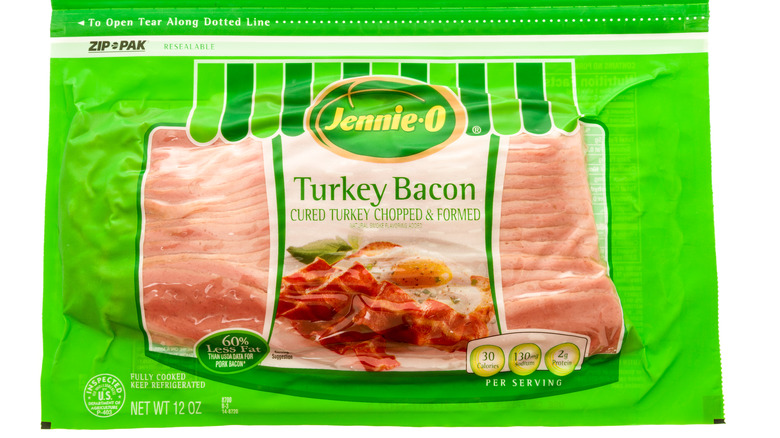 After trying all of these turkey bacon brands, we think that we can say no to Jennie-O. Jennie-O is a meat brand owned by the Hormel Foods Corporation, who you may know for their ownership of products like Skippy and Spam. Jennie-O was founded over 75 years ago by Earl B. Olson, and with Wallace Jerome, the company became the turkey and meat-centered brand that many know and adore today. Their turkey bacon is made with cured turkey, and has a natural smoke flavoring. This brand's turkey bacon is lighter and thinner than a normal bacon slice, with the same pink color as its pork alternative.
The first thing we noticed about Jennie-O's turkey bacon was that it was slimy. This alone made us wary of trying the bacon, as we weren't sure where the slime came from. Past the slimy surface, the bacon didn't really have anything extraordinary going for it. Reviews for the product on Jennie-O's website all back up being put off by the slime, meaning that it wasn't an isolated experience. Recent reviews on Amazon also aren't wholly excited about this brand's turkey bacon, with one reviewer writing that the flavor "tastes like leather if cooked in a frying pan and cardboard. If microwaved, absolutely no flavor and poor quality." It certainly wasn't the best turkey bacon we tried, and if we had no other options, we'd rather just have pork bacon.
9. Wellshire Farms, Classic Sliced Turkey Bacon
Not to be confused with the Hillshire brand (which admittedly does produce sandwich and deli meats,) Wellshire Farms takes the next spot on this list with their line of turkey bacons. Wellshire Farms has a long list of bacon products, and even sells chicken-based bacon. On the brand's website, you can find their classic organic turkey bacon, as well as a sugar-free option. Their "Classic Sliced Turkey Bacon" only contains eight simple ingredients, and claims that the turkeys used in the product are raised in a clean environment with animal friendly practices, and without the use of antibiotics.
While we mixed this up with Hillshire at first, we would much rather have Hillshire's sliced turkey than Wellshire's turkey bacon any day of the week. The meat was incredibly thick, so it didn't cook as easily as other turkey bacon products. Its texture was reminiscent of a jerky, and more chewy than crispy. Furthermore, this turkey bacon does not store well, as some reviews on Amazon note that they had opened the package "and cooked 3 slices out, next day all of the bacon was this greenish brown color," and claimed they had to throw the rest of it out. Even though this meat had a nice brown color after being cooked, we aren't going to be cooking with this turkey bacon again.
8. Godshall's Sliced Turkey Bacon
The next turkey bacon entry on this list is Godshall's Uncured Sliced Turkey Bacon. Godshall's is a meat producer that prides itself on offering the public real smoked meats. Since 1945, when the company was established by Marvin K. Godshall, this family-run butcher shop has sold its turkey bacon in stores such as Safeway and Harris Teeter. As of today, the company has almost six hundred employee-owners that produce bacon and other delicious meats. There are about 12 slices in a single pack of their turkey bacon, which are chopped and formed from turkey thigh, and 94% fat free.
This turkey bacon was pretty average in comparison to the other options. While it is easy to find in some locations, if you don't live near a grocery store that sells this kind of turkey bacon, then your only option is to get it off of Amazon, where it sells six packs in bulk for almost sixty dollars. Ten dollars a pack for a turkey bacon is one of the most expensive prices we have on this list, and with brands such as Oscar Mayer and Applegate, which are much more common on store shelves. For the price and the hassle of this turkey bacon, it's not worth it.
7. Fit & Active Turkey Bacon (Aldi's)
When it comes to popular grocery store chains, Aldi is known for their wide variety of products sold at decent prices. If you can find it at Walmart or Whole Foods, then you can likely find it at an Aldi for a better deal. Turkey bacon is no exception, as Aldi carries its Fit & Active Turkey Bacon. Turkey bacon is already seen by many as the healthier alternative to pork bacon, but Aldi's line of the meat takes this a step further, with only 25 calories in each slice of turkey bacon, and no sugar. There are also over twenty slices in a single package, so you really are getting a good amount for a good price.
While we love the quantity of the bacon we got, we are really focused on the quality. It was a saltier turkey bacon than most, which could be a hit or miss depending on your tastes. The healthiness of the Fit & Active turkey bacon is also a plus, though it seems like they sacrificed the turkey's flavor for the health aspect. One review on Influenster writes that the bacon is "not as good as the Oscar Meyer [sic] brand. This bacon is healthier than regular bacon. In my opinion the flavor is lacking." While this is great by Aldi's standards, as far as turkey bacon goes, there are better-tasting options.
6. Sam's Choice Uncured Turkey Bacon (Walmart)
What is there to say about Walmart? Well, it's one of the largest department stores in the world, with around 10,500 stores in numerous countries, primarily the U.S. With numerous inn-person locations and an online shopping website, this chain seems to know no bounds, and if you've never shopped at a Walmart, have you truly experienced shopping? Like Aldi, Walmart carries its own lines of popular consumer products and offers them for lower prices, such as Sam's Choice Uncured Turkey Bacon. This variation of the meat is made from real smoked wood meat, is sold for less than $4 on the Walmart website, and contains 70% less fat than most pork bacon.
Even though we wished there was a little more flavor in this turkey bacon, overall, it was a good bacon that we wouldn't mind eating on a sandwich. Each piece looked similar to a pork bacon slice, and was just as crispy. While it doesn't have the cult following that other turkey bacon does, it still has a good number of Walmart shoppers who enjoy its taste. One review on Influenster says, "The bacon is not too salty, it gets crispy, and tastes great to us. It's affordable and easy to find, we get it from Walmart." The next time you're at your local Walmart, don't be shy to grab some of Sam's Choice.
5. Boar's Head Uncured Turkey Bacon
As you've browsed through the deli section of a Safeway or Giant, you may have come across the golden boar of the Boar's Head meat brand. The Boar's Head name has been around for over a century now, having been established in 1905 in NYC. While the company was founded based on ham, it has since grown to offer chicken, beef, turkey, and even cheese products. Boar's Head Uncured Turkey Bacon is a more recent addition to their meat lineup, and according to the online product page, is "a premium quality turkey bacon that is naturally smoked and has 66% less fat than pork bacon."
The first thing that we noticed (and appreciated) about this turkey bacon, and what made it stand out as a whole was the amount of turkey bacon in a single package. As opposed to the eight or nine slices of most other brands, one package of Boar's Head turkey bacon has nineteen slices. While they came out slightly smaller and thinner than other turkey bacon, they were all meat-y, and full of flavor. The product also has favorable attributes such as containing no artificial color, MSG, or nitrates. If you're looking for a great amount of turkey bacon for your family's next Sunday brunch, then this turkey bacon will give you the best bang for your buck.
4. Koch's Turkey Farm, Organic Uncured Turkey Bacon
A lesser-known turkey farm that has a turkey bacon option on this list is Koch's Turkey. Koch's is located in Tamaqua, Pennsylvania, where in 1953, Lowell Koch and his wife established the farm. Through the generations, the family has continued to take care of and sell turkeys, and raise their birds with an all-natural vegetarian diet, without any antibiotics. Koch's Organic Uncured Turkey Bacon is made from chopped turkey thighs, and doesn't contain any unnatural nitrates. There are about eight slices in a single package of turkey bacon, and can be found in Whole Foods stores.
While this choice of turkey bacon isn't as popular as other brands, it was still a solid meat to have with a morning breakfast of eggs and (turkey) bacon. The bacon was a decent size, juicy, and crispy when cooked in a skillet or the oven. This product has a 4.6 out of five stars on Amazon, with a reviewer suggesting people give this turkey bacon a try, and summarized our thoughts completely, writing, "Fantastic bacon. Would definitely buy it again. Good flavor. Cooked up well." While it might be hard to find, this was a solid addition to this turkey bacon list, and we wouldn't mind having Koch's turkey again.
3. Applegate's Organic Uncured Turkey Bacon
Going through the Whole Foods refrigeration aisles, you'll have come across several Applegate products. Applegate is a natural and organic meat production company that has sold a wide range of meat products, from chicken and sausage to their Organic Uncured Turkey Bacon, for over 30 years. The ingredient list for this product is a lot shorter than other turkey bacon products, with its primary contents being organic turkey and water, with less than 2% of the other items, which are salt, celery powder, and organic garlic powder.
The slices of Applegate's turkey bacon are a lot bigger than other brands, and are made with the leg meat of a turkey. While a little more pricey than other turkey bacon, we found that Applegate's meat has a nice texture and flavoring, and perfect for BLT's. It's also a bit salty, which is surprising considering its lower sodium content when compared to normal bacon. If you don't like turkey bacon that has a bit of a salty taste, then this might not float your boat, but many people adore Applegate's product, with one consumer on Amazon writing, "Good bacon, thick, good flavor and cooks up well! Best turkey bacon I've had!" While we can't say this was the best, it was certainly good, and if you see it on store shelves, don't hesitate to take some home.
2. Butterball Original Turkey Bacon
If we're talking about turkey bacon, then we have to talk about Butterball. They are one of the largest turkey producers in the U.S., and have provided turkey to the public for over fifty years in sliced, whole, burger, and even meatball form. Seeing as they specialize in turkey products, it's not really a shock that Butterball's Original Turkey Bacon places highly on this list. Butterball first launched their line of turkey bacon in 2011 in order to provide a healthier bacon option than solely pork bacon, while also appealing to its turkey fans. They have both their original turkey bacon, as well as a lower sodium alternative, which has 66% less sodium than pork bacon.
These turkey experts really know what they're doing when it comes to turkey bacon. This product doesn't contain any Monosodium glutamate, or MSG, meaning that the delicious flavor is entirely natural. When prepared, the turkey bacon gets crispy, and lacks any off-putting chewiness that you might be wary about. Butterball's turkey bacon product also has a lot of support online, with a high rating on Amazon, and reviews claiming the turkey bacon tastes great. One Amazon reviewer expressed, "Man it's so good, better then I expected. Great flavor and it cooks well. Definitely would buy this again." If you're looking for good turkey bacon to replace your pork bacon in an omelet, then this brand is an exceptional replacement.
1. Oscar Mayer Turkey Bacon
If you've roamed through the deli aisle of any grocery store, then we know for certain that you've seen the rectangular cases of Oscar Mayer sliced turkey, ham, and salami. If you're a sandwich fan, it's impossible not to know of this iconic meat brand. The first Oscar Mayer shop was established in 1883, and has sold many different delicious meats, from sausage to salami, ever since. Oscar Mayer also happens to carry an equally great-tasting turkey bacon. This variation of turkey bacon claims to have 57% less sodium than pork bacon, as well as 58% less fat, all without sacrificing the taste of the meat.
There is no reason for us to put this turkey bacon anywhere but the top of the list. It's crispy, flavorful, and a clear fan-favorite amongst turkey bacon lovers. This gluten-free bacon has the same high rating as the Butterball Turkey Bacon (4.7), with more than double of the customer ratings. Reviews for this product are overwhelmingly positive towards this brand's turkey bacon, with one consumer even claiming that they "have conducted a blind taste test of every leading brand and store brand in the Pacific Northwest and OM was the winner by a long shot." Keep reading through the reviews, and you will only find more shoppers in adoration of our number one pick. If you're looking for a great turkey bacon, then Oscar Mayer's is the best.