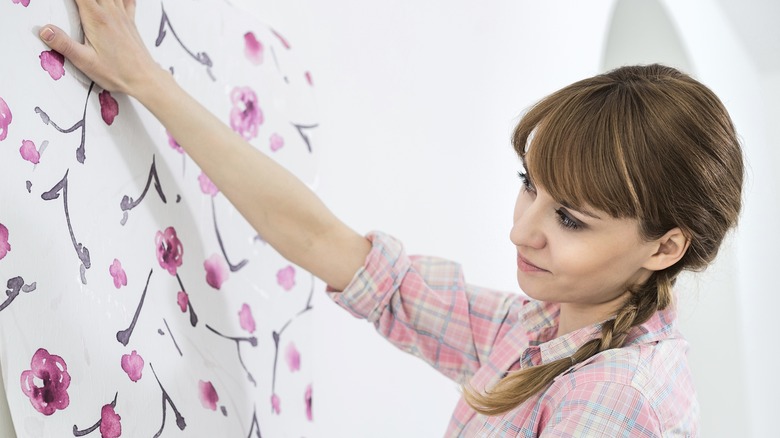 To say that home additions have been popular recently is a bit of an understatement. In 2019, spending on home improvement projects came to approximately $407 billion in the United States, with projections estimating that this total expenditure will rise to $510 billion by 2024, according to Statista. Part of this huge boom in sales could be due to the huge benefits that DIY and home improvement projects bring not only to home value but to quality of life, particularly during recent troubling times. During the COVID-19 lockdown, around 73% of people found that doing DIY projects improved their mental health, according to a survey conducted by Coupon Follow.
There are some home additions, however, that won't fill you with joy in the long run, no matter how good they seem on paper. Whether these projects will be a poor return on investment, inadvertently make your home harder to sell, or require huge, stressful upkeep, we've got the lowdown on the home additions that you should think twice about.
Textured walls and ceilings are pretty retro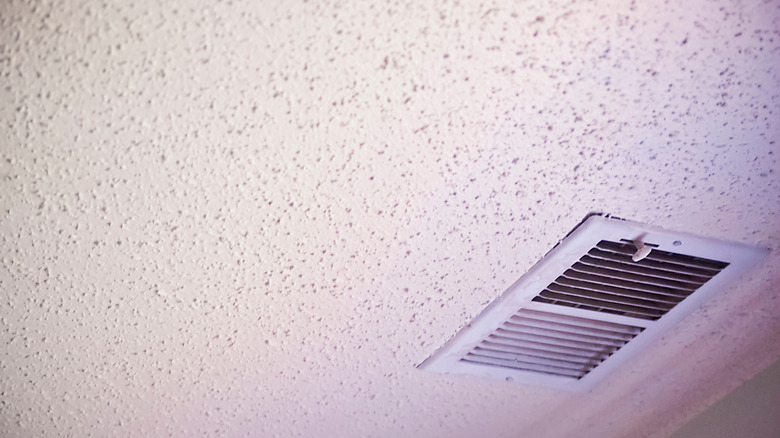 Bored of your bare, featureless four walls? If so, you might be drawn towards textured effects either on your walls or on your ceiling. Textured walls and ceilings can not only cause walls to become more eye-catching by creating shadows and catching the light, but the textures also allow homeowners to hide any imperfections or signs of drywall installation at a low price. "It's cost-saving," said Joan Barton, owner of Dirty Girl Construction in Los Angeles, when speaking to Remodelista. "Maybe people actually liked it back in the seventies, but the reason it's done now is to save money. It's cheap and fast."
Nonetheless, textured walls have a distinctly retro feel — and textured ceilings, like "popcorn ceilings," have long been out of fashion. "It's a vintage and aged style," stated Timothy Schutte, a successful Des Moines, Iowa-based real estate agent, to HomeLight. Not only that, but removing textures can be a costly and time-consuming endeavor, meaning that it could be not only a nightmare for you to remove if you go off it, but when it comes to resale, it could put off potential buyers, according to SFGate.
A pool addition might having you wincing at the cost
For many people, a home with its very own swimming pool is the height of luxury. But the realities of installing — and maintaining — a pool might make you think twice. On average, a 600-square-foot concrete pool will cost around $30,000 to install and fill, but once you start adding extras like mandatory safety fences, lighting or landscaping, and spa features, it could quickly add up to $100,000, according to HouseLogic. There's also the cost of ongoing upkeep, with maintaining a pool in areas with warm weather throughout the year costing roughly $15 to $25 a week (up to $1,300 a year), or around $600 annually if you live somewhere with changing seasons.
As such, while it's the epitome of cool to have a pool, it's worth thinking about whether it's a worthwhile investment, particularly for resale. If you live in a more upmarket area where getting a pool will help match your home's value to your neighbors or in a state with year-round good weather, it might be the best decision you ever make. If not, it could quickly become a nightmare.
Wall-to-wall carpeting is a huge no-no
When it comes to home additions, there's one thing you should avoid installing, especially if you're thinking of selling in the future: wall-to-wall carpeting. Apparently, it's one of a few features that can wreck your home's value. "To most buyers, wall-to-wall carpeting is something to be removed," Allison Chiaramonte, a New York-based real estate agent, told Forbes, adding, "Even when it looks in good shape and the home is furnished, it almost never looks good and clean once that furniture is removed." This is largely due to changing tastes and modern style choices, claimed Chiaramonte. She said that due to contemporary tastes for wood flooring, "the idea of covering up the floors is less popular as it's such a selling feature." Hardwood floors may offer more opportunities for decorating that carpeting does not.
Remember, this may not be the case for every room: Some prospective buyers may rather have soft flooring in bedrooms. You can still achieve this effect without having to cover the whole floor, however, by using rugs. Accenting wood flooring with removable coverings like rugs or mats may instead be the way to go.
Your master suite could bring a low return
It might come as a surprise that your gorgeous new master suite addition might not be the best improvement for your home. After all, what's not to love about a new bedroom? Unfortunately, a fair amount when it comes to cost vs. return. An upscale master suite home addition with a sitting space and bathroom could set you back an astronomical $321,000, according to a Cost vs. Value report (via Remodeling). The amount it could increase your property's value by, though, is less impressive: By adding just over $152,000 to your home's resale value, it represents a 48% return on investment. It's also worth noting that the price of master suite additions has increased by almost $100,000 since 2010, but this isn't necessarily reflected in their ultimate value.
It's good to point out that this ROI example reflects a top-end annex addition to a property of considerable size (32 by 20 feet), with luxury touches and amenities like "high-end lighting controls" and underfloor heating, and that less intensive projects might bear bigger fruit. A simpler master bedroom renovation, for example, could net you an 86% ROI, according to Melanson Homes & Renovations.
A closet renovation won't impress new buyers
If you're tired of cramming clothes into a cramped and unsightly space, a closet renovation could make your bedroom, and your heart, sing. But when it comes to selling your property, your buyers might not be as enamored. In a ranked list of home improvement projects' appeal to property buyers, a closet renovation came at the very bottom of the list of 12, even below pretty unglamorous insulation upgrades, according to the 2019 Remodeling Impact Report from the National Association of Realtors. It also ranked lowest for its likelihood to add value to your home for resale.
Unfortunately, the return on investment for closet renovations just isn't that high. You might gain just $2,500 of value from a closet renovation, which represents a 40% return on investment if you're going for a high-end refurb with a designer attached, potentially costing roughly $6,300 according to Millionacres. It's possible to do a closet renovation for much less than that — as little as $100, if you're keeping it simple and doing it yourself — but if you're thinking about what value it could add to your property, your money is better spent elsewhere.
Adding wallpaper is a quick way to devalue your home
Although hanging wallpaper can be a quick and relatively inexpensive way to change up a room, you could come to regret it when you're selling your home to new buyers. "Most of the time, wallpaper is something that the buyer looks at as something that dates the house, and they consider things that are dated to be repairs," said Sheila Newton, an experienced South Carolina-based real estate agent, to HomeLight. "In their mind, they're going, ka-ching, ka-ching, and taking numbers off. Nine times out of ten, they're gonna subtract a good bit of money."
And even if you're set on keeping your property at the price you know it's worth, your buyer may not agree. "Whether we reduce the price or not, the buyer will decrease their offer. That's the problem," said Newton. Don't forget that there are plenty of ways to brighten or refresh living spaces that won't cause problems at resale and won't break the bank: Adding rugs, new light sources, plants, or wall art can all make a room feel brand new, as Cosmopolitan noted.
A garage conversion is not as simple as you think
Got a garage sitting outside? If you do, at some point you may well have thought about how you could use that space more constructively — but converting a garage can be a mixed bag. Unlike a basement conversion, which typically takes unusable space to create something functional, with a garage conversion, you're trading off space that could be used for multiple functions and isolating it to one use, as noted by The Spruce. This can limit your options further down the line, should you want to use it for storage, simply parking, or another use.
What's more, garage conversions are seriously costly and time-intensive endeavors with which you need to take into account heating, ventilation, insulation, and power, on top of the legal and zoning concerns that you need to address when changing a vehicle space into a habitable space. And crucially, when it comes to resale, you may not even have added that much value to your property: Don't forget that people need space to put their cars, and this could be a big factor in your home's ultimate value.
Home cinemas aren't universally loved
A home cinema is the ultimate in "Selling Sunset"-style luxury, but when it comes to real estate agents, they're not all convinced that it's a good investment. As a niche luxury that takes up dedicated space, adding a home cinema will only appeal to other people who want one when it comes to resale, stated Ashley Romiti of Home Life Digest to ProjectorScreen.com. It's better to deck out a space with features that haven't been installed so you can remove when you want to put your house on the market, according to Romiti.
However, if you're looking to add one to your home purely for yourself and your family's enjoyment, then it could be an addition to your home that gives you an improved quality of life, Alex Bracke, who works for Valor Group of Pearson Smith Realty, told ProjectorScreen.com. Bracke also pointed towards the effects of the COVID-19 pandemic causing more people to want to stay home, potentially meaning that a home cinema might be a canny move for increasing resale value. Fundamentally though, homeowners should add a home cinema if they feel they'll enjoy it, not for potential resale, said John Romito of Heart & Home Real Estate.
Not everyone will love your hot tub
Unwinding at the end of a long day in a hot tub might be your idea of heaven, but when it comes to trying to entice other people to pay more for your home to do the same when you're eventually selling your property, you might struggle. "I have appraised many homes with built-in hot tubs, but really didn't see any major value add on their own," Jamie Owen, an appraiser in Cleveland and "Home Value Stories" podcast host, shared to HomeLight. This isn't just an issue with built-in hot tubs, either, with freestanding hot tubs also being unlikely to get you an extra buck on resale. "I have never seen any market data to suggest that [freestanding hot tubs] add much if any value," Owen stated.
Not only that, but hot tubs can be a huge hassle, and expense, to install and maintain. While most home hot tubs come in at between $3,500 to $15,000 (before paying for any enclosures, installations, or maintenance), some can cost a whopping $36,000, according to HomeAdvisor. With the unlikelihood that it'll boost your property's value, it's a big investment.
Think twice before converting your bedroom into something else
Through the COVID-19 pandemic, for many people, their homes became where they did everything: worked, exercised, and relaxed. It might seem logical in that case that converting an extra bedroom into a different space might be a smart move, but it could be a bad move for the ultimate value of your property and its resale potential, according to Improvement Loans. In general, the amount of bedrooms in a property is the first thing that homebuyers look at, and by converting a bedroom you could remove yourself from a higher price bracket. Unless you have a property with a high number of bedrooms, repurposing one may cause devaluing.
On the flip side, the recent shift towards working from home means that home office spaces have become much more attractive, and installing one (particularly if you can keep it cheap) might help your property's allure to buyers, as noted by Sterling Homes, Inc. Other bedroom conversions that involve significant repurposing of space and installing features that then reduce its versatility — like making a bedroom a bathroom or closet space, for example — may not be as smart.
Your sunroom may be cost-high and return-low
A sunroom is a superb way of getting closer to nature while remaining protected from the elements, but don't expect it to add value to your property. In general, sunrooms garner a low return on investment, while still being pretty pricey to install: A $75,000 sunroom, for example, may return you just $36,700 or so upon resale, representing a 48.5% return on your money spent, per a Cost vs. Value report (via Remodeling). It's important to bear in mind, though, that many sunrooms price much lower than that, with screened porches or wooden sunrooms beginning from anywhere between $5,000 and $15,000, according to Better Homes & Gardens.
Zoning regulations could also cause you a headache when it comes to your new sunroom. Zoning laws vary from county to county or city to city, and your property may need to legally be a certain distance away from your neighbors' homes, reported Titan Sunrooms. This could not only limit the size of the sunroom you can build, but if you build without checking them first, you could be in for a world of stress.
Your koi pond might not be to everyone's taste
A koi pond in your back garden could help you find your inner peace. It's important to remember, though, that despite how gorgeous they can be, koi ponds may not appeal to whoever's buying your property next. "I showed a property the other day where the whole backyard was several koi ponds, with waterfalls and bridges. It was beautiful, but that's not going to appeal to every buyer," Move Safe-certified agent Bethany Mendoza told HomeLight. "One buyer might fall in love with a koi pond backyard, while another is going to focus on all the maintenance, or how a backyard filled with ponds isn't going to be safe when they have the grandkids over."
And they wouldn't be wrong to question the maintenance: Not only can koi ponds cost upwards of $5,000 to install, but there's also the price of the fish themselves which can cost up to $300 each (here's why koi fish are so expensive), as well as their food. Add to that the time investments you'll need to make, and you may not feel as peaceful as you thought.
Your HVAC system may not need replacing as quickly as you think
Once summer rolls around, your HVAC system is your best friend. Unless your old one is well and truly past its prime, though, don't be tempted to add a new HVAC system — not least because if you're doing it for an investment, it may bring you a limited ROI, according to Ohio's Budget Heating & Air Conditioning. A new HVAC system will return roughly 35 to 50% of your investment on it, and if your current system isn't 15 to 20 years old (although lifespans vary from place to place), it may not even need replacing, as noted by Kobie Complete Heating & Cooling Inc.
However, it's worth pointing out that even if a new HVAC system might not be the most lucrative investment, not having a system in place at all may make your property unsellable in some areas. As such, if it's time to get a new one, prioritize features that will make it more attractive for resale. Smaller, energy-efficient, green units will be way more attractive to buyers than big, clunky energy-guzzlers.
Do you really need that wine cellar?
The epitome of class, a wine cellar in the basement is one of those home additions that's better on paper. The main reason for this is that you don't really need one. "Producers know that we don't live in castles with cellars, so the vast majority of wines are ready to drink right away," said wine expert Tyler Colman to HuffPost. In fact, most wines out there really shouldn't be aged.
And if you're thinking, "Yeah, sure, but I'm installing one for the aesthetic," then storing your wine in a cellar might ruin it. Due to the difficulties in regulating humidity and temperature in most basements, keeping your wine down there could ruin it fast, as aging wine successfully requires specific conditions. And this is all before you even try and sell your property further down the line. Unless your home is being viewed by fellow wine aficionados, a wine cellar might not add that much value, according to RealEstate Content. Have we convinced you yet?