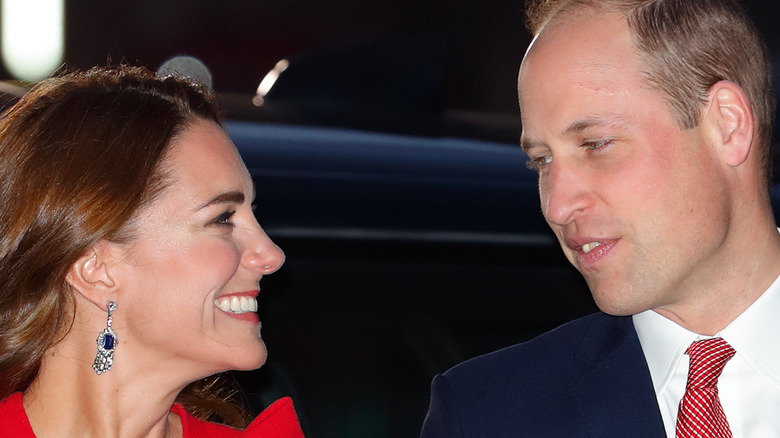 Perhaps the most coveted address in all of London — apart from Buckingham Palace, of course — is Kensington Palace apartment 1A, home to Prince Willliam, Duchess Catherine, and their children. While dubbing their home an apartment makes it sound like your run-of-the-mill pad, it's anything but. The residence takes up four entire floors and over half the Clock Tower wing of the palace. It's more like a large terrace house, per the Daily Express. "All of these royal residences at Kensington Palace are called apartments, which of course makes people immediately think they are flats like the American term for an apartment," said writer Christopher Warwick, via Daily Express. "They are not."
Prior to their wedding, William and Kate had been looking at various royal apartments, including in St. James's Palace, where Princess Anne resides, the Daily Mail states, but the couple ultimately felt that Kensington Palace was a better fit. The apartment was given to them by Queen Elizabeth as a wedding present in 2011, House Beautiful reports, and underwent an extensive renovation before they moved in.
Kensington Palace was designed by a famed architect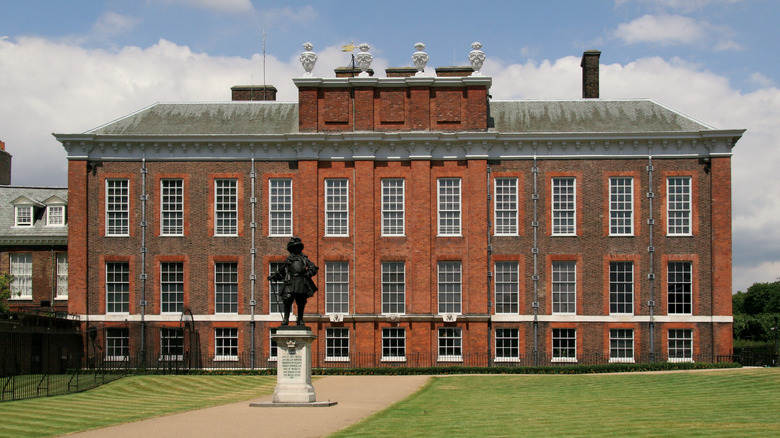 While the interior has undergone changes over the years, the exterior of Kensington Palace — the birthplace of Queen Victoria — has primarily retained its original design, though it recently underwent a two-year renovation completed in 2012, reports Architectural Digest. Included in that renovation was repairing bomb damage from World War II.
The impressive brick facade of the 17th-century palace was designed by renowned architect Sir Christopher Wren, who also built St. Paul's Cathedral, a major London landmark. Kensington was originally a smaller residence named Nottingham House, but King William II and Queen Mary II commissioned Wren to expand the cottage into a palace, per Historic Royal Palaces. However, there was a push to build it as cheaply and quickly as possible, which is why it was built with bricks rather than the limestone common in other buildings in London, including Buckingham Palace (via Newsweek).
Parts of Kensington Palace — including the State Rooms; the Queen's State Apartments, designed for Queen Mary; as well as the lush gardens — are available for public viewing, but the private apartments are in different wings entirely and remain inaccessible to the general public.
The gardens were a huge draw for Kate
Part of the appeal of living in Kensington Palace for Kate was the apartment's secluded walled garden, which E! Online notes is visible from all the primary rooms in the apartment. "Kate particularly adored the private walled garden because she loves gardening," a source told the Daily Mail. The palace is also known for its extensive collection of surrounding green spaces, including the sunken garden (pictured above), the Italian garden, the cradle walk (an arched arbor), and a wildflower meadow.
Kate's passion for gardening was evident when she helped design the Royal Horticultural Society Back to Nature Garden for the 2019 Chelsea Flower Show (via Architectural Digest). She took "a very active role in the garden's design and came up with the original concept," Sue Biggs of the Royal Horticultural Society told AD. She had her three children — Prince George, Princess Charlotte, and Prince Louis — assist her as well, the BBC writes. Involving the children is important to her, and she stated in an Instagram video: "I really feel that nature and being interactive outdoors has huge benefits on our physical and mental wellbeing, particularly for young kiddies."
There is a permanent playground in the walled garden for the Cambridges' children as well, according to E! Online.
The Cambridges' apartment is exceptionally large
The Cambridges' Kensington Palace apartment contains over 20 rooms, The Week notes. Along with two reception rooms, studies, and a dining room, the home includes three kitchens. Curbed clarifies that one is the primary family kitchen while the other two are for staff. There are two master suites, though E! Online notes that William and Kate have broken with tradition and share the same bedroom. There are three additional en-suite bedrooms, too, each with his and hers dressing rooms.
In addition, the apartment offers a private gym and an elevator to travel between the four different floors. The children also have two nurseries, one for playing during the day and one for sleeping at night, both of which are Peter Rabbit-themed. There are also nine rooms on the top floor for staffers like nannies, housekeepers, and butlers. Curbed also reports that there is a panic room as well as safety cameras in every room.
Plus, the apartment is home to offices for a number of charities favored by the late Princess Diana and the Cambridges, according to the Evening Standard.
At one time, the residence was nearly uninhabitable
There were several reasons the apartment had to be significantly renovated before William and Kate could move in. First, reports US Magazine, asbestos had been discovered, which likely occurred as a result of the larger renovation in the 1960s by Princess Margaret and her first husband, Antony Armstrong-Jones. Their £85,000 revamp ovation included a modern-for-the-time kitchen with Formica counters and teak cabinets (via the Daily Mail) as well as accents in Margaret's favorite colors, pink and turquoise.
But, after Margaret's death in 2002, the apartment had primarily remained empty. It was used by the Historic Royal Palaces charity and turned into offices, storage areas, and classrooms. The apartment opened to the public in 2004, and the last exhibition was held in 2012. After that, the nonprofit moved out, at the request of the queen, and William and Kate began the extensive renovation of their future home.
Renovations updated the apartment to modern standards
The renovation and restoration of the royal couple's apartment cost approximately £4.5 million, according to the Evening Standard, and was completed in 2013. Along with removing the asbestos, the residence needed significant updates to the wiring and plumbing (via the Daily Mail). Other upgrades included installing modern, eco-friendly heating and hot water systems; replastering all the walls; and fully replacing the roof.
Although the apartment originally had 30 rooms, per The Week, walls were removed to combine rooms and create a more open layout. The modernization was done thoughtfully, however, and classic architectural elements like crown molding and other original features were preserved.
The renovations were financed via a mix of public and private money. Taxpayer funds provided for the building repairs and renovations, the Evening Standard notes, while William and Kate reportedly paid for the interior decorations and furnishings.
Kate was hands-on during the design process
During other renovations, like at William and Kate's country house Amner Hall in Norfolk, the duchess employed interior designers to assist her. But, during their apartment renovation, she was the primary decision-maker. "Kate has taken a very personal role," a palace insider told E! Online. "She has staff helping her, but she makes some of the calls herself and visited shops. She's very professional and organized."
According to US Weekly, Kate selected furnishings on loan from the Royal Collection, including a significant amount of art — which shouldn't be a surprise, as she received her degree from St. Andrews in the history of art. The Cambridges mixed those high-end choices with some inexpensive furnishings, including items from IKEA. According to Elle UK, William and Kate are big fans of the brand's Scandinavian designs and placed some IKEA pieces in the children's rooms.
The decor combines high-end and budget furnishings
The elegant, traditional design style of William and Kate's home is apparent the moment you walk through the door. "The entrance hall is beautiful with intricate cornicing and huge black and white flagstones," a palace insider told E! Online. "There are large open fireplaces in all the main entertaining rooms and lovely big windows overlooking the garden."
As mentioned, Kate was keen on mixing pricey home furnishings with budget finds. The Daily Mail reports that she was spotted around London shopping at high-end design stores, like the Chelsea Design Center, as well as high-street department stores, like John Lewis, and the contrast is evident in her decor. US Weekly notes that she chose a $50,000 Persian carpet (which is on loan from The Royal Collection) for the entryway but spent $129 each for two faux-fur rugs for other rooms.
Photos of the main living area reveal a neutral color palette full of warm creams and beiges alongside floral throw pillows and small touches of color. Soft earth tones, like sage and brown, were used in the nursery, E! Online notes.
Small details speak volumes of their style choices
While most people will never set foot in the Cambridges' apartment, some notable guests have visited the residence, including former President Barack Obama (pictured above with William) and former First Lady Michelle Obama in 2016. Public photos from such events reveal a lot about the apartment's aesthetic and the couple's personal design style. "Its design was more reminiscent of a comfortable country home than a grand, palatial lounge — with floral cushions adorning comfortable looking cream sofas," notes the Daily Mail.
Personal photos are displayed on various tables and a piano, contrasting with large fine-art pieces decorating the walls. Cosmopolitan points out the comfortable lighting, including the use of table lamps and candles for soft ambient light as well as plenty of natural light streaming through the ample windows. Seats at those windows, framed by subtlety patterned gray curtains, offer views of the walled garden; an upholstered octagonal ottoman doubles as a coffee table and a seat; and a table in a corner serves as a dry bar. And, while the room has wall-to-wall carpet, a large rug grounds the seating area. Fresh florals add a final touch of polish.
The public has seen glimpses of the home during lockdown
Ultimately, though, apartment 1A is a family home. And it shows. "It's the home of a modern couple, lots of photographs of the children and the bits of artwork they bring home from school," per The Week.
During the pandemic, William and Kate have swapped official in-person events for video calls. (Royals: They're just like us!) These occasions have revealed new glimpses inside their residence. For example, a video call in November 2020 with families of British soldiers lost in battle revealed in the background gold-framed artwork and traditional shaded sconces set against a cream wall (via US Weekly).
While some calls have taken place from the couple's Amner Hall residence, Hello! Magazine notes, a joint video announcing William and Kate's new YouTube channel (via People) was filmed against the familiar-looking cream couch and floral pillows of their Kensington Palace apartment.
Other videos have revealed parts of the home
A film released on YouTube in support of Heads Together, a mental health charity spearheaded by William and Prince Harry, showed the duke having a video conversation with Lady Gaga, each tuning in from their respective homes. William appeared to be in the same Kensington Palace living room where he and Kate entertained the Obamas, with a couch removed and a desk added. On the desk were more family photos, including a shot of a black dog and William and Kate's wedding portrait.
Another 2020 YouTube video released on The Telegraph's channel shows William joining an episode of "That Peter Crouch Podcast" in the dining room at Kensington Palace. Hosts Crouch, Tom Fordyce, and Chris Stark joined him for a few pints, some curry, and a discussion on mental health (and soccer) while seated around a traditional dark-wood dining table. Nearby, shaded table lamps flanked a large framed painting over a sizable wood sideboard, intricate moldings decorated the walls and doors, and a marble fireplace provided a focal point.
Princess Diana's apartment is now offices for William and Kate
William and Harry spent a lot of time in Kensington Palace growing up, both when their parents were together and after they divorced. In 2016, House Beautiful reports, William, Kate, and Harry renovated Diana's post-divorce apartments, flat number 8, to serve as their private office space. Immediately after Diana's death in 1997, the residence was occupied by the Royal Drawing School and the offices of a few other charities that Prince Charles supports, per the Daily Mail.
Now, after a two-year renovation, Diana's former sitting room is the hub of the couple's royal functions, featuring work areas and meeting rooms, notes the Daily Mail. Located on the opposite side of the palace from the family apartment, both William and Kate have large, traditional wooden desks, with his situated in front of a marble fireplace. The duchess' desktop features a collection of Penguin cloth-bound classic books and a striped desk chair.
Kensington Palace is becoming a hip place for young royals
When Queen Victoria ascended to the throne and took up residence in Buckingham Palace, many of her relatives — including minor royals and, later, some of her children — moved into the suites at Kensington Palace. The building eventually fell into a state of disrepair, but Queen Victoria, who had experienced a troubled childhood at the palace, stepped in to save the place of her birth. She convinced Parliament to foot the bill for the repairs, and in 1899, she opened the State Rooms to the public. However, as many residents aged, Edward VIII nicknamed the palace the "aunt heap" in the 1920s (via Royal Central) as it was seen as a place for elder minor royals to live out their days.
Now, Kensington Palace has entered a new era as the abode of choice for many young members of the royal family, The Straits Times reports. While it's still home to some of the queen's elderly cousins, fresh-faced residents in recent years include William and Kate, Prince Harry and Duchess Meghan (pictured above on the palace grounds), and Princess Eugenie and husband Jack Brooksbank.
William and Kate's apartment is supposedly haunted
As with many centuries-old buildings, especially those with storied pasts, Kensington Palace is rumored to be haunted. But, of all the spaces in the sizeable building, apartment 1A is "a notorious spot for ghost sightings," according to royal biographer Andrew Morton via Showbiz CheatSheet. "The alleged ghosts of George II, Caroline of Brunswick, and Princess Sophia having reportedly been sighted in the apartment."
Even Kensington Palace's official Facebook page seems to believe the ghost stories. It recounts that "in the 1970s, Princess Margaret's housekeeper reported that she saw a woman in Regency dress suddenly appear in front of her, then vanish through a wall. Over the next few decades, staff at the palace reported hearing strange sounds around the site." Margaret also reportedly regularly saw a woman she nicknamed "The Blue Lady."
So, perhaps William, Kate, and their kids aren't the only residents of apartment 1A after all. Regardless, we'd happily take the gorgeous residence off their hands any day.