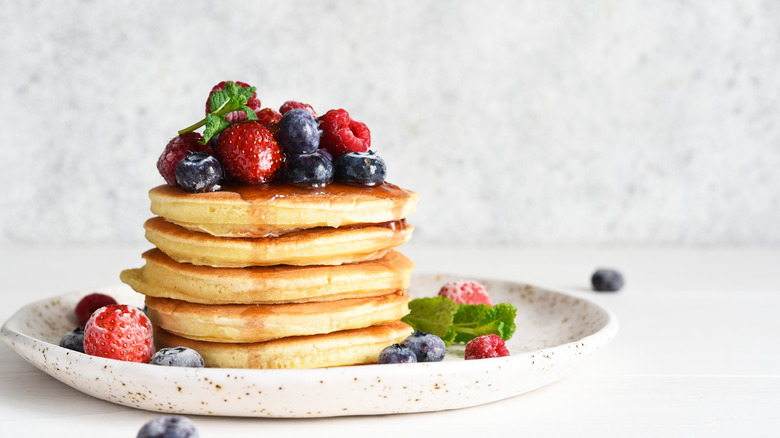 The term "breakfast is the most important meal of the day" exists for a reason. Besides the proposed health benefits, Americans simply love the breakfast. Waking up to the smell of sizzling bacon, steaming waffles, and hot coffee is a legitimate reason to climb out of bed in the morning, even if the day holds nothing else.
Pancakes are at home among other griddled bread, baked treats, and eclectic egg dishes. Nothing else compares to the sight of pancakes on the griddle, catching air before touching back down to brown the flip side. Believe it or not, pancakes are a prehistoric bread invention, according to National Geographic, seared into our carb-loving DNA for thousands of years. But pancakes don't have to be predictable. Sure, butter pats and maple syrup puddles are a delight. But if you're looking to transform your pancake game — letting maple syrup take a back seat to crazy whipped toppings, chocolatey syrups, and citrusy curds — you've come to the right place. Here are 20 delicious and unexpected pancake toppings that aren't maple syrup.
Crème fraîche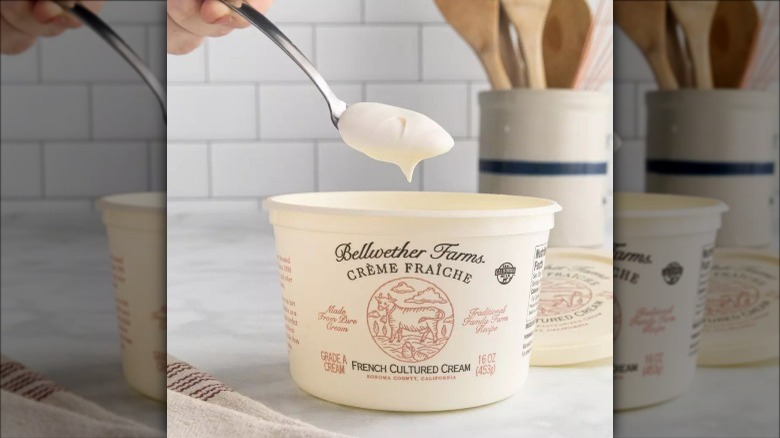 Crème fraîche and all its French glory is yet another rich and creamy butterfat culinary thrill. Fattier and less tangy than sour cream, crème fraîche is creamy and luxurious and contains 30% butterfat content compared to sour cream's 20%. Stir it into blended vegetable soups and pan sauces, serve with freshly baked scones, or mix it into a coffee cake for a rich and moist crumb (via MasterClass).
Today, however, we are championing breakfast pancake excellence. Drop the caviar and caramelized onions to enjoy a traditional breakfast feast awaiting thick and tangy crème fraîche and sweet maple syrup drizzles — the warm syrup dragging ripples of crème fraîche down the sides. Throw some berries, fruit compote, or toasted pecans on top, and you have yourself a brunch showstopper. If crème fraîche isn't available at the local grocery store, try subbing fromage blanc (a rich and spreadable French cheese) or Italian mascarpone cheese.
Believe it or not, making crème fraîche at home is a breeze. With minimum effort required, a 24-hour wait is the most daunting part of the process. With only five minutes of prep time, this recipe combines heavy cream, buttermilk, and a little patience for a crème fraîche experience of a lifetime.
Blueberry sauce
Nothing beats steaming blueberry pancakes, the little blueberries caramelized on the buttered griddle, bursting with piping hot juices upon impact. But what if a sweet and glossy blueberry sauce topping coated pancakes from the outside cascades dripping down the sides and soaking into the light and fluffy pancake interior?
Blueberry sauce is super versatile and easy to make. Associate editor for The New York Times Cooking, Krysten Chambrot demoed a three-ingredient blueberry sauce recipe from chef Genevieve Ko. Chambrot starts with blueberries and lemon juice in a saucepan and cooks the mixture over medium heat until the berries begin to burst. Then, more blueberries and about half a cup of maple syrup go into the pan, and everything cooks until the sauce has thickened.
To take your pancake game up a notch, join celebrity chef Trisha Yearwood in adding lemon zest to the pancake batter. Room-temperature butter smears and airy whipped cream mounds go a long way, beckoning for a hot blueberry sauce to send melted cream driblets in every direction. Pour leftover sauce over ice cream or drizzle on breakfast co-stars like French toast, waffles, or crepes.
Candied pecans
The word "candied" is inherently appealing. Candied citrus, candied fruit, candied bacon — add a little sugar, and the end product is bound to be delicious. Candied or glazed pecans are at the top of the candied nut-sphere, although walnuts, almonds, or even pine nuts would be an excellent replacement. On top of pancakes, the hardened sugar and nutty crunch provide an explosion of contrasting texture.
Believe it or not, the secret to a crackly sugar crust is frothy, beaten egg whites. Pecan pieces get tossed in lightly-beaten vanilla extract-scented egg whites before a mixture of granulated sugar, cinnamon, and salt join at the end. Next, the pecans get a low and slow baking treatment in a 250˚ oven with occasional stirring before they're left to cool and ready to top pancakes.
If the meal is minutes from the table, fast candied pecans are another great option. All that's required is granulated sugar, a saucepan, and some heat. Throw both the sugar and pecans into the pan and cook over medium heat until the sugar starts to caramelize (a light golden brown, not dark!) and the pecans shimmer from the sugar glaze. Transfer the pecans to a parchment paper-lined baking pan and allow them to cool completely before chopping into delectable candied pecan crumbles.
Lemon curd
Whether store-bought or homemade, lemon curd is a luscious blast of sweet, tangy, and revolutionary creaminess. The light British custard is made with sugar, lemon juice and zest, and eggs — no dairy cream needed. Constant whisking is mandatory to prevent curdling, but after just a few minutes of low-heat cooking, a glossy, yellow curd should cling to a wooden spoon much like American pudding. Traditionally, lemon curd is served with buttery scones, on top of toast, or in between cake layers, and yet, lemon curd has even greater potential.
Citrus lovers will yearn for generous lemon curd dollops on top of airy blueberry pancakes with lightly sweetened whipped cream to cut through the tang. To amplify lemon meringue pie status and add crunch, garnish the entire pancake assembly with graham cracker crust crumbles. Or, drizzle with maple syrup and dust with confectioner sugar to imitate classic lemon bar delight.
Caramelized fruit
Eating fresh fruit is easy, but eating caramelized fruit sings of intensely concentrated natural sugars. Stone fruit like peaches, plums and apricots, autumnal apples and pears, and tropical pineapple and mango all hit the mark. There's no one fruit to caramelize, nor is there one way to caramelize fruit. No matter the fruit and technique of choice, it's destined for pancakes.
Per The Washington Post, grilled fruit is a transformative ice cream or pancake topper. Large fruits require de-pitting only before awaiting the grill's characteristic char. Smaller fruits like grapes, cherries, or strawberries are better kept on a skewer to prevent slippage. If preheating the grill isn't an option, a simple sauté in a bit of butter and sugar works just as well.
Alternatively, try poaching whole fruit in a flavored simple syrup for an extra sweet kick. Figs, pears, and orange segments soften ever so slightly. Meanwhile, the poaching liquid soaks into the fresh fruit, leaving a shiny syrup glaze in its path (via The Washington Post). The leftover poaching liquid — teeming with fruity flavor and a colorful tint — is also an epic maple syrup replacement.
Cinnamon butter
Pancakes and butter are no strangers. Smooth, golden brown pancake surfaces welcome glistening room-temperature butter spreads, soaking through to fluffy cake interiors. Butter in its simplest form is faultless, but what would you say if a little something extra would put the pancake-eating experience over the top?
Herb, garlic, and spiced compound butter are instant flavor boosters for savory grilled steak, roasted chicken, and seared seafood. Per The Washington Post, compound butter is nothing more than a soft butter base with added flavors, often wrapped up in a log and kept in the refrigerator until needed. Sweet compound butter, however, get's less attention. Aside from unctuous honey butter on warm biscuits or cornbread, there is an entire world of sweet compound butter to elevate sweet cravings. Food writer Donna Currie leads the movement with a blackberry compound butter — an ideal spread for freshly baked scones or crispy Belgian waffle cavities.
Cinnamon butter is a cross between a compound butter and a frosting. A mixture of softened butter, vanilla extract, confectioners sugar, and ground cinnamon blends to form a smooth, buttery spread ready to transform pancake plates into sweet and buttery cinnamon repositories (via Instagram). Try swapping the honey for brown sugar to add texture and drizzle buttered pancakes with warm honey.
Cinnamon bun frosting
The U.S. has a soft spot (pun intended) for decadent cinnamon rolls. Cinnabon is a national treasure, built on three essential components — tender dough, pools of buttery cinnamon sugar, and cream cheese frosting. The aromas are enchanting, and the frosting is treasured so much so that enthusiasts can add a two-ounce frosting side for only $0.79 (via Cinnabon). Of course, Cinnabon is a judge-free zone, so whatever you choose to do with extra frosting is entirely up to you.
If there is extra Cinnabon frosting, have no fear (although using up extra cream cheese frosting is never a daunting task). Next time Sunday breakfast motions lead to buttered griddles and pancake batter, it's time to revive the precious Cinnabon frosting stash. A liberal frosting smear and maybe some chopped candied pecans will elevate any pancake stack. But for a true pancake-cinnamon bun inception moment, swirl a mixture of melted butter, brown sugar, and cinnamon into the top of each pancake before flipping them (via Instagram). The buttery cinnamon sugar captures a cinnamon bun's sticky interior, and the frosting mimics drippy bun "goo." Homemade cream cheese frosting is a breeze to make. Skip straight to the frosting in any cinnamon roll recipe and mix together cream cheese, butter, and confectioners sugar — every bite of pancake will sing of "center of the roll" bites.
Honey roasted peanut butter
Peanut butter is a love language for many. Swirl it into brownies, blend it into smoothies, or assemble a nationally treasured PB&J sandwich. Another peanut butter faction reaches only for a spoon — allowing peanut butter's smooth texture and sweet and salty union to speak for itself. For those that can't eat peanut butter, nut-free replacements like sunflower and granola butter aim to match peanut butter greatness.
Carbs and peanut butter are best friends; no convincing needed. So why not try spreading it on pancakes right before maple syrup waterfalls? Honey-roasted peanut butter has an extra richness that plays to pancake breakfast expectations. Honey-roasted peanut butter is available in most grocery stores, or you can make a homemade version by blending roasted peanuts in a food processor or blender and adding a honey drizzle at the end.
A chocolate chip pancake and honey-roasted peanut butter combo reigns supreme, essentially a morning-approved chocolate peanut butter cup. Of course, any peanut butter flavor works well for pancake application. Stir in melted chocolate, fold in white chocolate chips and cranberries, or add a dash of ground cinnamon.
Streusel topping
The best coffee cakes take an oath to flaunt two even layers of cake and streusel topping. Abstract buttery crumbles are the first thing we see on coffee cake and the last thing we think about when it's gone. Lingering crumbs from coffee cake slices or muffin liners stick around just long enough to hoist up to the mouth with the tongs of a fork.
Homemade streusel topping is incredibly satisfying and easy to make. To start, flour, brown sugar, and salt (and maybe a sprinkle of cinnamon) combine in a bowl. A hefty load of melted butter moistens the flour and sugar mixture, just enough for streusel clumps to form. Instead of sprinkling on top of raw coffee cake batter, spread the streusel clumps on a parchment-lined baking sheet and bake at 350˚ for about 10-12 minutes. Sprinkle on top of blueberry pancakes or banana pancakes, and let the maple syrup run wild.
Coconut whipped cream
Vegan and plant-based living is all the rage. Alternative milk and Impossible burgers make up the bulk of the U.S. vegan food market, per Statista, and the market is only just taking off. As of early 2022, 14% of U.S. food consumers followed a meat-free diet, but all indicators support a steady increase over the next five to ten years. The market is starting to catch up with consumer demands. However, it can still be hard to find inspiring vegan breakfast options — recipes that ditch dairy, eggs, and meaty breakfast links.
Fortunately for vegans, pancakes are easy to make 100% vegan with only a few key swaps. Apple cider in place of eggs, almond milk instead of milk or buttermilk, and vegan butter or oil are all it takes. Pancake toppings, however, are another story.
Of course, maple syrup is naturally vegan. Plant-based butters appease buttery pancake needs. Even vegan whipped creams are popping up in markets nationwide. But if you're looking for a homemade vegan whipped cream, look no further than a can of coconut milk. Simply put a can of full-fat coconut milk in the refrigerator overnight. The next day, open the can and scrape the solidified coconut fat from the top of the can, leaving behind the watery liquid underneath. Use a hand mixer or whisk and some muscle grease to whip the coconut cream to stiff peaks and flavor with a little sweetener (like maple syrup, agave, honey, or powdered sugar) and vanilla extract. For vegans and non-vegans alike, the subtle coconut flavor is incomparable and magically mixes with maple syrup drizzles.
Apple cider syrup
Apple picking season marks the beginning of red and yellow leaves, cooler temperatures, and a gradual move towards holiday fun. Picking an apple off the tree and biting into it (no one has to know) is a cherished autumn experience. But truthfully, orchard outings are often arranged with ulterior motives in mind. Piping hot apple cider donuts, caramel apples, and fresh-pressed cider are unabashed priorities for many. Apple cider is the essence of Autumn. But have you ever thought of reducing cider into a thick syrup?
Reduced apple cider can come in many forms. Apple cider caramel is a cider-infused caramel sauce, while boiled cider is a simple reduction. Particularly in western New England, boiled cider is a big deal (via The Washington Post). Instead of maple syrup or honey, which are sweeteners first and foremost, boiled cider is sweet, tart, and a little molasses-y. Springfield, Vermont's Wood's Cider Mill is keeping boiled cider production alive, reducing fresh apple cider's liquid by one-fifth — an easy process to replicate at home for pancake ventures. The syrup can be drizzled on top of fresh pancakes immediately or mixed with maple syrup to reinforce breakfast's natural tendencies. Try making homemade apple cider caramel sauce for a richer apple cider alternative. Velvety heavy cream complements the cider's apple tang, while butter and warm cinnamon warm the belly.
Pig candy
Bacon has a passionate fanbase. The love is so fierce that bacon ice cream, bacon-infused vodka, and even bacon soap are establishing a meaty market all their own (via Smithsonian Magazine). The smell alone is intoxicating for all who breathe in the rich, smoky aromas. The Atlantic highlights a nationwide obsession, noting an early 2000s bacon renaissance tying artisan bacon cuts with religious disregard in pursuit of bacon's crisp texture and umami qualities.
Pig candy maintains all of bacon's revered attributes but introduces yet another component to push the crispy and sticky slices over the top. Per LA Weekly, pig candy is nothing more than par-cooked bacon slices that get a brown sugar or maple syrup bath and hop back into the oven for a final crisping. Pig candy is essentially a meaty, sweet, salty, fatty, and smoky chip destined for breakfast plates everywhere.
For all the meat lovers out there, skip the side of bacon and crumble pig candy slices right on top of pancake stacks. Pig candy is easy to make in the oven and even simpler in the air fryer. Chop up the cooled pig candy slices and serve on top of pancakes with maple syrup, whipped cream, or an Elvis tribute of peanut butter and banana slices.
Peaches and cream
There is no better feeling than ripe summer peach juices dripping down the chin. Abstract orange, yellow, and red ombre patterns stand out in farmer's market baskets with sweet and bright yellow interiors laying dormant until eaten. Along with corn on the cob, strawberry shortcake, and ice cream, eating peaches is the pinnacle of summer enjoyment. Peaches can be sliced, roasted, sautéed, or grilled before petitioning for a liberal drizzle of heavy cream to create a summer dessert staple — peaches and cream. The cream can be whipped, sweetened, or just a buttery pool that floods in between succulent peaches.
Peaches are a summer fruit, but some experts argue that true peach season is even more condensed. Food writer Kathleen Purvis claims peaches shouldn't touch eager lips before the Fourth of July (via The New York Times). Although it varies by region and climate, peak peaches are usually harvested in July and August.
Many chefs and home cooks elevate the original peaches and cream concept and turn it into amazing inspired dishes. Crepes with peaches and cream cheese, candied walnuts, and whipped cream is a creation worth savoring. Meanwhile, peaches and cream cupcakes with brown sugar buttercream, peach cobbler topping, and brown sugar crumble are turning cupcake convention on its head. Crepes to pancakes isn't a giant leap. After all, peaches, cream, and maple syrup are a flawless combination.
Toasted angel food cake
Angel food cake is airy to the taste and nostalgic at its core. Baked in an unmistakable cylindrical bundt pan, the cake is golden brown on the outside and creamy white on the inside. The texture is close to air, thanks to whipped egg whites, sugar, and just a little bit of flour. Gentle folding and a post-bake up-side-down cooling process is key to maintaining the cake's structure.
Adding angel food cake to pancakes may seem repetitive at first — do pancakes need more carbs? Yes, yes they do, especially when toasted angel food cake is involved. Crepes A La Cart in Breckenridge, Colorado, puts toasted angel food cake on the pancake map with a blueberry muffin crepe; a traditional French pancake with blueberry compote, crunchy streusel crumble, and toasted angel food cake crumbs. The components seem solid from the start, but nothing will prepare your tastebuds for striking blueberry muffin impressions after the first bite.
Start with a blueberry pancake base to replicate blueberry muffin flavors in pancake form. Crumble angel food cake into small pieces and toast until golden brown in a pan with melted butter. Sprinkle on top of pancakes with optional streusel, maple syrup, and blueberry sauce.
Macerated strawberries
When berries are at their peak, macerating is an excellent way to sweeten and draw out a berry's natural juices. When they aren't at their peak and need a little help, macerating can also bring them back to life. The process is super easy, and chef Martha Stewart has a mixed berry version of her own (via YouTube). She sprinkles the blueberries, raspberries, and blackberries with sugar and adds orange juice to help draw out the encased fruit juices. The finished product highlights shiny berries and a pink-colored syrup at the base of the bowl, perfect for topping ice cream or drizzling on pancakes.
Strawberries are a top-tier fruit to macerate because the juicy insides come in direct contact with sugar. No other ingredients are required, just fresh, sliced strawberries and granulated sugar. After sitting together for 10 to 15 minutes, the strawberries start to release their juices and dissolve the sugar to form a thin strawberry-infused syrup.
Pancake assembly with macerated strawberries is a simple endeavor. Spoon the strawberries on top, allowing the pancakes to drink up all the extra strawberry juices at the bottom of the bowl. The no-cook pancake topping is excellent paired with lightly sweetened whipped cream, toasted sliced almonds, and a dusting of confectioners sugar.
Whipped cheesecake
Cheesecake is unlike any other dessert. The creamy, dense, and mildly tangy dairy custard set overtop a crumbly cookie or graham cracker crust, often made with ricotta cheese, mascarpone, or the obvious cream cheese. Cheesecakes come in many forms. While baked cheesecake relies on whole eggs to set the mixture in the oven, no-bake cheesecake ditches the raw eggs and uses whipped cream instead.
For traditional New York-style cheesecake purists, this pancake topping is for you. A valiant excuse to eat cheesecake at breakfast, just 10 minutes will guarantee a dream whipped cheesecake topping for all pancake needs. To make the no-bake whipped cheesecake filling, fold a smooth mixture of cream cheese, sugar, and vanilla extract into whipped heavy cream. There is no need for traditional cheesecake assembly — simply stick the filling in the fridge to firm up a bit. As soon as pancakes hit plates, use an ice cream scoop, spoon, or a piping bag with a decorative tip to load them up. Graham cracker crust crumbles and macerated strawberries are a luxurious finish.
Sprinkles
Sprinkles are an instant mood booster. Colorful, sweet, playful, and celebratory. The sight of sprinkles is a sign of delicious things to come. Just ask Food Network celebrity Molly Yeh. She doesn't hide her passion for sprinkles. In an interview with Elle Magazine, Yeh revealed her sources of culinary inspiration; Yeh's Minnesota farm life, her Chinese and Jewish heritage, and sprinkles. That's right; sprinkles are in a category of their own.
Food & Wine is all over an uptick in sprinkle creativity — sprinkle-covered donuts, cookies, and yes, pancakes. Cake batter, funfetti cake, or "birthday cake" treats are also having a moment. Tillamook has a birthday cake ice cream flavor made with cake batter ice cream, cake pieces, and crispy sprinkles. Birthday cake cheesecake follows suit with colorful sprinkle beads front and center.
If birthday cake cheer is calling at breakfast, grab a jar of sprinkles and go crazy. Add them to the pancake batter or cover pancakes in a shower of edible color. If you're feeling really decadent, stir a few tablespoons of boxed vanilla cake mix into the pancake batter and finish the flapjacks with a spread of homemade buttercream.
Nutella sauce
For those of us who intentionally down Nutella jars in one sitting — maybe with bread or possibly just a spoon — we know the chocolate hazelnut spread's persuasiveness. Nutella's 60th birthday is fast approaching, a milestone we can all celebrate with Nutella crepes, Nutella toast, and Nutella calzones. The smooth chocolate spread with nutty notes of hazelnut paste is so popular that a jar is sold every 2.5 seconds.
Nutella is already a cherished breakfast option, mainly due to marketing. A 2008 U.K. advertisement touted a balanced breakfast of antioxidant-rich cocoa, 52 hazelnuts per jar, and adequate protein from skimmed milk, an assertion that has since been questioned (via BBC News). Despite the critiques, Nutella's deliciousness is undisputed.
History set Nutella up for breakfast excellence, so warm Nutella sauce poured over pancakes isn't much of a reach. This two-ingredient Nutella sauce uses a splash of warm milk to thin out the thick spread into a pour-able consistency. In fact, this is a great way to use up trapped Nutella bits at the bottom of a nearly-finished jar.
Baklava crumbles
Baklava is no stranger to Istanbul streets and Greek bakeries. Thanks to culinary migration, crispy, syrupy, and nutty slices are sold all over the U.S. Baklava's roots date to the Assyrian Empire (nearly 3,000 years ago), and still, the layered wow factor hasn't faded. Phyllo dough is a pillar baklava ingredient, a super-thin, raw pastry dough basted in butter and transformed in the oven into delicate leaves.
Baklava's buttered phyllo layers join ground nuts mixed with sugar and spices and a thick honey syrup to create an equally crisp and soft texture. Before baking, a sharp knife carefully pierces through the top, creating slices in the shape of a diamond (although many forms exist). After the baklava bakes, homemade honey syrup douses the phyllo and nut mixture in sticky brilliance. The baking tin is then left to cool, soaking up the lavish sugary bath.
Pancakes are a hospitable host for any syrup product, and there is a delicious solution if baklava leftovers are lurching in the kitchen, either from a bakery visit or a homemade batch. Chop up the baklava remainders and sprinkle over freshly griddled pancakes. The buttery phyllo adds texture and the soaked nut mixture oozes of honey syrup. Finish with butter, drizzle with honey butter, and garnish with whipped cream.