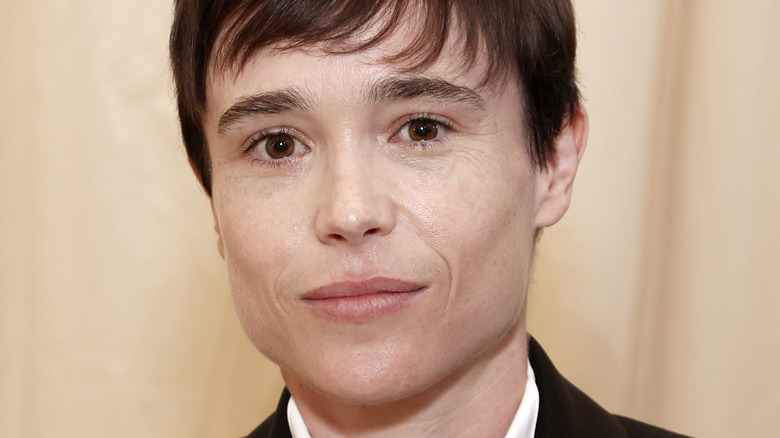 When you're a celebrity (not speaking from experience here), you do things a little differently from other folks. Whether it's attending the glitziest parties or sharing glamorous updates to millions of followers, a celebrity lifestyle affords you a few things that we mere mortals can only dream of. This extends to the kind of real estate the rich and famous can own. While the average price of a home in the U.S. was $295,300 in June 2020 (per the Bryn Mawr Trust), in some celeb-populated areas like Hollywood Hills, that average house price sits a little higher — at a whopping $1.83 million for the same month and year, according to Zillow.
Yet sometimes celebrities buck the trend. Not every famous person loves to flaunt their wealth with houses of astronomical price or square footage. In fact, some prefer to find a place to call home that falls far below the average house size, which was 2,301 square feet in 2019, according to Statista. While there are some impressively expensive celebrity homes in the U.S., there are just as many modest ones. But which celebs like to keep things simple? Let's take a look at some of the smallest celebrity homes around.
Robert Pattinson's home is pretty snug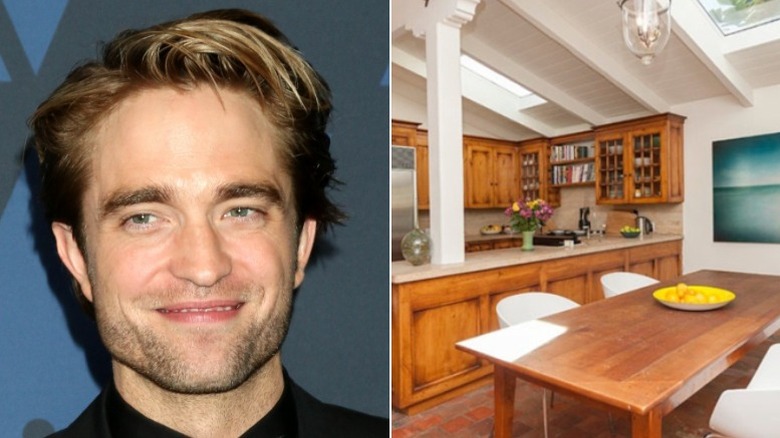 Robert Pattinson has never been someone who buys into the celebrity lifestyle. Despite having a net worth of $100 million, per Celebrity Net Worth, the former "Twilight" star hasn't let his wealth get to his head. This is shown pretty clearly by the kind of property he favors, with Pattinson purchasing a demure Hollywood Hills home of just 1,940 square feet soon after the otherworldly success of the vampire franchise (per Variety).
With a price of $2,176,500, this home didn't exactly put a huge dent in Pattinson's wealth, but despite being on the smaller side, it's worth every penny. The single-story hacienda-style home, which contains two bedrooms and two bathrooms, is tucked away at the end of a long driveway, giving the movie star the privacy he deserves. Inside the property, open-plan living provides the home with a feeling of being far bigger than its floor size, with rustic tiled flooring in the great room pairing tastefully with the farm-style wooden doors leading to the outside spaces. In the kitchen, a vaulted ceiling with skylights helps to highlight the wooden cabinetry and custom cast-iron stove. And the library, with its book-lined walls and comfy furniture, is the perfect place for a deep thinker like Pattinson to relax.
Maggie Rogers' starter home is just over 1,000 square feet
When Maggie Rogers released "Alaska" in 2016 with the backing of Pharrell Williams, she burst to stardom at a rate fast enough to make your head spin. Luckily, Rogers keeps things grounded, as seen with her 1,034-square-foot starter home in Echo Park, Los Angeles. The humble house is a far cry from the mansions of other music stars, like Williams' own mega-mansion. According to Dirt, Rogers purchased the home in 2020, but it isn't quite what you'd expect from a Grammy-nominated artist whose album went to number two on the Billboard 200. It has an unassuming black façade and a modest patio space, giving it a homely effect that continues inside.
The home's interiors follow a "bohemian modern" aesthetic, with light furniture pairing with bright walls and wooden ceilings. The kitchen is snug but efficient, with enough space to house a generous center island amongst the top-of-the-line appliances and white cabinets with gold pulls. In the master bath (one of three in the property, as well as three bedrooms), Rogers' artistic sensibilities shine through. The master bath has a freestanding bathtub surrounded by oil paintings and a sprawling fiddle-leaf fig. There is also a shaded hang-out space outside that sits adjacent to a patio, which gives the musician an ideal space to work on new tracks while watching L.A. sunsets.
Taraji P. Henson bought her Glendale home for a steal
A familiar face on the Hollywood scene, you might expect Taraji P. Henson to veer towards larger properties that are typical for A-listers. She does, after all, have a net worth of $25 million, per Celebrity Net Worth. But Henson doesn't mind living in smaller spaces. Instead, she has a 1,406-square-foot home in Glendale that she purchased for a song at $431,000 in 2002, according to Variety. The Oscar-nominated actor's Spanish bungalow property has a unique, rustic orange exterior and a generously-sized swimming pool in the backyard.
The two-bedroom, 2.5-bathroom property has dark wooden floors running throughout, and the Spanish-style is reflected with intricate wrought-iron railings separating the split-level space. Despite the moody floors, the property feels light and spacious throughout, with the kitchen contrasting with bright white cupboards and textured grey countertops. Henson has now moved on to greener pastures on the property front, but if inclined, you could rent the property from the "Empire" star for $3,700 per month.
Jennifer Lawrence lived in a modest condo at the height of her fame
Once upon a time in Hollywood, you could barely blink without someone mentioning Jennifer Lawrence. The renowned actor has lost none of her star power, but when she first reached stardom, she bucked expectation by staying put in her previously-purchased condo in Santa Monica, according to Variety.
The beach-adjacent property was bought for $879,000 in 2006, and contains just two bedrooms and 2.5 bathrooms. And at 1,413 square feet, it is far from enormous. What it is, though, is designed to appear far roomier than its actual size. The living room has an open floor plan, which means that Lawrence had plenty of space to spread out. Open arches lead to the dining space and kitchen area, further opening up the property. Lawrence eventually moved on to bigger things property-wise and sold her condo in 2016 for $1.15 million. This might be a drop in the ocean of her $160 million net worth (via Celebrity Net Worth), but it's still a profit! But even with Lawrence's new property, it's clear that she doesn't veer towards homes with eye-watering square footage. According to Teen Vogue, her Tribeca condo was only marginally larger than her Santa Monica property, by Hollywood standards, at 3,184 square feet.
Shaquille O'Neal's Florida house is surprisingly modest
Sports stars are famed for their absurdly large properties, and usually put their net worths on display with their design choices. Because of this, you might expect Shaquille O'Neal, who has a net worth of $400 million, per Wealthy Gorilla, to make property choices designed to stun. Well, get ready to be baffled because O'Neal decided instead to focus his energies on buying a $235,000 home in Florida back in 2012, according to the Daily Mail. We might need an explanation on this one, Shaq.
To be fair to him, O'Neal got his money's worth with the purchase. The five-bedroom property has four bathrooms, a wet bar, and its own entertainment space. The home is also pretty gorgeous, with a tree-lined driveway leading up to a jade-green exterior with white window details. Perhaps unsurprisingly, though, this isn't O'Neal's only property, and nor is he immune from the trappings of displaying his astonishing wealth. His Orlando mansion is just a touch larger with 31,000 square feet of living space, its very own car showroom, a two-story great room, and a 95-foot pool. And according to its listing price, it is valued at $19.5 million (per Forbes).
Elon Musk's home is one of the smallest we've seen
So. Let's talk about Elon Musk. It's no secret that this guy is pretty wealthy. In fact, as of November 2021, he's the richest person in the world. According to Forbes, he currently has a net worth of $305 billion. Excuse us while we eat crackers for lunch for the fourth day running.
What's a little less well-known, however, is where he chooses to live. Musk prefers to spend his downtime in a prefab tiny house worth under $50,000, which he rents from his company SpaceX, according to Musk's Twitter. The home, which is located near SpaceX's operations site in Boca Chica, Texas, is a tiny house built by Las Vegas-based company Boxabl (via Business Insider). At just 375 square feet in size, this has to be the most extreme net-worth-to-house-size ratio out there.
We can understand why Musk would choose to live in this particular tiny home, though. The house, which is dubbed the "Casita," is designed with both space and aesthetics in mind. The home supplies a generously-sized kitchen, living space, and a sleeping area in its open-plan design, and has a cute little separate bathroom. It's for sure a bit of a weird choice by Musk, but we mean, he's never exactly been predictable, right?
Tavi Gevinson's apartment is just 650 square feet
Tavi Gevinson first shot to public consciousness at the age of 12, when she started her fashion blog Style Rookie. Since she has been in the spotlight for most of her life, most people assume that she lives in a mammoth house. Pleasingly, though, Gevinson keeps it pretty real by renting a Brooklyn apartment of just 650 square feet. The one-bedroom apartment is every inch a millennial haven and is kitted out in Gevinson's signature style choices. She told Apartment Therapy that her decor success stems from ​​"trying to just stay all white and simple and then have all of my taste in the things that I love come through in everything else."
The space is a mishmash of artsy, colorful designs and clean lines, giving it an unfussy and welcoming feel. In the front room, a square-effect rug brightens up the space with blues and reds, and complements the patterned cushions and wall displays. Across from the sofa, in a move that many city-dwellers will recognize, sits her workspace and desk. And if you needed any more color from the home, all you'd have to do is open up Gevinson's full-length wardrobe, which is chock-full of her favorite clothing pieces.
Elliot Page's house was bought from another celebrity
Elliot Page has been a fixture in Hollywood for years now, so you might expect him to be living it up in a sprawling mansion. After all, he has an impressive net worth of $12 million, per Celebrity Net Worth. However, his actual residence is positively teeny from a celebrity perspective — although it does have a pretty rad celebrity pedigree. Page's mid-century bungalow, set in the Hollywood Hills, was bought for $1.7 million from none other than Venus Williams, according to Lonny. Yet despite the very Hollywood price tag, the property only contains 1,500 square feet of space, with three bedrooms and two bathrooms.
Size is no obstacle to the utter luxury of this space, though. The house is all retro glamour with an open floor plan containing several different seating sections and mid-century modern furniture. The living room is punctuated by a towering fireplace that has brick detail leading up to the sloping ceiling. The master bedroom is a vision in neutral tones and adjoins to an outdoor patio. And despite the modest living space, there's plenty of room for a pool, along with a deck running alongside it.
Warren Buffett's lived in the same house for decades
As one of the most successful investors of all time, it'd come as little surprise if Warren Buffett had an enviable property portfolio. But at the end of the day, Buffett heads home to a seriously unassuming front door, which leads to a house that's worth approximately 0.001% of his net worth, according to Business Insider. The investment kingpin, worth $104 billion as of November 2021 (per Forbes), bought his home in Omaha, Nebraska, the town of his birth, back in 1958 for a meager $31,500. That is approximately $250,000 in today's money.
Over time, though, the property has skyrocketed in value and is now worth upwards of $650,000. That's not a bad return on investment for Buffett. It's actually not a bad-sized property, either, with 6,570 square feet of space, five bedrooms, and 2.5 bathrooms inside. Designed in dark greys and sandy brick on the exterior, the home contains plenty of yard space lined by neat shrubbery, and even has a roof patio for Buffett to take business calls on. It's also decked out with a security detail, with cameras and a fence protecting the home.
Vincent Kartheiser's house is super small
While some celebrities prefer to live in a home that is a million square feet in space, other stars actively seek smaller homes to dwell in. And to be honest, we don't blame them. Once you've seen one home theater and billiards room, you've seen them all. This was the case for "Mad Men" alumnus Vincent Kartheiser, whose snug Hollywood home clocked in at just 54 square meters of space, according to House & Home. That is about 581 square feet.
Despite the size of the house, it's one of the most ingeniously and tastefully-designed spaces we've ever seen, helped in part by the hard work of architect and designer Funn Roberts. Check out that black marble shower located right in the middle of the main room, creating, in essence, a wet room in the center of the house. Or, take a look at the bed … that's it, a little higher … keep looking up … that's right, it's on the ceiling. Kartheiser and Roberts designed the bed to be lowered at night via a weighted pulley system, and he can fold down the redwood headboard during the day to create a desk. Pretty neat, right? Having bought the house in 2003 for $547,000, Kartheiser listed the home in 2014, for $800,000, according to Variety.
Mark Zuckerberg's house is not as expensive as you'd expect
Mr. Zuckerberg has come a long way since his days in the Harvard dorm rooms, thinking up Facebook (or is it Meta now? We can't keep up). These days, Zuckerberg dwells in a fancier home, which is a $7 million mansion in Palo Alto, California, according to Architectural Digest. Now, granted, a $7 million house isn't exactly "humble" to most of us, but when you consider that Mark Zuckerberg's net worth is $118.6 billion as of November 2021 (via Forbes), it's mere pocket change to the social media captain.
Purchased in May 2011, the 5,617-square-foot home doesn't fall prey to the trappings of extreme wealth. Instead, the house almost looks like a traditional suburban dwelling, with a white exterior and front-and-back porch space. The house also boasts ample yard space with a barbeque area, entertainment pavilion, saltwater pool, and spa. Five bedrooms and five bathrooms exist inside the home alongside the tasteful living areas, with wooden floors and large white-framed windows throughout the property. There's also a relaxing enclosed sunroom, which would have been great for staring out at the neighboring properties. But Zuckerberg himself bought those properties for an estimated $30 million the year after purchasing his primary home.
Adrian Peterson held on to his smaller home for a decade
Running back and NFL legend Adrian Peterson has had a million dollar salary since going pro in 2007, according to Spotrac. So it's a bit of a headscratcher as to why he held on to his five-bed, four-bath home in Minnesota, which he bought in 2007 for just $665,000 (via TMZ). At 4,167 square feet (per Realtor), it's a comparatively modest-sized home for a sports star, and from the outside, it'd be difficult to tell that it was home to a football icon. The house looks pretty much like any other suburban property, with a generously-sized garage, a well-kept front lawn, and a boxy window above the front door separated by a transom.
While the interior is just as classic as the exterior, one distinctive room hints that a football star lives there. The former Minnesota Vikings player kitted out his game room in the team's recognizable colors, with the deep purple of the walls helping to highlight the huge pool table in the middle of it. Amazingly, Peterson held on to the home for a decade before selling it in 2017.
Christina Ricci stayed in her modest home for a while
Shooting to fame at just 11 years old thanks to her portrayal of Wednesday Addams in "The Addams Family," Christina Ricci is bona fide Hollywood royalty by this point. Which makes it even more surprising that she kept hold of such a modest-sized home well into her adult years, eschewing the grand mansions of L.A. for a 1,981-square-foot house in the Hollywood Hills (per the Los Angeles Times). Bought in 2005 for $1.505 million, Ricci was living way below her means. But given the luxurious architecture of the property, its deep-blue pool, and premium location, it was probably too difficult to pass up.
Built-in the 1950s, the since-updated property contains two en-suite bedrooms, as well as a library and study space. The living room comes equipped with a fireplace, and the house benefits from ample natural light thanks to its skylights and grand French doors. Ricci called the place home for a total of nine years, before moving on and buying up in 2014. However, she didn't make a profit on the place. She earned a little less than she bought it for, selling it at $1.37 million.
Elijah Wood didn't choose Hollywood for his home
(Insert joke about Elijah Wood having a hobbit-sized house here.) Good, now that we've got that one out of the way! Elijah Wood has always been known to make interesting choices, and that is as true for his property portfolio as it is for his acting career. While most actors shack up in Hollywood in stratospherically-expensive homes, Wood instead preferred to create a base in Austin, Texas, spending just over a million dollars on a three-story house back in 2012, per Austonia. But that purchase did not make much of a dent in his net worth of $18 million (per The Richest).
The home, which dates back 130 years, contains four bedrooms and 4.5 bathrooms, and an impressive two living rooms. The house clocks in at over 3,285 square feet of space. Out front, the house is elegantly built and includes an enclosed porch space. Inside, the home has touches of classical charm, like clawfoot bathtubs and marble countertops. There's also a guesthouse on the property (presumably useful for when Wood's showbiz buds come to stay), and you can see imposing views of the Austin skyline from the top story. Wood held on to the house for eight years before selling for $1.85 million in 2020.