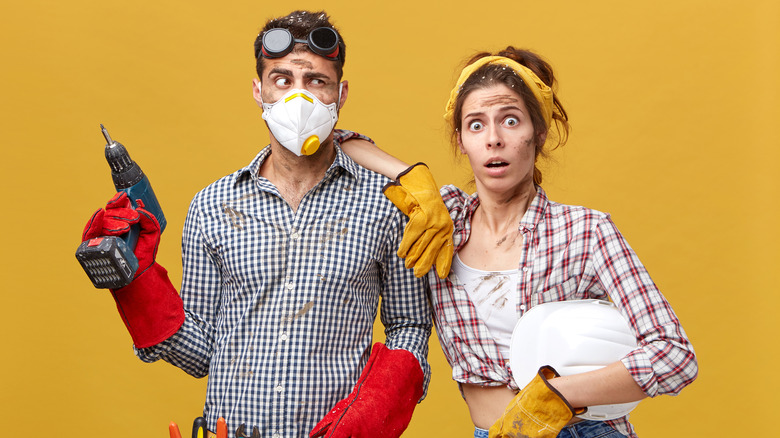 2020 was the beginning of an isolation period that made homebodies out of many of us. The COVID-19 pandemic effectively shut down society at first, causing widespread stir craziness as options for going out became limited. Homebound people also had more time to take a good, hard look at their living spaces, and nesting instincts kicked in as homeowners decided to finally tackle those updates they had been putting off.
Enter the trusty DIY craze. As folks heavily leaned on social media platforms to reconnect with people, TikTok took off in a big way (via Variety), and home renovations became a huge trend on the app. As before and after videos went viral, more and more do-it-yourselfers decided to give their own homes a facelift, which in turn gave big brand stores like Lowe's and Home Depot a sizable boost in the earnings department, per CNBC. Home Depot digital sales rose 80%, while Lowe's clocked in huge gains at 106%, and this growth has continued as time has passed.
As fun as it is to renovate your own spaces in light of this full steam ahead remodeling trend, it is important to keep in mind that not all gorgeous renovations are what they appear to be. Look underneath the façade of some viral TikToks for some terrifying truths.
Viral aesthetic disasters
Our first example of good intentions gone bad has made the entire internet cringe. TikTok do-it-yourselfer @graceoheeron used stencils on her bathroom floor and hand painted her sink. Drawing on inspiration from past bathroom updates she had seen, she grabbed regular wall paint and went to work. Then she tried to fix it … again, and again, to the hilarity and horror of thousands of people who followed her for the train wreck updates (via BuzzFeed News).
There is a right way to do these things, but @graceoheeron used the wrong techniques and materials, per Real Simple. Any type of paint on high traffic areas scuffs over time and doesn't have clean lines, and worst case scenario (especially if you end up like her, attempting to scrape off layers of wayward paint), your surfaces might be badly damaged and need replacement. If you are hellbent on trying this technique, be sure to research painting methods and utilize an adhesive primer before stenciling, as well apply as a final coat of clear polyurethane to withstand the wear and tear of daily use.
Keep in mind the appeal to future homeowners of any home crafted projects you may try. Hand painted surfaces may look nice in pictures, but if buyers see painted countertops or stenciled tile that are badly executed, they would likely think, "What else have they skimped on?"
Painting decking with a broom
This technique is touted as a time saving hack and is all over TikTok. Premise: Skip the roller when painting your decking by using a push broom instead, and get the job done in no time!
The videos show quick, broad coverage with little effort, but the long-term effects are rarely shown. As with the DIY bathroom painting, materials and the right tools for the job are key. Floor brushes and brooms will not provide a clean finish according to research by Confused.com, and you would more than likely spend more time repainting it in the long run.
Be sure to use the proper paint or stain rated for outdoor use on decking, and go with the type of roller or paintbrush suggested by the pros. Future homebuyers would certainly notice a deck that has a striped finish. Often when internet hacks claim you can get something done faster, you are sacrificing quality for the time you've saved.
Peel and stick tiles
The idea of skipping the cutting, notching, and mortaring of tile in favor of slapping on a self-adhesive option is appealing, but please be sure you are applying the proper product. There are brands of self-adhesive tile that are designed to resist heat and moisture, but it is all too common to see cheap backsplash stick-on tiling being used on fireplaces and bathrooms, such as in these TikTok videos.
Cheaper peel and stick tile options will melt or drip when heated and warp or peel when wet, and adhesive could weaken or fail. In a wet environment like bathrooms, expect to see warping and peeling after prolonged contact with steam (or worse yet, direct moisture from your shower). Additionally, if you decide to risk cheaper versions on your fireplace, melted plastic and adhesives can be a bear to clean up, and could damage your sublayer.
Peel and stick tiles can be an attractive, quick option to spruce up many spaces. However, some rooms are simply not the place for them, according to MyDomaine, unless you have products specifically designed for these areas. Most peel and stick tiles are designed to last for just a few years before they need replacing.
Complicated feature walls
Going all in with a dynamic feature wall can create serious design appeal for future homebuyers, but not understanding the technique required can really kill the look you were going for. DoorsDirect has a helpful guide of design tips for this. To that end, TikTok user @shay_creates had a great idea, but unfortunately utilized a subpar system for taping off her lines. Using painter's tape to block off lines in a predetermined pattern, she painted over the tape hoping for a clean, stylized look with bold lines and colors to accentuate her feature wall. Unfortunately, the result was blotchy, bleeding lines, which necessitated a total re-do.
A method that would help in a situation like this is to first paint over your tape using the color that is currently on the wall and letting it dry before adding the color of choice. This might sound counterintuitive, but once the tape is peeled off, this extra step results in clean, crisp lines from your painter's tape every time. Repainting over accidents such as these can cause patterns to bleed through newer coats of paint, and if using wood for depth, could cause warping over time.
Painting walls with spray guns
Spray guns are touted for their speed and efficiency, but don't go in blind before adequately preparing all surfaces! TikTok user @getknottydiy highlights how easy it is for overspray to go literally everywhere, despite the painter otherwise doing such a great job to protect themselves and the windows.
You can't argue with the expediency of a spray gun, but most indoor household surfaces don't require it unless you are in a much larger space, according to Elle Decor. You also have to prepare surfaces you don't want sprayed in order to avoid messy overspray or leaks, but that arguably takes just as long or longer than whipping out your trusty paint roller. Add to that the cost of a sprayer, cleaning, maintenance, and the necessary PPE to avoid dangerous fumes, and experts say you're better off using a roller on most indoor surfaces. You don't need to be highly skilled, and using a high quality roller ensures thick, even coats with less hassle.
Structural teardowns
This dark corner of DIY is where things can turn very, very ugly. Videos of opening up living spaces abound on TikTok, with homeowners looking for open concept rooms. There are a lot of great how-tos to be found, but unfortunately not all advice is professionally certified.
A lot of people think they have the carpentry expertise to make major structural changes to their homes, but so often we see well-intentioned homeowners starting a project that ends in disaster. Attempting to change the layout of a building without understanding how the framing supports the area, or what lies above, below, or behind the targeted spot can get you in trouble. Improperly tearing down a load bearing wall, as highlighted in this TikTok by @stlrenovators, can cause your roof to sag over time, or even collapse.
Load Bearing Pros explains that there are a lot of factors involved that could damage your home's structure, wiring, and plumbing, as well as risk the safety of you and your family. If you are not sure exactly what you are doing, consult a pro.
Drainage fails
You might see a lot of bathroom remodels on TikTok, including installing gorgeous tile showers, but often what is not shown is the preparation and forethought that is necessary to avoid a water-logged nightmare. To that end, TikTok user @homeInspector_sb is one of a big group of home inspectors who get a solid following for their inspection and house flip nightmare videos. So many of these creators have come across major structural damage because of poorly thought out and executed plumbing systems, among many other household issues. House flippers are notorious for cutting corners to save time and money, in order to turn a home around quickly enough to make a sizable profit, then moving onto the next flip. The fallout is readily apparent for anyone who does a little digging.
If you plan on installing a tile floor in your shower, it is imperative to have a rubber pan installed beneath the tiling, so any water that happens to get through the tile is captured and able to drain properly. In this case, water leaked throughout the bathroom and into other rooms under the flooring. We aren't able to see the water with the naked eye, but standing water can quickly degrade and rot subflooring, and possibly cause dangerous mold issues.
Drainage systems need to have an adequate water flow capacity, and floors need to be graded toward the drain at the recommended angle. See this article from DIY Tile Guy for more know-how.
Too-bold exterior colors
Color is a very personal choice that can harmonize with our moods and identities. If a hue plucks your heartstrings and makes you happy, even after months or years of living with it, of course it is the right choice for you. But a specific color can deeply resonate with one person, while striking discord (and possibly borderline nausea) in another. For example, bold brights or deep darks may appeal to your personal vibes, but don't forget to keep in mind resale value when you are thinking about selling. It might be best to take a good look at the paint you selected for your home's exterior from the perspective of the "typical" homebuyer.
This TikTok from @ridgeviewhomes claims "dark colors hit different," but not necessarily in a positive way, according to Zillow (via Forbes). They conducted a paint color analysis in 2018 that compared how certain paint hues impacted their sale prices. Dark browns, grays, and blacks were at the top of the "don't go there" list.
If the average homebuyer immediately thinks, "I'm going to have to repaint the whole thing right away," be assured it will affect the sale price. This is purely something to think about before you put your house on the market, however. Until then, you keep on rocking your style in your space, whatever it may be!
Niche landscaping
Landscaping is a make-or-break endeavor when it comes to property values. It is the first thing people see when approaching the house, and it makes a strong impression. If done right, great landscaping can bring a major return on investment.
A few key things will actually lower your home's value, however. What might be quirky and charming to you might turn other people off who would need to deconstruct what you have built to make it closer to their own style. This includes large water features, going overkill on the garden décor, and unkempt rock walls and mosaics. Anything that might be defined as a "too-personal touch" puts you at a disadvantage, according to LawnStarter. And if it requires a lot of time to maintain it should be avoided, or at least fixed before reselling.
Fairy gardens can be magical, as TikTok user @skepticmomco's is. However, if they are shoddily built or require a part-time job's worth of salary and hours to upkeep it, consider them a no-go. These can be done beautifully when taking into consideration how much the average homeowner is willing to continue investing into it, so plan accordingly.
Installing a pool
We've likely all wanted a pool in the heat of the summer, but first take into consideration both your neighborhood and the available space when deciding to literally take the plunge. Many buyers consider pools a liability rather than a luxury, and if you are not getting it done professionally, the odds of lowering your resale value increase.
TikTok user @brist0312 got his family together to literally build their own pool in their backyard. Above ground pool sales skyrocketed during the COVID-19 pandemic as public pools shut down, but it's worth looking at whether this trend will pan out in terms of resale value. Even if the in-ground pool is top-of-the-line, many people consider them so unappealing that they will calculate the cost of removal into their offer. Additionally, people often see only additional insurance requirements, maintenance headaches, and safety concerns associated with pools. Many buyers won't even look at a home with one on the property.
Overall, the return on pools is also low at 43%, according to Investopedia. With the average cost of installation at $57,500, if you are not in a large luxury home, a pool can be more of a burden than a boon. Absolutely go ahead and get one to take the edge off those summer days; after all, this is your home! Just consider it an investment in your enjoyment. And when you sell, it might be best to remove the pool and get the lawn back into shape beforehand.