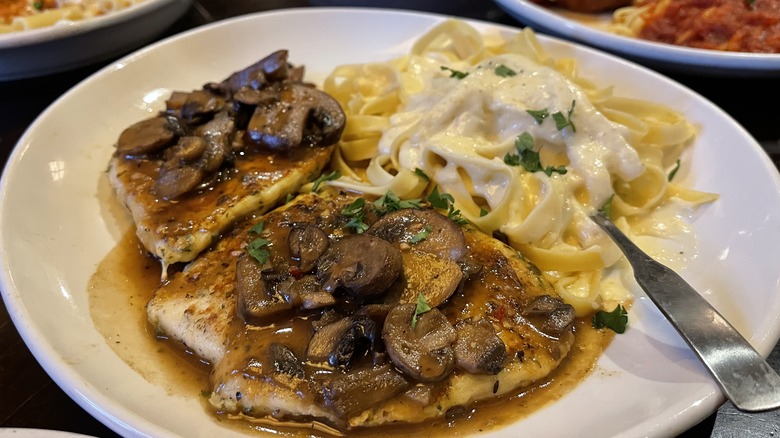 It may not be 100% authentic, but when you're looking for some reliably decent Italian American food that won't break the bank, Olive Garden sure hits the spot. With its menu of generously portioned appetizers, unlimited soup and salad, and Italian-inspired entrees, there's definitely something for everyone who chooses to dine at any of the chain's 875 locations.
While many customers who visit the Tuscan-themed eatery default to ordering top sellers like the chicken alfredo or five-cheese ziti, those who are looking for something slightly more sophisticated might be interested in trying the chicken marsala. Throughout the chain's 40-year history, which has seen many dishes come and go (RIP 2016's spaghetti pie), the Sicilian-inspired entree has remained a staple on the menu, quietly earning its own devout following along the way. In fact, when Olive Garden abruptly stopped selling during the late 2010s without warning, fans reacted with an online petition begging the chain to reconsider. Though it's unclear whether officials ever saw the passionate plea, chicken marsala lovers ended up getting their wish.
Per Fast Food Post, by November 2020, the dish finally made a comeback and has been around ever since. Named for the Marsala region in Sicily where it originates (as well as the signature wine in its sauce), Olive Garden describes the dish as "lightly floured, grilled chicken breasts topped with a savory mushroom and Marsala wine sauce, served alongside fettuccine alfredo." Still, there are some things you need to know before you head to your local Olive Garden to order this dish.
When did Olive Garden start selling chicken marsala?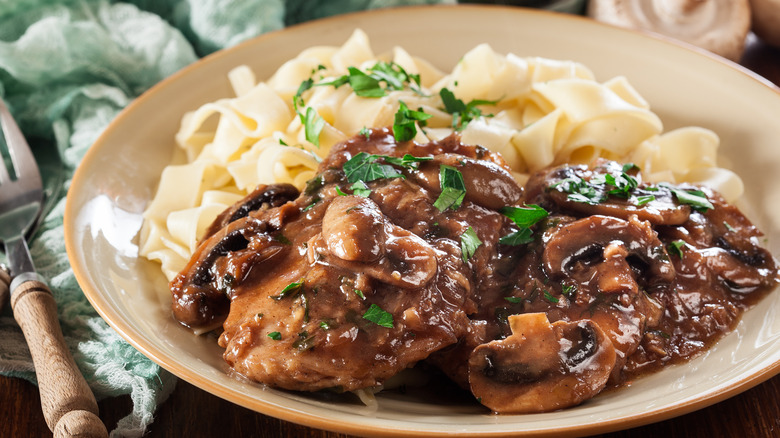 We can't say for certain exactly when chicken marsala first appeared on Olive Garden's menu, but based on a few decades-old restaurant reviews, it seems some version of the dish may have existed at the Tuscan-themed chain ever since its doors opened back in 1982. One article in the Florida publication Sun-Sentinel from 1988 mentions chicken marsala as one of the chain's more memorable dinner entrees (all for a price of $9.25, mind you.)
Sometime around the early aughts, Olive Garden began marketing the dish as the creation of Italian Chef Romana Neri, who headed the chain's then-brand-new culinary institute in Italy (via CNN). According to a 2001 Forbes article, the move was part of Darden's plan to elevate Olive Garden's menu — and image — in an effort to keep customers coming back during the economic recession. In the end, the decision paid off, because, as the publication explains, the restaurant chain experienced sales that at the time "defied the odds."
Since then, chicken marsala has remained a constant on the Olive Garden menu, except for the brief moment it vanished in 2020. And though Olive Garden announced it was only coming back as a "limited offering" in fall 2020 (via Fast Food Post), as of May 2022, it still remains on the menu.
How does Olive Garden make its chicken marsala?
While Olive Garden's chicken marsala definitely takes inspiration from the Sicilian version of the dish, the version the chain currently sells is definitely much closer to a derivative of an already-Americanized version. The most obvious difference is that it features grilled chicken breasts, whereas, traditionally, it's made with pan-fried chicken cutlets (via Delighted Cooking). Another notable difference is that it also contains mushrooms, which, according to The New York Times, you won't ever see if you're lucky enough to come across chicken marsala in Italy.
But despite the fact that it may not be the most authentically Italian chicken marsala you can get, it doesn't mean that it isn't quality. Per Redbook, Olive Garden cooks all of its own food on-site and makes all of its sauces in-house daily, which means when you order this, you can at least feel confident you're getting a freshly grilled piece of meat and sauce. Perhaps Olive Garden's food is fresher than you thought!
As for the sauce, it's unclear whether the chain uses a specific type of Marsala wine or what additional herbs are used to flavor it. Early advertisements suggested the chain used fresh rosemary and garlic as key ingredients; however, per The Kitchn, the official chicken marsala recipe Olive Garden published online only lists salt and pepper as seasoning. Moreover, though cream isn't listed explicitly on the menu description, the chain's allergen guide notes that the dish contains dairy, so those with a dairy sensitivity will want to be wary of this before ordering.
Different versions of the chicken marsala
Since it's not particularly difficult to find chicken marsala at any Italian American restaurant in the U.S., Olive Garden has made an effort to keep fans coming back for its version of the dish by offering different twists on it through the years.
At one point, the chain introduced a stuffed chicken marsala that it sold in addition to the regular one, and it quickly became a fan favorite. Like the original, it featured a yummy, mushroomy marsala sauce, but instead of being ladled over a few fried chicken cutlets, it was served over a thick slab of oven-baked chicken with four types of melted cheese and sun-dried tomatoes stuffed on the inside. To this day, Olive Garden fans online beg for its return.
However, while you currently can't order older versions of the dish, according to Taste of Home and Olive Garden employees on Reddit, all of the chain's entrees can be customized to your liking, within reason, of course. So if you're feeling in the mood to order your chicken marsala with double meat, some extra cheese, or a side of veggies with your order in lieu of fettuccine, the chain will probably do its best to accommodate your request. And if you're really missing the stuffed version of the dish, Mashed has its own copycat recipe that comes together pretty easily.
How much does Olive Garden's chicken marsala cost?
Although the chicken marsala isn't the most expensive dinner on the Olive Garden menu (based on a glance at its online menu, that title belongs to the seafood alfredo), some might say it's a splurge compared to some other items the chain sells. While prices vary by location, per Olive Garden's menu, order a chicken marsala in a Chicago Olive Garden today and you can expect to pay $19.49 before tax and tip. Meanwhile, if you're at one of the Los Angeles locations, the dish will set you back $20.29. For reference, the chicken parmigiana at the Los Angeles location costs $19.49, while the chicken alfredo is $20.29 and the cheese ravioli costs $16.79.
However, compared to other Italian American chains, Olive Garden's chicken marsala stacks up. Maggiano's Little Italy at The Grove in Los Angeles sells a single portion of chicken marsala for approximately $22 before tax and tip. Meanwhile, at an LA-area Macaroni Grill, chicken marsala costs $21. It's also important to keep in mind that, at Olive Garden, your entree order comes with your choice of salad or soup, in addition to breadsticks, so you definitely get a lot of bang for your buck. Plus, the fact that each order comes with two chicken breasts and pasta means it's essentially two portions in one.
Nutritional information
With a rich wine sauce as a primary ingredient and fettuccine alfredo as the default side, it shouldn't be too shocking that chicken marsala isn't the leanest entree on the Olive Garden menu.
Per Olive Garden's nutrition guide, one order of chicken marsala is 1,080 calories. And though you get the benefit of 69 grams of protein if you eat it in one sitting, you'll also be taking in 56 grams of fat (1.5 grams of trans fat), which, depending on your specific diet could potentially be greater than your daily recommended intake. After all, regularly consuming high levels of trans fat has been linked to developing cardiovascular problems. But by far the most alarming thing about this dish is the sodium content, which clocks in at 2,690 milligrams per order. To put that in perspective, that's more than 390 milligrams above the maximum intake that the CDC recommends adults consume per day. Yikes. Not so surprising to learn this past year, then, that She Finds called it the unhealthiest meal in the entire restaurant world.
Of course, while these facts are something to be wary of if you're following a particular diet, for the average person, indulging in Olive Garden's chicken marsala every once in a while is probably fine. Those who are interested in reducing the number of calories can always ask for a to-go box ahead of time and save half of the meal for later.
Is it worth ordering?
Considering that there was a Change.org petition to bring the chicken marsala back after Olive Garden removed it from menus, it should go without saying a lot of people think it is quite delicious. In fact, at Mashed, we dubbed it the best dinner entree on the chain's menu on our list of popular Olive Garden menu items. We're not the only ones who feel this way. Per Insider, Olive Garden employees say it's regular favorite among customers and staff. Elaborating on why it's so popular, one worker told the outlet, "It's such a cohesive dish and all of its components work together really well."
However, not everyone is happy with the current iteration of the dish. Per one poll conducted by Mashed that asked people to name their least favorite Olive Garden dish, 17.05% percent of respondents said the chicken marsala. So what's the issue? For some, it's the new recipe. One reviewer from Team Eaten claims the current chicken marsala isn't as cheesy as it used to be. One Reddit user went as far as to describe the whole meal as "hot garbage."
Still, despite the mixed reviews, plenty of people still believe the chicken marsala is worth ordering. "Olive Garden's chicken marsala is seriously delicious," reads a tweet from one happy customer. Meanwhile, contrary to the opinion of reddit, the YouTube review channel JKMCRAVETV said the latest version of the dish tastes like it's made with much better quality chicken and used it as evidence that Olive Garden had "really stepped it up over the past few years."
Make your own chicken marsala at home
While there's definitely a lot to like about Olive Garden's chicken marsala, let's be real: Not everyone wants to sit down at a restaurant or pay a delivery fee whenever they have a hankering for this savory mushroom dinner. Plus, given some of the not-so-great nutrition facts about the dish, it may be a good idea to learn how to make it yourself so you can customize the dish to your liking.
In case you're wondering, Olive Garden published the official chicken marsala recipe online back in 2016. However, Kelli Foster of The Kitchn tested the recipe and said that, while it was "easy to make," the end product turned out watery and bland. Reviews of the recipe on Food.com aren't much more favorable, with one user claiming it to be inaccurate to what the restaurant sells.
Thankfully, there is no shortage of chicken marsala recipes on the web with much better ratings. Serious Eats offers a version that calls for using unflavored gelatin and stock to thicken the sauce into a syrupy consistency, a step they insist will make it taste on par with the stuff you order at the restaurant. At 609 calories per serving, it's a good, slightly better-for-you alternative to the one at Olive Garden, and based on the multiple five-star reviews, it seems the taste is just as good, if not better.