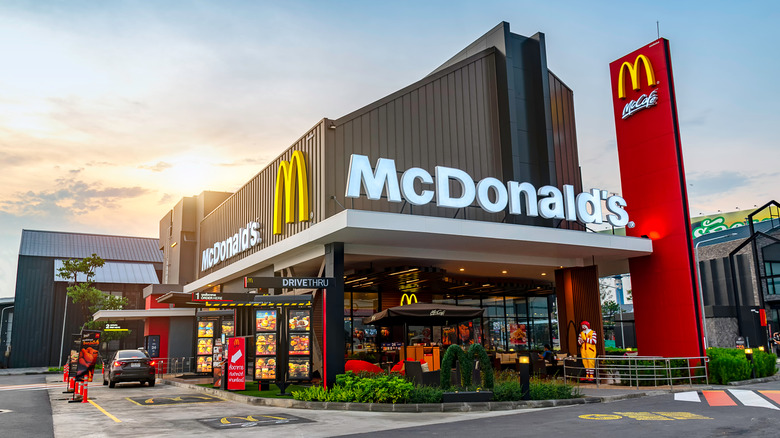 If you live in the United States and you've somehow only even been to one restaurant, chances are high that the place in question is going to be McDonald's. In 2021, Business Insider reported that 9 out of 10 Americans eat at the fast food chain at least once a year. There are a variety of reasons that could explain this, from the cheap menu to nostalgic tastes, but it's also surely due to the unbelievable access Americans have to the restaurant. In the United States alone, there are over 13,000 McDonald's locations nationwide, per Statista. Those are quite a few golden arches, to say the least.
It's easy to conclude that McDonald's is more than just a fast food restaurant. For many, it's no less than a cultural institution, and one that has since made its way across the world. McDonald's is in over 100 countries around the globe, practically all of which have adapted the menu to reflect local cultural tastes while still maintaining some of the signature American items that the restaurant is known for. But what are some of those differences? For those whose curiosity is piqued, this is what McDonald's is like in other countries.
Mexico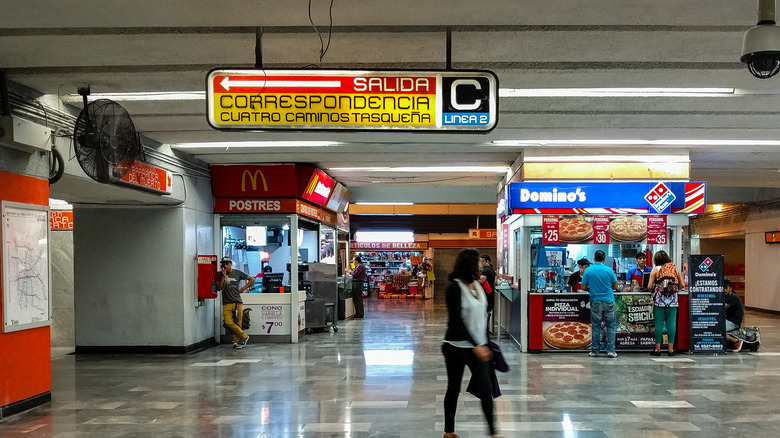 Going just south of the United States border is McDonald's Mexico. The restaurant is well-represented in some of our favorite resort towns, including Cabo San Lucas, but it also exists in inland locations like the bustling, packed capital of Mexico City.
With each of these countries, it's important to remember that, although there is a little bit of international infusion, the menu has mostly American fare. Ultimately, McDonald's is an American restaurant, after all. This isn't much different in Mexico, meaning that the McDonald's Mexico menu largely items consist of staples like Big Macs, McChickens, and McMuffins.However, breakfast is where Mexican McDonald's really add their own flair. Items like the Mexican Muffin and the Mexican Burrito feature peppers and spices for a little heat that Americans may well be missing.
Furthermore, it's far cheaper to eat McDonald's in Mexico, even accounting for the exchange rate. As Bob Cut magazine noted, a Big Mac meal costs $7.25 in the United States, while it's only $3.37 in Mexico. Keep that in mind on your next spring break trip.
Singapore
The McDonald's menu in Singapore is actually quite a bit of different from what you'll find in American stores. Yes, it is mostly American food, but they've taken some liberties with the originals to create a unique menu with some pretty original offerings.
The Singapore McDonald's menu also has a very unique beverage selection that is markedly different from the United States' menu. McDonald's in Singapore sells items like Ribena, Yuzu McFizz, and Iced and Hot MILO. The restaurant also has unique sides like corn and a chocolate pie that you're unlikely to find stateside.
Per its Instagram, McDonald's Singapore celebrated Pi Day by selling chocolate pie as well as the more familiar McDonald's apple pies for just one dollar over the course of a few days. It also uses its social media to promote some of the more unique sauces on offer, like its curry sauce. Of course, we totally see the appeal. Fries stacked on top of a McGriddle and covered in a savory curry sauce sounds totally delicious.
France
If one country in the world were to be labeled the fanciest of all, it would surely be France — and it's not just because of the similarities in the words fancy and France. France has a widespread high-culture sensibility in the culinary world, which is apparent even in its McDonald's menu.
NPR notes that McDonald's doesn't seem like fast food in France, but more like a sit-down restaurant with a menu that encourages lingering rather than hurrying. That's probably because, even though it does feature McDonald's standards like Big Macs and Filet-o-Fish, locations serve other items unique to French stores, such as the Croque McDo and he P'tit Wrap Beef Deluxe. NPR does note, however, that food is grown according to different standards in France, particularly meat. This likely accounts for the much of the difference in quality.
What really sets McDonald's France apart is its drink menu. The options include sparkling water and loads of coffee, with plenty of espresso for those looking to add extra caffeine to their meal. And to top off its upscale menu, McDonald's France has delicious desserts on offer like a Chocolate Hazelnut Brownie and a Confetti Doughnut, as well as pastries like cheesecake, macarons, and croissants (Le McFlurry is still on the menu, too). If you're going to eat McDonald's and not feel bad about it, France is quite possibly the place to do so.
Australia
As it turns out, lots of people find what on McDonald's menus in other countries to be better than what's available in the United States. Although it could just be the appeal of being in a different country, we have to admit that McDonald's Australia (or Macca's, as it's popularly known) does have some pretty appetizing stuff.
There are several such menu items we'd love to try, like the Aioli Chicken McWrap, Big Brekkie Burger, and the Choc Chip Hot Cross Bun. It seems to be a recurring theme that the desserts in foreign McDonald's are better than what's on offer in the United States. McDonald's Australia also sells macarons and donuts, and even a Gluten Free Chocolate Raspberry torte. Plus they have a variety of different Toasties, which are basically just grilled cheeses, but they've got to be delicious.
Australia's McDonald's also has a wide variety of coffee items almost on par with Starbucks. The fast food juggernaut is further noted for its great customer service. And if there is anything that can make or break a dining experience, it's customer service. As Insider points out, Australians seem especially fond of Macca's and its employees are genuinely happy to serve you.
Japan
It's safe to say that the Japanese menu at McDonald's is pretty different from the American menu, with quite a few menu items takomg cues from traditional Japanese foods. McDonald's Japan offers up items like Gohan Chicken Tatsuta, Bai Teriyaki McBurger, and plenty of seafood, such as shrimp.
The Japanese menu also has an array of sauces at the ready, like Tomato Jalapeño Sauce, Lemon Pepper Sauce, and Roasted Sesame Dressing, none of which are available in the United States. From the sound of it, though, they really all should be. But don't worry if you're overseas and feeling a bit homesick, as you can still find Big Macs and McMuffins in Japan. The chain also serves up sides such as Edamame & Corn, Yogurt, as well as a Bacon Potato Pie.
Unfortunately, in late 2021, a supply chain interruption caused a fry shortage in Japan, rendering McDonald's unable to get the right potatoes for its Makku, as the type of potatoes that are grown in Japan are not the kind used to make this particular menu item. It's hard to say how much longer the shortage will last, but we hope it's over soon.
United Kingdom
Like France, the United Kingdom has a certain attitude about its culinary scene that makes it just a little bit fancier than the United States. The same goes for their McDonald's menu. The restaurant even has higher-quality buns for some of its sandwiches, while its McCafé coffee menu is full of flat whites and espresso drinks, a far cry from the simpler coffee drinks on offer at many American McDonald's locations.
What's really notable about the United Kingdom's menu is its vegan and vegetarian options, which is certainly something you'd be hard-pressed to find in America. Its vegan options include a chicken strip alternative and a chicken wrap alternative, while you can easily find plant-based burgers as well.
Oddly enough, the McDonald's in the UK only has one salad that can be considered vegan or vegetarian, but rest assured that it does have plenty of other options for anyone with those dietary needs. It also boasts quite the dessert menu, with donuts and brownies and even Cadbury and Smarties McFlurries, the latter of which is only available in Britain, as noted by Reader's Digest.
Bahamas
No need to worry, your tropical vacation can include McDonald's if you'd like it to. McDonald's has a couple of different locations in the Bahamas, mostly in the capital city of Nassau. Eating a Big Mac on the beach while watching the sunset in the Bahamas has got to be someone's version of paradise, right?
While the location may be idyllic for many, the Bahamian menu is decidedly American. This ultimately means that there are very few items on offer that you can't get stateside. One item that is unique to the island, though, is the Goombay Punch. This is a Bahamian soda that is produced by the Caribbean Bottling Company. It has a distinct ellow color and tastes like pineapples.
Aside from the soda, the menu in the Bahamas is quite similar to the United States, but it could serve as a nice respite if the one thing that cures your homesickness is a Happy Meal.
Brazil
If we're being honest, the McDonald's menu in Brazil is a little disappointing. Yes, McDonald's there have Big Macs, McChickens, and the ever-present Hamburger. Locations even have a Double Quarter Pounder with Cheese and some other fun items like a Cheddar McMelt and a Chicken Junior. And McDonald's Brazil does have a great dessert menu, but only if you have a strong hankering for ice cream, fruit pies, or yogurt.
Aside from that, there isn't a whole lot to distinguish Brazilian McDonald's from what you could get on any old day in the United States. Where the Brazilian McDonald's menu really disappoints is breakfast. Per its online menu, it does have a couple of coffee options, while the food items are likewise scarce. That said, we would love to try its Ham and Cheese Croissant or the Cheese Bread. Unfortunately for all involved, there's not much else on offer.
To make matters worse, back in 2015, the restaurant faced a major scandal as employees accused the franchise of abuse. They claimed that their working conditions were unsafe and unhealthy, as per the Business & Human Rights Resource Centre. The restaurant was investigated by the Brazilian government for these accusations, according to The Guardian, underlying the seriousness of the situation.
Thailand
McDonald's Thailand has quite a few menu items that are hard to find elsewhere, which is certainly refreshing after considering the menus in the Bahamas and Brazil. Some of the foods you may find at a Thai McDonald's include a Pork Floss Fluffy Egg McPorridge Set and Kaprao Rice, as well as a Samurai Pork Burger. As The Smart Local pointed out, some of the menu items are exclusive to Thailand, such as a Green Curry Pie and McKao Yum.
Thailand's McDonald's also has a delivery-only menu, meaning that you can't go into the store to get these items yourself. It mostly features classic American fare, but it also has some native Thai dishes like Kai Yak Guan. The Thai breakfast menu is quite different from the United States as well, featuring more porridge than seemingly any other restaurant in the world, and Chao Tem Im.
As one might expect, McDonald's Thailand also has a lot of menu items that feature rice, to the point where you can even order a bed of steamed rice on its own. Finally, its McCafé is replete with croissants and lots of coffee.
Italy
If you were hoping that the McDonald's menu in Italy would feature a lot of Italian foods, then we must report that you'll be disappointed, just as we were. What the Italian menu does have is plenty of sandwiches and a gluten-free burger, cheese fries and a panzerotti, and some better cheese options, such as asiago.
As you might hope, McDonald's in Italy serves cappuccino. It also boasts what is quite possibly the world's best McDonald's dessert menu, featuring multiple flavors of croissant, muffins, donuts, cheesecake, and even tiramisu. However, all of that comes as a let down if you were hoping that the menu also had pasta, which it sadly lacks. We realize it's a very American wish to want McDonald's Italy to serve pasta, especially when good pasta can be found just about anywhere else in the country, but we desire it nevertheless.
One thing McDonald's Italy does serve that is decidedly Italian is a hunk of Parmesan cheese. Customers who documented this on TikTok were understandably pleased with the purchase. As one said, "It's a good quality parmigiano."
South Korea
In South Korea, McDonald's marries some of its staple foods with national cuisine to make extraordinary burgers, such as its Bulgogi Burger. This burger boasts Bulgogi sauce and comes in a couple other varieties, including the Double Bulgogi Burger and the Egg Bulgogi Burger. If you prefer a meal with some seafood, you can also find a Shrimp Burger on the South Korean menu, along with a Shrimp Beef Burger that combines the two meats for a fast food version of surf n' turf.
As Business Insider points out, the menu isn't the only difference between the Korean and American McDonald's locations. The Korean restaurants also feature order kiosks, while they deliver your food right to your table (though some McDonald's restaurants do that in the United States as well).
Going back to the menu, Korean McDonald's also has some unique side items, including Mozzarella Cheese Sticks and String Cheese. And though it's not featured on the McDonald's online menu, Business Insider notes that it also serves curly fries. Move over, Arby's: looks like you've got some competition.
Israel
For a McDonald's menu that is totally unlike the American one, then be sure to visit Israel. It has a few staple items that will be familiar to American visitors, such as Chicken McNuggets, Big Macs, and Hamburgers. Go beyond those items, however, and you'll quickly learn the Israeli menu is full of meals that you can't get anywhere else in the world.
Some of its items are inspired by different parts of the world, such as the Big Premium Meal, which has Tokyo, Texas, New York, and Amsterdam versions. McDonald's Israel also has various side items like Potato Wedges and Onion Rings, which we would dearly love to see served up in the United States. Israeli McDonald's also serves Spicy McNuggets, something we think should be sold in more than just half the locations in the United States.
Some of the other items on offer are a McKebab, McWings, and Corn Sticks, which are effectively deep-fried sticks of polenta. Quite possibly the coolest item that only Israel offers is the MyMac, which allows customers to create a customized Big Mac with their favorite ingredients. As The Travel points out, Israel's McDonald's serves also served kosher food for those who adhere to the dietary requirements, an important consideration for the many observant Jewish people who order there.
United Arab Emirates
Though the United Arab Emirates, particularly the city of Dubai, is known for its glitz and glamor, there are fast food restaurants there as well. That includes McDonald's, naturally. The UAE menu looks quite similar to the American menu, but it does have a couple of items that can only be found at UAE locations, such as the McArabia Chicken with halal grilled chicken patties, vegetables, and a garlic sauce served on flatbread. Then there's the Big Breakfast that comes loaded up with halal sausage, hash browns, a McMuffin, and scrambled eggs.
But what McDonald's UAE really deserves to be lauded for is its dessert menu. We've seen some pretty incredible desserts in McDonald's restaurants across the world, but the United Arab Emirates has one that rivals even the sweet tooth-pleasing spread on offer in the UK. To wit, UAE locations have blueberry cheesecake, tiramisu, three different types of croissants, and macarons available for other, among other delectable confections.
South Africa
McDonald's is not available in many African countries. According to Food Processing Technology, there are currently locations only in Morocco, Egypt, Mauritius, and South Africa. It seems to have made a particular impression in that last nation. As Business Insider reports, McDonald's South Africa has a few menu items you can't find anywhere else in the continent, much less the world. These include the McFeast, the Boerie Single Burger, and the BBQ Double Burger.
The South African McDonald's also has a vegetarian menu. It's not big, but it exists, which is more than many other McDonald's locations can say. The five menu items include Corn, Fries, Green Salad, Hash Browns, and a Veggie Burger. The chain doesn't specify what exactly is used to make its veggie patty, other than a blend of vegetables, but we do applaud it for at least having the option.
We're also please to see that South Africa's McDonald's has such a stellar chicken menu, with options like the Grand Chicken Special, Jalapeño Chicken, and a Chicken Fold Over, all of which have either double or spicy counterparts.