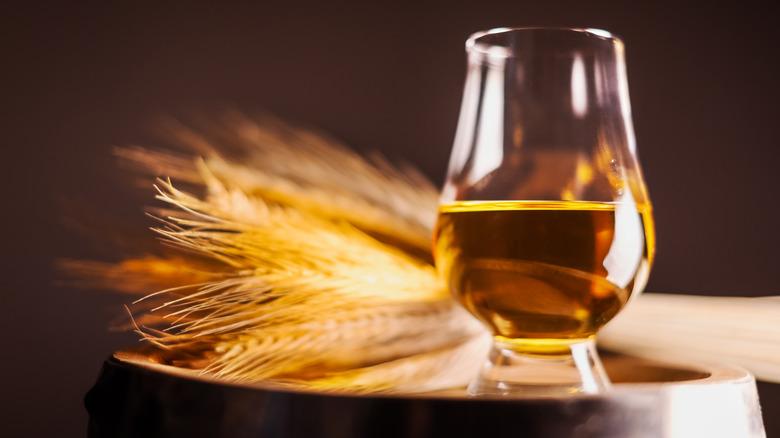 It's funny how a drink's popularity goes in cycles. For the first few centuries of our nation's history, rye was the spirit of choice for all discriminating drinkers. While nearly all alcoholic beverages went underground during Prohibition, rye unlike other spirits somehow never fully recovered after the repeal. Throughout the rest of the 20th century, it was seen as the kind of beverage you drank in your Chevy at the levy with a bunch of good old boys … emphasis on the old.
Enter the 21st century and with it, hipsters, foodies, and aficionados of all things artisanal. While millennials may have been blamed for killing many aspects of culture, they made up for it by bringing others back from the brink, including classic cocktails and the spirits with which to make them. At long last, rye was having a well-deserved moment. What's more, according to The New York Times in 2015, it was even considered to be "a young person's drink" (always good for marketing purposes).
A decade or so into the Rye Revolution, we are practically spoiled for choice when it comes to high-quality options. We couldn't possibly name all of the good ryes on the market today, but these are a few of our current favorites.
How we selected these rye whiskeys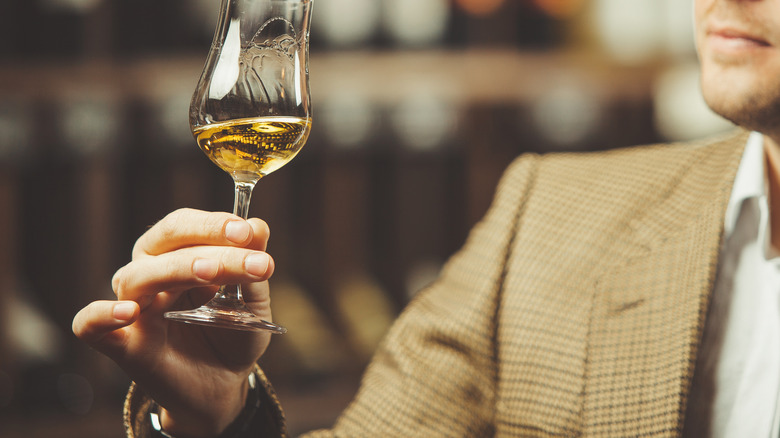 As we mentioned, there are numerous different ryes on the market at this time, but they're hardly identical. Many factors go into making one bottle distinct from the next. Age influences to some extent, although truly old rye is somewhat of a rarity. Ryes also tend to be less boozy than bourbons, as Uptown Spirits explains, but you do find the occasional overproof bottle (our pick comes in at 119 proof).
Rye also comes in an assortment of styles, most of them named after the area in which they originated. The majority are distinguished by the amount of rye grain in the mash, according to Whisky Advocate, as well as various features we'll discuss throughout. We also took into account the best rye for cocktails as opposed to straight sipping, and we even threw in a few ryes picked just for fun: one where the recipe was determined in a most unusual way and another with a super-cute bottle. We'll let you in on a little secret; both of these ryes are excellent in their own right, so we were bound and determined to include them on our "best of" list even if we did have to stretch a bit to come up with the categories.
Best for Beginners
Templeton is a brand with an interesting backstory, even if it's been slightly (or not-so-slightly) embellished. For those not deeply steeped in booze history, it seems as if Templeton, Iowa, was the bootleg hooch capital of the Midwest during Prohibition — at least in terms of rye whiskey production.
Naturally, a 21st-century craft distiller would want to avail itself of such a legend, but when the Templeton Distillery first opened it was actually bottling a product made by MGP in Indiana rather than one that was "based on a prohibition-era recipe" as the label once claimed. Templeton has now opened a distillery in Iowa and hopes to start making its own booze there pretty soon.
Dubious advertising claims aside, Templeton's 4 year rye is some super-smooth stuff. Whiskey For the Ages praises it as being mild-flavored, sweet, and just the kind of rye that can serve as an easy introduction for someone who's not much of a whiskey drinker — yet. It's not nearly as complex as most ryes but it does offer notes of citrus, ginger, honey, nectarines, oak, pepper, and vanilla as you drink, finishing off without much burn. Even if you're not a newbie, this bottle would be a good option for cocktails.
Purchase Templeton 4 Year from Drizly starting at $37.99 for a 750 ml bottle.
Best Budget Pick
What is a straight rye whiskey as opposed to any other type? As Serious Eats explains, any rye labeled "straight" has been aged for at least two years, and four or more years if the age is not stated. You might think that straight rye would be pretty pricey, but as a matter of fact, one of the better bottles on the market is actually among the cheaper options out there. Yes, Old Overholt Straight Rye Whiskey is a real sleeper, although people are starting to catch on.
Apart from the very low price, Old Overholt is a must-buy due to the fact that the approximately 200-year-old brand is still putting out a great product after so many years. Drizly customers rate it 4.8 out of 5 stars, with one person describing its sweet fruity notes of apple, caramel, dark spices, and vanilla, and another saying it "Compares well to Bulleit." Yet another praises Old Overholt as "Amazingly sweet smooth and spicy," but a fourth reviewer warns: "Don't tell too many people and make it hard to find!"
Purchase Old Overholt Straight Rye Whiskey from Drizly starting at $19.98 for a 750 ml bottle.
Best Splurge
On the other end of the price spectrum from Old Overholt is another straight rye: Michter's 10 Year Kentucky Straight Rye. This bottle will run you some pretty big bucks (around a couple hundred if you can find the limited edition product), so it's definitely a special occasion, once-in-a-blue-moon sipper. Still, for your money, you're getting a truly exceptional bottle of rye.
The Whiskey Shelf's reviewer is no Michter's fan person and claims to be underwhelmed by the brand's standard range. However, they describe the 10 year straight rye as both "outstanding" and "incredible." It is an exceptionally fine-smelling whiskey, the kind that you'd be tempted to splash on as a perfume if it didn't cost more than a bottle of Chanel No. 5. (Okay, maybe we're exaggerating a teensy bit here.)
As for the flavor, it's a rich and complex mélange of earthy, fruity, herbal, and oak with notes of apple, blueberry, caramel, cherry, cinnamon, clove, coffee, fennel, ginseng, honey, licorice, lychee, maple, orange, pineapple, rose, rosemary, and vanilla. The ABV is on the low side at 46.4%, which allows you to experience this rye's full flavor without the bite that high levels of alcohol can deliver.
Purchase Michter's 10 Year Kentucky Straight Rye from Drizly starting at $249.00 for a 750 ml bottle.
Best Canadian
Canadian whiskey tends to have the highest rye content of all the varieties, and Lot 40 Canadian Rye's rye level couldn't get any higher with a mash bill of 100%. This single-batch whisky (Canada, like Scotland, omits the "e") belongs to Corby's Northern Border Collection which also includes the Pike Creek and Gooderham & Worts labels. While there is no age statement on the bottle, it's thought to have aged for at least 3 years and has a fairly low ABV of 43%.
Lot 40 has won quite a few accolades, including Whisky of the Year in 2013, 2015, and 2017 at the Canadian Whisky Awards. The Whiskey Jug's review lauds its well-balanced, spicy-sweet flavor profile with notes of butterscotch, citrus, grass, rye spice, and vanilla, noting that the copper pot used during distillation also lends its flavor. One Drizly reviewer goes so far as to call the copper "by far the dominant note," although they don't find that it overwhelms the other flavors as they're able to detect orange peel and pepper, as well. Another happy customer calls it "One of the best ryes I've ever had."
Purchase Lot 40 Canadian Rye from Drizly starting at $35.99 for a 750 ml bottle.
Best Kentucky Rye
If you're a bourbon fan thinking of switching to rye (or at least giving it a try), your best bet is to start off with a Kentucky-style one. According to Whisky Advocate, these tend to have the lowest amount of rye in the mash bill at 51%. Anything less and they wouldn't be considered ryes at all. The other 49% includes a lot of corn, and these ryes usually spend several years aging in charred barrels as do many bourbons. What you have then, is basically the missing link between the two spirits.
Our pick for a Kentucky style is Pikesville Rye from the Heaven Hill Distillery. While this rye was originally produced in Maryland (hence the name for Pikesville, Maryland, a Baltimore suburb), it's distilled in Kentucky and fits the profile with 6 years of aging and a 51% rye, 39% corn, and 10% barley mash bill.
Bourbon Inspector chose this rye as one of the top whiskeys for making a Manhattan, due to the fact that the cherry, clove, honey, licorice, and nutmeg notes perfectly complement both vermouth and bitters. Drizly customers award it 4.9 stars, finding that it works just as well as a solo sipper. One calls it a "Terrific rye" with a "perfect balance of spice, sweetness, and burn," while another declares that the "Flavor is amazing whether you enjoy it neat or with a small amount of water/ice."
Purchase Pikesville Rye from Drizly starting at $53.99 for a 750 ml bottle.
Best Maryland-Style Rye
Maryland-style rye is something of a mystery. While The New York Times relates that the Old Line State was the nation's number three whiskey distiller pre-Prohibition behind only Pennsylvania and Kentucky, Maryland rye never really came back after the repeal. Nowadays, no one knows the recipe for a true Maryland-style rye. The one detail that is still remembered is that it had a particularly sweet flavor profile, although this may have been due to added sugar, syrup, or something no longer permitted in the distilling process. Today's distillers employ various techniques that they claim result in more-or-less authentic Maryland ryes, but there's very little consensus.
One rye, however, can claim to be 100% authentic 21st-century Maryland-style: Sagamore Spirit, which is distilled in Charm City (Baltimore, for those who've yet to experience its charms). The distillery produces 11 different types of rye, as well as three different rye-based canned cocktails, but our pick is the one that's simply known as Sagamore Spirit Rye.
It's a blend of two different distillations: the first one with a high percentage of rye and the other with a lower amount of it. The spirit has notes of caramel, cinnamon, citrus, clove, and honey and is as sweet as its predecessor was said to be. Whether it lives up to the legend, who can say? One Drizly customer, however, calls it "The smoothest rye I have ever had."
Purchase Sagamore Spirit Rye from Drizly starting at $39.99 for a 750 ml bottle.
Best Monongahela-Style
Pennsylvania, aka Monongahela-style rye, is based on over 200 years of distilling in western Pennsylvania. Unlike Kentucky-style, it contains no corn in the mash and tends to be high in rye, per Whisky Advocate, although it is similarly aged in charred barrels (typically oak). One of the premier distillers of Monongahela-style rye these days is Dad's Hat, a Pennsylvania-based company that makes five different whiskeys, all of them ryes. For the true Monongahela rye experience, we recommend Dad's Hat Pennsylvania Straight Rye Whiskey.
Author and booze expert Fred Minnick focuses his interests on whiskey and reviews this particular rye on his YouTube channel, rendering the verdict: "This is how a rye is supposed to taste," noting its similarity to pre-Prohibition Pennsylvania rye. (He must have been awfully young at the time he tried the latter, and he makes a pretty spry centenarian.) Minnick notes "herbs, sweetness, [and] spice," but says it lacks the dill flavor found in some other ryes. Rickhouse Ramblings have also tasted this rye, detecting apple, honey, leather, nutmeg, oak, and vanilla flavors. Overall, they find it to be more "refined" than similar Pennsylvania products, even if they're not fans of this particular style.
Purchase Dad's Hat Pennsylvania Straight Rye Whiskey from Drizly starting at $61.94 for a 750 ml bottle.
Best Empire Rye
Empire rye is yet another pre-Prohibition style, native to the Empire State, aka New York. According to the Empire Rye Whiskey Association, an organization that dates back to 2015, any type of whiskey labeling itself as an Empire rye needs to meet certain standards. Such ryes must not only be produced in New York with all steps taking place at a single distillery (with an exception for blended Empire ryes), but 75% of the mash bill needs to be rye grown in the state as well. Empire ryes must also be aged for at least 2 years.
There are just seven distillers in this consortium, including six founders (Black Button Distilling, Coppersea Distilling, Finger Lakes Distilling, Kings County Distillery, New York Distilling, Tuthilltown Spirits) and the sole newbie Van Brunt Stillhouse. We chose to go with a product from one of the OG distilleries from the Finger Lakes.
The McKenzie Straight Rye is a true small-batch product, made from 80% rye and 20% barley finished in sherry barrels. The final result is described by Spirits Review as "a very nuanced expression." Flavor notes include cherry, cinnamon, oak, orange peel, pepper, and vanilla, with some lingering grape from the sherry barrels.
Purchase McKenzie Rye Whiskey from Drizly starting at $48.99 for a 750 ml bottle.
Best Indiana-Style
According to Whisky Advocate, Indiana-style ryes are typically made with the mash bill preferred by that state's monolithic MGP distillery, which is to say, 95% rye. In 2021, however, the state of Indiana adopted Indiana Rye Whiskey as an official designation. While it does not stipulate a mash bill other than that the rye must adhere to the officially mandated 51% or higher rule, an official Indiana Rye must now be mashed, fermented, distilled, and aged for 2 or more years within the borders of the Hoosier State.
In celebration of the state's making its rye style official, Indiana's own Hard Truth Distilling Company created a bottle that proudly bears the brand-new designation. Although the mash bill for Hard Truth Indiana Straight Rye Whiskey is unknown, The Bourbon Road says this product is sourced. As it must come from an Indiana distiller, it was most likely supplied by MGP. That would indicate that this whiskey contains 95% rye. This 100-proof spirit is surprisingly sweet, with notes of candied almonds, sweet corn, and sweet tea with lemon. If you're looking for rye that's on the lighter side, Hard Truth Indiana Straight Rye Whiskey is great in cocktails or on the rocks.
Purchase Hard Truth Indiana Rye from Drizly starting at $39.99 for a 750 ml bottle.
Best 100% Rye
Rye whiskeys that are made entirely from said grain aren't all that common. We're not entirely sure why, but Spirits Review suggests that rye is the most expensive among the different grains used to distill whiskey, thus making corn or barley-heavy blend cheaper to produce. Many 100% rye whiskeys come from Canada, but a few domestic ones are available including our pick: a rye produced by a man best known for his beer.
Fritz Maytag founded San Francisco's Anchor Brewing over 50 years ago before branching out into distilling in the '90s. Old Potrero was created as an attempt to recreate the pre-Prohibition spirit in all its glory, complete with an all-malted rye mash bill and copper distilling pot. Old Potrero is barrel aged for 3 ½ years and has a flavor that combines sweet and spicy with notes of cinnamon, ginger, pepper, vanilla, and even corn despite its notable lack of this ingredient. Whisky Saga (a British blog, hence the spelling) scores Old Potrero 88 out of 100 and calls it "A very fine rye!"
Purchase Old Potrero Single Malt from Drizly starting at $69.99 for a 750 ml bottle.
Best for Cocktails
What do you want from a good cocktail rye? A rye that blends well must be flavorful enough to stand up to any mixers but not so strong that it overwhelms the rest of the ingredients in the drink. New York Distilling Company's Ragtime Rye was created specifically with cocktails in mind, as founder Alan Katz is a cocktail aficionado. Ragtime Rye is an Empire Rye (officially designated as such), and its flavor profile tends toward the sweet (crème brûlée) and fruity (apricot, banana, and plum), balanced out with a hint of oak.
While Ragtime Rye can be enjoyed straight or on the rocks, it's also perfect in a Sazerac, Old Fashioned, or Manhattan. In fact, Katz even created a recipe specifically to showcase his creation: the Deathbed Manhattan, calling for 4 parts Ragtime to 1 part each of a sweet (Martini & Rossi) and a dry (Punt e Mes) vermouth, plus a few drops of Angostura bitters. As for the morbid name, it's supposed to indicate that this drink is so good that you may want one even when you're on said deathbed.
Purchase Ragtime Rye from Drizly starting at $43.99 for a 750 ml bottle.
Best Overproof
One of the main differences between rye and bourbon, apart from the mash bill, is the fact that bourbon tends to be distilled and bottled at a higher proof (via Uptown Spirits). While the lower alcohol content allows rye to retain more of the grain flavor, there are plenty of drinkers who want a bit more buzz from their booze and an extra kick in their cocktail. Hence the existence of overproof ryes, such as our favorite pick the 119 proof Old Hamer Cask Strength Rye.
You can tell at first sip that Old Hamer is some high-octane stuff, but it's nonetheless pretty smooth and flavorful for all that. Wine Enthusiast awards it 91 points, although the outlet suggests that adding water will mellow it out a bit and help you better appreciate the notes of almond, cinnamon, ginger, oak, and orange peel. Tasting Panel Magazine also goes with a score of 91, detecting hints of apricot, caramel, and walnut.
Purchase Old Hamer Cask Strength Rye from Drizly starting at $39.99 for a 750 ml bottle.
Best Crowd-Sourced
WhistlePig is a well-established, high-end whiskey distiller, and one that we would gladly award an accolade to for what may be its greatest gift to the whiskey world: managing to create what might be the only non-alcoholic whiskey that actually tastes like the real deal – Devil's Slide. Sadly, the downside to Devil's Slide is that it's apparently only available for a short time each year, so we can't direct you toward purchasing this product. What you can still buy, however, is another unique WhistlePig offering: Homestock, which may be the world's first crowd-sourced whiskey.
As Forbes reports, Homestock results from a pandemic experiment performed by WhistlePig. The company sent out 1,000 "distill your own whiskey" kits to industry pros, media members (not us, alas), and people who belonged to a booze-of-the-month-type subscription service. The winning selection has a mash bill of 45% rye, 30% wheat, and 25% barley, so it is technically not rye under law, but it is certainly a very rye-like whiskey in its flavoring. Homestock displays notes of berries, citrus, nuts, and toffee, all of which come together in a smooth, well-balanced blend. While it's not cheap (most WhistlePig offerings tend to be fairly high-priced), Homestock certainly makes for a one-of-a-kind addition to your collection and a sure-fire conversation starter.
Purchase WhistlePig Homestock Whiskey from Drizly starting at $82.99 for a 750 ml bottle.
Best Bottle Design
Wigle Whiskey is a Pittsburgh distiller specializing in Monongahela-style ryes and is also a strong contender for the best in that category. As we already had a great candidate in Dad's Hat, we had to get creative when it came to giving Wigle a well-deserved shout-out. The distillery makes a wide variety of ryes, including a pickle-flavored option in its lineup, but it seems the experimentation shines through with the use of different barrels.
Among Wigle's ryes are ones aged in rum, sherry, and port wine barrels, but our favorite — both for the flavor and for its cute plaid bottle — is the Kilted Cask, which has been aged in casks that once contained single-malt scotch. Not just any single malt either, but Laphroaig, a peaty, peppery product of Islay.
A great deal of Laphroaig's smokiness carries over into Wigle's Kilted Rye, which The Whiskey Wash describes as tasting somewhat reminiscent of a Chicago-style hot dog, or more descriptively, "like eating Vlassic [sic] Kosher dills in the cab of a truck while the driver smokes a backwoods cigar." (We wish we'd come up with that line, but credit where credit is due.) In addition to the pickle and smoke notes, there are also hints of oak and cinnamon that make for a complex, intriguing blend that's definitely not for amateurs.
Purchase Wigle Kilted Cask Rye Whiskey from Drizly starting at $92.99 for a 750 ml bottle.