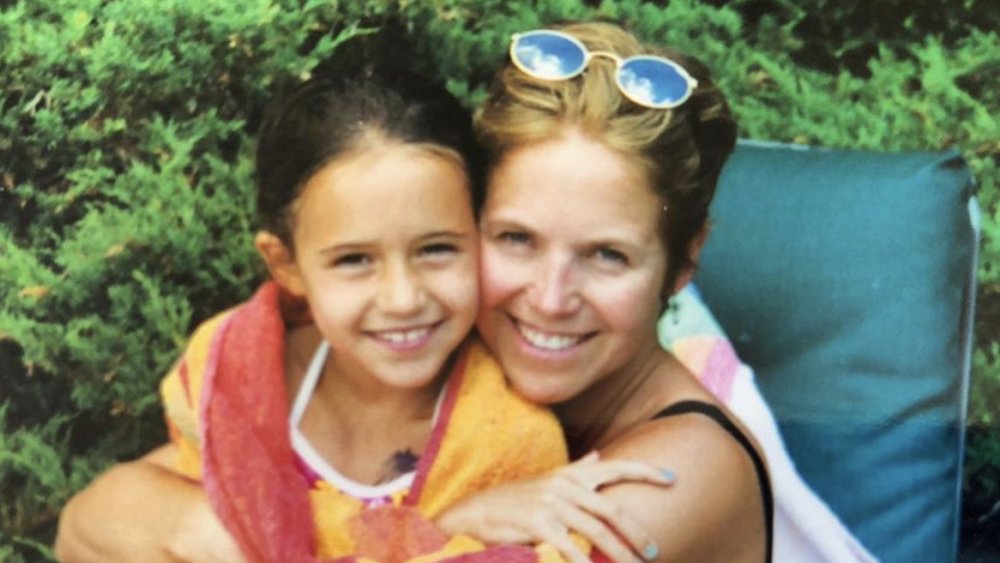 Many Americans likely feel like they know Katie Couric, the Daytime Emmy Award-winning news anchor, morning news host, and television personality. From birth, her daughters have had to share their famous mother, along with their emotional family journey, with the world. Good thing they aren't the jealous type! Like their mother, both girls have their own curious mix of congeniality, earnestness, and career ambition.
The girls watched Couric pave the way for young women in journalism and television, and they eventually found themselves taking advantage of Couric's wisdom. Over the years, she's taught them by example to embrace both their femininity and intelligence. As she's imparted to Glamour, "…there are many important things to a rich life; work is just one of them."
Couric's daughters, Carrie and Elinor Monahan, have grown up to make a name for themselves in their own right, and they continue working hard to make their mother proud. And it's clear that Couric's daughters have grown up to be absolutely gorgeous.
Katie Couric faced pressure to get back to work after having her first child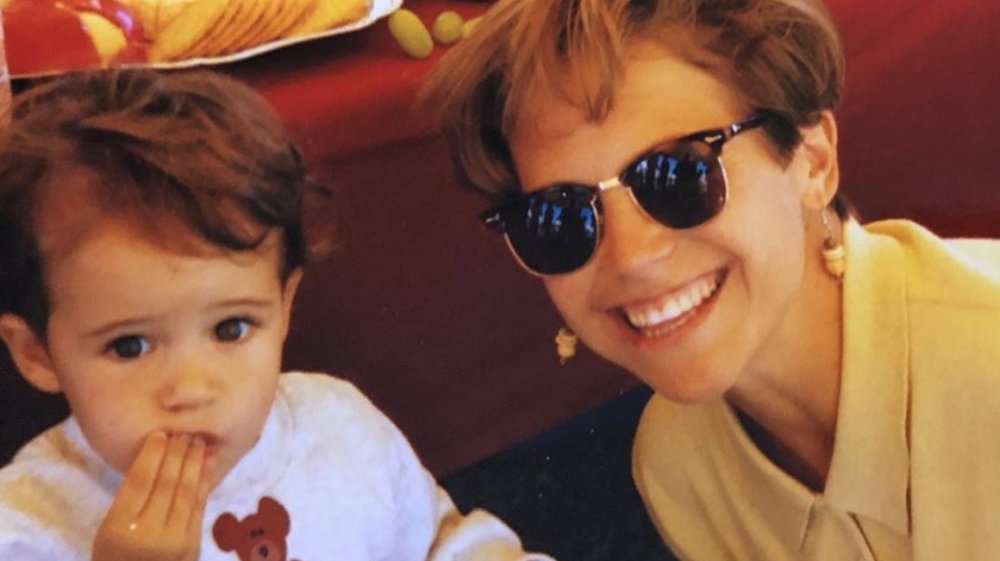 Pregnant with her first child on the Today show in 1991, Katie Couric, who's one of many morning show hosts who've experienced major transformations, stated that she planned to take only nine weeks of maternity leave. Though it was not a long absence for a pregnancy, colleague and co-host Bryant Gumbel certainly didn't appear to understand. Rolling her eyes when Gumbel asked, "Why so long?" as seen in a throwback video clip from the show, Couric schooled him on the fact that birthing a baby would be a "major shock" to her body and that she would need time to recover. And, of course, we'd assume she wanted time to bond with her child!
Due to pressure and what she called "implicit bias against moms," Couric actually ended up taking just four weeks of leave after giving birth to her first daughter, Elinor "Ellie" Tully Monahan, on July 23, 1991, as reported by USA Today. Her second daughter, Caroline "Carrie" Couric Monahan, came less than five years later on Jan. 5, 1996.
Katie Couric's daughters dealt with their father's passing at a young age
Katie Couric's children, Ellie and Carrie Monahan, were really young when their father, Jay Monahan, passed away from colon cancer in 1998. Carrie was at an age where she couldn't understand much, but Ellie was "obsessed with her dad," according to Couric in an interview with CureToday.com.
Even while dealing with the "bleak" prognosis and the cancer treatment, Couric felt that the most important way to handle the situation was to be honest with the girls about their father's grave illness and to focus on making sure they got through the "horrific ordeal" as well as possible. "I was so surprised that there was nothing in the school system to help children deal with loss," she told the New York Post. So she turned to an organization for advice on how to help them cope.
Jay Monahan's death was surely hard, but the girls grieved by, for instance, sending balloons to heaven on his birthday (via New York Post). Years later, Ellie wrote in an essay published in HuffPost, "There are moments where I crumble at the thought of my father."
Holidays were especially difficult for Katie Couric's daughters
The year 1997 marked "the worst Thanksgiving" for Katie Couric and her family, as she shared in a personal essay for Time. That year, she and her daughters were deep in the throes of Jay Monahan's stage 4 cancer diagnosis, and celebrating the holidays was remarkably sad with a loved one fighting for his life. Couric and her daughters, Ellie and Carrie Monahan, spent that season balancing their fear and pain with an attempt to maintain some spark of holiday spirit. Many Christmases full of joy and laughter have presumably come and gone since Monahan died, but Couric said, "Nearly twenty years later, when I think of that Thanksgiving, it makes me cry."
Father's Day also presented a "sad reminder of a holiday," one that was "loaded with an emotional weight" for daughter Ellie, as she shared in a personal essay published by HuffPost written during her college years. She regretted that she wouldn't be celebrating her dad by presenting him with any of the typical Father's Day gifts, but she assured readers that she "will be thinking of dads everywhere enjoying their kids as well as good health, knowing my father's death has saved perhaps more than a few lives."
For Katie Couric and her daughters, privacy was paramount
Katie Couric has described her eldest daughter, Ellie Monahan, as a particularly "private person." The journalist told AOL that she once told a story about Ellie during a magazine interview when the girl was about 16 years old. Afterward, Couric was taken by surprise when the then-teenager sat her down to request that she ask permission before sharing information about her on television or social media in the future.
"I think she understands that people care about her and wish her well and are invested in her in a really nice way," Couric said. But the TV personality appreciated that while she had chosen a public life, Ellie had not — so she agreed to get consent before doing any more dishing on her daughters.
To this day, Ellie remains guarded and keeps her social media posts private. Considering the attention the children of public figures often receive, we can understand her decision.
Katie Couric's busy work schedule made time with her daughters "precious"
It had to have made her daughters proud when Katie Couric broke the glass ceiling in 2006 and made history as the first solo female anchor of an evening newscast. But while the move from Today to CBS Evening News was gratifying, it also took up more of her time. In short, the girls weren't huge fans of their mother's work schedule, though they were supportive of her career move.
Couric detailed in an interview with Glamour how her daughters "mean the world" to her, and she made every effort to attend their school functions and extracurricular activities. "The big key is being disciplined enough to walk out the door of CBS at 7:05 P.M.," she said, but sometimes she would head out to watch one of the girls' volleyball games before going on air — just in the nick of time.
Their mother's busy work schedule meant that weekend time together was "precious," according to Couric. She and her daughters would spend that time doing precious bonding activities together like apple picking and making pies.
Katie Couric's daughters bonded on set for this Mother's Day-themed commercial
In a rare public appearance together, Ellie and Carrie Monahan joined mom Katie Couric for a family-themed Got Milk? ad in May 2013, as reported by People. Dressed in their pajamas and enjoying breakfast in bed, the three women showed off their milk mustaches in a campaign that debuted on Katie, Couric's talk show, in time for Mother's Day. "Mother's Day probably takes on a deeper meaning in our house," Couric said on the set of the commercial, as reported by E! News.
"It's fun to have my daughters be a part of this," Couric, one of many news anchors who look nearly unrecognizable without makeup, said of the filming. Makes sense, as the three were able to spend quality time together making a new Mother's Day memory, although Couric says the girls have always gone out of their way to make the day special.
While she thinks every day should be Mother's Day, Couric reminisced in a behind-the-scenes video of the shoot about how a homemade scrapbook of the girls' artwork, photographs, and handwritten notes is the most memorable and cherished Mother's Day gift they've ever given her (via People).
Katie Couric's daughter Elinor Monahan graduated from Yale and set off on her own
In 2009, Katie Couric's daughter Ellie Monahan left home and began working toward a Bachelor of Arts at Yale, according to what appears to be her LinkedIn page. While in college, she would reportedly study American Studies/Civilization and have a variety of interesting work experiences. She landed impressive internships, including stints working with the New York County District Attorney's office and at HBO. According to The Hollywood Reporter, sources said that Ellie worked harder than anyone else at her HBO internship and is remembered as one of the program's best-ever interns.
Ellie's time at Yale no doubt helped her to establish her own identity and move toward independence, traits which mom Katie Couric instilled in her daughters. Couric once said to Good Housekeeping that the girls shouldn't expect to depend on her for finances or decision-making once they finished school. Obviously, if they needed her, she'd be there for them, but she didn't "want them to be slackers." She added, "…they have to establish their own identities, and that includes their own financial identities." And after graduating in 2013, Ellie likely discovered that her mother wasn't joking all of those times when she warned the girls they'd have to find their own way. "I'm hard-nosed that way," Couric insisted, and when Ellie was shocked by that, Couric said that she told her, "'Welcome to the real world, honey."
Katie Couric's engagement to John Molner caught her daughters by surprise
After the death of their father, Katie Couric's daughters saw their mother through some relationship pains, so they were happy — if a little shocked — when Couric accepted the proposal of banker John Molner, who's now one of many gorgeous husbands of news anchors, over Labor Day weekend in 2013. The couple was introduced by mutual friends just the year before their engagement, and Couric said her girls already thought "the world of John." Still, revealing her daughters' reactions, Couric told Access, "I think they were a little [like] 'Wow,' because it's been the three of us for so long."
Couric was focused on getting her youngest daughter, Carrie Monahan, through her senior year of high school, so she planned to blend their families in an intimate ceremony. Couric's daughters later took active roles in the event, which took place at Couric's home in the Hamptons on June 21, 2014, as reported by People. According to another article from People, Ellie Monahan read from a love letter that Woodrow Wilson had written to his wife and Carrie sang the Beatles song "I Will" at the wedding.
Katie Couric's daughter Carrie nabbed coveted internships
Like her sister, Carrie Monahan has pursued strong educational experiences. In 2013, a year before she attended Stanford University, Carrie learned about television production as a research intern at Ark Media, according to what appears to be her LinkedIn profile. Then in 2016, she interned with Ark Media again, working on post-production for Oklahoma City, a PBS American Experience documentary, and on pre-production for the PBS miniseries The Gene.
The next year, Carrie dove into constitutional concerns with a role as a communications intern at the Southern Poverty Law Center, where, according to what appears to be her LinkedIn profile, she wrote a manual, a step-by-step guide to the deportation process, and more, and she also analyzed data regarding racial profiling.
And to round out her resume, Carrie volunteered at a Parisian elementary school where she taught English to young children in 2016. It's clear both of Katie Couric's daughters take their work seriously!
Katie Couric's daughter Elinor Monahan has landed TV work like her mother, but has stayed behind the scenes
In an essay for HuffPost, Katie Couric's daughter Ellie Monahan remarked that she was fortunate to have been brought up by her mother, "whose friends and coworkers, both male and female, have and continue to serve as positive role models." And they may have indirectly helped her to find her calling.
During her college internship at HBO (via LinkedIn), Ellie likely discovered just how much she enjoyed working in television. She started her professional career working as a writer's assistant for the popular TV series Mr. Robot in 2017, according to her IMDb page, and she has since held multiple jobs behind the scenes in TV. After that, Ellie went on to work as a writer's assistant and as a scriptwriter for episodes of shows such as Liked in 2017 and The Boys in 2019. She even earned a director's credit for a 2017 episode of Liked.
Katie Couric's daughter Carrie Monahan focused on social justice
Katie Couric's daughter Carrie Monahan spent her years at Stanford University, as noted by what appears to be her LinkedIn page. Not only was she an involved student, but she also graduated with honors and distinction in 2018, according to a student spotlight from Stanford American Studies. Carrie claimed the university's highest award given for an honors thesis. Her thesis project, "A Dream Remembered": Collective Memory & Ancestral Responsibility in Eufaula, Alabama, received Stanford's David M. Kennedy Honor. "Carrie weaves together the results of her exceptionally ambitious, multi-year research forays," read a "citation that accompanied the award," as shared by Stanford's newsletter of the part-memoir, part-social justice narrative, into a "stunning, evocatively written, and absolutely unique accomplishment."
She then furthered her studies with a Master of Science in Journalism at Columbia University in 2018, during which time she wrote on topics like "women in esports, autonomous security robots and state-level anti-abortion legislation."
Carrie Monahan also followed in mom Katie Couric's footsteps
Katie Couric's daughter Carrie Monahan doesn't just look like her mother, but it seems her career choice has her following closely in her famous mom's footsteps as well. Armed with a prestigious journalism degree from Columbia University, Couric's youngest daughter has found work that allows her to be a strategic communicator while also making a political and social impact.
In her budding career as a journalist, Carrie may be focusing more on writing than presenting television news, but the similarities between her and her mother's paths are clear. Having been a fact checker and research assistant to the editor in chief of Reuters, Carrie has explored topics ranging from foreign relations and world trade to "neurodiversity in the workplace" and financial tips for Generation Z.
All of this makes Couric a proud parent. In a doting Instagram birthday post to her daughter in early 2020, the famous news anchor described her daughter as "brilliant, beautiful, ebullient, creative, hilarious, quirky, [and] compassionate."
Katie Couric's daughter Elinor Monahan got engaged
In February 2019, Katie Couric's eldest daughter, Ellie Monahan, became engaged to her boyfriend Mark Dobrosky when she was 27, as reported by People. Her mother shared the news via an "OMG"-filled Instagram post which divulged that her daughter's fiancé had requested both permission to propose and some very special jewelry. Using the hashtag "#HappyTears," Couric was proud that she kept the secret and revealed that Ellie now wore the engagement ring given to her by her late husband and Ellie's father.
"I'm so excited, and she's so happy," Couric said on the Today show, gushing with approval. "She's going to be a beautiful bride." She added, "We love him, and, most importantly, she loves him and he loves her." Nevertheless, Couric joked enthusiastically that she'd get to be a "monster-in-law." Given Ellie's private nature, we don't expect to learn too much about her relationship with Dobrosky, but we imagine Couric might give us some hints in the future.
How Katie Couric's daughters keep their father's legacy alive
Katie Couric has opened up about how her daughters have grown up. On the Today show, she said, "I see my husband in my girls and I think how unfair it is for him not … to see the magnificent people they've become." But even if he's not around to see it, surely the Monahan girls strive to make their late father proud.
In addition to living full and ambitious lives, the young ladies join their mother in taking the tragedy of their dad's untimely passing and attempting to give it a higher purpose. Their advocacy work with the National Colorectal Cancer Research Alliance, which Couric cofounded, as well as the family's cofounding of the Jay Monahan Center for Gastrointestinal Health in 2004, has helped raise funds, brought awareness to treatment options, and offered family support, as noted by Prevention.
In an article published in HuffPost, Ellie Monahan wrote that her dad's absence was particularly palpable at major life events and that her grief would never be "cured," but she and sister Carrie Monahan have done their best to remember him and help others who've been diagnosed with colon cancer, the same disease that took their father's life. Couric agreed in an interview with Closer Weekly, saying, "I honored him by raising two pretty great kids who have a lot of him in them."