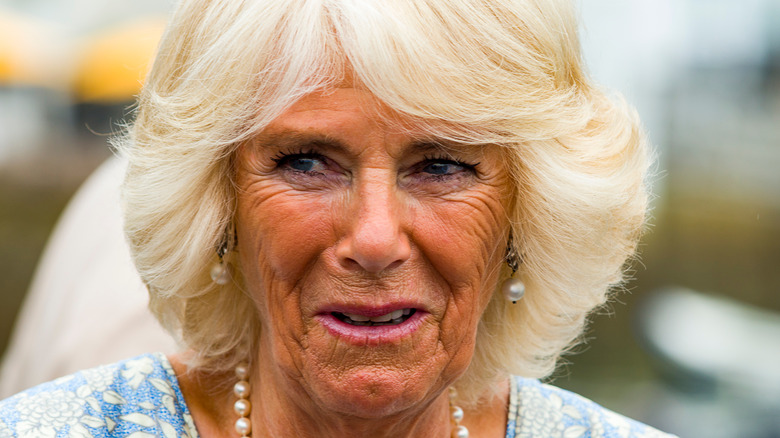 If you're royalty, all eyes are on you. And if you're royalty with a status as sensational as Camilla Parker Bowles', you better believe the public gaze will never leave you. The Duchess of Cornwall, by virtue of her inclusion in the British royal family through her marriage to the Prince of Wales, is forever under scrutiny for her choices — one of them being her wardrobe. Bowles is considered a standout figure of individual style in a sea of traditional royal attire. As The New York Times noted in 2005, Bowles "looks as if she would be more comfortable walking through fields in mud-spattered Wellington boots than trussed into an evening gown or bejeweled stiletto heels."
Through princely events and public appearances, Bowles has held onto her statement fashion, which is typically comprised of attractive headdresses and pastel prints. She isn't averse to going big and bold on occasion, too. Interview Magazine recalled how in 2008, the nonconformist royal opted for a Vivienne Westwood piece, risking a designer with a notorious rep for all things punk. Together with frequent collaborators and design moguls Anna Valentine, Fiona Clare, and Philip Treacy, Bowles has curated a signature brand of style for herself over her years as a royal, which led Tatler to once describe her as the "Queen of Style."
Of course, high praise hasn't immunized Bowles from being checked once in a while for outfits that don't necessarily fit the frame of royal convention. Here are some memorable ones.
Her outfit color defied royal convention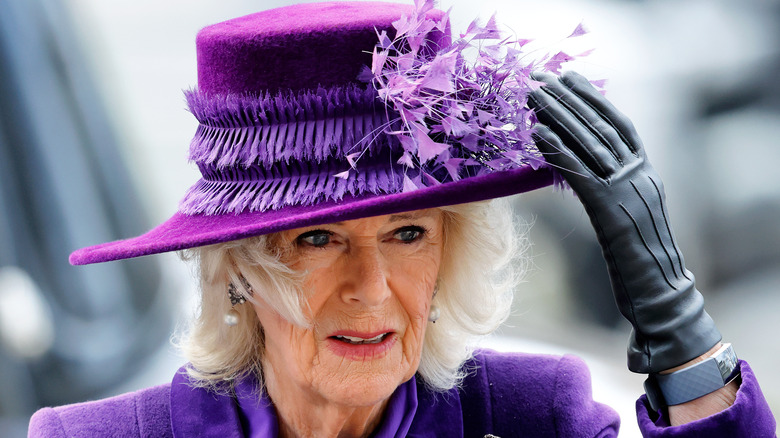 Purple is a color fit for royalty and Camilla Parker Bowles, Duchess of Cornwall, has certainly established her regal status by sporting the shade on several occasions. Bowles has opted for an eye-catching purple hat and matching coat on Commonwealth Day many times over, as noted by People. Her purple set is a tradition she has managed to keep up for years together, not shying away from reportedly indulging in a bit of recycling, given that her statement feathered purple hat was a trusty companion in 2012, 2017, and 2022.
Nevertheless, Express reported that Bowles is in an alleged breach of royal protocol every time she dons purple for the Commonwealth Day Service. According to the outlet, royals are typically expected to go for shades of either white, red, or blue for this particular occasion, which marks a celebration and commemoration of fraternity between the Commonwealth countries (via The Commonwealth).
However, there have been other royals besides Bowles who have dared to toe this supposed line in the past. For what was her final royal event, the 2020 Commonwealth Day Service, Meghan Markle chose an emerald green outfit that echoed a dress her late mother-in-law Princess Diana wore in 1982 (via Vogue). In 2022, Bowles stood out in purple in a Fiona Clare design, while fellow royal Kate Middleton picked out a stunning sapphire ensemble that included a Catherine Walker coat dress (per Elle).
She ditched the traditional tiara for her wedding
The royal wedding of Camilla Parker Bowles and Prince Charles on April 9, 2005 remains notable for more reasons than one. Spectators worldwide were tuned into this high-profile event at Windsor, which marked the second marriage of Charles, following the death of his first wife, the universally popular Princess Diana. Consequently, attention surrounding his bride was pronounced, with exclusive scrutiny reserved for her wardrobe that day. A standout feature in her ensemble was the missing traditional wedding tiara.
As noted by the Mirror, Bowles dressed in all-white for the civil ceremony, pairing her outfit with a hat by frequent collaborator, Irish milliner Philip Treacy. Her second outfit, which she wore to the blessing ceremony, included a more unconventional detail in a diamond-tipped gold leaf fascinator, also designed by Treacy, that complimented her blonde locks. However, a tiara was nowhere in sight with either wedding-day look.
A report by Hello postulates that since it was Bowles' second marriage — the first being to army man Andrew Parker Bowles from 1973 to 1995 — her wedding tiara didn't make an appearance. Another possible reason for forgoing the tiara could be that since Charles and Bowles' wedding ceremony wasn't held in a church, the bride ditched the tiara. She did, however, wear a tiara — the Cubitt Tiara — to her first wedding (via The Court Jeweller). It was also later worn by her daughter Laura Lopes when she got married in 2006.
Her statement feathered hat raised some eyebrows
Since becoming a working member of British royalty, Camilla Parker Bowles has added numerous feathers to her cap — quite literally! The Duchess of Cornwall has a luxurious collection of headwear, from pretty fascinators to flamboyant hats, that never fails to make a statement. She made heads not turn but swivel in 2018, for instance, when she stepped out for church service at St Martin-in-the-Fields with a cream-colored bushel of feathers topping her elegant ensemble. Good Housekeeping, which described the piece as "eccentric," noted that the duchess had previously worn the hat to her nephew Ben Elliot's wedding several years ago. In 2021, she wore a similar ostrich feather hat in black while attending the annual Remembrance Day Service (via Hello).
Hats have been a longstanding custom in royal circles and, per protocol, the ladies of the British monarchy are seldom spotted without ornamental toppers. Etiquette expert Diana Mather told the BBC that the tradition links back to the custom of women not showing their hair in public. However, she said that "hats are now reserved for more formal occasions."
Of the duchess' taste in headwear, milliner Philip Treacy told Love, "I first met her many years ago when she came to buy a hat. I expected her to want something very conservative but she wanted something beautiful. I respected that; I like her attitude."
She met the Pope looking like Princess Diana
On account of being Prince Charles' second wife, Camilla Parker Bowles has forever been at the unfortunate disadvantage of constant comparison to his first wife, the late Princess Diana. A longstanding point of observation for royal watchers and royalists alike has thus been the seeming commonalities between the two women's wardrobes. Bowles has, on several occasions, been accused of imitating Princess Diana's style.
Memorably, when Bowles visited the Vatican to meet Pope Benedict XVI in 2009, she went for a black ensemble including a lace veil and pearl necklace, per the BBC. This look of hers was likened to that of Princess Diana's, when she donned a similar black dress and veil to meet Pope John Paul II in 1985 (via Associated Press). Despite what detractors claim about Bowles' donning copycat attire, it is actually the protocol for the Pope's audience to wear black. According to Aleteia, women customarily wear a modest black dress and veil when meeting the Pope. The Queen too, who typically only wears black when in mourning, dressed in similar fineries when she met the Pope in 1980 (per Hello).
Bowles has also been accused of ripping off Princess Diana's legendary 1994 "revenge dress" – an off-shoulder black dress and sapphire-pearl choker. As noted by Woman & Home, many have drawn parallels between this look and one sported by Bowles in 1995.
She sported a redesigned royal family heirloom
It's no secret that Camilla Parker Bowles was dubbed "the most hated woman in Britain" by the British media and public for being the third person in Prince Charles' marriage to Princess Diana (via Vanity Fair). Though the duchess has worked hard to shed that rep over the years — she is poised to be the future Queen Consort, as announced by the Queen herself, after all – criticism still follows Bowles in many of the things she does. For example, a wave of it came her way in 2019 when Bowles sported a brooch redesigned from a diamond-emerald necklace that was in Princess Diana's ownership before her death.
According to Marie Claire, Bowles wore the pin with an emerald green ensemble to celebrations marking the 50th anniversary of Prince Charles' investiture. The original ornament was a family heirloom passed down by the Queen Mother and, per The Sun, Diana was photographed with it across her neck at the Vienna Burgh Theatre in 1986. After Princess Diana's death, several pieces of her jewelry were returned to royal coffers and have since been redistributed.
Notwithstanding the fury that erupted after Bowles' brooch broached online debates, it's actually not that uncommon for royals to have precious pieces redesigned. Alterations were famously made to Kate Middleton's stunning 12-carat engagement ring that once belonged to Princess Diana. Meanwhile, the late princess' own iconic sapphire and pearl choker was originally a brooch!
As for why Bowles has been sporting brooches, in particular, Daena Borrowman, marketing manager at JewelleryBox, told Express, "Brooches can often be associated with age and maturity." She continued, saying, "So it could be assumed that Camilla is trying to emphasise this new stage of life she is entering as a more senior royal and mature woman and mirror that of the Queen."
She recycled her wedding dress
If there's one thing that Camilla Parker Bowles seems to consistently swear by when it comes to fashion, it's that repeating outfits shouldn't be taboo — even if you're royalty. And even if the outfit in question is your wedding dress!
In a move that no other woman in the British monarchy would have dared, Bowles recycled the white knee-length number she wore to her wedding to Prince Charles. At the opening session of the 2007 National Assembly of Wales, the duchess was pictured sporting the ensemble, per Hello. As noted by the Mirror, it was a silk chiffon piece with Swiss-style detailing around the hem. Though she tweaked the more recent look with different jewelry, footwear, and hat, she rocked the memorable Robinson Valentine dress with equal aplomb the second time over.
The panache with which she carried her repeat outfit wasn't surprising, since Bowles is the undisputed queen of wardrobe recycling. In fact, in 2018, she rewore a mint green ensemble exactly down to its last detail within a span of one month — first at Prince Charles' 70th birthday celebration in May and then at the Royal Ascot in June (via Town & Country).
She is one of the few royals often spotted in jeans
Camilla Parker Bowles' wardrobe isn't all bows and frills. The über cool royal can often be spotted decompressing in casual denims, switching out her ceremonious attire on days of relaxation — one of the few top members of the British monarchy to do so. Bowles' 70th birthday was one such occasion. Portraits from July 17, 2017 shared by Clarence House show a suave Bowles lounging in her garden in skinny jeans. She was seen rocking denim multiple times in 2020 too, with pictures on her 15th wedding anniversary with Prince Charles and the official Christmas card featuring Bowles in laid-back style.
Bowles appears to be a self-professed denim aficionado. Appearing on BBC Radio 5 in 2020, she disclosed to host Emma Barnett, "I've been very, very happy with my jeans. It will be very hard to get out of them again. I think you get into a sort of way of life, don't you?" (via Town & Country) But there's a reason we don't see many British royals out and about in denim trousers. Diana Mather, an etiquette expert, told the BBC, "Many places will not allow jeans as they are still seen as very casual wear, so it is better to play safe for both sexes." They're more suitable for "activities like "walking the dogs," she explained.
She was called out for her fur hat
Camilla Parker Bowles isn't averse to experimenting with big and bold fashion when the occasion calls for it. But, given that she is exposed to unending scrutiny, her sartorial choices don't always go down well in the court of public opinion. A Russian-style hat she sported back in 2010 at the Royal Family's Sandringham Christmas church service is a case in point.
According to the Daily Mail, the accessory worn by the Duchess of Cornwall was allegedly made of real fur, which led to a massive outcry. The publication's own Liz Jones lambasted the duchess, noting, "The wearing by our Royal Family of a product that's deemed too cruel to be produced in this country — fur farms were banned here in 2000 — is simply unacceptable." Bowles still appears to love the look, though. In 2022, she was spotted at Southend-on-Sea wearing a smart black fuzzy-trimmed hat. However, it was reportedly the faux kind this time (via Hello).
The Queen, on the other hand, only relatively recently disavowed fur. The Queen's senior dresser Angela Kelly wrote in "The Other Side of the Coin: The Queen, the Dresser and the Wardrobe," a memoir, "If Her Majesty is due to attend an engagement in particularly cold weather, from 2019 onwards fake fur will be used to make sure she stays warm" (via Telegraph).
Her fuzzy slippers caught the eye of many
The forever tastefully dressed Camilla Parker Bowles had a rather peculiar fashion moment in 2021, when she was spotted wearing a pair of fuzzy slippers during a public appearance. The internet collectively did a double take when pictures surfaced of Bowles' odd choice of footwear beneath a sober monochrome outfit when she visited the Wightman Road Mosque, London in April 2021.
Per Clarence House, Bowles was there to look over social service activities at the mosque in light of the COVID-19 pandemic. But what left many scratching their heads was her apparently mismatched wardrobe — the contrast between her cheetah-print face mask and soft slippers seemed far too wild to be true!
The mystery of the black slip-ons was soon unraveled when it came to light that they weren't part of Bowles' original ensemble. People reported that Bowles visited in heeled shoes and, in adherence to mosque rules, swapped them out for the cozy footwear. The Diamante Trim Slippers by British brand Pour Moi retailed for about $34. And, according to Hello, worshippers at the mosque gave them to the duchess. During her visit, Bowles heaped praises on the mosque's relief work, saying, "You are a shining example and I wish there were more places like this in the country bringing the community and all faiths together."
She made it onto fashion critic Richard Blackwell's worst-dressed list
Camilla Parker Bowles' fashion has certainly evolved. Prior to her official entry into the British royal family by virtue of marriage to Prince Charles in 2005, it wasn't uncommon to hear vicious criticism of Bowles' sartorial getup. Multiple times on record in the past, the Bowles made it on the notorious Ten Worst Dressed Women List of legendary American fashion critic Richard Blackwell. As noted by The Guardian, Bowles — whom he nicknamed "duchess of dowdy" — featured on Blackwell's list four times, reportedly topping the list in 1994.
The year Bowles headed the list — which also featured prominent names like Demi Moore, Holly Hunter, and Juliette Lewis – Blackwell described her style, writing, "Camilla's fashion image is way off track. She looked in the mirror and watched it crack" (via UPI). When Bowles reappeared on Blackwell's list at number eight in 2001, the sharp-tongued fashion guru declared that she "packs the stylistic punch of a Yorkshire pudding" (via The New York Times). She also made the list in 1995 and 2006 (per Today).
In the years since, Bowles' fashion has been anything but drab. "The duchess has really found her style," Fiona Clare, Bowles' longtime dresser, told Vanity Fair. "I wouldn't say she is into clothes, but she has found her niche. She is very elegant and she knows what works."