Actor Xochitl Gomez has become a household name thanks to her MCU debut in "Doctor Strange in the Multiverse of Madness." Gomez plays the teenager and superhero in the making, America Chavez, alongside remarkable actors including Benedict Cumberbatch, Elizabeth Olsen, and Rachel McAdams.
While this may be her biggest role, as of this writing, she had already established herself as a sensational up-and-comer. Gomez has landed various minor roles in multiple independent movies and television shows such as Disney's "Raven's Home," and in 2020 procured her first leading role in the since-canceled Netflix series "The Baby-Sitter's Club" (via IMDb). Gomez may be relatively new to the Hollywood scene, but it's clear she isn't going away.
From how she got started in the entertainment business to landing the role of a lifetime playing a modern superhero that could steer the MCU into the next generation, here's the stunning transformation of Xochitl Gomez.
Xochitl Gomez developed a love for acting at a young age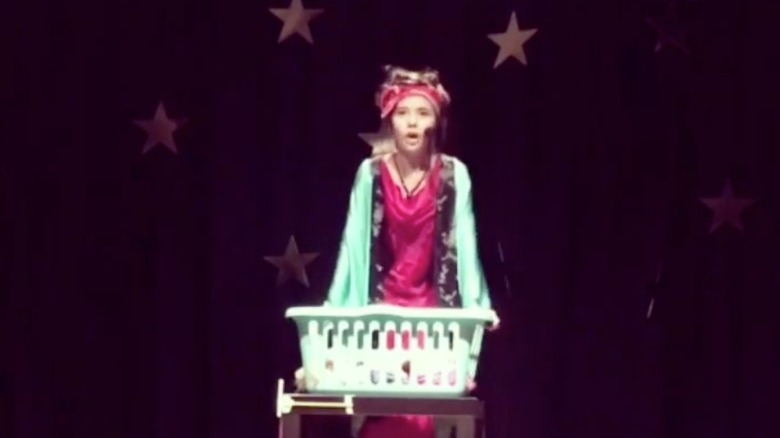 When Xochitl Gomez was 5 years old, her mother enrolled her in a musical theater. In an interview with Seventeen magazine, the actor stated that she "absolutely loved it" and had a stacked résume with 22 live productions all by the age of 12. Gomez also shared that she loved connecting with her castmates in addition to "all the excitement leading up to the show."
According to Gomez, her time spent on stage performing in musicals is what really fueled her passion for acting and led her to become the star she is today. She told the outlet that even though she couldn't hit all the high notes anymore, she thought it would be cool to play Rosie again the musical "Bye Bye Birdie". Maybe in the future, Gomez will join the long list of celebrities who have taken to the Broadway stage.
She credits her Los Angeles upbringing
Xochitl Gomez is a California native born in Los Angeles to parents of Mexican descent. When she was around 5 years old, the family moved from Hollywood to Echo Park, where she was raised with many Mexican influences. During an exclusive interview with People, Gomez spoke about her upbringing. She told the outlet that her mom and dad both speak Spanish and that her babysitter and all the kids she grew up playing with were all from Mexico. Gomez also shared that she feels that her normal upbringing of going to public school and living in Hollywood and Echo Park has molded her into the person she has become today.
Before making her debut on the big screen in "Doctor Strange in the Multiverse of Madness," the young actor sat down with Complex and recalled working on her lines that were in Spanish with her father. Gomez noted that her father was excited that she was speaking some Spanish in the movie, and said it meant a lot to her to work with her dad because he doesn't speak any English. The Californian added, "He helped me kind of choose [lines] and the intonation and stuff, and ways to make it actually really funny."
Success didn't come to Gomez overnight
Xochitl Gomez has been earning her stripes in the acting game for over a decade and credits her mother for being so supportive in helping her achieve her acting dreams. At the age of 10, Gomez was ready to spread her wings, so her mother drove her all over Los Angeles to go on auditions for commercials and other on-camera work, according to Seventeen Magazine.
In her interview with People, she talked about her hectic schedule, which entailed going to school and then heading to casting calls afterward. Gomez noted she would attend as many as five auditions per day and, on top of that, she would also have lines to study for whichever musical she was in at the time. Gomez shared that her mother ended up quitting her job because of Gomez's demanding schedule. "I would never be here if she didn't do all those things so I could follow my dream and I'm really happy that I have had her by my side," the actor told People.
This schedule went on for a few years, but Gomez's parts in commercials would later land her co-starring roles. During the interview with People, she also spoke about her role in "The Baby-Sitter's Club" reboot, which she starred in when she was 12 years old. "I loved those books and I loved how the series turned out," she revealed.
She honed her acting skills in student films
When it came to breaking into show business and landing gigs in commercials or nabbing roles as a co-star, it wasn't an easy road for Xochitl Gomez. According to Gomez, it was sadly tough for her to book jobs because of her nationality.
During her interview with People, she explained, "It was hard for me to get roles [in] commercials and co-star roles because mainly you would have to be the younger version of an actor or the kid of a famous actor, and I didn't really look like any of the actors." Gomez went on to explain that there weren't any other famous Latinas with the same "indigenous features" as her.
Still, Gomez was able to gain experience from the 13 student films she appeared in when she first broke into acting. "I look back at the short films I did, and I'm really proud of them," she said. "I feel that got me to where I am now, to get 'Gentefied' and 'The Baby-Sitters' Club.'"
Landing the role in Doctor Strange 2 was a major moment for Xochitl Gomez
Xochitl Gomez first auditioned for the role of America Chavez after shooting the first season of "The Baby-Sitter's Club" series. Gomez didn't think she even had a chance at being considered for the part since, initially, the character's age was set to be around 18. However, after not hearing anything for months, she was invited to fly out to London for a screen test. The powers that be were so impressed with her first audition that America's age was lowered to 14. Two days after the screen test, 13-year-old Gomez found out that she would be one of the youngest actors to join the MCU in a leading role as a superhero (via DailyMail UK).
She was excited about the huge opportunity to portray America, who has superhuman strength and the power to travel through multi-universes. The character is also MCU's first LGBTQ+ and Latina superhero. "It's huge that I get to represent these communities that maybe haven't felt seen before," Gomez remarked while speaking to Deadline. She added that there's no way anyone can miss America because she's on a poster promoting the movie and went on to say that her character is "positive, charismatic, and resilient."
She went to great lengths to make her MCU character her own
In preparation to portray America Sanchez, Xochitl Gomez read all the comics she could find to get all the insight she could into the superhero. According to Marvel, Gomez "instantly fell in love with her." She loved America's unshakeable self-confidence and called the superhero "a total baddie."
The Marvel superhero America Chavez made her debut in the 2011 comic book "VENGEANCE #1" and later appeared in the 2013 "Young Avengers" amongst a slew of other comics before appearing in the "America" series. Gomez discussed with Marvel about wanting to keep the "kid energy" of her character and stated, "I took stuff that was in the comics, and kind of lightened it up since she's less experienced." Gomez said it was a fun challenge to portray a younger and inexperienced version of the superhero, and audiences will see "a little bit of that fake-it-till-you-make-it confidence" in America on the big screen.
Even though Gomez didn't think there was a chance of her landing the role, she still wanted to be prepared if she got a callback. The Marvel star told Entertainment Weekly that she had practiced kickboxing, martial arts, and stunt training for a few hours a day so if she landed a test audition by chance, she would "blow their minds," which is exactly what she did.
Xochitl Gomez learned a lot from one of her Marvel co-stars
Even though Xochitl Gomez had learned a lot throughout all her years of acting, the role in Marvel's second installment of Dr. Strange provided her with even more learning opportunities. While on the set of "Doctor Strange in the Multiverse of Madness", Gomez got to take notes from one of the franchise's other heroines: Wanda Maximoff, played by actor Elizabeth Olsen.
During a press junket ahead of the film's premiere, the young actor said she found herself watching Olsen between takes. As Gomez told Variety, "I did look at Lizzie, you know, especially while she was acting and getting ready to kind of do the scene. … She would get in that moment. And I realized that, 'Oh, well, if she's doing it, I should probably do it, too.'"
In an interview with Screenrant, Gomez reflected on some sound advice Olsen gave her while on set pertaining to her character: "She said to never hesitate to give Marvel an idea, or to just pitch in about your character." She told the outlet that she took Olsen's excellent advice, and it was a gratifying and exciting moment for her when some of her ideas made it into her scenes.
She understands the importance of Latina representation in Hollywood
Growing up, Xochitl Gomez didn't really see anyone that looked like her on the small and big screens and is very happy that she has gotten to represent her culture. Gomez told People that while playing Dawn on Netflix's "The Baby-Sitters Club" series, she received emails from other young Latina girls excited to see themselves in her character. "I don't cry very much," she explained, "but when I would read some of those [messages], I was just like, 'Wow. This is really making a difference to people.'"
When speaking with Elite Daily, the actor expressed that she was "proud of America Chavez" and thrilled about Chavez's debut with the Marvel franchise. Gomez had the same sentiments during the Marvel film's premiere in Hollywood in early May. She said how honored she is when it comes to her character's representation of Latinas, who are often incorrectly represented when they find themselves on screen according to Deadline.
Xochitl Gomez knows how to deal with the haters of the world
Xochitl Gomez has received some backlash for playing America Chavez. Some has been from MCU fans who saw the trailer and felt that her skin color was "too light" to portray Chavez who in the comic books is a Puerto Rican superhero (via Bounding into Comics). Tactor also became a target of online harassment when the film was banned in Saudi Arabia for the inclusion of a queer character. Gomez's co-star Benedict Wong came to her defense during an interview with AsiaOne, saying that it's not okay that she was getting trolled and that these haters should be ashamed of themselves. Wong added, "Let's all just play nice. Let's all just enjoy … what we are representing."
The breakout star revealed her own thoughts about the mistreatment by online trolls, telling USA Today that even though she's a positive person, she couldn't ignore the negativity altogether. Gomez shared that she was very thankful for having devoted fans and they were "so much louder and more enthusiastic than haters." Gomez also made a TikTok video in which she told her followers, "Nothing can break me down. I'm going to stay strong" (via AsiaOne). She told AsiaOne that she posted the video because she felt it was crucial for teens to have positive role models.
Gomez wants to know what's next for America Sanchez
Now that Xochitl Gomez has shaken up the MCU with her debut as America Sanchez, she hopes the world will get to see more of the superhero teen. Gomez has shared that it would be amazing to see America Sanchez alongside Hailee Steinfeld's character Kate Bishop from "Hawkeye" and is ready for whatever comes her way (via USA Today).
While discussing her future in the MCU with Digitalspy, the actor shared that she's enthusiastic about what the future holds for her character. While Gomez is excited to develop in the MCU, she doesn't have any clue what Marvel has in store for her and Sanchez. As she told the outlet, "I wish [I knew more]. I asked for hints like, 'Guys, this way or this way? Just point which way'. And they're like, 'Nope.'" So just like Gomez, we'll have to wait and see, but we're sure it won't be long before audiences see the Young Avenger in one of Marvel's upcoming projects.