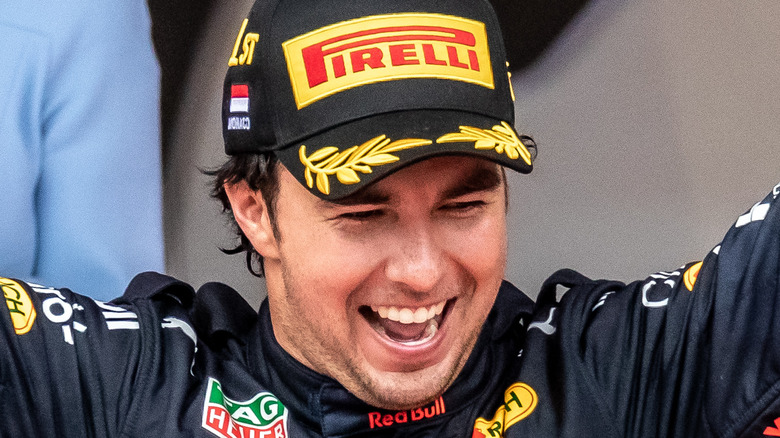 Sergio Perez has signed a new contract with Red Bull, committing himself to the team until 2024. Perez, who won the Monaco Grand Prix on May 29, is currently sitting third in the driver's standings: six points behind Ferrari's Charles Leclerc, and 16 behind Red Bull teammate Max Verstappen.
The Mexican joined Red Bull from Racing Point in late 2020, racking up five podium finishes from 21 starts and finishing fourth in the 2020/2021 season. This season, Perez has found himself on the podium four times in seven races, with one win and three second-place finishes (via Sky Sports).
Shortly after signing his new deal, Perez tweeted "Thank you for all the trust and for making me part of this family for two more years! Vamooos!" His team, Red Bull, currently sits at the top of the constructors' championship standings seven races in, 36 points ahead of second-place Ferrari and 101 points ahead of Mercedes.
The contract's impact on Red Bull's main man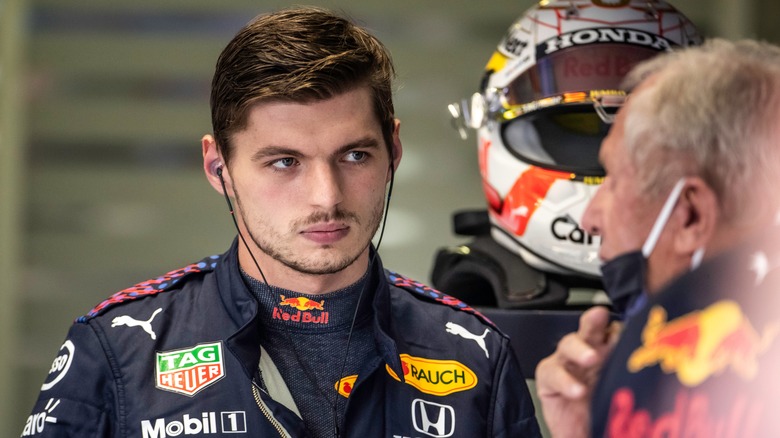 With current world champion Max Verstappen signed to Red Bull until 2028, Perez's new contract means the pair will be teammates for at least another two years. Verstappen heaped praise onto Perez after the Mexican helped thwart Lewis Hamilton's title challenge last year. Speaking after the championship-deciding 2021 Abu Dhabi Grand Prix, Verstappen said: "I think without Checo I wouldn't be sitting here right now because then they would have had a pit gap with the Safety Car and stuff so definitely Checo was driving incredibly today." The Belgian-Dutch driver went on to say he hopes his partnership with Perez will be a long one (via Formula1.com).
However, Verstappen's attitude may have changed following Perez's recent Monaco Grand Prix victory. The world champion's father, Jos Verstappen, lashed out in a blog post, indicating a potential rift between the two drivers. The elder Verstappen said his son was not helped by the Red Bull team's strategy, claiming ten points had been "thrown away" from Max, and described the events as "disappointing." Despite this, Jos Verstappen did go on to say winning Monaco was something special and he was happy for Perez. Monaco's impact on both the title race and Verstappen's relationship with Perez remains to be seen. As things stand, the world champion seems very comfortable with his teammate.
How it affects the other drivers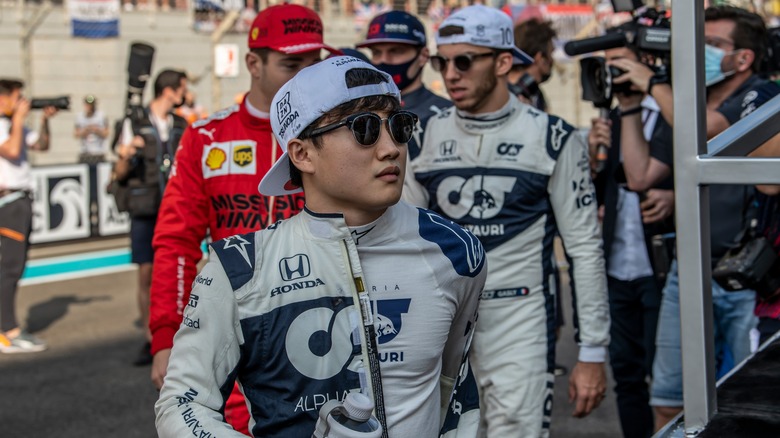 Perez extending his time at Red Bull locks up all of the spots at the three top teams in the sport for the time being. Red Bull, along with Ferrari and Mercedes are unlikely to be altering their driver lineups until 2023 at the earliest. This is likely to lead to a quiet "silly season" and limited opportunities for new drivers trying to force their way onto the scene.
The energy drink company's other team, AlphaTauri, has long been a proving ground for potential Red Bull drivers. Perez securing his seat until 2024 leaves AlphaTauri drivers Pierre Gasly and Yuki Tsunoda with little chance of moving up to Red Bull's senior team in the next two seasons. The pair may be considering their options as spots open in other organizations, with Gasly the more likely of the two to move on. A move to Austin Martin or McLaren is a possibility for the Frenchman (via The Race).
Some spots could still open up. If Daniel Ricardio's contract isn't renewed, McLaren could have a spot available, as could Aston Martin if Sebastian Vettel decides to call it a day at the end of the season. Mick Schumacker is also facing the ax after several crashes and concerns about his pace. So some options are available, even if Perez's contract extension did limit things.