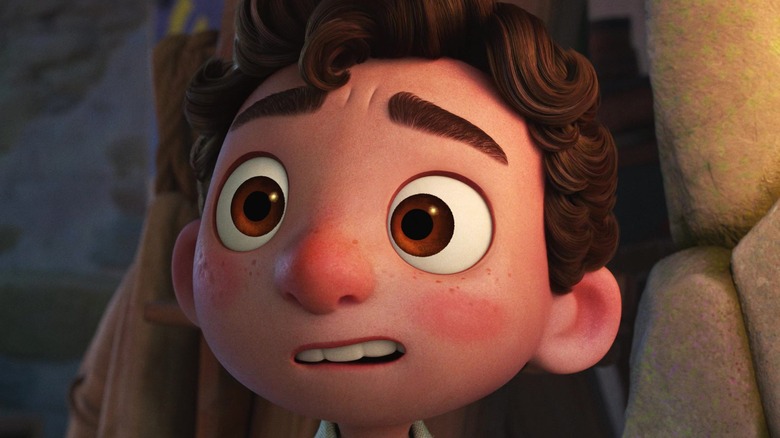 "Luca" is a 2021 animated film from Disney and Pixar about a young sea monster who is so curious about the surface world that he defies his parents and leaves the ocean to explore the many wonders to be found on land. Like many of the masterpieces crafted by Pixar, it's a sweet story for audience members of any age. It tackles themes regarding acceptance and identity in a manner that is both subtle and inclusive, making it more than your average animated fish movie.
The world depicted in "Luca" is cozy but packed with fun and exciting figures. From the lead characters like Alberto, Giulia, and Luca himself, all the way to the supporting cast, the character design and voice talent helps to create a vibrant community for the story to take place. The film features a diverse, multi-cultural cast of both relative newcomers and big Hollywood names. Just in case you found yourself wondering where you've heard certain cast members' voices before, we've laid out a breakdown of who voices these characters and where you might know them from.
Luca – Jacob Tremblay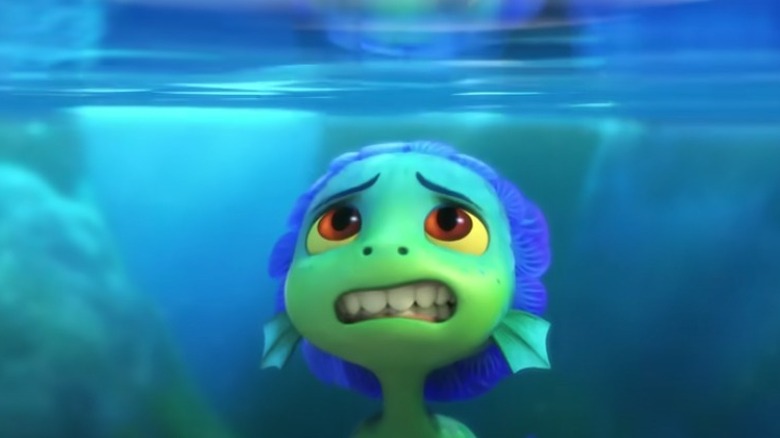 One of the core conflicts of "Luca" is that the title character feels trapped by his circumstances. As an inhabitant of the sea, Luca is constantly in danger of getting caught in a net or meeting the wrong end of a spear. Beyond that, he has a desire to be more than just what his family expects. When he transforms into a human on the surface, he feels that he can finally be free and possibly even lead the way for human and aquatic life to coexist. This, of course, causes all sorts of controversy both above and below the water.
This role required a young actor who had enough experience to know how to play the complexities of such a character. That is exactly what the filmmakers got when they cast the exceptionally talented Jacob Tremblay in the role. He hit the ground running in 2013 when, at age seven, he landed roles in the series "Motive," the feature film "The Smurfs 2," and a short titled "The Magic Ferret."
Just two years later, Tremblay would costar alongside Brie Larson as another boy who has spent his entire life in captivity in the critically acclaimed drama "Room." His streak of playing characters who have to adjust to their world continued in 2017 when he played Auggie in "Wonder" with Julia Roberts and Owen Wilson. The young actor's star is still rising, and we're sure to hear much more from him soon.
Alberto – Jack Dylan Grazer
The only way Luca can step out of his comfort zone and see what the big, wide world has to offer is if someone more experienced leads the way. He finds that person in a fellow sea creature with a fondness for land named Alberto. When Alberto spies Luca attempting to leave the water, he literally drags Luca out and teaches offers to teach him the ropes. Their bond, although complicated by the introduction of a third character, is the heart of the film.
Jack Dylan Grazer provides the voice for Alberto, and he is phenomenal. Grazer has been popping up all over the place in a variety of roles, and he never fails to impress. One of his first big parts was in the Stephen King adaptation "It," where Grazer played the young hypochondriac Eddie Kaspbrak. His next big role came in the underrated sitcom "Me, Myself and I," where he appeared as the teenage version of Alex. In 2019 he played Billy Batson's foster brother, the superhero obsessed Eddie Freeman in DC's "Shazam!" One of Grazer's more recent credits was as Fraser Wilson in the HBO series "We Are Who We Are."
Giulia – Emma Berman
As far as Alberto is concerned, he and Luca are doing just fine living among the humans and don't need any help. When an energetic and ravenously curious girl named Giulia enters the mix, Alberto can't help but feel a little threatened. As outsiders who want to learn about the world, Giulia and Luca have tons in common, and Alberto isn't sure how to measure up to her. Although this casts the future of his relationship with Luca in doubt, Giulia is a crucial component of Luca's growth as a character.
Despite the strength of the vocal performance behind Giuliana Marcovaldo, the actress Emma Berman is just getting started in her career. Since 2019, she has only accrued four credits to her name at the time of this writing. That means that one of her earliest roles is a true standout mainstream debut. The first title listed on her resume is a short film called "Dear Mom." In 2021, the year "Luca" was released, she also voiced Winifred Wings in the animated Netflix series "Go! Go! Cory Carson" and its one-hour special "Go! Go! Cory Carson: Chrissy Takes the Wheel." While that's all she has done, for now, it surely won't stay that way forever.
Ercole – Saverio Raimondo
Luca and Alberto are enamored with Vespas. For them, the trendy scooters represent freedom. So when they first visit the town of Portorosso and discover a young man driving the nicest, shiniest Vespa they've ever seen, they want to be his friends. Unfortunately, the owner of this sweet ride is a cocky, stuck-up, and entitled bully named Ercole. He takes a disliking to Luca and Alberto immediately after meeting them and serves as the main antagonist for the rest of the film.
In a similar case to Emma Berman, the confidence behind Ercole's vocals is so palpable it's hard to believe that the actor hasn't been in more things you recognize. His name is Saverio Raimondo and, according to IMDb, he has only six credits to his name, and most of them are produced for Italian audiences. The first came in a 2014 mini-series titled "Esami." In 2015 he was in the short film "Finché c'è vita c'è speranza," and in 2016 he appeared in an episode of a TV series called "Dov'è Mario?"
Daniela – Maya Rudolph
Daniela is Luca's overbearing mother. She is justifiably concerned for her child's safety, especially given that their species is continuously hunted by humans — aka land monsters. However, her overwhelming need to protect Luca smothers him to the point that he has almost no choice but to rebel. When his fundamental nature is restrained by those who don't understand him, the only thing he can do is go out on his own. Learning that her son has his own identity and he should be allowed to embrace it is difficult for Daniela.
Daniela is played by comedy legend Maya Rudolph. Rudolph got her start in 1996 when she played nurse Leah Martine in the American medical drama "Chicago Hope." In 2000, she joined the cast of "Saturday Night Live" and cemented her place in the public eye as a brilliant and hilarious performer. Her film roles include the Adam Sandler comedy "50 First Dates," Mike Judge's genius satire "Idiocracy," and the raunchy romantic comedy "Bridesmaids."
Rudolph has also provided voices for various animated projects such as "Turbo," "Big Hero 6," "The Willoughbys," and Netflix's comedy about puberty "Big Mouth."
Lorenzo – Jim Gaffigan
Like Daniela, Luca's father Lorenzo can be a bit overprotective, although he is often distracted by his own interests. While Daniela is a constant ball of rage and stress, Lorenzo is pretty laid back. Even when the couple is forced to become human to find their missing son and bring him home, he still finds ways to have fun whenever he can.
Like Daniela, Lorenzo is played by a well-known member of the comedy community — stand-up Jim Gaffigan. While he is primarily known for his family-friendly stand-up act, Gaffigan is also a talented actor who can be seen in several of his guest spots and leading roles in film and television. He has appeared multiple times and as different characters in both "Law & Order" and "Law & Order: Criminal Intent." In 2004 he played Chris Grandy in "13 Going on 30." He had a small but memorable role in "Super Troopers," and he even had his own show, "The Jim Gaffigan Show."
He also lent his voice to several projects, including "WordGirl," "Hotel Transylvania 3: Summer Vacation," and "Bob's Burgers."
Massimo – Marco Barricelli
Giulia's father, Massimo, is a large and intimidating man of few words who also happens to be an excellent cook. When Luca and Alberto meet him, he is cutting off the heads of fish to make dinner. He also is missing half an arm, has multiple spears hanging on his wall, and believes in sea monsters. If he were to find out his daughter's new friends were the very creatures he aspires to hunt, things could go very badly. Luckily, his imposing exterior hides a soft and gentle interior.
He may not have a ton of dialogue, but when he does speak, it's important. The actor behind Massimo is Marco Barricelli. He hasn't been in a whole lot, but there's still a chance you may have crossed paths with his work before. For instance, his first acting credit is an episode of the soap opera "Guiding Light." In 1991, he guest-starred in the legal drama "L.A. Law." 2006 saw the release of a television series called "The Book of Daniel," which featured Barricelli in four episodes. His voice can also be heard in the video games "The 11th Hour" and "Manhunt 2."
Grandma Paguro – Sandy Martin
Sometimes age has a way of making people see things that the young overlook. While Luca's parents are caught up in their own lives, Grandma Paguro sees there is something troubling Luca. When Luca admits his curiosity relating to the world above, she is forthcoming with her own experiences, while his parents simply try to frighten him out of asking any more questions. Without her support, he may never have had the courage to embrace who he is.
You may not recognize the name of the actress playing Grandma Paguro, Sandy Martin, but you've probably seen at least one of her 140 roles. For audience members of a certain age, her appearance as Grandma in "Napoleon Dynamite," where she tells her grandson to make himself a "dang quesadilla," is a particular standout. Then there is her recurring role in the long-running FX comedy series "It's Always Sunny in Philadelphia" where she plays Mac's dispassionate mother, Mrs. Mac. On the drama side of things, she was also in the Oscar-nominated film "Three Billboards Outside Ebbing, Missouri" and the Liev Schrieber series "Ray Donovan."
Ciccio – Peter Sohn
Talk about someone of few words. Ercole has two little cronies following him around, Ciccio and Guido. Neither of them says very much, but Ciccio is the one we're focusing on here because he seems to be the most dedicated to making sure Ercole is happy. When Ercole's Vespa is at risk of hitting the cobblestones and getting damaged, Ciccio literally throws his body beneath it to cradle the fall. His loyalty to Ercole makes it even more impactful when he stands up against the bully's ridicule in the end.
The other reason we're talking about him is the voice actor providing those few words. Peter Sohn plays Ciccio, and he has several Pixar credits to his name. Starting with additional voices in "The Incredibles," Sohn returned as Remy's older brother Emile in Brad Bird's "Ratatouille." He also played Captain Brace in "Wall-E," Squishy in "Monsters University," Transitron in the holiday short "Toy Story of Terror," and Pet Collector in "The Good Dinosaur." Following "Luca," he also lent his voice to the "Toy Story" spinoff "Lightyear."
Uncle Ugo – Sacha Baron Cohen
When Luca's parents find out that their son has been to the surface, their solution to keep him safe is to send him to live with his super strange uncle Ugo in the deep. Ugo is a creature who lives so far underwater that his flesh is translucent, his eyes are wide and lifeless, and you need to punch him in the heart to keep him alive. The thought of being forced to stay with such an unsettling character is too much for Luca, so he and Alberto flee to a town of humans.
Only an actor who loves to embrace discomfort as much as Sacha Baron Cohen could play Uncle Ugo. If you know about the character Borat and the two films centered around him, then you know who Sacha Baron Cohen is. You might also recognize him as Ali G or the Austrian fashion reporter Brüno Gehard. If you're a fan of "Talladega Nights: The Ballad of Ricky Bobby," then you would definitely remember him as the French driver Jean Girard.
Tomasso, Old Fisherman – Gino La Monica
The opening scene of "Luca" sees two fishermen out on the water at night. The younger of the two is superstitious about the area where they chose to fish. The older gentleman assures him everything he's heard is just stories, and there's nothing to worry about. He puts on some opera to relax while he gets to work but is shocked to discover an honest-to-goodness sea monster leaping into the air, an experience that leaves him shaken.
Tommaso, the old fisherman, was voiced by Gino La Monica. The actor started his onscreen acting career in a 1966 Italian TV mini-series adaptation of the Alexandre Dumas classic "The Count of Monte Cristo." He continued to work steadily throughout the 1970s, appearing in several TV mini-series and movies such as "I Demoni" ("The Possessed") in 1972, "Il consigliere imperiale" in 1974, "Un certo Marconi," and "Il più forte" that same year. After voicing Tommaso in "Luca," he also appeared in the 2021 short film from Pixar, "Ciao Alberto."
Giacomo, Young Fisherman – Giacomo Gianniotti
The first look we get of the creatures living in the sea is during the very first scene. Although he was told by the old man he is fishing with that there's nothing to fear out on the water, a young fisherman named Giacomo isn't so sure. He thinks the stories could be true and isn't in any rush to find out. A moment later, he discovers one of the fabled sea monsters treading water right beside the boat. The creature (Alberto) is all in shadow, with only its eyes shining out through the dark. It terrifies both Tomasso and Giacomo.
This superstitious (but also correct) young fisherman is played by Giacomo Gianniotti. His first acting credit is listed as a guest spot on the Italian series "Medicina generale" in 2010. After that, he started showing up in American series like the 2012 TV series "Beauty and the Beast" on The CW and the historical drama "Reign," where he played Julien Varga in four episodes. He also appeared in shows like "Murdoch Mysteries" and "Selfie" in 2014. Perhaps his best-known role, however, is of Dr. Andrew DeLuca in the long-running medical drama "Grey's Anatomy."