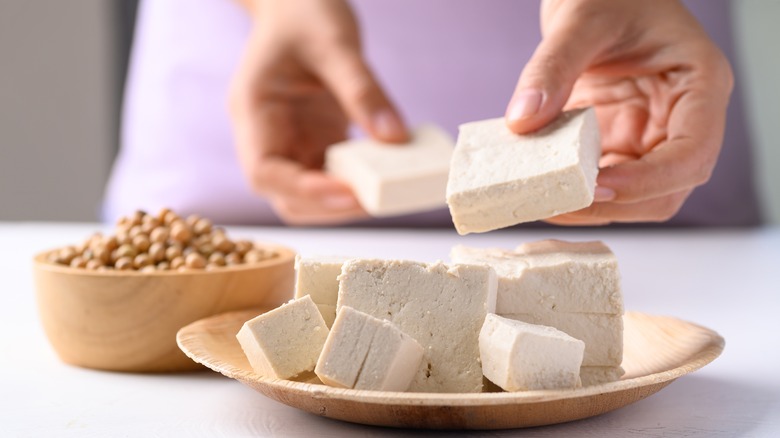 Resolute carnivores may push their plates away at the idea of plant-based ingredients like tofu. Those who don't normally partake may claim that it's tasteless and doesn't hold a candle to their beloved chicken, pork, and beef. But as it turns out, this nutritious soy bean curd's mild, almost flavorless taste is actually one of its best features. It gives the protein the ability to soak up marinades and flavors so wonderfully that it can be used in a wide range of dishes, from entrees to desserts.
Tofu itself is also impressively versatile — it comes in a variety of textures, from soft and silken to extra firm, and makes for a healthy, protein-packed alternative to animal products. As this list of tasty recipes drawn from all culinary quarters proves, tofu is terrific, whether it's added to soups like ramen or breaded and transformed into a savory, chicken-esque nugget. Here are 15 tofu recipes even non-vegetarians will love.
1. Easy Tofu Burgers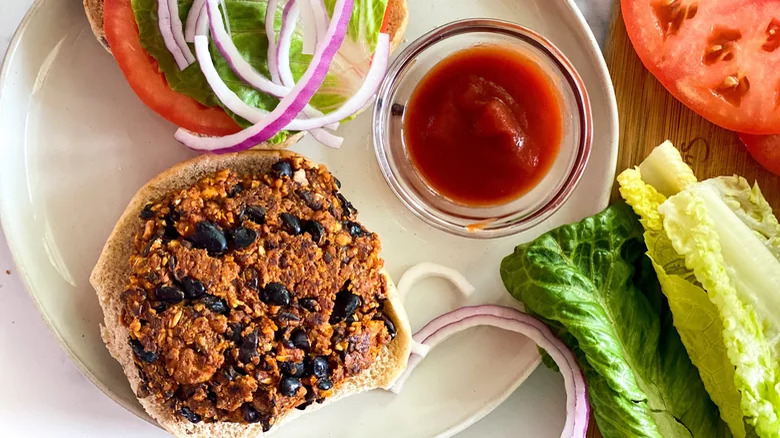 Go plant-based at your cookout this summer with a healthy burger that everyone'll enjoy. Not only is this burger recipe not packed with fats and salts like some processed meat-free alternatives, but it's also pretty darn simple and quick to make. You can create these little meatless patties and be grilling and chowing down on them in under an hour. They're made with extra firm tofu, mushrooms, black beans, and soy sauce, plus tomato paste and plenty of seasonings for extra flavor. The recipe calls for chia seeds, but if you're not vegan, you can use egg instead.
2. Tofu Bacon
Meat-eaters often say if they were asked to go vegetarian or vegan, they'd find it difficult to give up crispy bacon. What if you didn't have to? Well, not exactly anyway. With tofu bacon on your side, you can trade your BLT in for a delicious TLT! It's great to add bits to salads, too. The real taste comes from the smokey marinade. Stir soy sauce, maple syrup, and apple cider vinegar with sesame oil, tomato paste, and spices. But the magic ingredient is liquid smoke, which gives the tofu that bacon-y flavor. Bake thin slices until they're crispy, and enjoy them however you desire.
Recipe: Tofu Bacon
3. Salt and Pepper Tofu
Tofu works perfectly in this Chinese-style recipe. The key to getting some crunch is pressing the water out of your tofu and dipping the triangle-shaped pieces into cornstarch before you fry them, which helps them crisp up. Add some color by frying onion, bell pepper, and broccoli with garlic. Fry the tofu separately, making sure it sizzles rather than steams. Test the temperature of your pan by adding a drop of water. If it dances and then evaporates, you're good to go. Combine the veggies and tofu with salt, pepper, and Chinese five-spice, and dinner is served.
4. Easy Palak Tofu
What do you love about Indian food? Chances are it's the sauces and spices rather than the meat. Many Indians follow a vegetarian diet, so it's really easy to add tofu in place of paneer cheese and give this classic dish a vegan makeover. The green goodness of the spinach with the creaminess of the coconut milk and the fried-yet-soft tofu pieces creates that perfect balance of texture and taste. Serve with naan, rice, or both.
5. Crispy Chilli Tofu
If you think tofu is bland and boring, this crispy, flavorsome dish is going to be a game-changer. After crisping up cubes of tofu in sesame oil, coat them in an awesome homemade chili sauce. Start with brown sugar, cornstarch, garlic, and chili flakes. Add sesame oil, rice vinegar, tomato ketchup, and soy sauce, along with a little water. Once the sauce is cooked and thickened, add the crispy tofu and serve with rice or noodles.
Recipe: Crispy Chilli Tofu
6. Easy Tofu Fried Rice
Get your carb fix with this nutritious, comfort-food dish. There's something satisfyingly simple and delicious about a bowl of hot fried rice. Once you've fried garlic, ginger, and onion, fry up some carrots and broccoli. Next, add in some cooked rice, a dash of soy sauce, and diced extra firm organic tofu, plus some sesame oil. Crack two eggs into the pan, break the yolks, and mix. Garnish with sliced green onions and, if you like, more soy sauce.
7. Crispy Tofu Nuggets
Forget chicken nuggets — experience the joy of deep-fried, plant-based goodness. In addition to using vegetable oil to get a really crispy coating, another culinary trick is to double-coat each and every nugget. Dip your drained and cut tofu into flour, then into a batter mix made from flour and milk with a pinch of garlic powder and salt. Then, dip them into some panko breadcrumbs. Now, repeat those last two steps. Fry your nuggets until brown and then get dipping for maximum taste. Try a spicy Sriracha mayo dip or classic ketchup.
8. 20-Minute Crispy Tofu Tacos
Taco Tuesday isn't the only day for eating tacos, and you don't always have to stuff them full of meat, either. In fact, you can make these meat-free tacos tasty on any day of the week. The crispy tofu goes so well with the creamy, tangy coleslaw stuffed inside the savory crunch of a corn tortilla. This recipe makes 16 tacos and takes only 20 minutes, which is perfect if you're having people over.
9. 15-Minute Spicy Thai Tofu Tacos
While it's sometimes therapeutic to spend hours in the kitchen lovingly creating a culinary masterpiece, sometimes you just want to throw something together quickly. Combining the flavors of Thailand with a Mexican dish is one thing, but being able to make it within 15 minutes is simply genius. The spicy tofu is served with a sauce made with peanut butter, lime juice, and maple syrup, plus garlic powder and soy sauce. Pile your tofu into a warm tortilla shell, add the creamy sauce, and dig in.
10. Air Fryer Tofu Nuggets
Culinary pop quiz! How do you make chicken nuggets healthier and meat-free? Make air fryer tofu nuggets, that's how. The fact that you're making this dish yourself instead of buying processed food adds to the feel-good factor, as does the use of a plant-based protein. Create that crunchy texture by coating your tofu bites in a mix of arrowroot, garlic, and onion powders along with salt and nutritional yeast. Next, dip the tofu in a paprika-spiced batter. Finally, toss your nuggets in panko breadcrumbs and let the air fryer work its magic.
11. 15-Minute Vegan Breakfast Tacos
Wake up to a healthy start and power up with a vegan breakfast, thanks to vitamin-filled, protein-packed tofu. One secret ingredient is black salt, which is actually not black in color at all. Otherwise known as Kala Namak, it's a great seasoning to use in a dish where tofu is taking the place of egg, since it adds an egg-like taste. The tofu's crumbled up and sauteed with vegetables, spices, salsa, black beans, and olives, then stuffed into flour tortillas. Who said a vegan breakfast can't be filling and flavorful?
12. Quick Homemade Pad Thai
Pad Thai is undoubtedly one of the most popular Thai dishes of all time. The silky noodles, soft tofu, and crunchy beansprouts along with the zesty peanut flavors are what make it an absolute classic. Once you've fried your squares of tofu, added half-cooked noodles (If you can't find Thai rice noodles, you can use Vietnamese ones), and scrambled in egg, pour in a sauce made from brown sugar, fish sauce, and tamarind puree, which can be substituted with ketchup and rice vinegar if need be. Add nuts and serve with lime.
13. David Chang's Momofuku Ramen
Make traditional meaty ramen veggie-style with crispy tofu and a vegetarian broth. Along with noodles, blanched vegetables, and bamboo shoots, create a nourishing bowl of Asian food at its best with deliciously browned cubes of tofu, a splash of mirin, and nori. Use a spoon to create a whirlpool effect in a pan of simmering hot water. Crack eggs in one at a time and cook for three minutes to make poached eggs. Add these to your soup with a sprinkling of sliced green onions before you serve.
14. Miso Soup
Thick, chewy udon noodles are simply divine in a soup, especially when they're cooked in the broth as they are in this dish. This soup is packed with veggies and bold flavors like garlic, ginger, and sesame. What really adds umami is white miso paste and also the addition of a kombu leaf, and while tofu is optional, it complements this Japanese classic tremendously. Add the miso paste only once the soup's cooked, making sure it's dissolved to protect its probiotic properties.
15. Easy Shabu Shabu
Cooking your own food in a big hot pot in the center of the table is a wonderful way to share a nourishing meal with others. It's also a great way to slow down and appreciate what you're eating. In this case, it's a hearty, Asian-inspired simmering broth of veggie delights, including tofu. So, this recipe does include meat, but the tofu and other vegetables are the stars, along with ponzu and sesame dipping sauces. This recipe calls for silken tofu, but you can also use a medium-firm or fried tofu if you prefer.