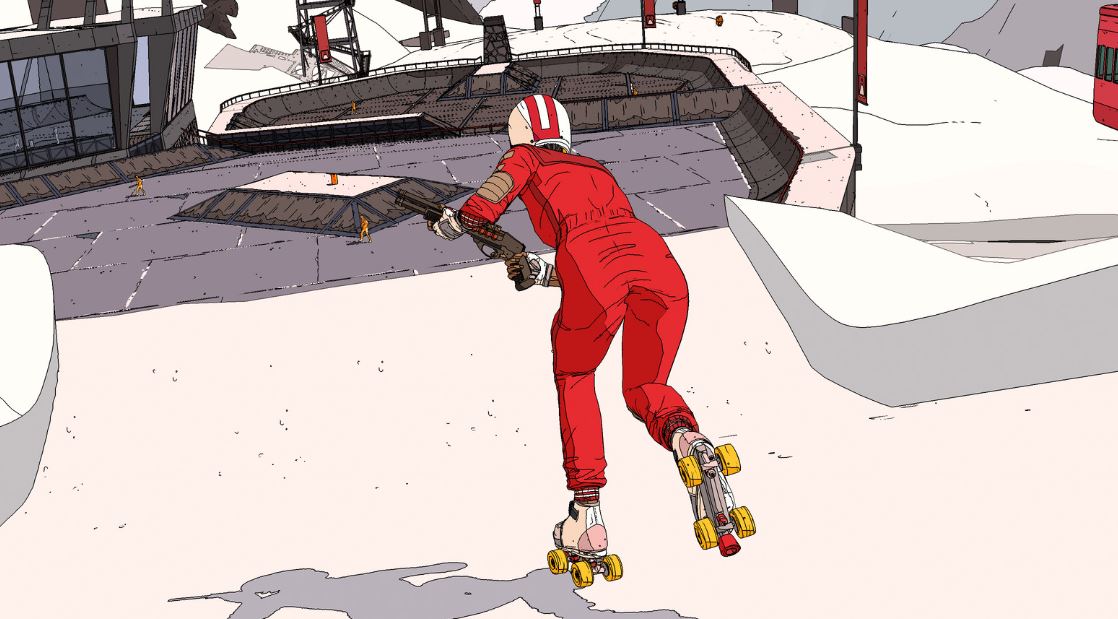 Rollerdome, confirmed to release on PS4 and PS5 on August 16, 2022, is the next game to come from OlliOlli World developer Roll7 and marks a massive departure for the United Kingdom based developer. Ditching the two-dimensions shenanigans of its most recent output, Rollerdrome instead is a fully three-dimensional retro-futuristic murderfest that has players roller-skating around a series of arenas, violently blasting away at the competition as they attempt to uncover the conspiracy that lurks behind the Rollerdrome tournament.
A single-player only effort, Rollerdrome is all about combining bloodthirsty, third-person shooter action with high-octane, hyper-kinetic skater action. Tapping neatly into its own skater heritage, Rollerdrome not only permits players to perform all manner of fancy tricks and grinds, but also rewards them with precious ammo for doing so – ensuring that Rollerdrome maintains a blistering gameplay loop in the process.
You can catch the fact sheet and first gameplay trailer for Rollerdrome below:
Rollerdrome is a singleplayer third person action shooter that seamlessly blends high-octane combat with fluid motion to create an action experience like no other. Dominate with style in cinematic, visceral combat where kills net you health and pulling off tricks and grinds provide you ammunition, in this adrenaline-pumping action shooter.

The year is 2030. In a world where corporations rule and the lines between reality and performance are blurred, the public are kept distracted by the violence and excess of a brutal new blood sport — Rollerdrome. Will you have what it takes to become the Rollerdrome champion and unravel the mysteries behind the Matterhorn corporation's true intentions?

From Roll7, the minds that brought you the award winning and critically acclaimed OlliOlli series comes Rollerdrome, an intense shooter-skater hybrid set in an evocative retrofuture.

Key Features:
A third person action shooter like no other – an original hybrid shooter-skater that blends high octane, visceral combat with fluid movement and tricking mechanics into one complementary and challenging whole.

A test of skill – Take on a unique challenge throughout the Rollerdrome tournament. Establish your dominance in the field with online leaderboards and push yourself to the limit with the unlockable ""Out For Blood"" mode for the most extreme test of skill and agility.

An original identity – An all-new fully original soundtrack that merges iconic era sounds and tones with cutting edge production to provide a heart-thumping backdrop to the carnage, brought to life with a unique comic-book inspired art style.

A dark conspiracy – Discover a mysterious, sinister plot in this distinct retrofuture universe.