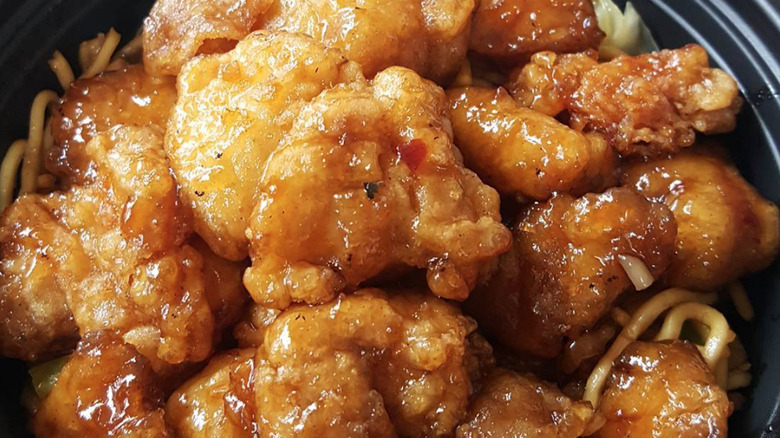 If you ever find yourself craving a meal that's filling, fun to eat, and won't break the bank, Panda Express makes an excellent choice. The Chinese-inspired, California-based chain has been satisfying customers' taste buds since it was founded nearly 40 years ago in 1983. The company's co-founders, Andrew and Peggy Cherng, are two Asian-American immigrants who met when they were students at Baker University in Baldwin City, Kansas, according to the Los Angeles Times. Upon graduation, the couple entered the restaurant business, as they wanted to bring the excitement of their home country's fare stateside while adding their own twist.
The bestselling Panda Express menu item of all time is, without a doubt, orange chicken. The saucy, sweet and sour chicken dish, developed by the chain's executive chef a few years after its opening, was so successful that orange chicken is now a pillar of Chinese-American cuisine (via NPR). But as we all know, nothing is better than the original. If you've never tasted Panda Express' orange chicken, you're in for a real treat.
What is Panda Express' orange chicken?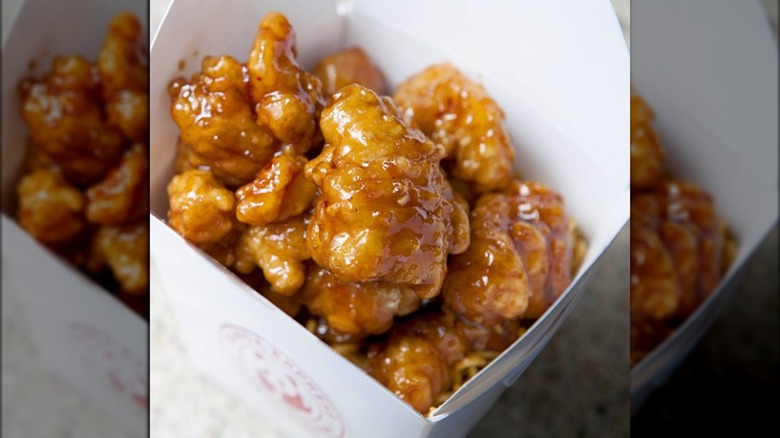 There are infinite ways to improve a dish. Sometimes, it's a spice that does the trick. Other times, it's a homemade sauce that adds the necessary pizzazz. Whatever the method, it's that little extra something that makes a dish pop. And that's exactly what makes Panda Express' orange chicken so delicious. Although the recipe isn't authentically Chinese, it pays homage to the flavors found in the food of Hunan Province, according to NPR.
Panda Express considers its original orange chicken to be its signature dish, as stated on the brand's website. To describe the entree in the simplest way possible, it's essentially crispy chunks of battered and fried chicken tossed in a sweet and spicy, orange-scented sauce (more on that in a bit). Are you drooling yet? There's so much to learn about this legendary specialty, besides the fact that it is many diners' go-to comfort food when they want to experience multiple flavors on their palates.
When did Panda Express add orange chicken to its menu?
Although many Millennials grew up eating orange chicken, the dish hasn't been around for very long at all. The original recipe for the famous dish was invented in 1987 at a Panda Express location in Hawaii — and the creative force behind it was the chain's former executive chef, Andy Kao. He was traveling to the Aloha State with CEO Andrew Cherng to conduct some very important culinary research that would impact the company for many years to come, an Uber Eats video explains (via YouTube).
Inspired by Hawaiian and Hunan cuisine, Chef Kao cooked different iterations of chicken with fresh, locally grown citrus. A bone-in version of the dish was successful, so staff then tested a boneless version based on customer feedback, NPR reports. The dish made its way back to California shortly after and became the sensation we know today. Panda Express now sells nearly 100 million pounds of orange chicken per year across all of its stores, with one out of every two customers ordering the popular entree (via YouTube).
How much does Panda Express' orange chicken cost?
Don't feel like running to the grocery store, then rushing home to fire up the stove or crank on the oven in the name of saving money? No worries: If you're in the mood for an affordable and quick, yet hearty lunch or dinner with consistent quality, Panda Express has you covered.
At any of the chain's more than 2,200 locations (via ScrapeHero), customers can choose from a variety of serving sizes for their meals. A bowl, which includes one entree and one side, costs around $6. A plate, for which you can select two entrees and one side, costs $10. You can also get orange chicken (or any of the entree menu items, for that matter) à la carte, which will cost you anywhere from $4 to $10 (via Panda Express). Not too shabby for a tasty meal that you can gobble down while it's fresh or enjoy as leftovers.
How does Panda Express' orange chicken taste?
Panda Express' orange chicken has been filling bellies all over the world since its grand entrance into the fast food realm — and it's the company's bestseller for a reason. For starters, the chicken itself manages to be so tender because it is dark meat from the thigh of the bird, director of product development Jimmy Wang explains (via YouTube). When battered and fried, each bite gets a textural contrast: Juicy on the inside while crispy on the outside.
Then there's the iconic orange sauce, which provides a balance of citrusy sweetness and acidity along with a touch of heat and umami. While Andrew Cherng compared orange chicken to "dessert before dinner" in an interview with NPR, many diners find that the dish is not overwhelmingly sweet nor unbearably spicy.
And even if you're not a meat-eater, you're in luck: Panda Express released plant-based orange chicken in partnership with Beyond Meat. The item has been hard to find since it is currently available at select locations only — though the company is considering a nationwide rollout (per Eat This, Not That!).
How is Panda Express' orange chicken made?
In a video with Tasty, director of product development Jimmy Wang shares the ins and outs of how Panda Express employees makes its famous orange chicken every day (via YouTube). The dish begins with 1-inch pieces of chicken thighs that are coated with "just the right amount" of batter. Salt, white pepper, cornstarch, and flour make up the dry ingredients in the simple coating, and they're whisked together with oil, egg, and water until smooth. The chicken chills in the batter for 30 minutes and is then deep-fried in small batches for six minutes until golden.
The beloved orange sauce is made in a hot wok of sautéed fresh ginger, garlic, and chili flakes. Once these ingredients are fragrant, cooks add white and brown sugar, orange juice, vinegar, soy sauce, and a cornstarch slurry, allowing the mixture to simmer and reduce until it reaches a maple syrup consistency. Finally, the chicken is tossed in the tangy sauce — along with a tablespoon of sesame oil for shine and nuttiness — until thoroughly coated and ready to be enjoyed.
Nutrition information about Panda Express' orange chicken
A little indulgence never hurt anybody, right? While it would be fun to eat Panda Express' orange chicken every day, it's more apt to consider the fried dish an occasional comfort food rather than a wholesome staple. A 5.7-ounce serving of orange chicken contains 490 calories, including 210 calories from fat, the company website reads. The same serving also packs in more than 800 milligrams of sodium, 80 milligrams of cholesterol, and 19 grams of sugar.
Perhaps the silver lining of the nutrition label is that a helping of orange chicken offers a hearty 25 grams of protein. Plus, customers can choose to pair their meat with steamed rice or "super greens" (broccoli, kale, and cabbage) for a lighter accompaniment to a delicious main. Moreover, you can be extra conscious about what you consume by making copycat orange chicken at home. Wherever you choose to eat this medley of flavors, you're sure to enjoy each and every bite.