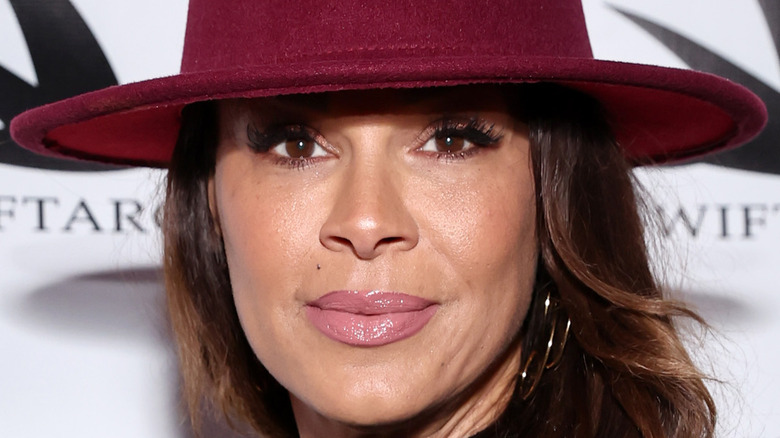 It's worth noting that Will Smith's family is one of the best examples of blended families the celeb world has to offer. In addition to his close relationships with his children — Trey, Jaden, and Willow Smith — and his over two decades of marriage to wife Jada Pinkett Smith, the actor shares an unusually close bond with his first wife, Sheree Zampino. In fact, the whole family does.
Will has referred to Zampino, Trey's mother, as the "#BestBabyMamaEver" on Instagram, while Jada once called her a "gift" in a heartfelt post. In turn, Zampino replied to her ex's post with love, and has discussed the beauty of her relationship with Jada — and their blended family as a whole — multiple times.
Still, how much do you actually know about the mother of Will Smith's oldest son? We took a deep dive into her life and pulled out some of the most interesting facts. Here's what you'll want to know about Sheree Zampino.
She and Jada Pinkett Smith got into some serious fights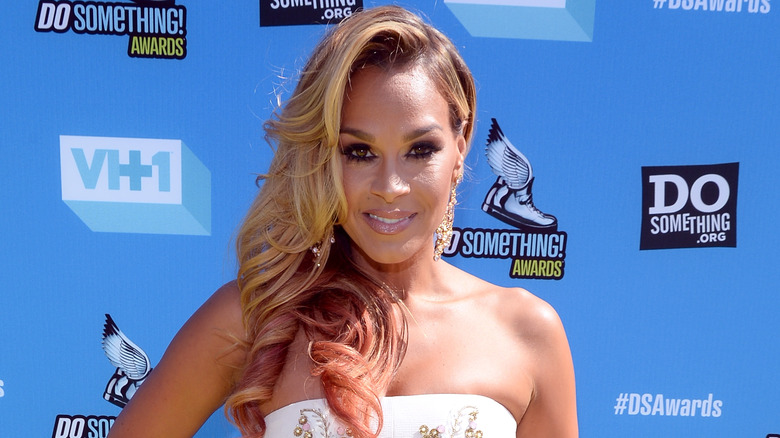 Jada Pinkett Smith and Sheree Zampino share a relationship that most co-parents can only dream of. That being said, they had to seriously work on things before they came to completely respect one another. In fact, the two women recalled their past drama on the premiere episode of "Red Table Talk," cracking up at the ferocity of their younger selves but also coming to serious conclusions about parenting.
Zampino remembered one situation, in particular, when she called the Smith house wanting to speak to son Trey Smith. In order to do so, however, she had to talk to Jada first. And they exchanged some serious "fighting words." Zampino told Jada, "You picked up the phone, and I wasn't really respectful. You basically let me know, 'I don't really appreciate your tone' … and you hung up on me." She continued, "I called back, and I happened to say, quote, 'B***h, you living in the house I picked out.' And you said, 'It's my house now.'"
Still, Zampino gave credit where credit was due, praising Jada for being the one to make amends. "You took the initiative to make things right," she revealed. "And the one thing I would say about you, you would always say, 'Ree, I apologize.' You always owned it. Thank you for that."
Sheree Zampino owns a fashion and jewelry boutique
While Sheree Zampino might be a certified cool mom, she's also an entrepreneur, as well. Zampino has her own boutique, from which she sells jewelry, apparel, accessories, footwear, and more (amid the coronavirus pandemic, she added several fashion masks to the store). According to the bio on the store's official website, Zampino studied at both FIT (the Fashion Institute of Technology) in New York and FIDM (the Fashion Institute of Design & Merchandising) in Los Angeles. And her items are actually affordable, "normal people" prices, too.
In 2009, the same year Zampino launched her fashion company, she also created a moisturizer called Whoop Ash. According to Essence, she's had such stars as Holly Robinson-Peete, Tisha Campbell-Martin, and Shaun Robinson as customers.
In addition to her businesses, Zampino has also worked in media. She starred on the VH1 reality series "Hollywood Exes," where she befriended other celeb ex-wives, like Shanna Moakler, Nicole Murphy, and more. The show lasted for three seasons. Zampino also hosted Black Hollywood Live's "Eat. Pray. Live." podcast.
She was once rumored to be the mother of Jordyn Woods' sister
Wait, what? Let's shed some light to this mess of a mystery. First of all, let it be known that Sheree Zampino went on to tie the knot again, this time to NFL star Terrell Fletcher (the two have since divorced). While they were still married, however, they were photographed at a football game of Trey Smith's, holding a young girl. This led to blogs (and even a Will Smith biography) declaring that the two had a daughter named Jodie.
Since Zampino often shares photos of Trey on Instagram, she began receiving angry messages from fans who wondered why her "daughter" was absent on her social media posts. "I'd get hate mail [from people yelling], 'You never post a picture of your daughter!'" Zampino recalled on the "Splitting Upward" podcast.
She put the rumor to rest on the podcast, starting by explaining that Trey and Joshua Woods (the older brother of former Kardashian-Jenners pal Jordyn Woods) were best friends. The families were together at the game when the snapshot was taken, and she was holding Jodie Woods, Joshua and Jordyn's little sister. How that got to be twisted into a saga of a mystery kid, we'll never know. But hey, that's the internet for you, right?
Sheree Zampino met Will Smith while he was trying to meet Jada
Sometimes fate is fate. If you look at Will Smith's dating history, it seems like he was always meant to marry Jada Pinkett Smith. He just took a detour down the aisle with Sheree Zampino — and their first meeting is basically proof. The day "The Fresh Prince of Bel-Air" star met his first wife, he actually intended to meet Jada.
In an interview with "Hollywood Unlocked," Zampino revealed that it all went down during a taping of Jada's sitcom "A Different World." Will had watched some of the series, and Jada caught his eye. He went to set hoping to meet her through then-writer Orlando Jones. Zampino also happened to be on set, visiting a friend who was a friend of Jones. The pair crossed paths, and Will ended up asking Zampino's friend for her number.
"I went to 'Different World' to meet Jada and met Sheree and ended up marrying Sheree and having Trey with Sheree," Will Smith himself recounted during an episode of "Red Table Talk." "I didn't meet Jada that day. … We had all of these near misses." You know what they say: what's meant to be will be.
Their divorce was Will Smith's biggest 'failure'
Though a long-term ban from the Oscars after slapping Chris Rock may seem like a massive blow, it's far from the worst thing Will Smith has had to endure. Even Jada Pinkett Smith's affair doesn't take the top spot. Rather, the worst thing Will has ever experienced was his divorce from Sheree Zampino.
At the time, eldest son Trey Smith was just two years old. Will, who was experiencing soaring Hollywood success, had been married to Zampino for around three years. The success was actually part of the problem. "Will was becoming bigger and bigger with his career. I'm becoming smaller and smaller and smaller and … we didn't have the tools to make it work," Zampino admitted on Facebook in 2016. As a result, Will's success became his biggest failure.
In the Father's Day 2020 episode of "Red Table Talk," Will revealed, "Divorce was the worst thing in my adult life, divorce was the ultimate failure for me. I've been hurt a lot in my adult life, but I don't think anything touches the failure of getting divorced from my two-year-old son's mother." Despite the hurt, Smith managed to maintain a strong relationship with his first wife. The pair even sometime vacation together without Jada Pinkett Smith.
Sheree Zampino originally didn't like Jada Pinkett Smith
Sheree Zampino didn't always get along with Jada Pinkett Smith. Though their rocky initial relationship has been widely documented, it actually began right when the "Red Table Talk" host started dating "The Fresh Prince of Bel-Air" star. In fact, they didn't really know each other when Zampino decided that she didn't want Will Smith's second wife to meet her then-three-year-old son.
During an episode of VH1's "Hollywood Exes," Zampino opened up about the first time Trey was set to meet his future stepmother. "Will told me and I wasn't happy," she said. "I wasn't happy because I didn't like his choice. … But I wouldn't have liked anybody at that point." So what happened next? Trey actually had a great time with Jada and wanted to buy her a present. Zampino, still in a post-divorce state of pettiness, just couldn't do it (and girl, we've all been there).
"I could not bring myself to buy her anything so I regifted something that was brand new," she admitted. "It was a candle or something. I put it in a bag, and I got a card." Hey, at least the candle wasn't a waste.
She was Team Will after the infamous Oscars slap
Will Smith's infamous 2022 Oscars slap landed him a mountain of criticism — from the likes of Chris Rock's brother, the Internet at large, rapper Kodak Black (who wasn't even vaguely involved), and — sort of — his own wife, Jada Pinkett Smith. Where do they stand in the aftermath? A source told Us Weekly that the couple agreed Will "overreacted." The thousands of monotonous think pieces that were left in the slap's wake share the same sentiment. Alas, we cannot move on, so it's worth mentioning that Sheree Zampino was also witness to the slap and seemingly left to support her ex-husband in the wake of his consequences (which could bar him from future Oscar wins).
In an interview with Extra, Bravolebrity Kyle Richards revealed that she was sitting next to Zampino at the 2022 Elton John Aids Foundation Oscar Party when Will stood up from his seat and clocked Rock for making a joke about Jada's alopecia. Both the women were apparently "shocked" about what went down, and Richards claimed that Zampino "skedaddled" to go spend time with Will and the rest of their family.
Zampino later posted an Instagram Story celebrating Will's win. "You are more than deserving," she wrote (via Us Weekly).
Sheree Zampino's a real housewife with another Will Smith ex
"The Real Housewives of Beverly Hills" may seem like the wild, wild west to those of us who aren't armed with a cocktail to throw during a dramatic dinner party, but as the former wife of an Oscar-winning movie star, Sheree Zampino is right at home. The star first appeared in a single episode in 2014, before returning for another episode in 2020. Her appearance was so brief that, if you went to the bathroom during a commercial break, you may have missed the bulk of it. Nonetheless, it foreshadowed her future with the series.
Fast forward to 2022, and Zampino is a bona fide Bravolebrity. E! News initially broke the story that she officially joined the cast for Season 12. Though she isn't quite a full-time housewife, she does make regular appearances throughout the season. Weirdly enough, she's sharing the stage with another one of Will Smith's exes, Garcelle Beauvais.
According to MadameNoire, Beauvais dated Will after his divorce from Zampino and before his marriage to Jada Pinkett Smith — and from what it sounds like, it was pretty brief. That's not the housewives' only common ground. During Zampino's "RHOBH" appearance in 2020, she and Beauvais bonded over their painful divorces (Beauvais was married to talent agent Mike Nylon until they filed for divorce in 2010). They even had a laugh about dating the same man. Not a single weave was pulled, which is more than can be said by some of the other housewives.