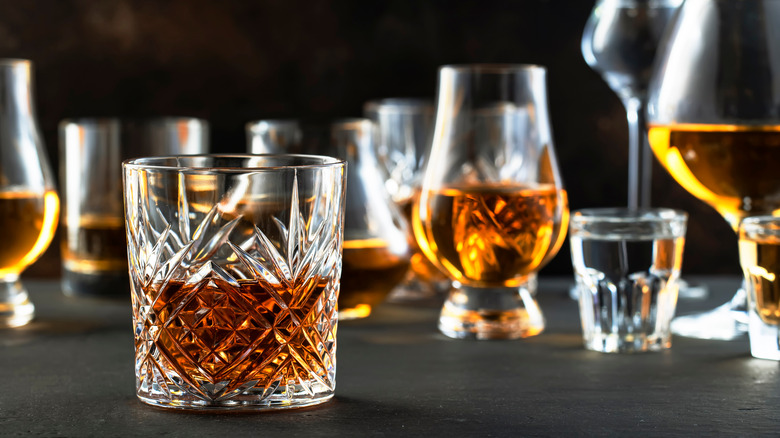 The state of Kentucky knows bourbon: it's home to 95 percent of the world's bourbon production (via U.S. News). While there are just 20 working bourbon distilleries throughout the state today, they produce more than 200 different brands of bourbon in total, some of which feature dozens of individual selections (via Bourbon Country).
With so many different types of bourbon to choose from, it can be difficult to sort the good from the great — and the bad from the worse. Bourbon bottles vary widely in price, too, which further complicates things. As any bourbon aficionado will tell you, cheap bourbon isn't always synonymous with bad bourbon. And just because an expensive bottle of bourbon breaks the bank, that doesn't make it great.
Whether you're looking to expand your bourbon palate or already love this Kentucky beverage and want to find your new favorite, keep reading. We're bringing you the 16 best Kentucky bourbons of all time, ranked.
16. Blanton's Single Barrel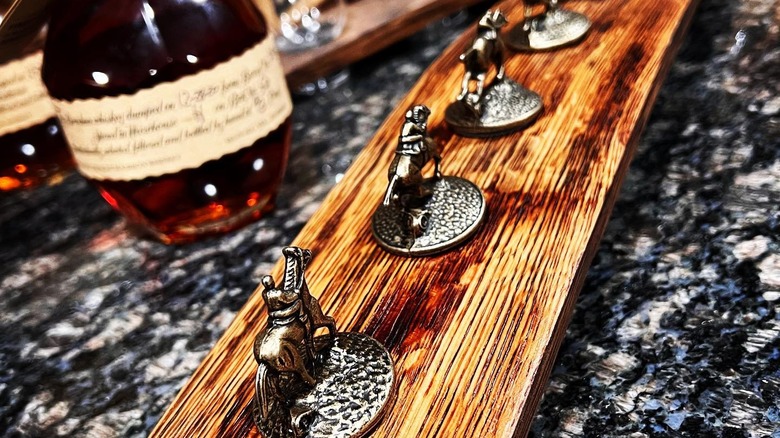 As far as recognizable bourbon bottles go, Blanton's Single Barrel may just be one of the easiest to spot in the industry. This short, rounded bottle with a bright green label is topped by a horse. If you've ever shopped for this bourbon, you'll quickly notice that not every horse is the same. There are eight in total, each of a racehorse with a jockey on its back. When lined up, the stoppers display a sequence of the horse running (via VinePair).
While the horse stoppers have only been around since 1999, this award-winning bourbon was first introduced in 1984. It was the first Single Barrel Bourbon that the Blanton's brand sold commercially, and ultimately the first of its kind (via Buffalo Trace). A product of the prolific Buffalo Trace Distillery, this bourbon has received numerous gold medals and other accolades, including its gold medal place in the 2019 Los Angeles International Spirits Competition (via Buffalo Trace).
This popular bourbon features notes of vanilla and honey, with corn and nutmeg flavors, too. Jim Murray's Whiskey Bible even went so far as to call it "Liquid gold" (via Twitter).
15. Woodford Reserve Double Oaked
Woodford Reserve bourbon is easy to spot on the shelf, thanks to its distinctively stout, rounded bottle. Their Double Oaked bourbon is also easily recognizable for its flavor, which has won it a number of awards over the years (via Woodford Reserve). It even earned a Master Medal, the highest accolade possible, from the American Whiskey Masters in 2018. That same year, it was named a finalist in the Ultimate Spirits Challenge and won a gold medal in the Class Bartender Award.
The name of this bourbon comes from its unique aging process, where it is aged twice in separate charred oak barrels. The second barrel is deeply toasted and then lightly charred. This gives the bourbon a soak in some seriously sweet oak flavor that's won over the taste buds of many bourbon lovers. Woodford Reserve Double Oaked features flavors of vanilla, dark caramel, hazelnut, apple, and spices.
14. Wild Turkey 101
Wild Turkey 101 is yet another testament to the fact that a bottle of bourbon doesn't have to be incredibly expensive in order to be great. A 750ml bottle of this bourbon will cost you around $24 (via Total Wine). The brand is known for its use of American White Oak barrels that have been deeply charred, giving this bourbon a unique character (via Wild Turkey Bourbon).
In 2021, Wild Turkey 101 earned 90 points and a gold award from the Beverage Tasting Institute. That same year, it won a gold medal from the San Francisco World Spirits Championship, and 90 points from the Ultimate Spirits Challenge.
This inexpensive yet polished bourbon features the tastes of vanilla and caramel, with notes of baking spices and oak adding an additional layer of complexity. While this bourbon is plenty great on its own, it's also quite possibly the perfect choice for an Old Fashioned cocktail.
13. Maker's Mark 46
While classic Maker's Mark has long been a favorite among bourbon aficionados, the brand produces other bottles that have their own loyal following. While some varieties and special releases from this distillery may be tough to find, this variety of Maker's Mark is far easier to procure.
Maker's Mark 46 earned a score of 92 points out of 100 from Tastings, and earned a Gold Medal Exceptional ranking (via Tastings). This bottle, a new take on the classic Maker's Mark recipe, was actually the first extension of the line to be produced since the 1950s. Those who have tasted it describe it as Maker's Mark with an added layer of spice (via Master of Malt). If you love the OG Maker's Mark, you'll definitely want to give this bourbon a try. Luckily for you, it's available just about anywhere that you'll find a bottle of classic Maker's Mark.
12. Black Bourbon Society's Maker's Mark Private Selection: Recipe 2
Whiskey and bourbon are very similar drinks, though with a few distinct differences. While all bourbon is whiskey, not all whiskey is bourbon (via Insider). Because all bourbons are whiskeys, Kentucky bourbons often make the list of the world's best whiskies, though it's not necessarily a clean sweep. In 2021, just one of the 15 top whiskies named by the International Whiskey Competition was a bourbon (via Whiskey Competition).
That would be Black Bourbon Society's Maker's Mark Private Selection: Recipe 2, which was ranked number 6 on the list and scored an impressive 93.8 out of 100 points. This special release bottle was produced as a collaboration between the Maker's Mark Private Selection program and the Black Bourbon Society (via Cision). The Maker's Mark Private Selection program allows retail partners to create their own version of Maker's Mark, but few have gained the popularity or acclaim of this latest release (via Spirited Zine).
11. 1792 Full Proof
1792's name pays a special tribute to the state where it's made, as 1792 was the year that Kentucky became the 15th state. The distillery where this bourbon is made has a rich history, too, though it's 100 years shorter. Barton 1792 Distillery was created in 1879, making it the oldest distillery in Bardstown, Kentucky that's still fully operational (via Whiskey Consensus).
Today, the distillery produces eight different versions of 1792. But in 2020, one in particular stole the show: 1792 Single Barrel. This bourbon scored 91.2 points out of 100 in the 2020 International Whisky Competition, and earned the title of the Best Cask Strength Bourbon Whiskey (via The Lane Report). That same year, Jim Murray named this bottle the 2020 World Whiskey of the Year (via The Whiskey Exchange).
The "full proof" in this bourbon's name refers to the distinct filtering process that's used. Instead of a typically chill filtration system, this bourbon passes through only a plate and frame filter (via 1792 Bourbon). The result is a robust proof, and a rich, bold flavor. It's bottled at a whopping 125 barrel entry proof. It features a smoky, deep flavor, with notes of vanilla and caramel.
10. Old Fitzgerald Bottled-in-Bond
The bottle that this next bourbon comes in is almost as unique as the liquid inside. The Old Fitzgerald Bottled-in-Bond bourbon is actually a new edition of an existing liquor. This new version comes in a decanter that's inspired by the original bottle that Old Fitzgerald came in during the 1950s (via Heaven Hill Distillery). The Old Fitzgerald brand has a long history, one that's only expanded since the 1950s.
The original bourbon of that name was first registered in 1884. During Prohibition, the brand was sold to "Pappy" Van Winkle. Heaven Hill bought it from the Van Winkle family and began distilling bourbon under the name in Louisville, Kentucky.
Old Fitzgerald Bottled-in-Bond earned a spot on the list of the Top 100 Spirits 2021 by Wine Enthusiast. It also won the title of Best Bourbon in the 2019 WSWA Spirits Tasting Competition, among other accommodations. It features notes of brown sugar and toasted oak, as well as hints of caramel and butterscotch.
9. W.L. Weller 12 Year
Yet another Buffalo Trace bourbon has made the list of the best Kentucky bourbons of all time. The list of awards this bourbon has won is long. Notable wins include a gold medal in the 2019 Whiskies of the World competition, a 2019 Double Gold Medal in the North American Bourbon and Whiskey Competition, and a 2019 Double Gold Medal in the San Francisco World Spirits Competition (via Buffalo Trace).
Unlike the W.L. Weller Antique 107 mentioned elsewhere on this list, this Weller bottle has become increasingly difficult to find for all but the most dedicated hunters. And, if you find it, be prepared to pony up. While it technically retails for $30 a bottle, it's not uncommon to find this bourbon marked up to $200 or more (via Gear Patrol). It's described as thick and buttery, with heavy rich oak flavors and caramel and vanilla notes (via Breaking Bourbon).
8. Elijah Craig Barrel Proof
Every year, Whisky Advocate chooses 20 whiskies to name the best of that year. The contenders are nominated by those leaving reviews in the brand's Buying Guide. In 2017, the magazine named Elijah Craig Barrel Proof the top bottle of the year with a score of 94 out of 100 (via Whisky Advocate). Rhis bourbon continues to get rave reviews (via Paste). More recently, it was named the second best American Whiskey by Wine Enthusiast in 2019 (via Elijah Craig).
The Elijah Craig line of bourbons is named for Reverend Elijah Craig, an early founding father of bourbon. He is often considered the first distiller to age his whisky in charred oak barrels (via Heaven Hill Distillery).
This bottle is produced without the use of chill filtering and is instead poured straight into the bottle. The finished product features notes of butterscotch, vanilla, and caramel, as well as hints of black pepper and cinnamon.
7. W.L. Weller C.Y.P.B.
While this next bourbon shares a similar name to a few of the others on this list, its origin is totally unique. W.L. Weller C.Y.P.B. ("Craft Your Perfect Bourbon") is the result of a crowd-sourcing campaign (via The Lane Report). In 2015, Buffalo Trace Distillery launched a website (www.yourperfectbourbon.com) that allowed fans of the distillery and bourbon enthusiasts to share their ideas for what makes the perfect bourbon whiskey.
After two years, more than 100,000 people had chimed in. It turns out that many of the participants shared similar ideas about what makes a great drink. Buffalo Trace put them to work to create a special new product based on the answers from the website. W.L. Weller C.Y.P.B. is the result.
This unique bourbon is based on a wheat recipe and is aged for 8 years on the top of a warehouse floor. It's bottled at 95 proof and features notes of citrus and oak with hints of vanilla (via Buffalo Trace). Because this bourbon was a popular limited run, it can be difficult to find today, limiting its accessibility.
6. Colonel E.H. Taylor. Jr. Single Barrel
When votes came in for the 2020 International Wine and Spirits Competition, judges awarded Colonel E.H. Taylor Jr. Single Barrel an almost-perfect mark of 99 out of 100 (via Forbes). It's also one of the many award-winning bourbons produced at the Buffalo Trace Distillery.
This variety is named for Colonel Edmund Haynes Taylor, Jr., a man who many consider to be a founding father of the Kentucky bourbon industry. He also fought for the passing of the Bottled-in-Bond Act of 1897, which his namesake bourbon now holds itself to over 100 years later (via Buffalo Trace).
In addition to the 2020 honor, this bourbon was also named to the Top 100 Spirits List by Wine Enthusiast in 2015, where it was a clear standout. What's more, the retail price on this bottle is just $60 (via Wine Enthusiast), making this especially accessible. This bourbon features sweet notes balanced with the heavier flavors of tobacco and dark spices.
5. Henry McKenna Single Barrel
While this next bottle may be bourbon, it has its roots in Irish whiskey. The name comes from the Irish immigrant, Henry McKenna, who adapted his family's traditional whiskey recipe to work with grains grown in Kentucky (via Heaven Hill Distillery).
Henry McKenna Single Barrel is Bottled-in-Bond, which means that the bottle meets strict mandates on aging and bottling. This includes dictates that the bottle's contents must have been aged for a minimum of four years, was bottled at exactly 100 proof, and was created by just one distiller at one distillery, in one season. Finally, Bottled-in-Bond bourbons must have been prepared in a bonded warehouse (via Wine Enthusiast).
While this designation alone doesn't make this bourbon all that unique, the awards it's won, and its affordable price, definitely do. Henry McKenna Single Barrel was named the Best Single Barrel Bourbon up to 10 years in the SF World Spirits Competition in 2021 and 2019. It was also named the Best in Show Whiskey and Best Bourbon at the same competition in 2019.
4. W.L. Weller Antique 107
Originally, there were three releases in the W.L. Weller line: W.L. Weller Special Reserve, W.L. Weller 12 Year, and W.L. Weller Antique 107 (via Breaking Bourbon). In 2018 and 2019, two more bourbons joined the list, including W.L. Weller C.Y.P.B. and W.L. Weller Full Proof.
One of the things that makes the line of W.L. Weller bourbons even more special is that they are rumored to be produced using the same mashbill as the popular Old Rip Van Winkle line of bourbons. While secrecy at the distillery has kept the truth under wraps, enthusiasts rave that the flavor profiles and proofs mirror bourbons from the Van Winkle line. If true, then Weller (and W.L. Weller Antique 107 in particular) is a more affordable option for those looking for high-end bourbon.
W.L. Weller Antique 107, sometimes known as OWA for "Old Weller Antique," earns high scores for its profile, which features cinnamon spice and oak with hints of vanilla and caramel. Its finish is described as spicy and oaky (via Bourbon Inspector).
3. Elmer T. Lee Single Barrel
If you're new to the complicated world of bourbon, you might be surprised to learn how many of the bourbons and brands on this list are actually produced at the same distillery: Buffalo Trace. Located in Frankfort, Kentucky, the Buffalo Trace Distillery produces a few popular lines of bourbon like the Van Winkle Collection, Blantons, E.H. Taylor, and their namesake whiskey (via Buffalo Trace).
One Buffalo Trace brand that often flies under the radar is Elmer T. Lee Single Barrel, and particularly, the 100-year tribute bottle for this line. This bourbon is named for the distillery's first Master Distiller, Elmer T. Lee.
The single barrel bourbon named in his honor had a special release in 2019, which would have been Lee's 100th birthday. Proceeds from the release were donated to the VFW post in Frankfort that Lee was a part of. The combination of the value of this special bottle and the flavor of this bourbon earn it plenty of five-star reviews (via DrinkHacker). A regular bottle of Elmer T. Lee retails for around $100, while the special anniversary bottle tops $900.
2. Pappy Van Winkle's Family Reserve 20 Year
The entire Pappy Van Winkle line of Kentucky bourbons is known as a sort of difficult-to-find "unicorn" in the industry (via Cool Material). The bottles can go for over $2,000 each, and can still be incredibly difficult to find even if you've got the pockets to meet the challenge. Rare bottles of this unique bourbon have been known to go for more than $5,000.
For passionate collectors who dream of having their own bottle of "Pappy," there are several to choose from. Perhaps the best of this line of special bourbons is Pappy Van Winkle's Family Reserve 20 Year.
Prior to 1972, Stitzel-Weller, the original distillery that produced Old Rip Van Winkle Bourbon, was sold to none other than Buffalo Trace (via Whiskey ID). Because the Family Reserve 20 Year bourbon is aged for two decades, enthusiasts and collectors know that the number of remaining bottles of Stitzel-Weller bourbon is limited, making older productions of this bourbon even more popular and valuable. The MSRP on this bottle is just $199.99, but don't expect to find it at that price. Today, listings for this five-star-ranked bottle of bourbon go as high as $5,000 (via Wine-Searcher).
1. Maker's Mark
There are plenty of bourbons here that only true enthusiasts will recognize. This is not one of them. Maker's Mark's red wax-dipped bottle has been a bar staple since 1958 (via Maker's Mark). Maker's Mark's legacy as perhaps the best Kentucky bourbon of all time is about more than just taste, though there's plenty of that, too. The brand also brought innovative techniques to the bourbon industry. From the fresh ingredients to the slow, careful distilling and aging process, Maker's Mark put bourbon on the map.
Long before the popularity of the bourbon trail began to boom, Maker's Mark was both a distillery and a tourist attraction. People from around the world came to see how the limestone shelf on the property provides the brand's only distillery with its own water source that's rich in pure calcium and magnesium.
While the distillery has since produced a variety of bourbons, its original line has been called one of the most important bourbons ever made (via Food & Wine). What's more, this bourbon is accessible in taste for those new to the experience, with an inviting and soft flavor (via The Bourbon Finder). It's also accessible in price, with a 750ml bottle retailing for around $24 (via Total Wine). In short, this bourbon stands out for flavor, accessibility, and its place in distilling history.