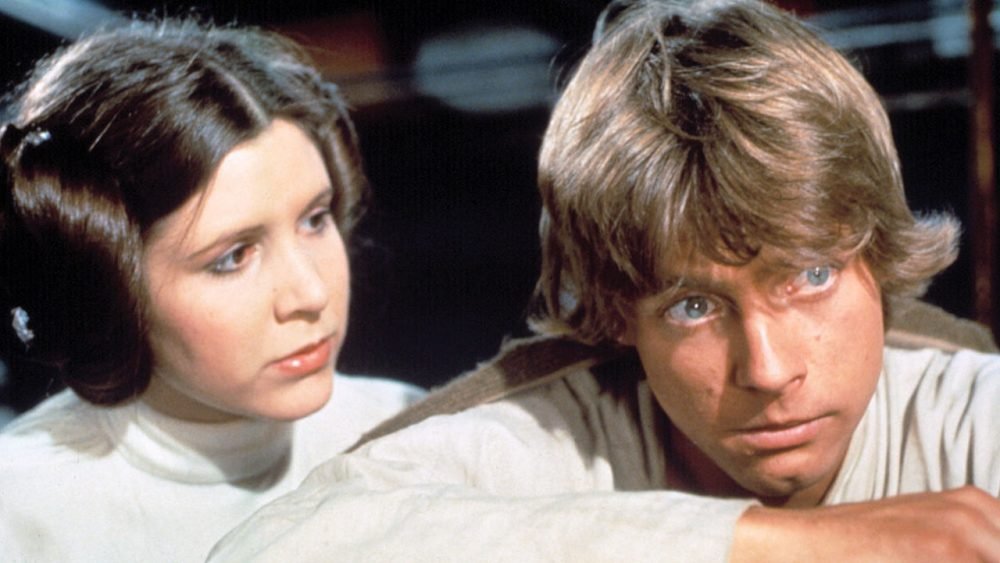 When a beloved actor dies, millions of people who didn't even know them personally grieve in their own way, moved by the connection we feel after spending hours getting to know a star through their work. Even if you never met them in real life, they can still have a huge impact on you, and the sadness that fans feel after a loss is very real. But for their co-stars, showing up to work without the person you've been acting alongside for years is tragic. And even if former co-stars haven't been on the same set for a long time, it's not easy to get over the loss of someone who you shared such a special bond with.
Sometimes, the death of an actor can change their co-stars' lives forever. No matter how glamorous someone's life seems on the outside, grief is always difficult to process, and it's absolutely no different for Hollywood's biggest stars. These actors were never quite the same after their co-stars passed away — but no matter how sad the loss, their work on screen will keep the memories alive.
Lea Michele knew Cory Monteith wanted her to keep acting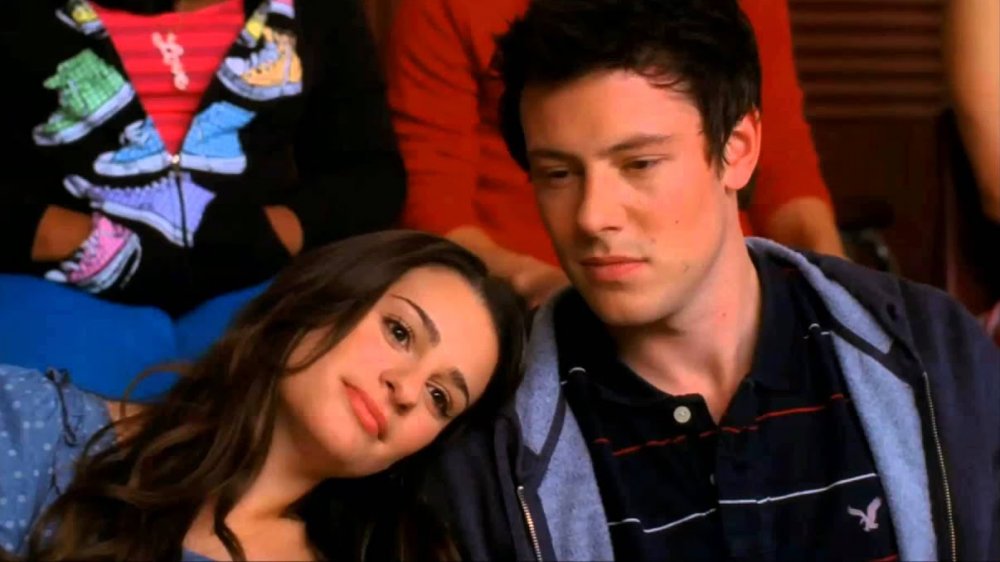 He rose to prominence while starring as Finn on the musical sitcom Glee, but in 2013, Cory Monteith passed away after battling with addiction since his teenage years. The entire cast struggled to deal with the loss — especially his co-star Lea Michele, whom he had been dating at the time of his death. Michele said that eventually, not acting was more painful than getting back in front of the camera. She wanted to be surrounded by the Glee cast again — after all, she and Monteith both thought of the rest of the cast and crew as family. Plus, she said that Monteith would not have wanted her to give up on her passion.
"There is an empowerment that comes with grief — at some point you find it. It's very hard but you will find it, and I think at a certain point you can choose to sort of fall from this or you can choose to rise," Michele explained on The Ellen DeGeneres Show at the end of that year. "And that's what I'm just trying to do my best for him, because I know that's what he would have."
Michele still keeps Monteith's memory close. She recently got a new tattoo that says "Finn," and she posts tributes to him every year.
Larry David will honor Bob Einstein on Curb Your Enthusiasm
For years, Bob Einstein played Marty Funkhouser on the long-running hit HBO comedy Curb Your Enthusiasm, catching Larry David in countless gaffes. In January 2019, Einstein sadly passed away after battling cancer. The death of Einstein shocked and saddened the cast. "Never have I seen an actor enjoy a role the way Bob did playing 'Marty Funkhouser' on Curb," said Larry David. "It was an amazing, unforgettable experience knowing and working with him. There was no one like him, as he told us again and again." Fans will undoubtedly miss his iconic, gravelly voice and the humor he brought to the show.
Despite the tragedy, Jeff Garlin told The Daily Beast that they will not bring up Einstein's death during the show's tenth season because "there is no melancholy on Curb Your Enthusiasm." Basically, they're not planning to "kill off" the character, but there's a good chance that they will reference him in some way — it might be the kind of episode that makes you laugh even while you shed a tear.
Betty White remembered her respect for Bea Arthur
Bea Arthur and Betty White worked together on the hilarious NBC sitcom The Golden Girls, which featured a group of over-50 women living together and finding humor in their old age. There were always rumors of a feud simmering between Arthur and White, but their co-star Rue McClanahan insisted that at the end of the day, their supposed "feud" really came down to artistic differences. "Bea came from a New York stage point of view. She always had what we call 'the fourth wall.' And Betty came from a television point of view. She would flirt with the audience, and pull up her skirt and say, 'Hi, sailor.' But Bea never acknowledged the audience," McClanahan explained.
When Arthur passed away in 2009, White was as heartbroken as any die-hard Golden Girls fan. "I knew it would hurt, I just didn't know it would hurt this much," White said after Arthur's death. Yes, Arthur and White would butt heads behind the scenes occasionally — but underneath it all, these two actresses had great respect for each other, and Arthur was greatly missed.
Dove Cameron got a tattoo for Cameron Boyce
When Disney Channel star Cameron Boyce passed away after a fatal seizure, it was a harrowing wake-up call for his co-stars. Boyce died young — he was only 20, and he should have had an amazing life and career ahead of him. His Descendants co-stars couldn't believe that he was gone. Dove Cameron, who played Mal and considered Boyce a close friend, said that his death reminded the cast just how precious life is. In the wake of his passing, the Descendants castmembers were going out of their way to spend more time together. "I think that's kind of how we're all feeling is… we want to make an effort," Cameron explained to Today. "It really reminds you how important everybody is, how important your one life is."
Cameron also got a tattoo to remember Boyce. She chose a design with a flower coming out of gun — an international symbol for peace and anti-war movements. She stated that Boyce was working with an organization against gun violence before his death, and she wanted to memorialize him as someone who cared deeply about peace.
Mark Hamill lost interest in Star Wars after losing Carrie Fisher
As Luke Skywalker and Princess Leia, Mark Hamill and Carrie Fisher inspired a generation of sci-fi fans who fell in love with their Star Wars characters. When the franchise was revived with The Force Awakens in 2015, legions of fans were thrilled to see them return to their roles and bring the story to life for a new generation of fans. But when Fisher passed away in December 2016, Hamill's view on the films changed.
There's no doubt that Hamill loved Fisher, and he cherished their friendship for life. However, her death affected his memories of Star Wars, and he didn't have much motivation to return for future films. "It really has tarnished my ability to enjoy it to its fullest," Hamill told ABC News in 2018. "I don't care any more on that level, because Han Solo is gone, Luke is gone and you just can't get the band back together the way you wanted it to be, and it shouldn't be that way… Rather than being sorry that we can't have more of her, I'm just grateful that we had the time with her that we did."
Of course, Fisher did appear in The Rise of Skywalker via archive footage, and Hamill made one last cameo as Luke's Force ghost, bringing the Skywalker Saga to a close after 42 years.
Kaley Cuoco still laughs at memories of John Ritter
John Ritter played Kaley Cuoco's father on the sitcom 8 Simple Rules for Dating My Teenage Daughter, and while they weren't actually related, he still felt like a father figure to her. His untimely death due to complications with a heart condition left her feeling lost, and today, she still thinks about him all the time.
Cuoco couldn't believe that Ritter was gone, and the cast addressed his death in a touching episode of 8 Simple Rules. Cuoco continued moving forward in her acting career, landing a major role as Penny on The Big Bang Theory.
But she never forgot about her wonderful experiences of working with Ritter. On the 15th anniversary of his death in 2018, she revealed that there isn't a day that goes by when her memories with Ritter don't make her laugh. At the same time, she still mourns his loss. "I don't think she ever talks about him without tears in her eyes," said her Big Bang Theory co-star Jim Parsons. "She's emotionally stable, but there was definitely a fatherly bond."
Shannen Doherty returned to 90210 because of Luke Perry's death
When fans of Riverdale and Beverly Hills, 90210 got the news that actor Luke Perry had passed away after having a stroke, millions of people were distraught over his death — and his former co-star Shannen Doherty took the loss hard on a deeply personal level. Doherty had worked with Perry on Beverly Hills, 90210, where the pair played longtime love interests. Although the original show had ended years before, Doherty was still devastated by Perry's death. He had supported her through the thick and thin, and stood by her side when she was fighting cancer.
When the 90210 reboot was announced, Doherty originally did not plan on going back — she did not think that the show really needed her. But when she got the news about Perry's passing, she had a new perspective. She decided that she would return for the reboot after all, and it would be the perfect way to keep his memory alive. "When Luke passed away, things drastically changed for me and I felt like it was a great opportunity to honor him," the actress revealed. "And I'm really glad I made that decision because now I get to sit up here with a lot of people that I respect and love."
Debra Messing misses her "TV Mom" Debbie Reynolds
Sadly, actress Debbie Reynolds passed away only one day after the death of her daughter Carrie Fisher. Fans of both women couldn't believe the news, and Debra Messing, who played Reynolds' daughter Grace on the sitcom Will & Grace, knew that her life would never be the same. From the moment Messing met Reynolds, she was struck by her bold presence. "Debbie was really indescribable. She would come onstage and she was a broad in the greatest sense," Messing told Entertainment Weekly. "She always was entertaining and singing and dancing and she was running off and doing a one-woman show, you know, 300 days of the year. It was just crazy."
Messing always looked up to Reynolds, and she knew that they couldn't let new episodes of the Will & Grace revival go by without taking the time to honor Reynolds. The writers created an episode about Grace wanting her father to hold on to her childhood home rather than selling it, because she didn't want to lose those memories of her mother. Now, she still posts occasional tributes to Reynolds — it's clear that she will never forget the time they spent together on set.
Daniel Radcliffe remembers lessons from Alan Rickman
Alan Rickman was known for many different roles, but millions of people knew him best as Severus Snape in the Harry Potter films. When he passed away in early 2016, fans of the series were heartbroken. He brought this character from the books to life, and he played the sinister role so well that it was hard to believe he was such a kind and funny man when the camera wasn't rolling. Just take it from Daniel Radcliffe, who grew up playing Harry Potter alongside Rickman.
"Alan Rickman is undoubtedly one of the greatest actors I will ever work with. He is also, one of the loyalest and most supportive people I've ever met in the film industry," Radcliffe explained in a statement after Rickman's death. "As an actor he was one of the first of the adults on Potter to treat me like a peer rather than a child. Working with him at such a formative age was incredibly important and I will carry the lessons he taught me for the rest of my life and career." Radcliffe said that Rickman had always supported him, whether he was working on a movie or a play, and that he wouldn't be the actor he is today without Rickman's guidance.
Vin Diesel felt like he lost a brother in Paul Walker
When Paul Walker died in a car accident, his Fast and Furious co-star Vin Diesel lost a best friend. After Walker's death, Diesel visited Walker's mom — her house was his first stop after hearing the news. "His mother hugged me and said I am so sorry… I said sorry? You're the mother who lost a son?" Diesel shared in a post on Facebook. "She said yes, but you lost your other half…"
While filming Furious 7, Diesel admitted that shooting the barbecue scene at the end of the film was very emotional. In fact, he had to step away for a few moments because he just couldn't believe that Walker wasn't there on set with the rest of the cast. "I had never done a barbecue scene without him," Diesel told USA Today, continuing, "And I just cracked and broke down and had to walk off set to collect myself. That was the only time I wasn't strong enough to keep it together." But the entire cast and crew wanted to make sure that they paid homage to Walker throughout the film, finishing production with help from the actor's brothers and ending the story with a touching tribute to their departed comrade.
Bill Murray regretted his feud with Harold Ramis
Harold Ramis and Bill Murray were an unstoppable comedy duo. They worked together on films like Ghostbusters and Stripes, and it seemed like everything they touched turned to gold. Sadly, the pair had a serious falling out while working together on Groundhog Day. They didn't speak for over two decades after. Sometimes in interviews, Ramis would admit that he missed their friendship, and that he hoped they could be friends again one day. For the longest time, it looked like they would never reconcile.
But when Murray found out that Ramis was on his deathbed, everything changed. His brother convinced him that he had to go visit Ramis, Murray listened, and the two finally made up. Upon his death, Murray reminisced on their many achievements together. "Harold Ramis and I together did the National Lampoon Show off Broadway, Meatballs, Stripes, Caddyshack, Ghostbusters and Groundhog Day. He earned his keep on this planet," Murray said. "God bless him."
Christian Bale wanted people to celebrate Heath Ledger's life
Superhero films haven't always earned glowing critical reviews — particularly in a pre-2008 world — but Christopher Nolan's Batman Begins sequel The Dark Knight was an exception. Heath Ledger played the Joker to Christian Bale's Batman, and although both actors were lauded for their performances, Ledger's take on the Joker truly stood out. Bale had great respect for Ledger's talent — he was a truly gifted actor, and that was perhaps never more evident than it was in Christopher Nolan's game-changing epic.
When Ledger died several months before the release of the film, Bale was shattered. "He was somebody who I'd been seeing on a daily basis for months," Bale told Parade. "It takes a long time to accept that someone's gone, when all body and mind are telling you that this is somebody you will know for a great deal of time. He was something of a kindred spirit to myself."
Bale was disgusted by the way the media covered Ledger's death, and he hoped that people could move past it and view his work on The Dark Knight as a celebration of his life. It seems like Bale's wish came true — it came as a surprise to no one when Ledger posthumously won an Oscar for the role.
Matt Damon learned from the loss of Robin Williams
The news of Robin Williams' death in 2014 shocked everyone. It was hard to believe that the man who had spent decades making everyone laugh was gone. Matt Damon, who had worked with Williams on the Academy Award-winning film Good Will Hunting, was particularly affected by the loss.
Damon said that he felt that he owed his success to Williams, and there was no way for him to repay Williams for taking a chance on working with him and Ben Affleck on Good Will Hunting. He was regretful that he had fallen out of touch with Williams in the years leading up to his death. "I think everyone who wasn't there with him at the end feels bad that they didn't see it coming," Damon said in an interview with Yahoo! News. "I hope I become better at checking in with my friends, and I hope that we as a country get better at checking in with each other, to prevent this kind of thing."
William Shatner wishes he could talk to Leonard Nimoy
For years, Leonard Nimoy and William Shatner worked side by side on Star Trek, playing Spock and Captain Kirk. They were friends for many years, yet they eventually grew apart, and the two actors even stopped speaking. But when Nimoy died in 2015, Shatner admitted that they'd never mended their friendship — and he was heartbroken over the fact that now he'd never have the chance. To this day, Shatner says he doesn't know why Nimoy distanced himself from him.
"Until the day I die, I will still wonder what caused that rift," Shatner said in an interview with the New York Daily News. "After all the years we had spent together, after the bond we had forged, what could I have done that was so irreparable that he couldn't even talk to me about it?… I just don't know, and it is sad and it is permanent. I don't know why he stopped talking to me."
James Gandolfini's death was a "wake up call" for Lorraine Bracco
When the news broke that Sopranos star James Gandolfini had passed away in Rome after suffering a heart attack, his fellow cast members were devastated. Tony Soprano is an iconic TV character, and nearly two decades after the finale aired, there's no denying that The Sopranos has had a noticeable influence on prestige TV.
After hearing about Gandolfini's death, his costar Lorraine Bracco, who played Tony's therapist Dr. Melfi, felt like she needed to take this moment as a "wake-up call." Before Gandolfini died, she had already lost both of her parents within one week of each other. She decided that she had to turn her life around and start practicing healthier habits. Bracco connected with a friend who had similar goals, and the two embarked on the journey together. She ended up writing a book about the experience titled To the Fullest: The Clean Up Your Act Plan to Lose Weight, Rejuvenate and Be the Best You Can Be.
George Clooney is often reminded of Philip Seymour Hoffman
Beloved actor Philip Seymour Hoffman tragically overdosed and passed away in 2014. Among the countless peers who mourned him was George Clooney, who worked with Hoffman on his film The Ides of March and said that he loved directing Hoffman because he "gave options" — he was always willing to test out a new approach to a scene, which isn't the case with every actor.
In an interview with ABC News, Clooney stated that the last time he saw Hoffman was a few months before his death. The two had dinner together in Berlin, and Clooney noticed that Hoffman wasn't quite acting like himself — but he didn't realize just how much his friend was struggling. "He seemed to be having a tougher time, you know?" Clooney said. "And there's no understanding what goes on in an individual's mind in their lives."
Clooney admitted that he couldn't help but think of Hoffman every time he was in New York City — something about it would always remind of him of his old friend. He had to visit a few days after Hoffman's death to promote his film The Monuments Men, which was a very difficult trip.
Dan Aykroyd could never forget John Belushi
John Belushi's death in 1982 was a tragedy for his fans and the many people who had been lucky enough to work with him — but none of his former co-stars took the loss harder than Dan Aykroyd. Aykroyd and Belushi worked side by side for years, and whether they were performing on Saturday Night Live or making music as the Blues Brothers, the two were an unbeatable comedy duo. Although Aykroyd knew Belushi struggled with addiction, he had always hoped his friend would somehow be able to turn over a new leaf.
Decades after Belushi's death, Aykroyd still wishes that somehow things had gone differently for Belushi, and he's never far from Aykroyd's thoughts. Later in life, Aykroyd co-founded a chain of music venues called the House of Blues, and Aykroyd has publicly wished that Belushi was still around to be a part of it. "I think about him every damn time I walk into a House of Blues," Aykroyd said in an interview with The Guardian. "'Why aren't you here, man, to enjoy all this?"'
Wil Wheaton couldn't process the death of River Phoenix
Stand By Me is a classic '80s film, and the cast grew close while filming — but after shooting wrapped, Wil Wheaton, River Phoenix, Cory Feldman, and Jerry O'Connell went their own separate ways. Less than a decade after its release, Phoenix died of a drug overdose, and many years later, Wheaton admitted that while he was "shocked and horrified," he "wasn't completely surprised."
"I didn't feel a real sense of loss at the time — the River I knew and loved had been gone for a long time at that point — but I felt sad for his family, and angry at the people around him who didn't do more to help him help himself," Wheaton wrote. But 25 years after the release of Stand By Me, the cast reunited to watch their commentary for a commemorative Blu-ray edition of the movie. Wheaton said he finally felt the full impact of River's death at this reunion.
"That's what it took to make his death and his absence a real thing that I could feel, instead of an event that I wasn't part of but am forced to talk about more often than I'd like," Wheaton wrote. But despite feeling intense grief, Wheaton was grateful for the reunion and the realizations it brought to him — he just wished that River could have been there, too.
Lauren Bacall never got over Humphrey Bogart
Lauren Bacall and Humphrey Bogart were two of the biggest stars of the classic Hollywood film era — it almost seemed like fate that they would eventually fall in love. After working together on the film To Have and Have Not in 1944, sparks were flying — which was somewhat complicated by the fact that Bogart was married at the time. Shortly after the film premiered, Bogart divorced his wife, and married Bacall just a few months later.
Sadly, after just over a decade of marriage with Bacall, Bogart passed away in 1957. Both Bacall and Bogart famously had affairs while married to each other, but their chemistry was still undeniable. Bacall did remarry a few years after Bogart's death, yet her second husband, Jason Robards, still referred to her as "The Widow Bogart." She never truly got over Bogart, and in her memoir, Be Myself, Bacall wrote, "No one has ever written a romance better than we lived."
Michael B. Jordan wanted more time with Chadwick Boseman
When Chadwick Boseman passed away at the age of 43 from colon cancer, his fans were stunned. Since his initial diagnosis four years earlier, Boseman had continued acting while undergoing chemotherapy, choosing to keep his condition private rather than share it with the public. During this time, he starred in Black Panther and appeared in films like Da 5 Bloods, Marshall, and 21 Bridges.
For Boseman's Black Panther costars, the loss was overwhelming. Michael B. Jordan, who played Killmonger opposite Boseman's Black Panther, was deeply affected by Boseman's death. "My appreciation of time has changed," Jordan said when reflecting on what he'd learned in 2020 during an interview with Vanity Fair.
"Our relationship was a very personal one and had a lot of great moments — some that I couldn't fully appreciate and fully understand until now," Jordan said. "I wish I had more time to have our relationship evolve, and grow, and become closer and stronger." While there is a sequel to Black Panther in the works, currently scheduled for release in 2022, it won't be the same without Boseman.
Jane Lynch mourned the loss of her friend Naya Rivera
In July 2020, the death of Naya Rivera shocked Glee fans, who fondly remembered Rivera for playing the witty and ruthless cheerleader Santana Lopez in the musical comedy series. Rivera drowned while swimming with her son Josey, and fans poured out their condolences to her fellow Glee cast members, who were mourning her death.
Months later, Jane Lynch, who had played Sue Sylvester on the series, reflected on the loss. "You could have no better friend than Naya Rivera," Lynch said during an interview with Access Hollywood. Not only was Lynch grieving over Rivera's death, she also stated that her niece Megan was close with Rivera as well, leaving the two of them struggling to come to terms with what had happened. But Lynch explained that the cast has stayed very close since the show wrapped, and leaning on each other has helped them to get through this tough time.
Zach Braff had hoped that Sam Lloyd would beat cancer
In April 2020, the news broke that actor Sam Lloyd had passed away just over a year after being diagnosed with a brain tumor and lung cancer. Best known for his role as the nervous lawyer Ted on Scrubs, Lloyd had gotten married shortly before his diagnosis, and he and his wife Vanessa had welcomed their first child.
Despite his serious diagnosis, Lloyd's loved ones and former costars hoped that he would heal somehow. Not long before his death, Lloyd's fellow Scrubs cast member Zach Braff ran into him and thought that he might be recovering.
"It was just a sad story because he was sick just when he had found true love and had a baby. It was just such a sad story. And I heard he was doing better, and I saw him out and about with his wife and his baby and a big smile on his face," Braff said in an interview with Extra. "And I remember having this relief like, 'Oh, thank God, he pulled through that.' And then the other day, Bill [Lawrence] told Donald and I the news, and it was just a punch in the stomach."
Mike Colter found a friend in Reg E. Cathy
While starring in Luke Cage, Mike Colter had the opportunity to work alongside Reg E. Cathey, an accomplished actor who was widely known for playing Norman Wilson in the critically acclaimed drama The Wire. Cathey was diagnosed with lung cancer while they shot season two, and he passed away in February 2018 before the season was released.
Although their time together on the show was short, Colter felt a genuine kinship with Cathey. "Reg was great," Colter said during a panel at Baltimore Comic-Con in 2018. "I wish we got a chance to spend more time together it was like discovering a friend you didn't get a chance to really hang out with."
Colter continued reflecting on his time with Cathey, adding, "He got diagnosed while we were filming but I watched him go from being completely healthy to being very sick and he was such a positive force… I don't know how he did it, coming on set physically being completely worn out but at the same time giving 100 percent."