KFC's Double Down by Michael Saechang (CC BY-SA)
Junked Food
It's happening. Taco Bell's fan-favorite Mexican Pizza is finally back. Made of seasoned beef, beans, pizza sauce, cheese, and tomatoes layered between two crispy flour tortillas, the pizza can also be modified to exclude the meat, making it a huge hit with Taco Bell's vegetarian customers. The stacked taco-pizza hybrid isn't the only item hungry customers have been after, though it will surely overshadow another comeback kid from Panera that fans have been clamoring for all year. From Chipotle's smoked brisket to the KFC Double Down, here are a couple of fast-food comebacks we're happy to be seeing, and even more that we're still rooting for.
Taco Bell's Mexican Pizza
This is not a drill: Mexican Pizza is officially back at Taco Bell starting Thursday. The beloved pizza was one of the many casualties when the fast-food chain dropped a number of menu options in late 2020, causing an uproar. Finally, after almost two years of complaining customers, Taco Bell has resurrected the fan favorite. If you want to jump on the long-awaited return from the comfort of your own home, DoorDash has dibs for now, and DashPass members get $2 off one Mexican Pizza with a minimum purchase of $12 with promo code MEXPIZZA. The iconic item will roll out to other delivery platforms starting May 27.
Panera's Toasted Frontega Chicken
It only took a few months for Panera to reverse course on its cult-favorite Frontega Chicken sandwich. After the bakery-cafe chain axed it from the menu earlier this year, the restaurant saw a 300% increase in mentions of the sandwich across social channels — which is corporate speak for "people were really mad." So with a mea culpa Tweet, Panera has officially brought back the fan favorite, which features smoked chicken, mozzarella, tomato, red onion, basil, and chipotle sauce.
McDonald's Szechuan Sauce
McDonald's created a limited-time Szechuan McNugget sauce to promote the 1998 animated film "Mulan." Helped by an appearance in the cartoon "Rick and Morty," it became an intense cult favorite and has returned only a few times since its initial debut. (A limited run in 2017 even ended with police called to quell angry crowds demanding the sauce, which was in short supply.) The elusive sauce recently made another limited-time comeback in March 2022, but it was only available for a few days.
Chipotle Smoked Brisket
Chipotle discontinued its smoked brisket in November 2021, only two months after it became available. The item was taken off the menu earlier than expected, according to CNN. The brisket was met with largely positive reviews, and Chipotle says it was been pleased with the rollout and will "probably do brisket again at some point in the future," CEO Brian Niccol says. Phew.
McDonald's Salads, Bagels, and Yogurt Parfaits
During the pandemic, McDonald's pared down its menu to make it easier to dish out drive-thru orders. But while some items returned last summer, such as vanilla cones, chocolate chip cookies, two variations of the Quarter Pounder, and the Bacon McDouble, some don't have a return date beyond "possibly sometime." If you were hoping to grab a salad, yogurt parfait, or bagel at your nearest Mickey D's, you may have to wait a long, long time.
McDonald's McHotdog
McDonald's offered hot dogs in some U.S. markets during the 1990s, but the item failed to appeal to enough customers. Maybe it had something to do with what McDonald's cofounder Ray Kroc said in his autobiography: "There's no telling what's inside a hot dog's skin, and our standard of quality just wouldn't permit that kind of item." Tell that to the Americans who eat 7 billion hot dogs between Memorial Day and Labor Day alone, according to the National Hot Dog and Sausage Council, which says food carts and hipsters have made dogs trendy again.
McDonald's Hula Burger
Along with the Filet-O-Fish, McDonald's introduced founder Ray Kroc's Hawaiian-inspired "Hula Burger" — grilled pineapple with cheese on top. It's no surprise the Filet-O-Fish won that popularity contest, but it'd be interesting to have a sample of what's probably fast food's only attempt at grilled fruit.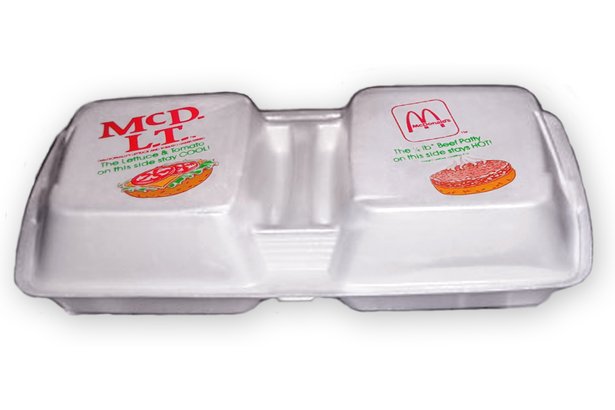 McDonald's McDLT
The company enlisted Jason Alexander (before "Seinfeld") to promote this sandwich, introduced in 1985 in a special two-section styrofoam container that kept hot and cold ingredients separate. Aside from the hassle of getting a deconstructed burger, the containers weren't exactly environmentally friendly, but fans appreciated the hefty serving of toppings such as lettuce and tomato. The McDLT had a sort-of return around 2011, called the Big and Tasty.
Pizza Hut's Taco Pizza
In 1979, Pizza Hut explained the complicated idea behind its Taco Pizza with a commercial that told viewers seven times that: "It's a pizza-looking, taco-tasting pizza." Pizza Hut's foray into Mexican cuisine didn't win over enough customers at the time, but now Mexican food is bigger than ever.
Taco Bell's Seafood Salad
KFC's Double Down
Decadence. Gluttony. Cholesterol. The Double Down sandwich of 2010 consisted of bacon, cheese, and sauce between two patties of fried chicken. According to U.S. Department of Agriculture standards, one Double Down would have contained more than half of your daily allowance of sodium. But the customers lining up around the block for chicken sandwiches at Popeye's and Chick-fil-A probably wouldn't mind too much.
Jack in the Box's Frings
Ideal for the indecisive junk food eater, Frings were a simple dish of french fries and onion rings in the same package. Frings, introduced in 1979, have "gone the way of mood rings and shag carpeting," according to the Jack in the Box website — which is a little odd, since the Jack in the Box menu still includes french fries and onion rings that can be bought separately and combined.
Burger King's Rodeo Burger
The often-overlooked Rodeo Burger was found on Burger King's value menu, where it held its own against such staples as chicken nuggets and cheesy tots. It featured onion rings and barbecue sauce in place of cheese, and Serious Eats declared it an "unexpected jewel in Burger King's crown" — especially for the $1 price. Don't confuse the Rodeo Burger with its big sibling, the Rodeo King, which was a half-pound, 1,250-calorie monstrosity that threw bacon and mayo into the mix.