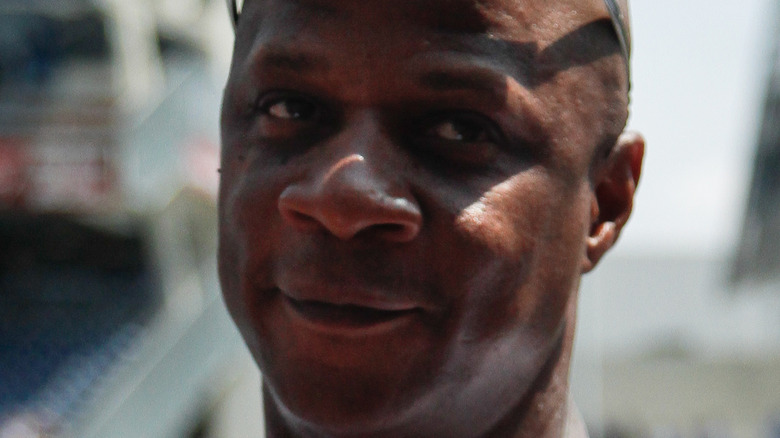 One of the most notable Major League Baseball teams of the 1980s was the 1986 New York Mets. The team took the World Series title from the then Curse of the Bambino-stricken Boston Red Sox, thanks in large part to an infamous error on the part of Red Sox first basemen Bill Buckner (per Baseball Reference).
According to History, the franchise's success in the 1980s is cited as one of the reasons the team was able to compete for attention with their cross-town rivals, with lots of big names on the roster, including Mookie Wilson, Gary Carter, and all-time "Seinfeld" guest star Keith Hernandez. However, two of the most integral players to the team's post-season success were pitcher Dwight "Doc" Gooden and outfielder Darryl Strawberry. While both can lay claim to stellar on-field success, they're also remembered for off-the-field issues that had adverse effects on their careers to varying degrees, per Overtime Heroics.
Darryl Strawberry's early life and career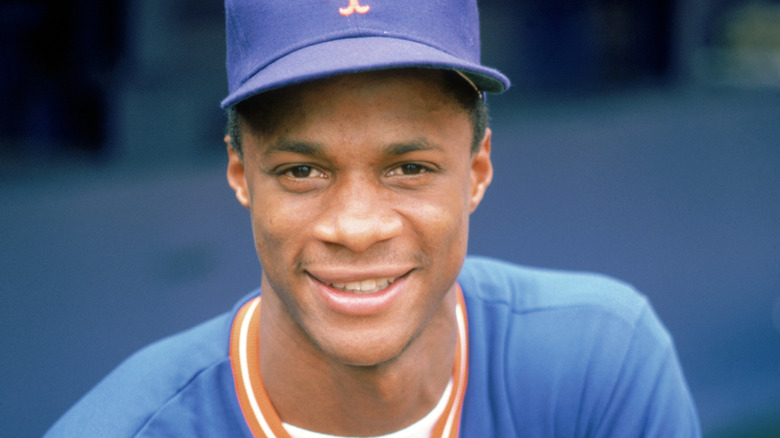 Darryl Strawberry was born in the early 1960s and grew up in South Central Los Angeles. Strawberry grew up in the area's Crenshaw neighborhood, which was plagued by poverty, and unfortunately, his life wasn't much easier within the walls of his own home. His father was an alcoholic and was abusive toward his mother. Eventually, his father left the family behind, only returning once his son's Major League trajectory was readily apparent, per SABR.
Strawberry found some escape in sports. "I loved it. It was pure joy for me to play baseball, basketball, and football. While I was playing, I could almost forget my anger and my troubles. Almost," Strawberry wrote in his 2009 autobiography "Straw." By high school, Strawberry was rapidly becoming a phenom on the baseball diamond. Strawberry even helped his team — the Crenshaw High Cougars — make a run in the Los Angeles Unified School District and proved they could compete with schools from other parts of the district that had better funding and facilities.
Going into the 1980 draft, Strawberry was drawing comparisons to Hall of Famer Ted Williams, according to former scout Phil Pote in an interview with Sports Illustrated. On draft day, Strawberry was picked first overall by the New York Mets, and the stand-out high school player from South Central Los Angeles was off to Queens.
Doc Gooden's early life and career
On the other side of the country, Dwight Gooden was growing up in Tampa, Florida. According to SABR, in contrast to Darryl Strawberry, Gooden had a somewhat better relationship with his father, the foundation of which was baseball. However, like Strawberry, Gooden had a father who frequently turned to alcohol and, sometimes, violence. The at-home issues weren't limited to his father, either. When Gooden was just 5 years old, he was at home when his sister was shot five times by her husband, an incident he discussed in his 2013 book, "Doc."
Gooden turned his focus to baseball, and he went on to become the star pitcher at Hillsborough High School in Tampa. His success earned the attention of Major League scouts, including looks from the Cincinnati Reds, Chicago Cubs, and, of course, the New York Mets, who ultimately selected him with the fifth overall pick in the 1982 draft.
The 1986 Mets take the World Series
Both Darryl Strawberry and Dwight Gooden spent some time navigating the Mets minor league system after being drafted. Strawberry made his Major League debut in 1983 and went on to be named Rookie of the Year. Not to be outdone, Gooden made his debut the next season and also went on to take Rookie of the Year honors.
After two consecutive second-place finishes in the National League East, the Mets took the top spot in 1986 and made a post-season appearance, squaring off against the Houston Astros in the NLCS (National League Championship Series). Strawberry had a pair of home runs in the series while on the mound, and Gooden appeared in two games and maintained an ERA (Earned Running Average) of just 1.06 (via Baseball Reference). The Mets came out victorious, winning the best of seven series in six games and earning a trip to the World Series.
In the World Series, the Mets were up against the Red Sox, a franchise desperate to win a World Series for the first time in decades. The Mets were also looking to win a World Series for the first time since 1969, per History. In the World Series, Strawberry hit another home run, but Gooden had a bit of a rough time, posting an ERA of 8.00 over nine innings pitched. Still, the New York Mets pulled out a miracle and claimed a World Series title.
Both players have had their share of off-field issues
While everything appeared to be going swimmingly on the field, away from it, both Darryl Strawberry and Dwight Gooden were struggling. According to Overtime Heroics, Strawberry once got in a fight with Keith Hernandez on team picture day and was also highly critical of the team's manager, Davey Johnson, for pulling him in Game 6 of the World Series. Meanwhile, Gooden was having troubles of his own. With the rest of the team celebrating their World Series victory, Gooden was noticeably absent. It was later revealed that his absence was due to a day of drug-fueled partying in a friend's apartment, which led Gooden to watch the parade on TV (via "Doc"). According to SABR, Gooden was arrested that offseason, and at spring training ahead of the 1987 season, he failed a drug test that led to a stint in rehab.
In the early 1990s, while Gooden was still a Met, many of the primary fixtures of the '86 Mets' roster were no longer part of the team. Notably, Strawberry signed with the Los Angeles Dodgers. However, in Los Angeles, his production began to sag, and he was embroiled in a messy divorce in 1993. Additionally, those around baseball whispered about his alleged alcohol and drug use, which he denied at first before admitting the truth to the Dodgers, who got him help at the Betty Ford Clinic.
If you or anyone you know is struggling with addiction issues, help is available. Visit the Substance Abuse and Mental Health Services Administration website or contact SAMHSA's National Helpline at 1-800-662-HELP (4357).
Doc Gooden relapses
Dwight Gooden remained sober until 1994, when he suffered a broken toe after kicking a bat rack on opening day at Wrigley Field. Gooden relapsed and started using cocaine on minor league rehab assignments in Norfolk, Virginia and Binghamton, New York (via Baseball Reference). This prompted the Mets to have him sent to the Betty Ford Clinic, but the program didn't work, and just two days after walking out of the facility, Gooden was once again using cocaine, per SABR. Upon failing another drug test, Gooden was suspended for the entire 1995 Major League Baseball Series.
In 1996, Gooden returned to the game, this time joining Darryl Strawberry with the New York Yankees. Gooden went on to pitch for several more teams until he retired from baseball in 2001, then took a front-office job with the Yankees but relapsed once again. Until getting sober in 2012, Gooden relapsed several times, had numerous run-ins with the law, and even wound up in prison.
If you or anyone you know is struggling with addiction issues, help is available. Visit the Substance Abuse and Mental Health Services Administration website or contact SAMHSA's National Helpline at 1-800-662-HELP (4357).
Darryl Strawberry runs into more off-field issues
Despite winning multiple World Series with the Yankees, Darryl Strawberry's tenure with the Bronx Bombers was far from a walk in the park. In the late 1990s, Strawberry faced a battle with colon cancer that caused him to sit out the 1998 World Series, which the Yankees won. The following season, Strawberry returned to the team late in the year after serving a 140-game suspension for cocaine possession and soliciting sex from an undercover police officer (via SABR).
That was his final season in Major League baseball, but the problems he faced in the final years of his career persisted. His cancer returned, and he continued to struggle with substance abuse for the first few years after hanging up his cleats. He even spent some time behind bars on drug charges. Strawberry did eventually get sober, and since then, he has become an ordained minister, gotten remarried, and is active in charity work.
If you or anyone you know is struggling with addiction issues, help is available. Visit the Substance Abuse and Mental Health Services Administration website or contact SAMHSA's National Helpline at 1-800-662-HELP (4357).