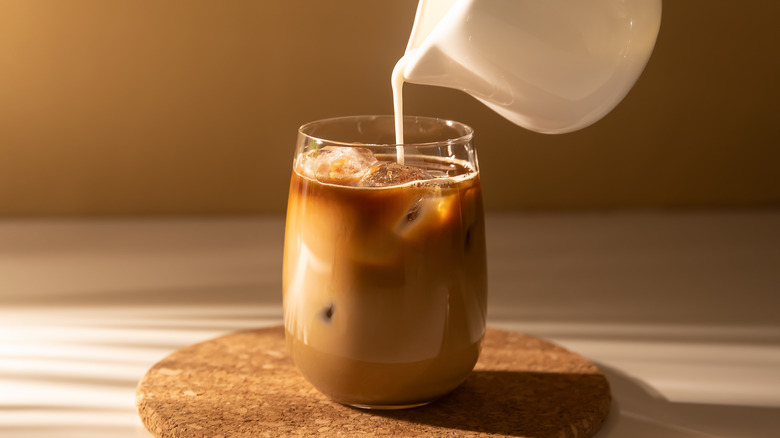 Enjoying a cup of coffee in the morning is one of life's simple pleasures. Whether you take it black, with a touch of cream, or a bit of sweetener, everyone has their preference.
While recreating your local barista's latte at home can taste delicious, it may not always be the healthiest or wallet-friendly option. Traditional coffee creamers contain many added ingredients and sugar proven to start your day on the wrong foot. The good news is you can have your creamer and drink it too. Get ready to check those ingredients, sugar content, and calories to ensure that the coffee creamer you decide to pour into your coffee enhances your drink and health.
We tried a bunch of healthy coffee creamers that will elevate the taste of your morning brew without the added junk. Keep reading for 15 healthy coffee creamers to add to your grocery list and your next cup of joe.
Elmhurst French Vanilla Oat Creamer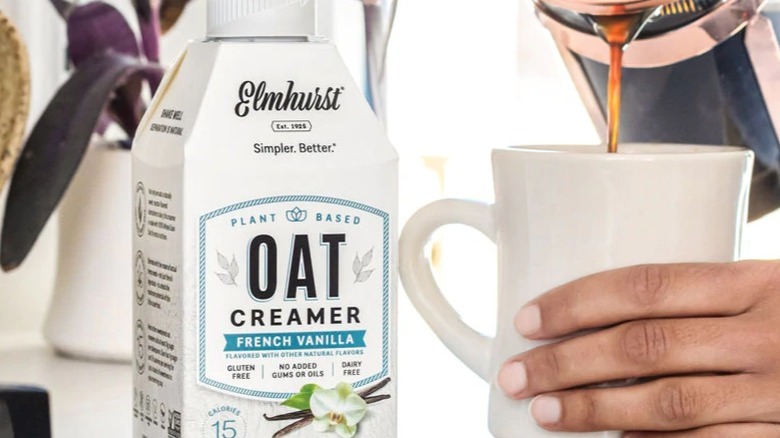 First on our healthy creamer roundup comes Elmhurst Oat Milk French Vanilla Creamer. Your local barista makes crafting delicious lattes look easy. With this french vanilla creamer, you can do the same from the comfort of your kitchen. Elmhurst offers a variety of flavored creamer options, including caramel macchiato, chai spice, and pistachio. We dug deeper to check out the nutrition labels and ingredients, and we found the French Vanilla Creamer to be the best bet in terms of your health. We want to add the disclaimer that their other milk offerings are not unhealthy, but this one rises slightly above the rest.
The Elmhurst Oat Milk Creamer contains no added oils or gums, distinguishing it from other dairy-free creamers. According to the label, each serving yields around 15 calories, 2 grams of carbohydrates, and 1 gram of sugar. This creamer tastes so good you might mistake it for a dairy creamer.
Almond Breeze Vanilla Almondmilk Creamer
Blue Diamond's Almond Breeze, one of the more popular dairy-free milk brands, also provides delicious and creamy Vanilla Almondmilk Creamer. This dairy-free, gluten-free, vegan creamer gives your coffee a professional barista touch.
Per serving, this Vanilla Almondmilk Creamer contains 25 calories, 4 grams of carbohydrates, and 4 grams of sugar (via Blue Diamond). While it does not contain artificial flavors or saturated fats, we noticed a few gums and natural flavors on the ingredient list. Likely, you do not use a ton of creamer in every cup, so these added ingredients would not be detrimental to your overall wellness.
Compared to other brands, Blue Diamond's Almond Breeze is sold in the greatest variety of grocery stores, so there is no excuse why you can't add a healthier creamer into your morning routine. And if you don't want the Vanilla Flavor, try their sweet and creamy Caramel Almondmilk or Sweet Crème Almondmilk flavors.
Natonics English Toffee Super Creamer
Is it dessert or your morning latte? Natonics serves up a delightful English Toffee Super Creamer. This coconut milk powder creamer contains no gluten, dairy, or GMOs. Natonics focuses on high-quality ingredients so that you can feel good about the creamer you add to your coffee.
Natonics English Toffee Super Creamer powder can be added to coffee, tea, or even a smoothie, setting it apart from conventional coffee creamers. Since the brand uses coconut milk to create the powder, your beverages will naturally taste sweet and creamy. Additionally, coconut milk is full of MCTs to encourage fat-burning and healthy weight loss.
When we mentioned dessert earlier, we weren't messing around. Natonics also serves up a Snickerdoodle-flavored creamer. While the brand promotes using this powder in coffee, tea, and smoothies, we think adding it to healthy baked goods could be a delicious use of the creamer.
Picnik Unsweetened Plant-Based Creamer
Get ready to pour some more plant-powered creamer into your coffee. Next on our healthy coffee creamers to try list, Picnik delivers a non-dairy creamer replacement containing cashew milk, coconut cream, and MCT oil. If you want to swap your not-so-healthy creamer with one that can benefit your health, keep reading.
Picnik offers a vibrant and creamy liquid that easily replaces the half-and-half or regular whole milk you keep in your refrigerator. Other brands' serving sizes tend to be only a few tablespoons. Picnik tops this with a larger ¼-cup serving size that contains 0 g sugar, 1 gram net carbs, and 40 calories. We love that Picnik is sugar-free; it's hard to say the same about many traditional dairy-free milks.
Picnik focuses on making your morning more nutritious. Their plant-based creamers are keto, paleo, and vegan so you can incorporate them into your breakfast routine, no matter your dietary preferences.
Pacific Foods Barista Series Oat Original
Our next healthy creamer will be right up your alley if you fancy Oat Milk in your morning coffee. Pacific Foods Barista Series: Oat Original provides a natural sweetness derived from oats that will surely complement your morning espresso. If creating the perfect barista-style latte entices you, this oat creamer will froth to your liking.
Pacific Foods Barista Series fits nicely into the diet of anyone who avoids dairy, nuts, and soy. The benefits don't stop there. This oat milk is also carrageenan-free and contains no added flavorings or GMOs, and only has 3 grams of sugar. "When the oats are being processed, natural enzymes are added which break down the carbohydrates to create sugars. These sugars are not refined and are considered equivalent to a grain sweetener" (via Pacific Foods).
Whether you take your coffee hot or cold, Pacific Foods Barista Series: Oat Original will jazz up any drink. Get ready for your next latte to be a little sweeter with this delicious creamer.
Coffeemate Natural Bliss Coffee Creamer
Dairy lovers rejoice! CoffeeMate makes Sweet Cream All-Natural Coffee Creamer from farm-fresh milk and cream. According to their website, fans voted the Sweet Cream All-Natural Coffee Creamer the #1 all-natural dairy creamer. We understand the hype about this delicious sweet cream flavor. CoffeeMate provides the only sweet cream we need in our morning coffee.
This dairy creamer contains no GMO ingredients, artificial flavors, or colors, so we feel confident in the choice to add this to our beloved coffee. If you tolerate dairy, don't allow non-dairy marketing campaigns to deter you from products like this. With natural milk and cream in every bottle, you don't need to worry about the contents of your creamer.
The best part is the Sweet Cream All-Natural Coffee Creamer can seamlessly fit into your diet, especially for those following the keto diet. The creamer comes in 16-ounce or 48-ounce bottles.
So Delicious Dairy-Free Organic Coconut Milk Creamer
Healthified coconut products have skyrocketed in recent years, especially in the non-dairy milk space. So Delicious offers a range of non-dairy frozen desserts, cheese, and yogurt alternatives. Additionally, they created super creamy oat milk and coconut milk creamer options. For this roundup, let's highlight the Organic Coconut Milk Creamer.
So Delicious' Organic Coconut Milk Creamer comes in original and french vanilla flavors. Coconut offers a unique sweetness without the added sugar, so you can feel good about not starting your morning with a sickening glucose spike.
The serving size on this creamer is small, at only 1 tablespoon, so use the product sparingly. The creamer yields 15 calories for one serving with no added sugar or carbohydrates (via So Delicious). If you are sticking to a diet like low carb or keto, or you ideally don't like to drink your macros for the day, So Delicious' Organic Coconut Milk Creamer is a great swap for your less-than-healthy creamer.
Califia Farms Better Half Coffee Creamer
Our next healthy coffee creamer to try comes from the brand Califia Farms, a favorite of those who enjoy plant-based and dairy-free products. Califia sells one of our favorite creamers called the Unsweetened Better Half Almond Milk Half and Half. We opt for the unsweetened variety and add cinnamon on top for a sweet touch.
This Califia creamer stands out compared to other non-dairy creamers because it combines almond milk and coconut cream in one container. Consider this brand a no-sugar swap for your favorite half and half dairy creamer. Califia even adds that this creamer doesn't only spice up your morning coffee but it's also excellent for baked goods.
Nutrition-wise, compared to our other coconut milk varieties, Califia Farms' Better Half Almond Milk Half and Half contains only 15 calories in the 2-tablespoon serving. With this, you will also find zero carbohydrates or added sugar. If you want to stay lean and keep a cleaner creamer around, grab a bottle of Califia Farms.
Prymal Salted Caramel Coffee Creamer
Eating healthy can feel restrictive, especially with your favorite flavored coffee. Prymal Coffee provides healthy coffee creamers sweetened with stevia and monk fruit, which tastes great without the added ingredients you can not even pronounce. Prymal sells a variety of flavored creamers, with the Salted Caramel being one of the top sellers. Other flavors include but are not limited to Blueberry Pancake, Red Velvet Cake, Butter Pecan, and Cacao Mocha.
Taking a sip of a latte made with the Salted Caramel coffee creamer tastes like a bite of your favorite caramel candy. This delicious creamer contains 45 calories per the 4-teaspoon serving and zero added grams of sugar (via Prymal). While we don't usually find flavored creamers the most healthy, this one contains minimally processed ingredients. Prymal even suggests this creamer flavor can convert those who don't even like caramel candy. After tasting it, we agree!
Milkadamia Unsweetened Latte Da Barista Blend
You have likely heard of almond and cashew milk, but are you familiar with milk made from macadamia nuts? Next on our 15 healthy coffee creamers list, we tried Milkadamia's Latte Da Barista. This creamer checked many boxes for us in the healthy creamer department.
Milkadamia's Latte Da Barista is an excellent option for anyone following a gluten-free, vegan, or dairy-free diet. Like many of our healthiest creamers, Milkadamia Macadamia milk contains minimal ingredients. Compared to the other kinds of milk and creamers we tried, Milkadamia offers one of the largest serving sizes at 8 ounces. In this 8-ounce serving, you'll find 7 grams of sugar, but you likely won't use the entire recommend serving.
Milkadamia's creamy nature makes it hard to believe it's not whole dairy milk. We love that this Macadamia Milk does the trick if you can't tolerate dairy or want to avoid animal products.
Ripple Half & Half
Have you tried non-dairy half and half creamer? Ripple serves up delicious plant-based half and half that will have you forgetting about your old dairy creamer. With Ripple, you can enjoy your favorite dairy-filled dishes at home with an easy and delicious substitute.
Ripple's signature blend consists of pea protein and sunflower oil with no saturated fats or cholesterol (via Ripple). The creamer contains 35 calories per serving, standard compared to many other dairy-free creamers we've reviewed. However, considering the serving size is only 2 tablespoons, try not to overdo it.
Ripple offers a variety of other dairy-free pints of milk aside from the dairy-free half and half creamer. Check out their delicious chocolate, vanilla, and original plant-based milks if different flavors interest you. Here's a pro tip: To get extra protein in the morning, add their vanilla, chocolate, or coffee-flavored protein shakes to your cup of joe.
Thrive Market Original Coconut Creamer
Healthier product options and coconut ingredients go hand-in-hand. Our next healthy creamer you need to try contains coconut oil, coconut sugar, and MCT oil to provide a creamy and coconutty dairy-free creamer option. The creamer comes from Thrive Market, which offers many natural and organic food products, including their private label Powdered Coconut Creamer.
Traditional creamers incorporate artificial flavors, sugary ingredients, and additives, but this powdered coconut creamer uses simple ingredients to enhance your coffee, tea, or smoothie. The Thrive Market Powdered Coconut Creamer fits into any diet — gluten-free, paleo, dairy-free, vegetarian, and soy-free, to name a few.
This product has mixed reviews; however, the only negative we found was an overwhelming coconut flavor. Many coffee drinkers prefer the coffee taste to remain the prominent flavor in the cup, with just a touch of coconut. Flavor preference aside, you can guarantee this creamer contains better-for-you and allergen-friendly ingredients.
MUDWTR Creamer
With the word mud, coffee creamer does not initially come to mind. MUDWTR changes the game by creating a coffee alternative that reduces the amount of caffeine consumed per serving. Coffee without the crash and jitters? Sign us up.
In addition to making a better-for-you coffee, MUDWTR makes a coconut-based powdered creamer that is plant-based, gluten-free, and contains no added sugar. The creamer consists of coconut milk and MCT oil, yielding 45 calories for every tablespoon and 4.5 grams of fat per serving (via MUDWTR). The coconut milk makes the creamer just sweet enough without the need for added sugar or artificial sweeteners.
This creamer will quickly replace the old half and half in your fridge and add the perfect foam on top of any latte. Whether you drink regular coffee or MUDWTR, you can change the way you drink coffee by adding MUDWTR creamer to your morning routine.
International Delight Zero Sugar French Vanilla
Reducing sugar intake in the morning can set you up for a healthier and more productive day. International Delight offers a Zero Sugar French Vanilla creamer that gives the splash of vanilla flavor you want in your coffee without the added sugar. International Delight sells creamers in grocery stores country-wide, so you don't have to hunt down a delicious sugar-free vanilla creamer.
The macros on this creamer can be hard to beat — in every tablespoon serving you'll find no sugar and less than 1 gram of carbohydrates. Additionally, this serving only contains 20 calories, so adding a few tablespoons to your coffee will not drastically affect your waistline. The only drawback of the Zero Sugar French Vanilla creamer would be the ingredients, which are not as clean as some of the other brands we reviewed.
Next time you're at the grocery store, grab an International Delight Zero Sugar French Vanilla creamer to start the day on the right (sugar-free) foot.
Nutpods French Vanilla Almond+Coconut Creamer
Think of the juice box you drank as a kid, but in a nut milk version. Our last healthy creamer to try comes from Nutpods, a plant-based addition to your coffee. We tried a Nutpod favorite: The French Vanilla Almond and Coconut Creamer. This Nutpod creamer offers some of the cleanest ingredients among the many healthy creamers we tasted. Additionally, each tablespoon serving contains only 10 calories, 1 gram of fat, and no added sugar. The French Vanilla Almond and Coconut Creamer can also replace regular half and half in your sweet and savory recipes.
This plant-based and gluten-free creamer will make your coffee, tea, and recipes deliciously creamy. Aside from the French Vanilla Almond and Coconut Creamer, Nutpods offers Oat creamers if you need a more allergen-friendly and nut-free version. Nutpods will help you ditch the sugar in your delicious, sweet morning beverage, no matter your preference.