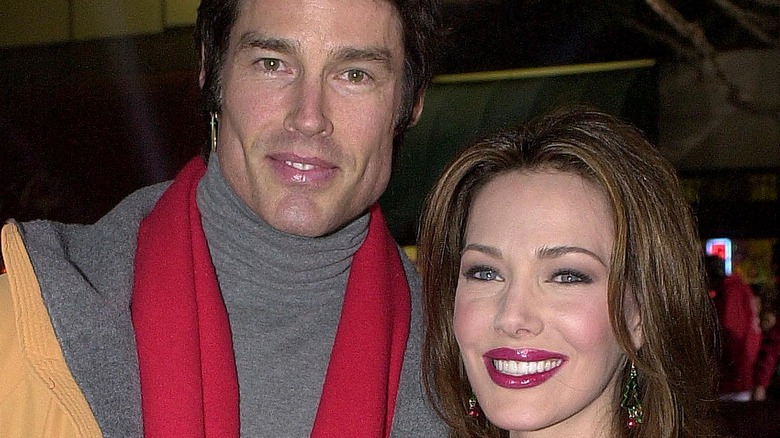 For more than 30 years, Taylor Hayes and Ridge Forrester on "The Bold and the Beautiful" have played a game of back and forth, never deciding if they should really be together despite sharing three children and being married and divorced several times. The original actors who played Taylor and Ridge — Hunter Tylo and Ronn Moss — had an instant chemistry when Tylo was hired for the soap in 1990. Tylo was brought in to replace Joanna Johnson's Caroline Spencer as the other woman Ridge loved when he wasn't lusting after Brooke Logan (Katherine Kelly Lang). It turns out that their chemistry spilled over off-screen for just a brief time as well.
When Tylo first began playing Taylor in 1990, she was already married, as was Moss, so nothing happened between them then. That didn't mean it stayed that way forever as lives changed for Taylor and Ridge, as well as for Tylo and Moss. While their romantic relationship was not long-lived, it was still something Tylo remembers fondly. So, how did the actors get to that place and where are they in their lives now?
Ronn Moss was married to Shari Shattuck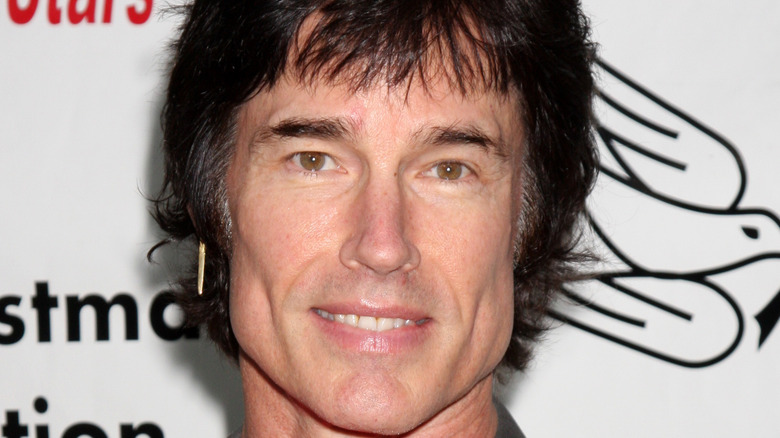 The same year Hunter Tylo landed the role of Dr. Taylor Hayes on "The Bold and the Beautiful," Ronn Moss got married for the first time to actress Shari Shattuck, according to The Famous People. Soap opera fans will remember Shattuck for the four years she played the iconic character of Ashley Abbott on "The Young and the Restless."
From 1995 to 1999, Moss and Shattuck made up a two-soap family as they both got to head into work at CBS Television City in Hollywood where both daytime dramas are filmed each day. Shattuck played Ashley Abbott after Brenda Epperson left the role, but departed not long before the original Ashley returned. Eileen Davidson created the part of Ashley in 1982, but spent much of the '90s playing Kristen DiMera and her various doppelgängers on "Days of Our Lives" before making her way back to "Y&R" in 1999. Sadly, Moss and Shattuck's marriage ended in 2002.
Hunter Tylo was married to Michael Tylo
Born Deborah Jo Hunter, the actress who now goes by the name Hunter Tylo, had her original stage name as Deborah Morehart. Tylo used her first husband's last name when she appeared as Robin McCall on "All My Children" in 1985. By the time she landed on "Days of Our Lives" as Marina Toscano in 1989, she was no longer married to high school sweetheart Tom Morehart and had wed fellow soap actor Michael Tylo in 1987 (via The Famous People). This is when she took on the name Hunter Tylo, which she still uses as of this writing.
The Tylos went on to have three children together, with Michael raising Tylo's son, Christopher, who was born from her first marriage in 1984. Michael Tylo was known to soap fans as Quentin Chamberlain on "Guiding Light," but also had roles on "All My Children," "The Young and the Restless" and even "The Bold and the Beautiful." The soap world was shocked when this seemingly-unbreakable real-life pair divorced in 2005 after nearly two decades of marriage.
Ronn Moss and Hunter Tylo couldn't deny their attraction
With "The Bold and the Beautiful" being a global phenomenon, its stars give interviews to publications across the world, as Hunter Tylo did in 2014 for the Australian magazine New Idea. That is where she opened up about the long-simmering attraction between herself and Ronn Moss that had been there since she first started bringing Taylor Hayes to life.
"When I was first on the show [in 1990], I was married to [actor] Michael Tylo," the actress told New Idea (via Yahoo! Entertainment). "He was very threatened by Ronn and the chemistry we had on screen — we definitely connected with an intense passion. So I did everything in my power to push Ronn away."
However, all that changed after they were both divorced and things became more real for them. Tylo had been away from the soap for a few years as Taylor was presumed dead for the second time. When Tylo returned in 2005 and Taylor turned up alive, she felt something had shifted between herself and Moss.
"We were both single, and I guess we finally felt free to show our feelings for each other without the fear of upsetting our spouses," she said. "It was around the time Taylor was coming back from the dead and I noticed during all our kissing scenes there was no holding back. Before we had only done stage kisses."
Where is Ronn Moss today?
While Hunter Tylo would continue to make appearances as Taylor until 2019, Ronn Moss left the soap in 2012 after 25 years of playing Ridge for various reasons, including money, as he told Entertainment Weekly at the time of his exit.
"Yes, [money was] a piece of the whole thing, and it all showed me I need to move forward, not backwards, and I've been doing this for 25 years," Moss said. "How many shows — how many jobs — last that long? I felt that I needed to go in this new direction to give myself the chance to do all the creative things that I haven't had a chance to do in 25 years, because I've dedicated so much of my life to this."
At the time, Moss was already married to his second wife, Devin DeVasquez, whom he wed in 2009 (via The Famous People), and who he is still with as of this writing. Moss is also a producer on the digital soap, "The Bay," and released a cover of Leonard Cohen's "Hallelujah" in 2021 that hit number one on the charts in Belgium.
Where is Hunter Tylo today?
After Hunter Tylo's marriage to Michael Tylo ended, the couple endured an unimaginable tragedy when their son, Mickey Tylo, was killed in a drowning accident in a pool outside his mother's Las Vegas home in 2007, according to Reuters.
In 2009, Tylo married again, but nearly a decade later, she had her marriage to Gersson Archila annulled in 2018. The actress cited spousal abuse and drug use as some of the reasons, according to The Famous People.
While she continued to make appearances on "The Bold and the Beautiful" off and on until 2019, even playing opposite a new Ridge when actor Thorsten Kaye took over, Tylo declined to return in 2021, according to Entertainment Weekly. The soap recast Taylor with Krista Allen as a result. At the time, Tylo had experienced another tragedy in her life when her former husband of 18 years, Michael Tylo, passed away at the age of 73 (via Deadline).