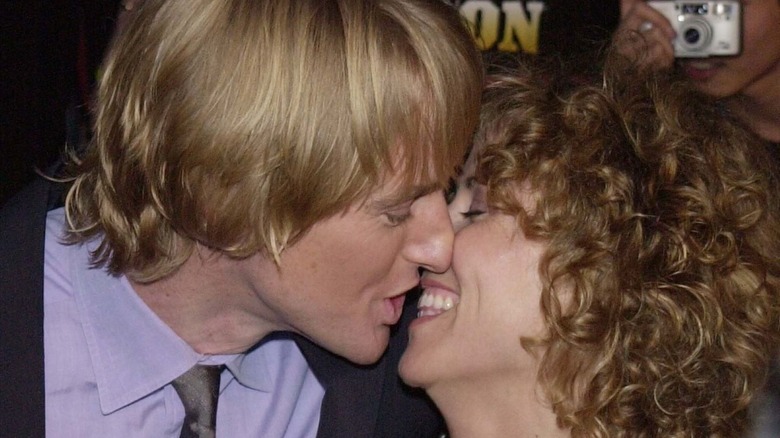 Described as a "portrait of the singular storyteller who's lived it all," Showtime's "Sheryl" charts the life and career of singer-songwriter Sheryl Crow. In the 95-minute documentary, the musician opens up about a lot of personal details of her life, including her highly-publicized relationship with former professional road cyclist Lance Armstrong (via InStyle). They were engaged for a time in 2005 but broke it off months before she was then diagnosed with breast cancer.
Prior to her relationship with Armstrong, Crow dated the likes of Eric Clapton (via E! Online) and Josh Charles from "The Good Wife" (via The Sun). In between those romances, you may not have known that she briefly dated actor Owen Wilson as well. The pair became an item in the early noughties, only dating for two years before breaking things off. But how did the two stars initially cross paths, and what caused them to ultimately part ways?
Sheryl Crow and Owen Wilson met on the set of a 1999 thriller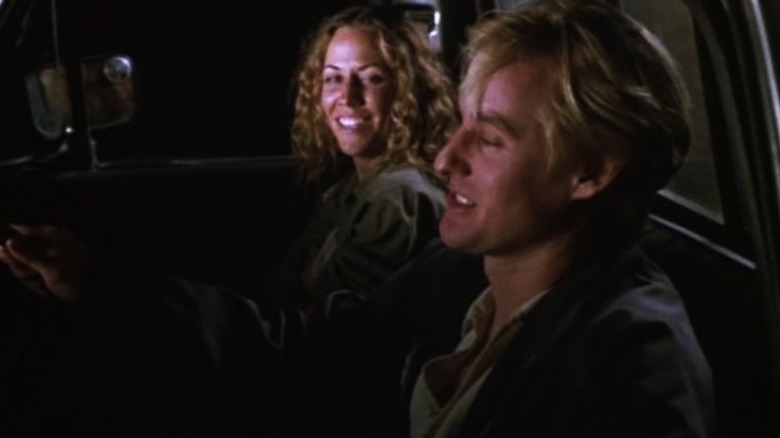 A year after starring in Michael Bay's "Armageddon," Owen Wilson played an unlikely role in the 1999 film "The Minus Man." Based on the novel by Lew McCreary, Wilson plays Vann Siegert, a serial killer who murders his victims by poisoning them. His first victim is Casper, played by Sheryl Crow in her film debut. Crow has since amassed 35 acting credits, including appearances on "Cougar Town" and "NCIS: New Orleans," as well as performing in her music videos.
As evidenced by their short interaction as Vann and Casper in "The Minus Man," Wilson and Crow shared great chemistry. Shortly after first meeting on the set of the movie, the couple started dating. They were relatively public with their relationship, attending numerous events together, including the Vanity Fair Oscar party in 2000 (via Livingly). However, a year later, Crow and Wilson decided to call it quits.
Owen Wilson says it was his fault their relationship didn't last
It's not exactly clear what caused the breakup, but during an interview with Playboy in 2005 (via Contact Music), Owen Wilson implied that his behavior was the catalyst. "The story of our relationship is the same story I've had with most relationships," the actor explained. "I was lucky enough to find a great girl, and because of my lack of… focus, the relationship went south."
Wilson also highlighted how high-profile relationships are almost destined to fail. "Going out with someone who's doing the same thing as you, who's in the public eye, can be a problem," he said. "You want a break when you come home. You don't want someone with the same issues as you reminding you of stuff you don't like in yourself." However, that didn't necessarily apply to his relationship with Sheryl Crow. "That being said, I don't think being in the spotlight had anything to do with me and Sheryl not working out."
Sheryl Crow wrote a song about her relationship with Owen Wilson
A year after Sheryl Crow and Owen Wilson split, she released her fourth album, "C'mon, C'mon," featuring one of her most recognizable hits, "Soak Up The Sun." The lesser-known track "Safe and Sound" also appeared on the record, which according to E! Online, she wrote about her relationship with Wilson. Described as a "hauntingly beautiful breakup song" by Billboard, Crow sings of how "there's beauty in release / there's no one left to please / but you and me," and that she doesn't blame Wilson for "quitting" their relationship (via Genius).
Crow continues to sing about her regrets and what she could have done to make their relationship work. "Feel like I could've held on / Feel like I could've let go / Feel like I could've helped you / Feel like I could've changed you," she sings. In the outro, Crow expresses: "I feel like I could have loved you / I feel like I really love you / Feel like I could've saved you."
Sheryl Crow says she was constantly trying to fix people in relationships
Reflecting on her past relationships, Sheryl Crow realized she often wanted to fix her significant other. During an appearance on Dax Shepard's podcast "Armchair Expert" in April 2020, Crow spoke of how she wouldn't let anyone care for her after being diagnosed with breast cancer in 2006 (via Health), which led her to think about the role she had in relationships. "I wouldn't let anyone take care of me. I wouldn't let anyone nurture me. I was the fixer in all my relationships," the singer-songwriter explained. "I think I had really mastered, even in a relationship, picking someone that could really manifest that with me -– of making me seriously the bottom of the heap."
Crow found that most of her relationships revolved around "extremely high performing, high achieving narcissists," which in turn affected her mental health. "You eventually become part of the shadow around them and it's extremely lonely. I got used to being lonely and I was constantly — in several of my relationships — just used to being expendable."
That's not to say that she didn't appreciate the loves of her life, including Owen Wilson. "Every person I have loved, I love [and] still love," she said. "I don't have any terrible feelings about anyone. That sounds really woo-woo. There was a reason why I loved them."
Since moving to Nashville, Sheryl Crow has felt 'empowered' about her love life
What didn't help was that Sheryl Crow's struggles in her relationships were public. She found this especially hard while dating Lance Armstrong. "It was a challenging terrain," she told the American Association of Retired Persons (AARP). "I've been really good through the years at ignoring my own press, but there was a point after Lance and I split up and I got diagnosed with breast cancer that I couldn't walk around my house because there were camera shooting through the windows," she recalled.
That experience was a turning point for Crow, who decided to move to Nashville to escape the attention of Los Angeles. "Nashville was a great option because it has a music industry, my sister lives there, and it was three hours away from my family." Since making the move to the Tennessee capital, she's felt "empowered" in her relationships (via Good Housekeeping). Living by a mantra of embracing "the idea of only having equals in your life," the musician has a much more positive outlook on romance. She's still open to the possibility of marriage, too, even though she's not had the best of luck in that department. "Hey, I would love to get married – I'm still old-fashioned," she said. "But I don't think marriage is the be-all and end-all. It's better to have three broken engagements than three divorces."